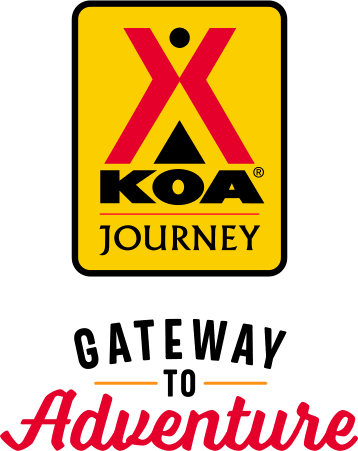 KOA Journey Campgrounds
KOA Journey campgrounds are the perfect oases after a day on the road. Whether it's along the way or a quick getaway, they've got you covered. Located near the highways and byways of North America with long Pull-thru RV Sites, they deliver convenience to the traveling camper. Pull in, ease back and take a load off.
KOA Journeys Feature:
Pull-through RV Sites with 50-amp service
Premium Tent Sites
Well lit after hours check-in service
Directions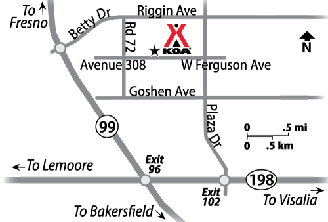 From Hwy 99: Take Hwy 198 East to Plaza Dr Exit. North on Plaza Dr to Goshen Ave, turn left. Go 1/2 mile and turn right onto N American Rd, which becomes Ave 308.
GPS: N36.349743, W119.406178
Get Google Directions
Nov 26, 2020
Nice dog park.
Nov 26, 2020
The security lighting was no adequate for walking around the park in the dark. To many long term tenants. The park needs some upkeep. Grass is dead etc. The check-in person was counting money at the register when I arrived at 5:30. That should be done out of sight of the front door. I'm a security consultant and that is an unsafe practice.
Nov 24, 2020
This place needs some serious attention.
Nov 24, 2020
We got there an hour early and were allowed to go.straight to our spot.which was nice. Not as nice as the photos on line of course. There was quite a bit of litter on the ground like a blowing paper bag, lots of kid litter like stickers. The first night there was a super loud block party a few blocks away. We finally called the sheriff at 4:00 am to complain.
Nov 24, 2020
The fresh water hook up was leaking, and the cable hook up is cut. Please check this site!!!
Nov 22, 2020
Dog waste on my site upon setting up. the next day a dog letting run around the camp from the tent area
Nov 22, 2020
Beautiful park, very convenient, lots if green space; good WiFi.
Nov 21, 2020
WiFi a little iffy everything else was great
Nov 20, 2020
Passing through/ 2 night stay on the way to so cal. Quiet is always good.
Nov 20, 2020
Music playing across the street from your park was so loud I couldn't even concentrate during check in. We had difficulty having a conversation inside our trailer. My wife was left with a pretty bad head ache. This went on until 11 PM. I tried to call your phone number that was listed but got a recording. Is this something that is on going? It was obviously a deliberate act by your neighbors.
Nov 16, 2020
Nice staff but this park is poorly maintained!
Nov 16, 2020
Wifi does need to be up graded, other then that it was a pleasant stay.
Nov 11, 2020
Great staff. We enjoyed our visit, especially the cats hanging around the cabins.
Nov 11, 2020
Desk is the best KOA Manager we have ever met! And we've been to KOA's all over the country.
Nov 10, 2020
Nice park quiet pet friendly had a nice day
Nov 10, 2020
Workers are nice, campground very clean especially all their facilities. Only improvement I'd suggest is have your guest service/groundskeeper wave and smile once in a while lol. My husband kept waving and saying hello and all he got in return was a mean glare lol. But I'm sure he's really a nice guy.
Nov 09, 2020
The camp grounds were clean with hot water. A little too close to houses as one night there was a karaoke party going on with very loud music until about 10pm.
Nov 09, 2020
Very nice, clean and quiet.
Nov 07, 2020
The only issue is the WIFI signal strength, could not log in, otherwise it was a very nice park.
Nov 06, 2020
Maiden Voyage :)
Nov 04, 2020

The cabin room was not cleaned at all. So many animal furs and trash were on the beds. I myself cleaned every bed and everything in the cabin with my chlorox. I regretted why I came here. I'll never visit here again.
Nov 03, 2020
The facilities were clean and the pull through sites were sufficient.
Nov 03, 2020
Pleasant and clean
Nov 02, 2020
Our stay was peaceful however this KOA is right in the middle of a neighborhood and it felt like we were camping in someones backyard. Not in the best part of town! The staff was very friendly and helpful though and we give them 5 stars�
Nov 02, 2020
Overall good experience everything was clean and kept up
Oct 30, 2020
Worst KOA I have ever been to. Smells like manure and some very shady looking full time folks lurking around! Stay somewhere else! Luckily we just pit stopped for the night and left early morning. Steer clear!!
Oct 29, 2020
Nice campground we love to stay there. Needs a little TLC but love it and its a perfect location for us. We will return many more times.
Oct 28, 2020
Park appears run down. Dead grass. Dog park had broken bench you could not sit on. There was dog poop all over dog park and other grass areas. Owners are obviously not cleaning up nor management. Constant smell of marijuana throughput park.
Oct 28, 2020
This park needs maintenance! Roads are not paved - only graveled and the lawn they claim surrounds each site is a joke! Also, the website does not allow you to specific sewer hookups! We assumed they are standard on a pull-through site with all the other amenities such as water and power, but not the case! When we arrived, we were told our site did not have sewer hookups!
Oct 27, 2020
Nice wide spaces with grassy area next to trailer. The owner seems to care about your safety and was present and observant. A nice quiet place to spend a couple of nights.
Oct 26, 2020
First, very misleading location -it is 1 hour from Sequoia National Park. Secondly, this is the most unsafe we have EVER felt- we left after one night even though we paid for 2 nights. Most are not campers here, but residents. A fight broke out at 4AM where a man was pounding on trailer next to us to get man outside and fight him, then it escalated. I've never felt so unsafe for me or my kids.
Oct 25, 2020
It was a pleasant stay. I never could get the cable tv connection to work. I am not sure if my cable suddenly went bad or if likely the connection at the sight is just worn out from repetitive connection attempts through the years. The location was adequate and the facilities were clean and pleasant.
Oct 25, 2020
Very easy & convenient.
Oct 24, 2020
This park is not far from the freeway But it's quite. We stayed twice in Oct because of it convenience. However the park (the section they put us in) needs attention! There were quite a few permanent motorhomes, 5th wheels etc with stuff all around them. Not the type of view one wants to look out and see! The roads are narrow and those residences park half in the roadway! Hope they clean it up.
Oct 21, 2020
Very friendly staff, the hookups were great, the location was a bit out of the ordinary for a campground being in the middle of a residential area, all in all, a very nice stay.....the grandkids loved the playground! Thank you for everything!
Oct 21, 2020
The park was quiet relatively clean still in need of some repairs. The cable TV connections were not operable.went up to the office and asked if it was an issue in the park I was told they no longer had cable television service available. I asked the same question of a maintenance personnel they said that at some sites the cable worked others he did not he had no way of testing on repairing. We ha
Oct 20, 2020
Dusty, gravel sites. Hard to get back to freeway.
Apr 14, 2021
Nice quiet park. Several trees, so there are birds to listen to.
- Kathy Bramer on Google
Apr 14, 2021
Had a great time
- Robert Bramer on Google
Apr 11, 2021
It is in the middle of a residential neighborhood but seems secluded.
- Jerry Antoine on Google