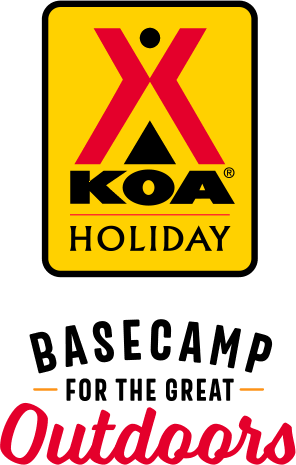 KOA Holiday Campgrounds
Whether you're exploring the local area or hanging out at the campground, KOA Holidays are an ideal place to relax and play. There's plenty to do, with amenities and services to make your stay memorable. Plus, you'll enjoy the outdoor experience with upgraded RV Sites with KOA Patio® and Deluxe Cabins with full baths for camping in comfort. Bring your family, bring your friends, or bring the whole group – there's plenty of ways to stay and explore.
KOA Holidays Feature:
RV Sites with a KOA Patio®
Deluxe Cabins with full baths
Premium Tent Sites
Group meeting facilities
Directions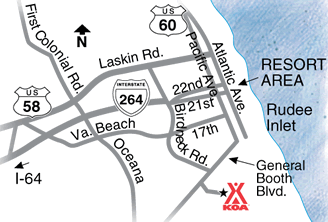 From I-264E, take exit #21A, First Colonial, and turn right. Follow First Colonial; it will become Oceana Blvd. At General Booth Blvd., turn left. Go 0.2 mile and turn in at the KOA sign on your right.
Get Google Directions
Jul 12, 2021
Always a pleasure staying at KOA! Deluxe cabins are wonderful and Virginia Beach KOA is one of our favorites!
Jul 12, 2021
We stayed in a deluxe cabin. It was really cute. The only downside was there wasn't enough shade and it was really hot during our stay but the air conditioning worked really well. We had a great time. The campground was very clean and the staff was so friendly. The pools were nice too. I would definitely recommend.
Jul 12, 2021
I feel that housecleaning, needs to make sure they check the dishes and sweep the floor better. We had to re-wash the dishes and the floor had sand all over it when we arrived. Other then that we had a great time and loved KOA VA beach!!
Jul 12, 2021
We stayed in the small cabins and it was great! Bath house just a few steps away, pool was nice and not crowded, there were plenty of things to do for the older kids, beach a few miles down the road and lots of restaurants around. Was here for a softball tournament and if we play here again, I will most definitely book here again!
Jul 12, 2021
We loved our Camping Cabin.
Jul 11, 2021
Campground staff is very friendly and accommodating. We stayed in a deluxe cabin and had everything we needed for our stay. Such an awesome environment to stay in. Our first KOA experience and we are pleased and excited to return again! Trolly to beach was convenient! Highly recommend, this was a great place to stay if you love camping and the beach!
Jul 10, 2021
The campground was wonderful. There were lots of things to do for everyone in the family. We were visiting our son, a navy man stationed in Norfolk. He was allowed a pass to visit with us. The only bad thing we experienced was the shower. It had a mind of it's own! First it was scalding hot, then would get freezing cold. We couldn't get it to regulate.
Jul 10, 2021
Adorable, clean cabin with all the basics included - we brought way more than we actually needed! Less than 10 minutes to dog-friendly public beach with cheap parking. Would recommend, would rent again.
Jul 10, 2021
Love the koa supper fun and relaxing �
Jul 09, 2021
Staff was extremely nice and helpful. Beautiful place to stay.
Jul 08, 2021
Great cabins! Was sad they took away the pool slides. Unfortunately other cabins kept putting up tents for MANY other family members to stay with them and were disrespectful. Many cabins complained to manager but she made it like she was annoyed that we wanted the rules followed!!!!
Jul 08, 2021
I always stay at KOA's when camping the different states. We stayed at the deluxe cabins. Two of them. Very clean. It has everything you need. No need to bring anything. It's better than a hotel. Staff is very attentive and friendly. They resolve for you at the moment. The pools are awesome. I would stay there in the future.
Jul 07, 2021
Everyone was very kind and sweet from the moment we arrived, until we left. We loved it so much, we extended our stay!
Jul 06, 2021
The entertainment was good for the holiday weekend. The cabin beds were very uncomfortable and the wall had a hole in it. The bathrooms were not kept too clean but it was a busy weekend. The people are very friendly.
Jul 06, 2021
Mattresses could be more comfortable other then that it was an amazing trip. Tons of outdoor activities and we loved the food trucks and bands.
Jul 05, 2021
Staff were wonderful. Campground was in great condition
Jul 05, 2021
Wonderful staff, cabins, amenities and location. So much to like!
Jul 04, 2021
Staff very friendly. Love the accomodations. I had deluxe cabin. However the traffic and sirens were quite loud at this location. Inside the deluxe cabin, the Air Conditioning didn't cool off the bunk bed rooms. But everything else was amazing and fun
Jul 04, 2021
We had such an amazing time! We loved everything about the campground. My girls 3 and 7 absolutely loved it! We will definitely be back!
Jul 03, 2021
Very nice fun friendly �����
Jul 03, 2021
The office staff members were not consistent. There were a few that were down right rude.. Both pools were dirty. The water was turned off without any notice. Linen exchange was done at the office. We were originally told to call the office for delivery by housekeeping. We then were told that the housekeeping can't be pulled from cleaning therefore we had to come to the office. Frustrating.
Jul 02, 2021
Everything was perfect
Jul 02, 2021
Beautiful grounds, friendly staff and lots for the family to do. I also loved the fact the trolley stops all day to take you to the beach.
Jun 30, 2021
My #1 KOA took grandkids for there first camping trip they had a blast they were so upset when we had to leave great price & great fun
Jun 30, 2021
The staff was very kind and friendly and the campground was fun and very clean
Jun 29, 2021
Clean and quiet, would like to have TV and fridge raptor in the cabins
Jun 29, 2021
It was absolutely PHENOMENAL...we DEFINITELY will be returning!!
Jun 29, 2021
great facilities, and friendly people!
Jun 29, 2021
We had a great time, the campground was amazing. only wish we could have had a campfire. There was so much water in the pit it was impossible to light. I was drained but filled right back up.
Jun 28, 2021
All the workers on their staff were just great! Very helpful and pleasant to deal with. Family really enjoyed their camping trip here. Even with the kids starting to getting older, seeing them play and do activities like we used to do when we camped. Cell phones were put down and they had a blast.
Jun 28, 2021
Late check in was very easy, communicated via text and a phone call. Very friendly and welcoming. Very clean. SUPER kid friendly, the kids barely wanted to leave the campground to go to the beach. Was definitely worth the 10 hour drive. The trolley to and from was also an added plus.
Jun 28, 2021
Outstanding staff ad amenities.
Jun 28, 2021
We got a 8 people cabin deluxe for 6 adults and it was PERFECT! It was big enough to fit 6 people super comfortable. The campground was super super great - so much to do and we def. did not had enough time to do them all - we only went for the weekend from NJ and would LOVE to come back. Staff were super nice and super caring. I will def. recommend it for families, friends and any group out there!
Jun 28, 2021
Very clean and staff friendly. Only downside is that I didn't get to see the fighter jets because of cloudy weekend. Would definitely stay again!
Jun 27, 2021
Campground was beautiful! KOA workers driving golf carts need to slow down; they drive a little too fast with so many children running everywhere. Many of your trees need trimmed to remove large dead branches to prevent injury to guests and campers.
Jun 27, 2021
We loved everything about our stay. This was our first KOA stay and we definitely intend on utilizing other KOAs. The only complaint I have it the AC in our cabin, it was very moldy inside and it made the cabin smell really bad. I did not feel comfortable staying in that particular cabin and breathing any air in while the AC was running, even using the fan setting you could smell the mold.
Jun 26, 2021
We had a very nice time here for the week! Camping Cabins in the woods were perfect! Staff was very friendly and weekend activities were perfect for the kids.
Jun 26, 2021
It was excellent as usual. There is one incident that was falling. We were there for 3 nights at over $200. per night. There was a notification in the cabin that we would have to purchase any additional Keurig coffee cups at the camp store. At the very least I believe we should be given the 4 cups that would be placed in the cabin if it had been rented for separate nights. This was very petty
Jun 26, 2021
Perfect, as always. See you again soon!
Jun 25, 2021
Very clean campground. Staff was very attentive to whatever you asked of them. Would come back again
Jun 25, 2021
Short,but very nice campground,clean facilities,store and pools, thank you Adam karolus
Oct 11, 2021
We love it here at KOA, VA beach
- Larry Hicks on Google
Oct 10, 2021
Cooler than I thought. Clean, well run, and lots to do. I was super impressed.
- Lee Palmer on Google
Oct 05, 2021
Pleasant place to relax, only thing was it would of been nice to know that there was a cemetery on the grounds. They should of showed a little more respect by fencing off the area to keep people from walking over the Graves even though there was a nice plaque with the names .it should of been off limits. If I would of known this little detail I would have picked another campground.
- Alex Wolf on Google