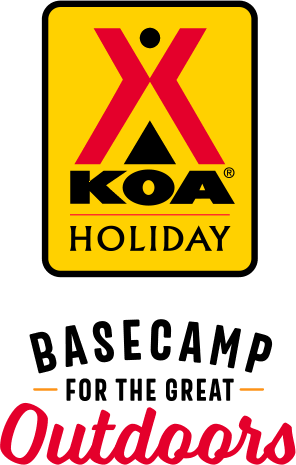 KOA Holiday Campgrounds
Whether you're exploring the local area or hanging out at the campground, KOA Holidays are an ideal place to relax and play. There's plenty to do, with amenities and services to make your stay memorable. Plus, you'll enjoy the outdoor experience with upgraded RV Sites with KOA Patio® and Deluxe Cabins with full baths for camping in comfort. Bring your family, bring your friends, or bring the whole group – there's plenty of ways to stay and explore.
KOA Holidays Feature:
RV Sites with a KOA Patio®
Deluxe Cabins with full baths
Premium Tent Sites
Group meeting facilities
Directions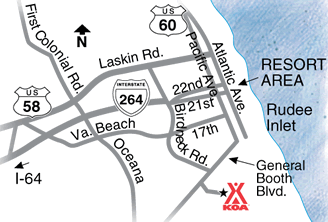 From I-264E, take exit #21A, First Colonial, and turn right. Follow First Colonial; it will become Oceana Blvd. At General Booth Blvd., turn left. Go 0.2 mile and turn in at the KOA sign on your right.
Get Google Directions
Aug 22, 2021
So much to do! It was clean and comfortable!
Aug 22, 2021
Great pool, and the kids love going to the beach on the trolley.
Aug 21, 2021
Great facilities and staff - far better than we expected. Minor problems with lack of hot water and burned out lights - had we stayed one more night I'm sure these would have been fixed
Aug 20, 2021
Excellent place to camp. We had the cabin and they were great. Nice having a deck and patio with plenty of shade. This was our 2nd time here and enjoyed it. Plenty to do for kids and adults and close to the beach. Will be back!
Aug 20, 2021
We had a wonderful stay at this campground! Everything is clean and well-maintained. Our 6 person Deluxe Cabin was modern, roomy, and stocked with all the necessities to make our stay comfortable. The shuttle service to the beach was convenient and an extra bonus to the campground. We would definitely stay here again!
Aug 20, 2021
Great location for those visiting family in the tidewater area or for those looking to enjoy water-sports and boardwalk fun at the beach.
Aug 19, 2021
Great time nice helpful staff
Aug 19, 2021
VA BEACH KOA HOLIDAY WAS VERY FRIENDLY, CLEAN AND FULL OF THINGS TO DO ALL DAY LONG. THE STAFF WAS EXCEPTIONAL; ALWAYS SMILING AND HELPFUL WITH ANY INQUIRY KR REQUEST. OUR CABIN WAS NICE AND CLEAN AND FULL IF EVERYTHING WE NEEDED.
Aug 17, 2021
had a great time
Aug 17, 2021
Our stay at the Va Beach Holiday KOA. Was what I was hoping for. My expectations for a fun and pleasant camping experience for my grandchildren to build happy memories on was exactly what I was hoping for. Thank you KOA for making camping a great experience for us. The grounds, facilities, pools and cabins were clean and there was plenty of activities to do.
Aug 16, 2021
People were very friendly and the campground was spotless!
Aug 15, 2021
One of the cleanest and most comfortable cabins I've stayed in! The bed was super comfortable! My only suggestion is to have an AC in the bedroom because the AC wasn't being blown in there from the main room. It was hot at night because of that. Thank you for a great stay!
Aug 15, 2021
Great staff, clean pools, and activities for kids. Friendly staff . We had a great time. However, cabins could use a deep clean and upgrade (tub/shower, toilet, sink, bed). Also difficult to keep bunk bed area at a cool enough temp without freezing in the main bed. We got the one for sleeping 4, will def opt for bigger one next time. There is no room to move in the cabin with a family of 4.
Aug 14, 2021
Wonderful campground with amazing amenities!
Aug 13, 2021
Staff was very professional and well mannered. Had a problem with a shower not working, called, and fixed in 30 minutes. Did not like the wifi but that is a common problem of campgrounds. Cabin was very clean, AC was operating and working well. Did find a TV control that needed batteries and a smoke alarm that was chirping on the last night. Advised office on exit. Over all, very happy.
Aug 13, 2021
Great stay. Cabin clean. Pool nice & lots 8f space
Aug 13, 2021
My kids loved it and the convenience of the store when you forget something made it great!
Aug 12, 2021
Stay was wonderful, however mattresses in camping cabin were unusable. I know is meant to be rustic, but need to let people know. Got no sleep. Spoke with 2 neighbors who brought this up to me, so I am voicing concerns for all. Would come back, but could never stay there again.
Aug 12, 2021
Me and my family had a really good time at KOA we spent 3 night at the camp and everything was excellent customer service fantastic and all the stuff was great cabin very clean price acceptable I recommended.
Aug 11, 2021
We were impressed by their service, they were very helpful and patient. There so much to do!!i wish we had stayed longer. And we missed the gaint water slide, didnt kniw they only there on certain days. That was the only bummer and didnt see Mike the Carver. It was really nice we will go back again next Summer!!!
Aug 10, 2021
The campground was great. They were super communicative of check in procedures, activities, and programs throughout the weekend. Everything was clean and well kept. The store doesn't open until 9 a.m., which I thought was a little late, especially for those trying to get a coffee or breakfast fix, but the other amenities like the playground and beach shuttle more than made up for it.
Aug 10, 2021
After some 20 years of vacation to this KOA we decided this was our last trip because of the hassle we received in many areas from management. However I sense that some things have changed for the better and we may have to reconsider our decision not to return. Two improvement no ants in the Cabin 703 and no squirrels. Note 703 shower faucet has a problem temp changes rapidly.
Aug 10, 2021
This review has been removed by KOA due to profanity.
Aug 09, 2021
Fun time, great place for kids with all the activities.
Aug 09, 2021
Very nice stay. Good customer service. Overall good experience. First time KOA campground user and definitely returning. Nice amenities. Clean campground.
Aug 08, 2021
Enjoyed, WAVE bus was very convenient, allowed family to come and go to beach/shopping as desired. Camp activities were a plus pool, bouncing pillow, chess, corn hole, table tennis, red neck golf, eight ball pit, and barbeque wagon. Nice store. Very friendly and helpful staff. 2 negatives--no on-site restaurant, still not sure why our 3rd trailer was not put in site 27 to be with us.
Aug 08, 2021
Customer service was excellent, everyone was friendly. Issues were resolved promptly (we needed sheets and they were delivered quickly, and someone came to spray a bees nest within minutes of our call.) We were disappointed that activities were only scheduled on weekends. The blow up slide was not available while we were there. Finally, the cabin had a lot of mold in the window and in the bathroom
Aug 08, 2021
This review has been removed by KOA due to profanity.
Aug 08, 2021
We enjoyed it����
Aug 07, 2021
Great KOA!! The staff is very friendly and accommodating, our cabin was fantastic!! We had a wonderful vacation!!
Aug 07, 2021
We stayed in the small cabin in the woods. It was nice & quiet. A/c worked very well. We didn't see any bugs and it was nice and dark in the morning. The mattresses were very comfortable. The only improvement I would suggest is that the shower curtains needed replacing.
Aug 07, 2021
Had two issues with our cabin upon arrival and the staff handled them immediately, even being late in the evening. Lots for kids to do and everyone was very friendly.
Aug 07, 2021
Very nice accomodations. I was surprised at how much was included in the deluxe cabin. We will definitely be doing that again in the near future.
Aug 06, 2021
Fun place for families! We stayed in a cabin and it was helpful to have air conditioning and cover during some rain. We were impressed with the bounce pillow, pool and yard games. The Wave Trolley was a fun way to get to the beach and aquarium. We did think the bathrooms could have been cleaned more frequently. Overall we had a great stay.
Aug 06, 2021
Roaches in cabin, toaster did not work, air conditioner duct vent layer of dust and cob webs in corner at ceiling and kitchen could use a big bowl. Other than that we had a great time and will be back.
Aug 05, 2021
Everything about our stay was great except for the jets that fly overhead. All staff were gracious & accommodating, just how a vacation should be! Had a 4 person deluxe cabin with a patio. The tiny house/cabin was clean and cozy. We rented bikes & played at the pad park. Didn't get a chance to ZipLine or take the trolley. Virginia Beach oceanfront was a quick drive, less than 10 minutes.
Aug 05, 2021
Great place to stay it, great environment with friendly and helpful staff. The only downside was the beds in the cabin, not very comfortable and they make so much noise. But that's the least of my worries, great place will definitely be back again
Aug 05, 2021
Stayed 2 nights in wooded cabins. Lots of activities for the kids, close to a lot of things, trolley to oceanfront on point. Will be back!
Aug 04, 2021
Had a fantastic time. Facilities were clean, staff were extremely courteous.
Aug 03, 2021
Has to be the best KOA we have stayed at. Staff was wonderful!
Oct 18, 2021
Great camping experience
- thomas honor on Google
Oct 16, 2021
Love it here!
- Eric Schmidt on Google
Oct 14, 2021
We really enjoyed our overnight stay here. The campground is clean and there's tons of friendly staff running around all day doing stuff. Definitely going back.
- Gerald Hines on Google