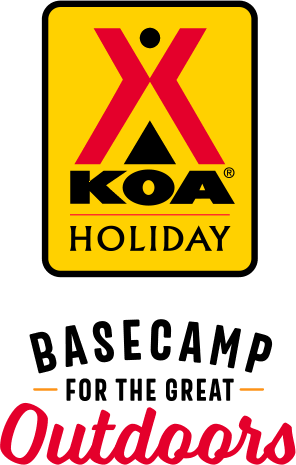 KOA Holiday Campgrounds
Whether you're exploring the local area or hanging out at the campground, KOA Holidays are an ideal place to relax and play. There's plenty to do, with amenities and services to make your stay memorable. Plus, you'll enjoy the outdoor experience with upgraded RV Sites with KOA Patio® and Deluxe Cabins with full baths for camping in comfort. Bring your family, bring your friends, or bring the whole group – there's plenty of ways to stay and explore.
KOA Holidays Feature:
RV Sites with a KOA Patio®
Deluxe Cabins with full baths
Premium Tent Sites
Group meeting facilities
Directions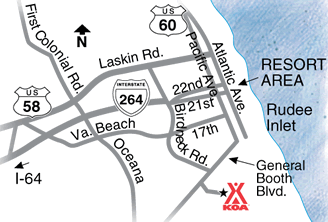 From I-264E, take exit #21A, First Colonial, and turn right. Follow First Colonial; it will become Oceana Blvd. At General Booth Blvd., turn left. Go 0.2 mile and turn in at the KOA sign on your right.
Get Google Directions
Oct 14, 2021
We had a great time! Our site (110)was good but not very level. It had ruts in the grass & a hole in it. I almost twisted my ankle. Staff was great! Facility is very nice. Unfortunately the pool was already closed! You would think it would be open a little longer in Virginia Beach.
Oct 14, 2021
New sites are beautiful and spacious, staff amazingly friendly and overall facility clean every visit. Can't wait to return for the Christmas light show!
Oct 14, 2021
Friendly staff, excellent location.
Oct 13, 2021
Worst experience we have had at a KOA. Site was on very un-level on somewhat of a slop, extremely small & left no room for parking our car; fire pit placed too close to RV parking spot making it unusable; pools closed early almost every night; lengthy power outages occurring several times during our stay; wifi pretty much non-existent, even with being right under the antenna and staff was no help
Oct 13, 2021
even on a rainy weekend it was all ok
Oct 12, 2021
We loved it. Staff was very friendly. The campground was very clean. We will definitely go back.
Oct 12, 2021
Very clean, very friendly park. Will stay again!
Oct 12, 2021
Terrible layout. Site 371. Sewer pipe so high it was uphill. Sewer wouldn't drain. The only people who obey the speed limit are the campers. Yelow golf carts driven by maniacs. Very good garbage pickup.
Oct 12, 2021
Great camp ground for a brief stay. The staff were all well informed and very nice!
Oct 12, 2021
very nice campground
Oct 12, 2021
Beautiful campground! We will definitely return!
Oct 12, 2021
EXTREMELY well run. Great Staff. Lots of amenities. Close to beach and convenient to Norfolk and Portsmouth.
Oct 12, 2021
Another great KOA, I will be back.
Oct 12, 2021
It was our first weekend with our new RV!! We had a great experience!!
Oct 12, 2021
Such a beautiful place and very friendly, thank you for a wonderful relaxing visit.
Oct 12, 2021
we had a great time, corner lot lots of room dog friendly place was well kept staff was very nice
Oct 11, 2021
Great KOA! Cycling distance to the boardwalk. Nice laundry facilities.
Oct 11, 2021
Patio sites excellent. Highly recommended for big rigs with Sat TV...m
Oct 10, 2021
Very nice facility.
Oct 10, 2021
Campsites are way to close together in the wooded cabins. Bathrooms are nasty and doors don't lock.
Oct 09, 2021
We had a deluxe cabin site 722. Everything you needed was there. Clean and well maintained. My only complaint was we wanted to extend our stay and they couldn't accommodate us.
Oct 09, 2021
Totally perfect, as always
Oct 08, 2021
Very comfortable, well maintained restrooms and friendly staff
Oct 08, 2021
Our stay was nice. Friendly staff and nice amenities. Our deluxe cabin appeared aesthetically clean but there was a used toothbrush in the fold out couch when we took it down. When my girls went to use the linens left on their beds, there were notes from previous campers folded up inside them.
Oct 08, 2021
Great campground and location. Loved everything about it. It was a low traffic day at the airbase so i can't comment on that.
Oct 08, 2021
Very nice RV park. Convenient to Virginia Beach. Helpful staff.
Oct 07, 2021
Lovely campground so very convenient to the beach. Love watching and hearing the planes
Oct 07, 2021
This was our first time at a KOA and we love it!! Now that we have a little boy, we were hoping for a family friendly experience. Once I found out about the Fall Festival, I was that much more excited. Our son loved the glow party and petting zoo! My husband and I even had fun too. Keith and his team did such a stellar job. Keith was a pleasure to visit with and had such a warm, positive energy!
Oct 07, 2021
One of the cleanest campgrounds I have ever stayed in. The staff goes above and beyond to ensure the facilities are being maintained and that everyone is having an enjoyable experience. The amenities were great and the activities planned exceeded our expectations. I look forward to returning to this campground soon!
Oct 07, 2021
Very nice campground. Stayed in one of the small cabins for one night. It was set back in the wooded area and nice. The bathroom/showers were close. The only downside was the cleanliness of the bathroom/showers, it would have been nice if they were clean or at least checked to insure more cleanliness.
Oct 06, 2021
Very clean, well equipped, roomy cabin. We had 3 adults and 2 children. The grounds are nice with lots for the family to do. What a relaxing stay!
Oct 06, 2021
Quiet, clean enjoyed it.
Oct 06, 2021
End space was a little noisy, not all showers were working, staff friendly and helpful, good location
Oct 06, 2021
The sites were large and many had shade trees.The campground was having a fall festival and it was a lot iof fun for all ages.The campground was very clean and the staff was friendly and helpful. The beach is only 3 miles away and there are bike paths from the campground to the beach. We stayed 3 days and would go back again.
Oct 05, 2021
Pretty standard KOA, which I mean is reliable, safe, well equipped and friendly staff. I wouldn't rave about it, but it was good. When camping alone I appreciate the quality, safety and good management.
Oct 05, 2021
We were so pleased with the efficiency, cleanliness, and diversity of activities!! This is a premium campground. We stayed on one of the patio sites and found it high and dry, private (a good distance from other campers), and well equipped. Beautiful acreage for walking the dog and a dog park, as well. The staff is always available and knowledgeable. We will definitely return.
Oct 05, 2021
Stayed two nights in a cabin. Very comfy. Wasn't there much for the amenities, but they were numerous. Would definitely stay here again
Oct 05, 2021
Wonderful campground. Well maintained and friendly. Lots of things for children to do. Good walking area. Safe. Close to the Virginia Beach Boardwalk and all the restaurants and shops.
Oct 05, 2021
Always a good quality stay. Lots of activities for the kids. Wish the pool had been open. It was 85 degrees all weekend. Patio sites are very tight but level. They sit on the main road so tons of traffic if that is something you're hoping to avoid.
Nov 21, 2021
Must go see the lights
- Chasity Dellinger on Google
Nov 16, 2021
Clean area Close to beach All hook ups work Site almost level Table on site Fire pit Helpful staff and friendly Will retrun
- charles shaffer sr on Google
Nov 14, 2021
Reason: Attending conference 20 minutes away. Visit again: Yes Security: Felt safe Staff: Very friendly. He directed us to be perfectly inline for our hook-ups and most level spot. Site Conditions: Flat gravel pull-thru, easy to level, well maintained huge trees all around/ Spacing: plenty for slides/awnings extended, enough truck parking w/35' 5th wheel. Hook-ups: Working, clean, neat & easy access. Noise: rescue squad down the road, but didn't notice this often. Oceana base is nearby but never heard the aircraft. Wifi: not great Location: Easy to find w/GPS Services: trash pickup Things to do this KOA: biking, kids play area, pools, giant chess board, outdoor social area with tables and chairs, large enough for good safe walking. Interesting tidbits: They were decorating for the holidays. Apparently they have one of the largest Christmas light displays in the area where cars from all over drive through for $25-45. RVs get the light show for free.
- Annemieke Philippi on Google