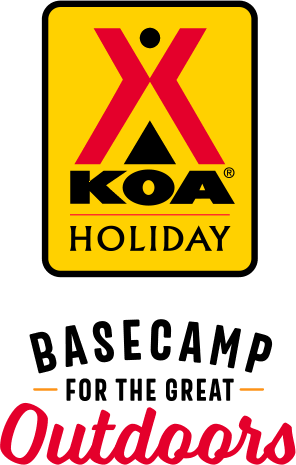 KOA Holiday Campgrounds
Whether you're exploring the local area or hanging out at the campground, KOA Holidays are an ideal place to relax and play. There's plenty to do, with amenities and services to make your stay memorable. Plus, you'll enjoy the outdoor experience with upgraded RV Sites with KOA Patio® and Deluxe Cabins with full baths for camping in comfort. Bring your family, bring your friends, or bring the whole group – there's plenty of ways to stay and explore.
KOA Holidays Feature:
RV Sites with a KOA Patio®
Deluxe Cabins with full baths
Premium Tent Sites
Group meeting facilities
Directions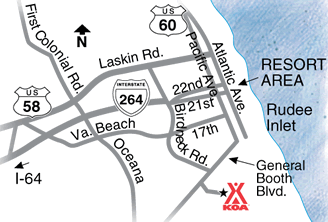 From I-264E, take exit #21A, First Colonial, and turn right. Follow First Colonial; it will become Oceana Blvd. At General Booth Blvd., turn left. Go 0.2 mile and turn in at the KOA sign on your right.
Get Google Directions
Aug 31, 2021
We had a nice location. Bus to boardwalk was a great plus. WIFI very slow on phone and TV would not operate. Other than that I had a wonderful time.
Aug 31, 2021
Hard working staff! Great place to stay. With a campground that big, would be nice to have 24 hour access to laundry room. Nice dog park. Fun family activities. One of the few pools I enjoy. Great location!
Aug 31, 2021
Outstanding Customer Service
Aug 31, 2021
Thank You for the Amazing stay!! This is my second time coming to KOA Virginia Beach and it won't be my last. The staff is great, extremely polite and very approachable and made our stay rememberable as always. The Deluxe Cabin is the go-to, very cozy and the out door set up is perfect for night time activities. I will definitely be posting some content on my social media!
Aug 31, 2021
Great site with a great staff!
Aug 31, 2021
Absolutely Fabulous! We had a great cabin. It was nice to have a patio dining set instead of a picnic table. My family was delighted.
Aug 31, 2021
Very nice. Clean and organized. Liked how quiet it was even though the campground was full. Lots of families with children and their dogs. Still quiet. No barking or very loud kids. Camp store was a little disappointing. Wish it had more shade.
Aug 31, 2021
Great site and very clean!
Aug 31, 2021
Even when there is a problem they take care of YOU.
Aug 30, 2021
The site was very unlevel until I fussed about it. I also don't think it's appropriate for the KOA to require long term campers to mow their own patch of lawn. The monthly fee is very high and I feel for that kind of money, the owners should take care of that. impression; temporary camping=very nice; long term=slums. pool and slide etc very nice. temp camping 9; long term....5?
Aug 30, 2021
Hello, Our stay was amazing except for the few issues we had once entering the cabin. Our cabin had hair in the bathroom sink. The counters were really dusty in the kitchen and bathroom. The bathroom toilet was also not as clean as it should have been! We arrived two hours early to be told it wasn't ready, it clearly was not cleaned prior to us arriving. Otherwise we enjoyed out weekend stay
Aug 30, 2021
I felt like the pictures of the pool were not pictures Of actual pool. Which was disappointing. There was also a message sent Saturday evening giving us an hour notice of power outage which I felt that your campground would have known way earlier and should have relayed the message to campers with time we had already left for the evening and had our dog in camper we were worried the whole time
Aug 30, 2021
This was our 4th time, first time staying in cabin. It was more equipped than I expected. Had a wonderful stay, lots of activities for all ages. Pools were great, especially with the heat. Location is great. Definitely will be back. Great job to all!
Aug 30, 2021
It was a great stay. Loved the cabin. But u could use new air conditioners. The one in our cabin did not stay cold enough and the door didnt close very well except when it was locked. But other then that it was great.
Aug 30, 2021
The staff is fantastic. While 2 of my grandkids and I were putting up our tent a large tree branch fell and hit my hip and scratched my granddaughters leg then fell on the water spout and broke it off spraying water everywhere. They were quick and repairing the pipe and moving my site. I can't remember everyone's name but Red, Linda, and manager Paula were understanding and compassionate.
Aug 30, 2021
Had a wonderful time
Aug 30, 2021
A huge campground that was pretty much full. It is well maintained and staff was pleasant and helpful. There is plenty of activities, especially for kids… two pools, bouncer, slippy slide, giant chess…. It was also convenient to have a stop for the bus into VA Beach right on site.
Aug 30, 2021
The cabin air conditioner sucks really bad hardly cools anything � had to go buy a fan just to be able to stand it. The mattress on bed are more like prison mattress I slept in a camping chair for 3 days. My husband is hurting from it he called off work the day after we got home from it. The park is nice and workers are friendly.
Aug 30, 2021
Loved every day there
Aug 30, 2021
Easy checking, Great location, Great site, and friendly people
Aug 30, 2021
Awesome! Except for waking up Saturday night at 2 am with no electricity. Hotter than all get out. Not KOA fault but a warning would have been nice. It also would be nice for the deluxe sites to have shade. No trees available ���
Aug 30, 2021
It was a great stay look forward to coming back soon
Aug 30, 2021
Everyone was very friendly. We will definitely be back in the fall!
Aug 30, 2021
I gave this KOA high marks because of Emery. Went out of his way to help us, along with the other employees, when we arrived and could not get RV electric working, which meant no air conditioning, and it was 95 out at 7pm. We would have probably left for home after staying in a hotel overnight but he accommodated us in a basic cabin so we could figure it out in the am. Above and beyond!! Thxs!
Aug 30, 2021
Place is clean awesome pools are nice a lot for kids to do. One downfall is they promote this big slide on the app we went on weekday not realizing the slide wasnt going to be open when we visited my son was so bumbed to see it go up on the day of check out but it wasnt running until after checkout hour I tried to stay an extra day they said no availability on the app it showed we could book a da
Aug 30, 2021
The clean bathrooms and showers make camping there so enjoyable. Thank you.
Aug 29, 2021
We had an awesome time the cabin was clean and fully stocked we made cookies on the grill one night the staff was very polite professional and helpful and we felt safe enough to let our kids go to the playground alone. Will definitely be back soon Norman Camden
Aug 29, 2021
The Deluxe cabin was exactly what we were looking for for our bachelor party. Tons of amenities on the campground. Great stay. If you're over 6' tall the bunk beds make for a rough nights sleep.
Aug 29, 2021
Very clean, quiet campground with lots of amenities. I do not have young children but there is a lot for them to do here. The camp store had a nice selection of food, supplies and souvenirs.The shuttle service is awesome. It is cheap ($8 for a 3 day pass) and convenient when going to the beach, aquarium, or oceanfront area for shopping/restaurants. I didn't need to use my personal vehicle at all.
Aug 29, 2021
My favorite part was being escorted to my camp site.
Aug 29, 2021
Such a beautiful campground!! Was greeting at the gate at 12:30 am, was guided right to our site, he stayed till we got set up and kindly left. Our neighbors were out at a fire and invited us over and we sat with them till late, we woke up early and took the trolly down to the beach!! It was fun!! Came back and I joyed the pool and the dogs enjoyed the play area for dogs!! I loved this place…
Aug 28, 2021
Very nice campground and all the staff was very helpful and friendly and it's only 10 minutes from the beach! I highly recommend KOA!
Aug 28, 2021
We had a fantastic time! We appreciated the convenience of the trolley and the cleanliness of the cabin.
Aug 28, 2021
We thought we were getting a campground with certain amenities but most were closed despite the website clearly stating they were available. One of the 2 pools was closed (the large one making the small one very crowded) the activities room was closed, there were no bike rentals, the camp store closed at 7pm. The pool slide was just nonexistent. At one point there was no water at all. Awful.
Aug 28, 2021
Great experience. Friendly staff. They guide you right to your site and show you where your hook ups are if you're new to camping. Their store was loaded with things you might need including alcohol (super important) nice amenities and pool area. Also area for ping pong, corn hole, and ladder ball plus bocci but I didn't see the balls to play.
Aug 28, 2021
Todo muy bien pero los baños necesitan más limpieza
Aug 28, 2021
Very friendly staff, super Clean, plenty of things to do for the kids. The bus into town was very helpful when you have a RV and no car
Aug 28, 2021
Staff was very nice. The spots were too close. Put your awning out and you are at the edge of your spot. Tram to beach and aquarium was nice to have. We stayed here because we went to concert at the Virginia Beach amphitheater. Too an Uber from KOA to concert. Pools were nice.
Aug 27, 2021
Fantastic staff! Pools were excellent and clean. Sites could be a bit larger, we stayed at sites #267&268. So much to do there including the zip lining!
Sep 07, 2021
Very nice campground. Amenities are well kept. Close to the beach (remember parking in 9th Street garage if you want to drive) or take the bus in.
- Ryan Fatzinger on Google
Sep 05, 2021
One of the best KOAs I've been to facilities and activities and staff are excellent.
- Kevin Anderson on Google