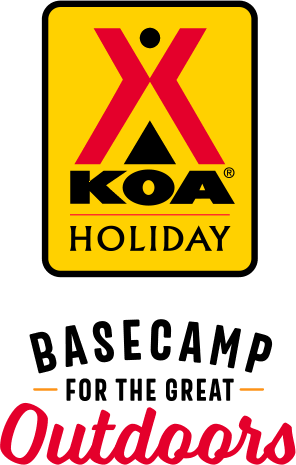 KOA Holiday Campgrounds
Whether you're exploring the local area or hanging out at the campground, KOA Holidays are an ideal place to relax and play. There's plenty to do, with amenities and services to make your stay memorable. Plus, you'll enjoy the outdoor experience with upgraded RV Sites with KOA Patio® and Deluxe Cabins with full baths for camping in comfort. Bring your family, bring your friends, or bring the whole group – there's plenty of ways to stay and explore.
KOA Holidays Feature:
RV Sites with a KOA Patio®
Deluxe Cabins with full baths
Premium Tent Sites
Group meeting facilities
Directions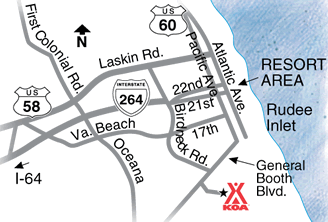 From I-264E, take exit #21A, First Colonial, and turn right. Follow First Colonial; it will become Oceana Blvd. At General Booth Blvd., turn left. Go 0.2 mile and turn in at the KOA sign on your right.
Get Google Directions
Sep 13, 2021
We stayed for the member appreciation weekend. It was a good time with food trucks, activities, and a live band. The staff is always kind, helpful, and welcoming.
Sep 13, 2021
Other than the Navy jets flying over us everything was great
Sep 13, 2021
This KOA was very clean and the grounds were very well kept. Lots of amenities and activities for everyone. Only complaint was that the water pressure was a little low.
Sep 13, 2021
Very helpful staff.
Sep 13, 2021
Always a nice place to stay
Sep 13, 2021
Very nice KOA, super clean, and well maintained. Our spot could use a little more gravel to help when it rains (i.e. Mud!). Especially liked the easy access to the bike trail for the great three mile ride to the beach. I will be back.
Sep 13, 2021
It was a bit too pricey for camping, but it was a nice campground, everything was clean, and kitchen and other supplies were included. I had a good time. Friendly staff.
Sep 13, 2021
Very nice campground clean bathrooms and all the staff were nice and hospitable I would recommend this campground to everyone
Sep 13, 2021
Overall, we enjoyed our stay. We especially liked the Saturday night activities - food trucks and live band. The main drawback to the campground is the noise from the jets. Friday night was bad and we were awakened several times by the noise. Saturday night was quiet and we slept much better.
Sep 13, 2021
Very nice campground - we had a great time - lots of stuff to do, very clean!
Sep 13, 2021
Very nice campground, friendly atmosphere the people that work there were great, maybe a little more water pressure at shower would be nice, other than that it was a very nice place to stay.
Sep 13, 2021
Wonderful time everyone was so nice and staff was awesome!! Love the entertainment and food � �!! Love love love it!!!
Sep 13, 2021
I truly enjoyed my stay at your campground. The cabin was just beautiful and very clean. There were activities for all ages. The customer service was excellent. Looking forward to staying at your VA Beach location again in the near future.
Sep 13, 2021
This place was perfect. Reasonably level FHU site. Shady spot. Bike trail access directly across the street and an easy 3 mile ride straight to the boardwalk. Staff were everywhere keeping the place clean and functioning. Office staff very helpful. Food trucks and a band on Saturday in the pocket park were really terrific! I'll be back!
Sep 13, 2021
Great trip!! I will definitely be returning :)
Sep 12, 2021
very nice! room clean, but would have liked to have dishes in out cabin.
Sep 12, 2021
Excellent campground, so much to do and great games & entertainment throughout the weekend.
Sep 11, 2021
We both were quite satisfied. Thank You
Sep 11, 2021
Virginia Beach KOA is a very nice place to stay, we really enjoyed it, however, there were few things that became annoyed. First, the grill regulator was faulty and then the bedroom ceiling lights was not working either. Second, the bathroom tub water valve was loose and lastly the kitchen table was against the refrigerator door. The staff was very helpful and we appreciated their service. Md
Sep 11, 2021
Everything was as described. Cabin was clean and comfortable. My wife and I will be back. Thank you so much for an affordable and relaxing alternative to the downtown hotels.
Sep 10, 2021
Check in was super easy and most staff was friendly and helpful.We booked an upgraded patio site which was in a horrible location.Every camper that entered the campground had to drive past our site.Couldn't enjoy the patio in the evening because we kept being blinded by the headlights of all vehicles that drove past the site. Not sure why you would put the most expensive sites on the main road in.
Sep 10, 2021
I camp at Va Beach KOA several times a year and I have never had a bad experience. The staff are amazing and very helpful.
Sep 10, 2021
Stay here for 3 nights on 10 day trip. Very nice campground sites are close. Nice pool and game area for family. They had food truck one night of our stay which was nice break.
Sep 10, 2021
We have a daughter that lives in Virginia Beach Virginia and we live in NE Alabama. We try to see her at least 2 times per year. We have stayed other places but we like yall best! The only complaint I had with this stay was the floors were not real clean when we arrived.
Sep 10, 2021
very clean friendly and had a great time !
Sep 09, 2021
The people were so friendly and accommodating. We were in a site that got flooded from the rain and they switched us to a dry one. Seriously the best campground for customer service and friendliness. I have been there twice and will be back!
Sep 09, 2021
Nice staff, great accommodations and well kept. There are lots of things to keep everyone busy.
Sep 09, 2021
twodays two nights awesome
Sep 08, 2021
Large campground with plenty of activities. Well maintained. Trolleys that go to beach.
Sep 08, 2021
We had a lovely stay! The park is very well maintained, the spots are roomy, there are activities galore and the staff are the most genuinely nice people we have met. The military planes that fly over head remind us that this is America,the land of the free! We will definitely come again!
Sep 08, 2021
Me gusto mucho, el personal muy amable ,los baños limpios lo único que no me termino de convencer fue el aire acondicionado no enfrió mucho ,pero en general muy contenta el lugar es bonito
Sep 08, 2021
We had a great time! Everyone was very helpful and pleasant.
Sep 08, 2021
Very clean campground, nice amenities, wish they had a few more hands on activities for kids like arts n crafts, dodgeball, ballon toss etc other than just the amenities. BUT we still had a great stay
Sep 08, 2021
Plenty of stuff to do! Trolly rides to beach were nice as well. Beautiful weather and very clean campground. We will def be back!
Sep 08, 2021
What a great place to stay the staff was friendly and accommodating and it's clean and organized
Sep 08, 2021
Impressed, good and friendly staff, plenty to do "activities" with in the campground. Clean rest rooms. We were there over Labor day and had a fun time, campers arounds us were all good and friendly. Family wants to go back
Sep 08, 2021
Wonderful people and nice place
Sep 07, 2021
Level spot, clean facilities, friendly staff what more could you ask for.
Sep 07, 2021
Very nice campground. Amenities are well kept. Close to the beach (remember parking in 9th Street garage if you want to drive) or take the bus in.
- Ryan Fatzinger on Google
Sep 05, 2021
One of the best KOAs I've been to facilities and activities and staff are excellent.
- Kevin Anderson on Google