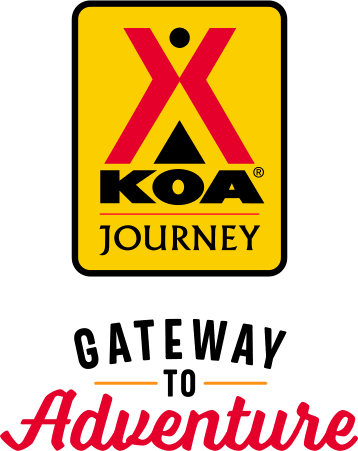 KOA Journey Campgrounds
KOA Journey campgrounds are the perfect oases after a day on the road. Whether it's along the way or a quick getaway, they've got you covered. Located near the highways and byways of North America with long Pull-thru RV Sites, they deliver convenience to the traveling camper. Pull in, ease back and take a load off.
KOA Journeys Feature:
Pull-through RV Sites with 50-amp service
Premium Tent Sites
Well lit after hours check-in service
Directions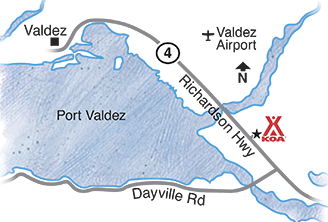 Valdez KOA is located at MM 2 on Richardson Highway. Go approximately 1 mile past Dayville Rd; campground is on the right.
Late arrivals with a reservation, please check your email inbox or junk/spam for a map to your site and campground information; proceed directly to your site using the map. Email or call and leave a voicemail once you are in your site. After hours (5pm) arrivals without a reservation, please follow the instructions on the night registration board on the porch of the office, and email or call us and leave a voicemail to let us know you are here and which site.
Email: valdez@koa.com, Call or TEXT: 907-835-2723
Get Google Directions
Jul 02, 2020
Host was wonderful and helpful. The campground was well maintained and very very clean.
Jul 01, 2020
As always, the KOA is a-okay
Jun 30, 2020
I would say the pictures need updated and are false leading. None of the back in spots look like that. The pictures make it look woodsy. We were crammed in like sardines and placed in the pull in spots but we were actually back to back in those spots with campers backing us. The private spots were for tents. There was 3 spots over by the woods that appeared larger and for RVs.
Jun 29, 2020
Love the trees and distance from the road. Not too far from town and makes a drive down Dayville Rd so easy you'll be glad you took the time to see Valdez from the opposite side. Grab a fire ring from the office if your site doesn't have one already- so easy. Clean, well maintained, friendly staff, and easily reachable even with Covid measures in place. Would recommend.
Jun 29, 2020
Super clean facilities. Great campground for families as there is a playground for kids. Also a small fenced in dog area so the pups can run around. Like that the tent sites are located in the back near the trees. Enjoyed the shade and shelter that the trees provided if by chance it showered. Great campground and will back go in the future.
Jun 29, 2020
One of the best! Thank you so much for making our short stay so nice! Beautiful place with clean bath houses, wonderfully kept grounds accommodating children and pets safely. Staff was incredibly kind, helpful, and easy to find or contact and responsive!!
Jun 29, 2020
Had a wonderful stay here. All the staff were helpful and answered any and all questions that i had. They also had good standards for sanitization of facilities due to covid19 and i felt at ease using them. I will certainly be staying here again for future visits to valdez.
Jun 28, 2020
Freindly staff..very clean bathrooms and showers and campsites well maintained and had the chance to see a brown bear cub
Jun 25, 2020
We stayed here over 4th of July weekend last year, and just finished a one week stay mid June. It was wonderful. The honeywagon was a lifesaver, the staff all so accommodating and friendly, and the views spectacular! We have 3 little girls and they had a blast playing in the rocks and well maintained grass! Highly recommend.
Jun 25, 2020
It was a very nice place to stay and convenient location to the town. I was a little disappointed that I had to pay extra for children over 6. Considering that your playground equipment was closed due to COVID and the fact that two of the children would not have been interested in playing in the playground. I've taken them to other places to camp and did not have to pay extra for them.
Jun 23, 2020
Very helpful employees. It was clean and kept up nicely. I would recommend this campground and will do so!
Jun 23, 2020
StAFF VERY HELPFUL
Jun 22, 2020
We had a great time. Facilities were very clean. Spots were huge.
Jun 22, 2020
The camp was very clean and tidy and the restroom/showers were exceptionally clean. We appreciated your efforts to serve us. Thanks for having us and we hope to make it your way someday again.
Jun 21, 2020
It's always a pleasure to stay at KOA Valdez. We've stayed multiple times and it's always clean and the folks are friendly.
Jun 21, 2020
Everything was clean and orderly. Bathrooms were being cleaned continually.
Jun 17, 2020
We had a great time! Very clean and kind friendly.
Jun 16, 2020
Staff was incredibly professional and genuinely concerned about making my stay at the KOA remarkable. Restrooms were by far the cleanest I've ever encountered.
Jun 16, 2020
Friendly staff. Clean showers, restrooms and campsites.
Jun 16, 2020
Very nice campground, well laid out and clean. I tent camped and would stay here again.
Jun 16, 2020
Nicest RV park in Valdez! Really nice managers who take good care of the facilities. We would stay there again!
Jun 15, 2020
Nice camping spot. Really clean bathroom and HOT showers.
Jun 07, 2020
Great stay at the Valdez KOA. It's extremely peaceful location. We really appreciate the fact that 2 bathrooms were available during the COVID-19 pandemic. We are a family of 5 in a smaller RV so the extra bathroom was important. We will define staying at the Valdez KOA again.
May 26, 2020
Beautiful location and compared to the RV sites in the city there is a lot more space at the KOA Journey. The staff was very accommodating and we had an amazing experience.
Jan 10, 2020
Very nice stay, people were super nice, liked layout of restroom & showers.
Sep 25, 2019
Valdez is a magical place. Though a very small, quaint town, it has a lot to offer. Being at the KOA waking up to those mountains for a week every morning, was magical. We thoroughly enjoyed our stay.
Sep 19, 2019
Very nice campground surrounded by gorgeous views. A few miles out of town but compared to the parking lot type campgrounds in town this is a gem well worth the four mile drive. Very pleasant staff and clean restrooms and showers. One of the glacier tour boat staff will pick you up at the campground and return you after the tour. Only complaint I had was $8.00 for a four piece bundle of firewood.
Sep 16, 2019
Easy parking. Friendly hosts. Great facilities.
Sep 12, 2019
This is a great campground, friendly people and clean facilities. I will return to this campground again.
Sep 12, 2019
Managers are always friendly and helpful. We love the grounds, especially the trees. We can tuck in between the trees and feel like we are in our own little bit of wilderness. Fellow campers are always nice and thoughtful. Convenient to fishing and town (for supplies and restaurants).
Sep 09, 2019
Great site, with great people. It we be our go to Valdez camp ground from here on out!
Sep 06, 2019
Extremely friendly owner and staff.
Sep 05, 2019
great place to stay and not a gravel parking lot like the rest of the rv parks in Valdez. No wifi in the back of the campground though for those that want it.
Sep 03, 2019
Staff was very help full and professional. Facilities were very clean and well maintained considering the amount of people using the camp ground. Would definitely use the camp ground again and we are thinking already to return with friends next time to Valdez. Thank you for the enjoyable stay.
Aug 30, 2019
Great RV Park!
Aug 30, 2019
You can read my comment on Alstays. We really liked it and quite affordable. Thanks
Aug 29, 2019
Nice setting in the forest. Clean showers and restrooms. Thank you
Aug 28, 2019
A very nice, clean park. Office staff was very friendly and helpful with pointing us in the directions to the best places to see eagles, sea lions and otters. And also connected us to the airport for a car rental so we didn't have to move our rv .
Aug 26, 2019
Very nice and accommodating.
Aug 25, 2019
Great campground just outside of town. Nice size lots with room to breath. Lots in town are basically a parking space. Clean showers and laundry. No worries on lack of sewer hookups. They have a honey wagon that will come around for free with a day notice to the office. We stayed 3nts and loved it. Will be back someday.
Aug 22, 2019
Large site was great. The Owners love what they do and it shows in the way the park is run. Would definitely stay there again if we were in the area.
Aug 19, 2019
Excellent campground
Sep 14, 2020
Excellent campground, will go back next year.
- James Grubbs on Google
Sep 14, 2020
Excellent location and well maintained park. Has about everything you need for a relaxing stay. We will visit again.
- Dennis Rollins on Google
Sep 08, 2020
Great camp ground. Saw a black bear. People were great and great facilities.
- Steven Dauwe on Google