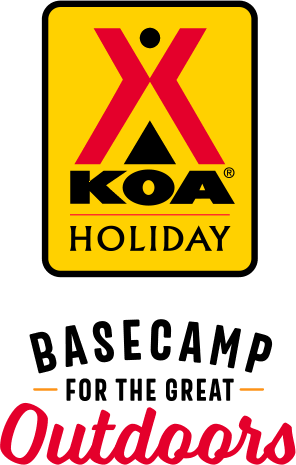 KOA Holiday Campgrounds
Whether you're exploring the local area or hanging out at the campground, KOA Holidays are an ideal place to relax and play. There's plenty to do, with amenities and services to make your stay memorable. Plus, you'll enjoy the outdoor experience with upgraded RV Sites with KOA Patio® and Deluxe Cabins with full baths for camping in comfort. Bring your family, bring your friends, or bring the whole group – there's plenty of ways to stay and explore.
KOA Holidays Feature:
RV Sites with a KOA Patio®
Deluxe Cabins with full baths
Premium Tent Sites
Group meeting facilities
Directions
GPS ADDRESS: PLEASE USE 100 Adelaide Road, -OR- 1101 RIVEREDGE RD, CONNELLSVILLE, PA 15425 (From Adelaide Rd, follow campground signs for 1.5 miles further to park entrance)
From New Stanton (PA Turnpike): Follow Rt 119 south to Connellsville. Take Rt 201 north 1.5 miles. Turn right onto Adelaide Rd and go 1.5 miles further, following the road as it goes left down the hill to Uniontown KOA at River's Edge.
Get Google Directions
Oct 12, 2020
What started as a tent camping trip on a whim turned into an amazing family experience. The Halloween and trick or treating was the absolute best experience for both kids and parents. We will be back next year and hope to come every year.
Oct 05, 2020
Family friendly atmosphere pet friendly and great staff. Happy to say that I would make this koa my permanent camping spot
Sep 21, 2020
Great location. Clean with terrific amenities and great customer service.
Sep 09, 2020
Campground is kept very clean. Pool was excellent. Staff friendly. Campsites to close together. And the train ran all night.
Sep 08, 2020
We had a wonderful weekend!
Sep 01, 2020
Had a great time. Went on a bike ride. Floated the river and caught a huge fish. Enjoyed the pool and some basketball and kids loved the playground. Will definitely be back.
Aug 25, 2020
Very clean place customer service was great vey quiet except for the train which is no fault of the campground. We loved it
Aug 24, 2020
Had a great time. Stayed in a deluxe tent site which was nicely laid out and had elec and water. Kids liked the pool and activities. Went on a canoe trip. All workers extremely friendly and helpful. Bike trail is right there . We'll be back.
Aug 24, 2020
We had a lot of fun spending the weekend here! Dan and Tim were both exceptionally nice employees! Its so nice to be able to interact with the staff and know that they enjoy their job too, it makes for a better weekend for campers. We'll be back again!
Aug 24, 2020
Had a great stay!!! Lots of activities and things for the family to do. Will definitely be staying again! The. Only this that was not our favorite was how close the tent sites were to each other, we felt a bit to close to our neighbors.
Aug 21, 2020
This was our first visit & was so happy we were allowed to change our tent site. It was the perfect spot for us . Facilities were clean & staff were very nice. Pool was very clean as were bathroom s.
Aug 13, 2020
Very friendly staff. They go out of their way to make sure your stay is enjoyable. Awesome pool area with great food. Very clean camp. Great for rafting on the river.
Aug 12, 2020
It was my family's first camping trip. We loved it. We are playing our next years trip here too.
Aug 12, 2020
Everything was clean and service was impeccably kept. The grounds and access to the river are fantastic!
Aug 10, 2020
We had a great time at the KOA at our tent site. Overall, the KOA was very clean. We were surprised how nice the bathroom/shower area was. It's nice that there are separate shower stalls with locking doors, so they were very private. We loved having the river next to our tent site. We brought some floats/rafts from home and bought some at the KOA store and had so much fun rafting down the river!
Aug 10, 2020
WONDERFUL! Staff was extremely attentive. Grounds were very well kept. Bathrooms and showers were the cleanest I've ever seen at any campground (honestly!). The river and bike trail are super amenities. Definitely plan to go back! I can completely understand why it was campground of the year. The y thing missing was hiking trails in the woods, but with everything else, I didn't miss that too much.
Aug 09, 2020
Everyone was so friendly n happy
Aug 06, 2020
please improve your internet. Seems like the internet service stops sporatically and is slow at times when streaming video or on conference calls.
Aug 05, 2020
Love this campground. But only 2 things,,,,I wish more trees around the tent sites and more space between the tent sites.
Aug 04, 2020
Too many rocks for the site we were at, DT-2. Some staff were very friendly while others were extremely rude. We had complained about a noise order, that one of the fellow neighbors were causing a riot after hours (11pm) Nothing ever changed, not even an hour afterwards. So much for security doing their "job" about the quiet hours. Overall it was decent, but could have spent my money elsewhere
Aug 01, 2020
We enjoyed the access to the river and bike trail. However, the tent sites were so on top of each other, it was hard to find any privacy during our stay. The pool was lovely and the staff was amazing!! We will definitely be back -- hoping we can call and reserve a specific tent site. Also appreciated the facilities approach to following the guidelines for cleaning, etc. related to COVID-19.
Aug 01, 2020
Our stay was amazing as always Sam Dan Ron Tim and all staff were on top of everything. The grounds were tidy and the pool was sweet! We even enjoyed packing up in the rain! Can't wait to go back in September. Watch out KOA, here we come�
Aug 01, 2020
Wonderful place, very welcoming!!!
Jul 30, 2020
Perfect tent site right near the river. Water and electricity !! WHAT ? Never been to a KOA before. Do they ALL have that? Amazing. Really helpful staff. Our sun canopy blew down and had to be trashed. They took care of hauling it away. We tried to give the guy 20 bucks and he refused saying " We just want to make sure you're happy."
Jul 30, 2020
Had a great time !!! A special shout out to SAM- he helped me out of a spot- I offered to pay him and he declined saying all we want to do is make you happy. Can't get employees better than that! Thanks tom Whelley
Jul 26, 2020
Everything perfect.
Jul 25, 2020
BEST KOA EVERRRRR!!! We can't wait to go back!!!
Jul 23, 2020
We loved our stay. Didn't like there was no shade at the campsite for the tents. We had to move our seats down by the river during the day. Other then that it was nice.
Jul 20, 2020
We had a great time. From the staff in the office to those that took care of the campsites and the store we had an a great stay. Tim was very helpful and friendly when we had an electrical issue at the campsites (not just ours). We would highly recommend this KOA.
Jul 20, 2020
Staff was wonderful! So clean, friendly and helpful.
Jul 15, 2020
Had a great time very relaxing glad there is both water and electricity at the tent Sight, My only complaint is the parking for the tents it very hard to turn around especially if you have a truck.
Jul 14, 2020
We had a great time. Very quiet and friendly staff. Loved the visiting bakery. Very clean and neat. Access to the river and trail- wonderful. I would like to return next year. Thanks a lot.
Jul 14, 2020
Just wanted a weekend away and you were great. Campsite was clean and everyone was friendly. My boyfriend and I had a wonderful time. Will definitely come again.
Jul 11, 2020
We love this place ! It's very clean and the workers are super helpful !
Jul 08, 2020
I'm a tent camper& I absolutely love all the tent sites. But there's one bad thing. The bathroom is to far away from the tent sites. There should be a restroom built closer for the tent sites. Other than that my family & I love the koa
Jul 07, 2020
Always a great time, it is clean and perfectly located on the Yough river
Jul 07, 2020
Staff were exceptionally nice and helpful. Bathrooms were way too far away from tents. People in next site over smoked weed constantly, day and night plus parked extra cars at their site and crowded us. People walked through our site constantly to get to the common area. Not very relaxing at all.
Jul 06, 2020
Our stay was wonderful! Staff was on top of everything. Garbage was picked up often, pools were cleaned like clockwork (We loved the lifeguard, sweetest woman alive!), we never had to wait to shower, and the ice cream was awesome! We definitely plan on staying again! Thank you for the memories.
Jul 06, 2020
This was our first time there. We enjoyed it very much! The tent sites are pretty close together, but other than that everything was good.
Jul 04, 2020
Great place. Staff was friendly and courteous. The bathrooms and showers were well maintained throughout the day, very clean. Pools were great for the little one and us too. Plan to return!
Oct 11, 2020
Great place had the best time
- Lori Mcfarland on Google
Oct 09, 2020
Just a wonderful place . On the river and on the GAP.
- Mark Baldauf on Google
Oct 04, 2020
Love this place, friendly staff, weekend activities. Spacious lots. Cable internet and full hook ups.
- Melissa White-Durbin on Google