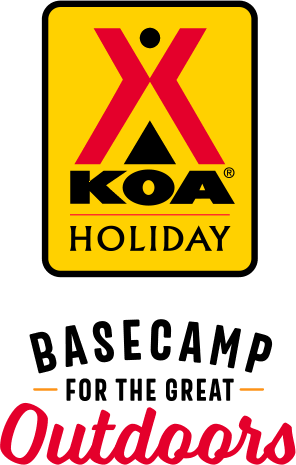 KOA Holiday Campgrounds
Whether you're exploring the local area or hanging out at the campground, KOA Holidays are an ideal place to relax and play. There's plenty to do, with amenities and services to make your stay memorable. Plus, you'll enjoy the outdoor experience with upgraded RV Sites with KOA Patio® and Deluxe Cabins with full baths for camping in comfort. Bring your family, bring your friends, or bring the whole group – there's plenty of ways to stay and explore.
KOA Holidays Feature:
RV Sites with a KOA Patio®
Deluxe Cabins with full baths
Premium Tent Sites
Group meeting facilities
Directions
GPS ADDRESS: PLEASE USE 100 Adelaide Road, -OR- 1101 RIVEREDGE RD, CONNELLSVILLE, PA 15425 (From Adelaide Rd, follow campground signs for 1.5 miles further to park entrance)
From New Stanton (PA Turnpike): Follow Rt 119 south to Connellsville. Take Rt 201 north 1.5 miles. Turn right onto Adelaide Rd and go 1.5 miles further, following the road as it goes left down the hill to Uniontown KOA at River's Edge.
Get Google Directions
Nov 12, 2020
Great as always!!
Nov 09, 2020
Great place and fantastic staff!
Oct 20, 2020
We stayed in cabin #7 for the Halloween event weekend. We had a great time trick or treating, playing bingo, camping out and decorating! We really liked the haunted house too! This has become a yearly event for us that we can't wait for!
Oct 19, 2020
Campground was great.excellent location with bike trail and river right there. Clean showers and nice little store.Our trailer was a rental unit and was terrible.A/c did not work. Screen door no latch and broken screen. Carpet wornout with wood showing.
Oct 18, 2020
Perfect, very accommodating, helpful. I WILL stay again
Oct 13, 2020
Had a great time—we will be back!
Oct 08, 2020
We felt that the 2 nights that we stayed were most enjoyable and could not have been better.Just loved the cabin and view of the river and plan on doing a week next year in the fall as we did this year.We do a lot of walking and the trail that goes thru the campground worked out perfect for us.
Oct 06, 2020
Loved it! Will be back soon.
Oct 06, 2020
The only issue I had was our cabin had ants
Oct 06, 2020
We loved our cabin, very clean and new!!
Oct 05, 2020
This was our first time staying here, and I can see why it's so highly rated! All the staff was super friendly, and our cabin was exceptionally clean. We will definitely be back again!
Oct 04, 2020
Very helpful and friendly staff Cabin was clean, comfortable and stocked with everything we needed to cook. Wifi was very good Location on the river was awesome Only quibble was that the pet fee was high (why per night?) But, we are always happy to find places where they are welcome. Overall totally recommend
Sep 27, 2020
We really enjoyed our stay at the Uniontown KOA! It's a very nice campground. The cabin was very clean with lots of extras included. The bike trail is an added bonus! We will stay there again.
Sep 26, 2020
Cabin very clean and well maintained. KOA team eager to please and very friendly!!
Sep 26, 2020
First time stay. Cottage 4. Great time. Well maintained campground. Pleasant helpful staff. Scenic. Liked walking trail with dogs. Cabin spotless nicely decorated. Reported Bath sink drained very slowly. Fridge not working ..very warm. Otherwise great time. Will return. Thanks.
Sep 25, 2020
The staff was very welcoming and very accommodating!
Sep 21, 2020
Incredible. Amazing
Sep 19, 2020
Neighbors were very noisy
Sep 16, 2020
Cabin 5 is great, pool is amazing. Love getting to spend time with friends and family.
Sep 14, 2020
Great stay, Teri made the cabin suggestion and it was more than expected! Slow down work vehicles is only suggestion!!
Sep 14, 2020
We really enjoyed our stay In the 5th Wheel it was clean and very functional! Everyone was so friendly and took care everything we needed. Thank you ! We will return �
Sep 08, 2020
Very well maintained Cabin and Campground.. Amenities are great. Thank you!
Sep 08, 2020
Enjoyed our stay! Cabins were nicer than expected & very clean. The most convenient part of our stay was being able to text the office for any and all questions, prices, or even if u need food, wood or ice delivered.. it was most convenient that we were able to just text what we needed and it was actually delivered right away, every time.. I myself think this is a really big asset to ur campground
Sep 08, 2020
Cabin 11. Great river view (not front). Stayed in Aug/Sept (very few bugs). Cleanest KOA cabin we've stayed in. Bathroom/shower looked new. Gas grill outside perfect with partial kitchen. Had pool to ourselves for an hour, kids loved it (slides/frog fountain/soft vinyl floors). Camp Staff in Store/Office were great (all wore masks). Took 1 key home by accident but mailed it back with no problems.
Sep 05, 2020
Very friendly staff!
Sep 03, 2020
This was our first time staying at a KAO campground and the Uniontown one is beautiful. The cabin we rented was clean and situated so that we had an unobstructed view of the river. All the amenities were available...swimming pools, laundry, very clean bath houses, and more. We really enjoyed our stay. It was quiet and peaceful during the evenings. Also, we were just yards away from the GAP trail!
Sep 02, 2020
Love the cabin next to the river and the bike trail! Place was clean and everyone nice.
Aug 31, 2020
Cabin was great. Staff was friendly and inviting. Driver for tubing was very personable.
Aug 31, 2020
The cabin we stayed at was beautiful and very clean! The staff was friendly!
Aug 29, 2020
Everyone was so kind to us, even after our ride cancelled and we had to check out late. Especially the van driver who assisted us in gathering our belongings and allowing us to keep them in the van so our things didn't get wet. That to me was above and beyond, and we really appreciated that! We did leave our hatchet by the fire pit, but no way to go back and pick it up. Thank you for everything!
Aug 27, 2020
Very nice deluxe clean cabin!
Aug 26, 2020
We LOVE it at River's Edge and are looking very forward to next year already! We floated for the first time this year and LOVED it - such an awesome time with the family! There's so much to do there - float, bike trail, swim, and just hang out by a campfire! The cabin accommodations were great, but we are hoping to have a camper of our own for next year and planning to get a river site!
Aug 26, 2020
Loved it. Was the perfect getaway!
Aug 26, 2020
Very relaxing
Aug 25, 2020
Our family camped for the weekend in the cabins. The check-in was seamless, campground was immaculate and the staff were so friendly! I would highly recommend it, even for first time campers- we can't wait to come back!
Aug 24, 2020
Last trip, no tv but had internet; this time no internet but had tv. What happens if sleepy now gets elected? Otherwise very good trip. No need to go off-site. Good sites, great pool area. Nice snack bar and store has basics. I traveled close to 200 miles each way for this destination and hope to make 1 more this year. Cheers
Aug 22, 2020
Everything was wonderful! The pool was very clean and inviting,and the playground was perfect for kids of all ages. We were in cabin 3, which was very cute! I don't know what I expected when I got to it, but it exceeded my expectations! Love the firewood and food delivery service as well. My only complaint was that our door to the cabin didn't close very well, you had to slam it shut every tim
Aug 22, 2020
We stayed in cabin 9, it was absolutely perfect! The campground was very clean, with two pools, a beautiful river, and some amazing pizza at the camp store freshly made! Only 30 minutes to Ohiopyle! It was the perfect location with many friendly people.
Aug 21, 2020
It was very fun very clean the whole campground was! Great amenities! And the store and food delivery is awesome!!
Aug 19, 2020
We rented the RV and really enjoyed our stay. A float down the Yough, a dip in the pool, a DJ at the pavilion, games and fun all around! This is a place we will return to year after year.
Aug 18, 2020
The cabins were absolutely spotless! Can't wait to visit again!
Oct 11, 2020
Great place had the best time
- Lori Mcfarland on Google
Oct 09, 2020
Just a wonderful place . On the river and on the GAP.
- Mark Baldauf on Google
Oct 04, 2020
Love this place, friendly staff, weekend activities. Spacious lots. Cable internet and full hook ups.
- Melissa White-Durbin on Google