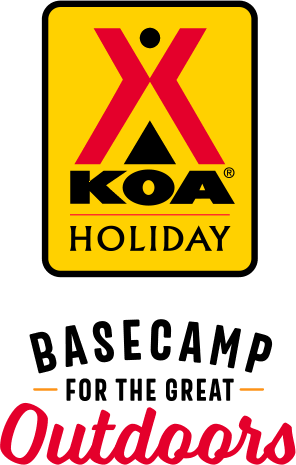 KOA Holiday Campgrounds
Whether you're exploring the local area or hanging out at the campground, KOA Holidays are an ideal place to relax and play. There's plenty to do, with amenities and services to make your stay memorable. Plus, you'll enjoy the outdoor experience with upgraded RV Sites with KOA Patio® and Deluxe Cabins with full baths for camping in comfort. Bring your family, bring your friends, or bring the whole group – there's plenty of ways to stay and explore.
KOA Holidays Feature:
RV Sites with a KOA Patio®
Deluxe Cabins with full baths
Premium Tent Sites
Group meeting facilities
Directions
GPS ADDRESS: PLEASE USE 100 Adelaide Road, -OR- 1101 RIVEREDGE RD, CONNELLSVILLE, PA 15425 (From Adelaide Rd, follow campground signs for 1.5 miles further to park entrance)
From New Stanton (PA Turnpike): Follow Rt 119 south to Connellsville. Take Rt 201 north 1.5 miles. Turn right onto Adelaide Rd and go 1.5 miles further, following the road as it goes left down the hill to Uniontown KOA at River's Edge.
Get Google Directions
Sep 14, 2020
We enjoyed our silver site at the rivers edge and hope to be back next year!!
Sep 14, 2020
Pricey for a tiny little tight spot with not much to offer in the campground especially when the pool closes multiple times a day.
Sep 14, 2020
Very relaxing and will be back.
Sep 14, 2020
Staff very nice . We wanted to make reservations for next year and we were not able. Most campground allows this or gives you a time when you can call. Very clean premises. Definitely would recommend.
Sep 14, 2020
I liked being by the river. I do have to mention the sites are a little close. I dealt with a lot of the staff. I really have to mention Timothy. That kid is GREAT asset to your KOA family. He was so helpful and very polite. He really made our stay more enjoyable. We will be back. Kathi Calhoun
Sep 14, 2020
Great staff, great campground!! Highly recommend!!
Sep 14, 2020
Great stay, Teri made the cabin suggestion and it was more than expected! Slow down work vehicles is only suggestion!!
Sep 14, 2020
What a great staff!! Everyone we encountered were so friendly. It shows that they love working here. My husband told one of the workers that he forgot to bring along enough of my Cherry Bubly and the next day the employee (Tom) showed up at the campsite with my favorite beverage!! This is a very clean campground. Great sites. Great pool (2 of them!) Pup loved Camp K9. Thank you!
Sep 14, 2020
We really enjoyed our stay In the 5th Wheel it was clean and very functional! Everyone was so friendly and took care everything we needed. Thank you ! We will return �
Sep 14, 2020
The only thing my wife and I were a little surprised to see was the large gathering of people on Saturday night with no masks and no social distancing. I'm a principal at a local school who is endeavoring everyday to provide a safe and healthy environment for my staff and students and to see that large gathering made it seem like there wasn't a pandemic at all and things were back to normal.
Sep 14, 2020
Clean level site, friendly staff and nice facilities. There was a train track on the other side of the creek, but it wasn't too loud and we enjoyed our stay.
Sep 13, 2020
nice place, really good folks to help with anything. At night I swear that train was right beside the camper !
Sep 13, 2020
Who wouldn't like fried mushrooms and funnel cake delivered to your campsite as you are sitting by the fire looking out over the river! KOA staff were very nice! Campground was very clean. Campground was full and everyone was having a great time.
Sep 12, 2020
The campground very nice and clean . They got new Wi-Fi since the last trip and it is not the greatest. The wait time for food was not the greatest.
Sep 12, 2020
What we were looking for. We love cycling "rails to trails"and kayaking. Camp site, C5 was clean + facing the river. We put our kayak right in. Quiet at night except for trains across the river but with a fan on in the RV, train never woke us. We rode the bike trail to Cumberland, MA from the camp ground! You can ride the Amtrac train back. Amtrac station easy bike ride. Get train tickets early.
Sep 10, 2020
Our stay way great! The only disappointment was the extremely high price increase for next year. Increases are understood but $23 a day is extreme. Your out pricing yourself for middle class families. That said everything was great with our stay. Thank you!
Sep 10, 2020
As always we had a great time. They do an excellent.job of keeping the grounds and facilities clean. The staff are always nice, polite and respectful.
Sep 09, 2020
We had several disappointments this trip. Primarily that the WiFi was not working. My son is homeschooled & one of the reasons that we regularly camp at this KOA is because the WiFi had always been good enough for him to get his work done efficiently. The second issue we had was that many sites around us had two cars parked on each site. It felt like a parking lot. More overflow parking needed.
Sep 09, 2020
Favorite place!
Sep 09, 2020
Great location but hard to get to.
Sep 09, 2020
Campground is kept very clean. Pool was excellent. Staff friendly. Campsites to close together. And the train ran all night.
Sep 08, 2020
My site (P102) is a great site but definitely needs more gravel, especially in the front. It rained very hard the first day and it was like a mud pit. We couldn't even get to the car because of the muck. The water pressure on that site is very low. I couldn't take shower in the trailer because of the water pressure. Other then these two problems I love this site. Hope to visit again soon.
Sep 08, 2020
Top notch staff. Always ready to help. We had an awesome stay!
Sep 08, 2020
Very well maintained Cabin and Campground.. Amenities are great. Thank you!
Sep 08, 2020
The campground is very nice, love the pool and the river! reservations are very confusing, you cant go on line to look at your reservations to see what site you are on. It would be helpful to be able to go on the web site and see what your site # is.
Sep 08, 2020
We had a wonderful weekend!
Sep 08, 2020
Enjoyed our stay! Cabins were nicer than expected & very clean. The most convenient part of our stay was being able to text the office for any and all questions, prices, or even if u need food, wood or ice delivered.. it was most convenient that we were able to just text what we needed and it was actually delivered right away, every time.. I myself think this is a really big asset to ur campground
Sep 08, 2020
Cabin 11. Great river view (not front). Stayed in Aug/Sept (very few bugs). Cleanest KOA cabin we've stayed in. Bathroom/shower looked new. Gas grill outside perfect with partial kitchen. Had pool to ourselves for an hour, kids loved it (slides/frog fountain/soft vinyl floors). Camp Staff in Store/Office were great (all wore masks). Took 1 key home by accident but mailed it back with no problems.
Sep 08, 2020
Always the best campground. Clean, neat, and friendly. Always something to do. Family and pet friendly.
Sep 08, 2020
Perfect weekend always nice and clean area at camp site employed always helpful and pleasant to talk to. Will be back in October!
Sep 08, 2020
Uniontown KOA never disappoints. I love the activities, the band this weekend was great. I still wish that there was something for kids out in the T section. Small playground and sandbox, splash park, just swings anything really. Also next season have more carts available for rental. I very easily think you could rent 15 or 20 especially on holiday weekends.
Sep 06, 2020
Wonderful, our favorite campground
Sep 05, 2020
second time there. Really enjoy it,
Sep 05, 2020
Very friendly staff!
Sep 05, 2020
Very nice stay. We had a site right on the river.
Sep 05, 2020
Great location for outdoor activities! Spacious RV site with patio. Property was very well maintained, and WIFI connection was excellent. Plenty of TV channels (including HD) to choose from.
Sep 04, 2020
Relaxing enjoyable long weekend
Oct 11, 2020
Great place had the best time
- Lori Mcfarland on Google
Oct 09, 2020
Just a wonderful place . On the river and on the GAP.
- Mark Baldauf on Google
Oct 04, 2020
Love this place, friendly staff, weekend activities. Spacious lots. Cable internet and full hook ups.
- Melissa White-Durbin on Google