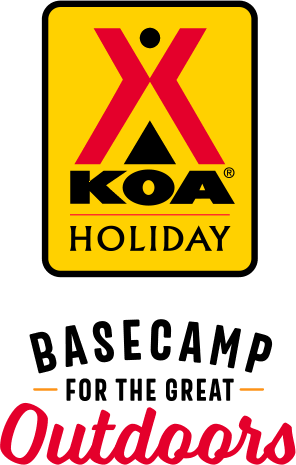 KOA Holiday Campgrounds
Whether you're exploring the local area or hanging out at the campground, KOA Holidays are an ideal place to relax and play. There's plenty to do, with amenities and services to make your stay memorable. Plus, you'll enjoy the outdoor experience with upgraded RV Sites with KOA Patio® and Deluxe Cabins with full baths for camping in comfort. Bring your family, bring your friends, or bring the whole group – there's plenty of ways to stay and explore.
KOA Holidays Feature:
RV Sites with a KOA Patio®
Deluxe Cabins with full baths
Premium Tent Sites
Group meeting facilities
Directions
GPS ADDRESS: PLEASE USE 100 Adelaide Road, -OR- 1101 RIVEREDGE RD, CONNELLSVILLE, PA 15425 (From Adelaide Rd, follow campground signs for 1.5 miles further to park entrance)
From New Stanton (PA Turnpike): Follow Rt 119 south to Connellsville. Take Rt 201 north 1.5 miles. Turn right onto Adelaide Rd and go 1.5 miles further, following the road as it goes left down the hill to Uniontown KOA at River's Edge.
Get Google Directions
Sep 24, 2020
We had a really good time. We needed propane and they came, got our tank, refilled it, brought it back and connected it up for us.
Sep 24, 2020
Beautiful right along the river. Nice helpful employees, everything looked great.
Sep 24, 2020
Great campground. Staff was excellent and the site on the river was superb. We were a bit surprised by the frequent train traffic across the river as no reviews mentioned it but we quickly got used to it.
Sep 24, 2020
Site on the river was great. Amenities we're great. Clean common areas and restrooms/showers. Great staff and nice neighbors, too!
Sep 23, 2020
Everyone is so friendly. We love the sites along the lake. One of our favorite places to camp.
Sep 23, 2020
The location is beautiful and the campground is very clean. This is a great location if you enjoy biking as the GAP trail runs right through the campground. Bring a boat or rent one or just tube because there is fun on the water. The picnic table at our needed some maintenance and the fire rink was on it's last legs as it was pretty rusted out. We were surprised that there was no mini golf.
Sep 23, 2020
this is our second time visiting this KOA and we thoroughly enjoyed our stay. the only bad thing was our particular site. the site was pretty small and very close to the 2 sites on either side of us. we are already planning another stay at the campground and have several sites picked out.
Sep 23, 2020
Came in off 70 E. Twenty miles later of terrible rosado we finally made it. Should be some mention in the directions not to come that way. Bicycle trail was nice. Campground was clean, sites nice and big
Sep 22, 2020
It was great. Clean bathrooms
Sep 22, 2020
Beautiful well maintained park and facilities. Folks party and enjoy themselves but quiet hours are enforced and observed. Right on GAP bike trail. Only negative is sites are very close together but that's the case with many KOAs. A+
Sep 21, 2020
Everything was great as far as koa. But to many people with dogs that dont pick up after them. Seen it multiple times.
Sep 21, 2020
Very nice campground with lots to do and see. One of the more appealing KOA's we've ever stayed at. Mostly seasonal folks so make sure you get your reservations in early in the season. WiFi was recently improved but we had frequent connection issues, regardless its clear the team at Uniontown KOA cares about their campground and are constantly trying to improve.
Sep 21, 2020
Loved the access to the river for play, fishing and tubing.
Sep 21, 2020
The campground was very neat and clean and the staff were all very helpful and friendly. Definitely going back!
Sep 21, 2020
Great location. Clean with terrific amenities and great customer service.
Sep 21, 2020
Everything was great! Good location and plenty to do for adults and families. We hope to stay on one of the riverfront sites in our next visit. We will be back!
Sep 21, 2020
Incredible. Amazing
Sep 20, 2020
Everything was perfect! People were great! Location was excellent! Loved the guy that came around with meals, His Apple pie was the best we have ever had. Special Thanks to Tom for driving us to our site and dropping by to see if we needed anything. Very special employee.!!!
Sep 19, 2020
The people make it great
Sep 19, 2020
Beautiful campground and we especially loved the trail thru the camp!!! We liked that staff take you to your site and that you always see them around the park Thank you
Sep 19, 2020
As always really nice enjoyed our time there.
Sep 19, 2020
Relaxing stay along the river. Staff was helpful & friendly
Sep 19, 2020
The kampground was great, however, I have to give low rating because of a food vendor from the campground was driving around solicitating food sales from the rear of his vehicle and he was not wearing a MASK. He interacted with several people having them come to his vehicle well within the 6 ft. distance. I was disappointed the campground would allow this.
Sep 19, 2020
Neighbors were very noisy
Sep 19, 2020
Beautiful location and convenient to the Allegheny Passage trail. The staff were efficient and friendly, and the park was very clean. We will be back.
Sep 18, 2020
My family does a big camping trip Together at the end of every summer. We really enjoyed your campground!! Lots to do for the kids, friendly staff, all around great experience!! We will define key be returning!!
Sep 18, 2020
The camp ground is very clean that includes the shower rooms , bathroom and pool. Everyone was very polite and helpful. Please the bike trail is a real plus . We are sure to return. Cmc
Sep 17, 2020
One of the nicest campgrounds I have ever stayed in. In 20 years of camping there are very few campgrounds I would revisit, this is one of them,plan on coming back next year!
Sep 17, 2020
Quite and relaxing stay from Sun-Wed. Look forward to more in the fall.
Sep 16, 2020
Well run, clean, helpful friendly staff.
Sep 16, 2020
Cabin 5 is great, pool is amazing. Love getting to spend time with friends and family.
Sep 15, 2020
A wonderful stay as always. We have been coming here for the past 6 years or so and we love all of the amenities and being next to the river. The wifi has been less than desirable the past 2 months. We wanted to book a few more weekend trips, but need wifi for online learning for our daughter. That is not possible until their wifi issues are worked out.
Sep 15, 2020
The location is beautiful. The staff are extremely helpful and nice. It is now one of my favorite campgrounds
Sep 15, 2020
I wish there was better wifi in the area we were in. The campground is a beautiful place. This last visit was the week after Labor Day and it was nice as the crowd had thinned out. We've already booked for the same week next year.
Sep 15, 2020
Wonderful memories made during our very first camping trip! Can't wait to stay here again. All the staff was so friendly! Highly recommend!
Sep 14, 2020
We had such a nice returning visit. We were super excited that the pool was still open after labor day.
Oct 11, 2020
Great place had the best time
- Lori Mcfarland on Google
Oct 09, 2020
Just a wonderful place . On the river and on the GAP.
- Mark Baldauf on Google
Oct 04, 2020
Love this place, friendly staff, weekend activities. Spacious lots. Cable internet and full hook ups.
- Melissa White-Durbin on Google