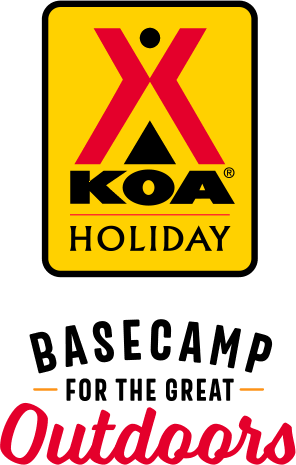 KOA Holiday Campgrounds
Whether you're exploring the local area or hanging out at the campground, KOA Holidays are an ideal place to relax and play. There's plenty to do, with amenities and services to make your stay memorable. Plus, you'll enjoy the outdoor experience with upgraded RV Sites with KOA Patio® and Deluxe Cabins with full baths for camping in comfort. Bring your family, bring your friends, or bring the whole group – there's plenty of ways to stay and explore.
KOA Holidays Feature:
RV Sites with a KOA Patio®
Deluxe Cabins with full baths
Premium Tent Sites
Group meeting facilities
Directions
GPS ADDRESS: PLEASE USE 100 Adelaide Road, -OR- 1101 RIVEREDGE RD, CONNELLSVILLE, PA 15425 (From Adelaide Rd, follow campground signs for 1.5 miles further to park entrance)
From New Stanton (PA Turnpike): Follow Rt 119 south to Connellsville. Take Rt 201 north 1.5 miles. Turn right onto Adelaide Rd and go 1.5 miles further, following the road as it goes left down the hill to Uniontown KOA at River's Edge.
Get Google Directions
Oct 05, 2020
Had a great stay. Property well kept and clean.
Oct 05, 2020
Family friendly atmosphere pet friendly and great staff. Happy to say that I would make this koa my permanent camping spot
Oct 05, 2020
Was a very good stay. Only issue was the large stones on road, was a real angle twisted.
Oct 05, 2020
loved the setting and the bike trail through the camp. I also think it had the best store and food of any we have stayed at. Will definitly return in the future.
Oct 04, 2020
Very nice campground. Convenient to the Great Allegheny Passage Trail.
Oct 04, 2020
Beautiful campground and very clean. Only downside is the train across the river. But it was still very beautiful with the leaves starting to change.
Oct 04, 2020
We really enjoyed our stay. All of the staff was friendly especially security Sam! He stopped by our site and chatted for awhile, very nice! I think the fee to take our kayaks up to the drop off was a little much, but it was convenient, other then that it was great, the bike path being so close was good. We will be back with our friends next year! Thanks
Oct 04, 2020
Great place. Friendly staff.
Oct 04, 2020
Nice sites, clean, beautiful area. Good employees.
Oct 04, 2020
Very helpful and friendly staff Cabin was clean, comfortable and stocked with everything we needed to cook. Wifi was very good Location on the river was awesome Only quibble was that the pet fee was high (why per night?) But, we are always happy to find places where they are welcome. Overall totally recommend
Sep 30, 2020
This is a large crowded campground. We had a nice site but very tight getting in and out. Not much privacy with just long rows of trailers side by side. Campgrounds were clean and good utilities. The staff was friendly too. Beware if you come in on Rt 40 from the East. There are several steep inclines and a 3 mile decline !
Sep 30, 2020
We stayed one night to try out our new camper. Camping was a new experience for us. The Campground was #1 first class in all the amenities offered and the cleanliness and the many staff who were constantly moving around to serve. It was definitely a plus in our camping adventure. No complaints. All good.
Sep 29, 2020
We enjoyd our stay. Awesome camp ground!
Sep 29, 2020
Very nice, employees are great! Only complaint is to many golf carts just joy riding around. I don't believe that golf carts are necessary! I'm in my late 50's , not in great health and can walk the entire campground without any issues.
Sep 29, 2020
Everyone there is so friendly and very helpful.
Sep 29, 2020
Loved this campground! Too many stinkbugs though!!
Sep 29, 2020
Proximity to the river was everything for us! Also, the speedy delivery of firewood and the assistance in backing into our spot (we were rusty!) helped get us off to a great start! We will be back! Thanks for a great weekend!!
Sep 28, 2020
By far one of the best KOA camp grounds we visit.
Sep 28, 2020
Loved the campgound. Am partial to KOA's because you folks know how to make camping a true vacation. Only reason I rated the Uniontown KOA at 4 is because our camper became infested with the stink bug. It was problematic. Our site was truly a nightmare. My sister's site which was right next door only had a handful of stink bugs. We brought some home with us both in the camper and our belongi
Sep 28, 2020
Beautiful setting, clean facilities, one of our faves!
Sep 28, 2020
Beautiful river view!!
Sep 28, 2020
We always enjoy coming there. We like the bike trail and also how friendly the staff is. You can be sure we will be back.
Sep 28, 2020
As always we had an amazing time at your KOA and will be back many more times to come! The only issue we had was that the WiFi was very spotty for our 4 day stay. Great staff, beautiful camp and plenty of things to do. Thanks again and keep up the amazing work!
Sep 28, 2020
I camped there with my family and my kids really enjoy the campground. It's clean, staff is friendly, lots of of things to keep the kids busy, great activities.
Sep 28, 2020
Absolutely excellent
Sep 28, 2020
Very nice campground. Unfortunately, we were on site P108 with a 31' travel trailer and the sewer hookup was extremely far away so we had to buy an extra sewer hose to extend ours. It was an expense I was not expecting. We have been camping for years and never encountered this problem. I noticed a few other campers near us had the same problem. Would have given 5 stars if that wasn't the case.
Sep 28, 2020
Nice grounds , could use more shade trees , clean restrooms and showers, site I had was level & well maintained
Sep 27, 2020
We really enjoyed our stay at the Uniontown KOA! It's a very nice campground. The cabin was very clean with lots of extras included. The bike trail is an added bonus! We will stay there again.
Sep 27, 2020
Great level river side site. Staff very nice. Beautiful pools and recreation area. Well maintained, very clean restrooms and showers. Family members stayed in a cabin. Super clean and nicely furnished.
Sep 27, 2020
We were a late check in, but got excellent assistance. Site location was excellent, next to the restrooms.
Sep 27, 2020
Always a great time! This koa is extremely well-run.
Sep 27, 2020
We had a great time. One employee stood out. Sam delivered firewood and stopped by our site a few times to make sure we were enjoying our stay.
Sep 27, 2020
Very nice campground. Sites are level and well kept. The staff members were all friendly and helpful!
Sep 26, 2020
Cabin very clean and well maintained. KOA team eager to please and very friendly!!
Sep 26, 2020
Really nice campground!!! Clean bathrooms and shower rooms. Loved being along the river! We plan on returning many times. Only thing missing was a TV channel directory.
Sep 26, 2020
First time stay. Cottage 4. Great time. Well maintained campground. Pleasant helpful staff. Scenic. Liked walking trail with dogs. Cabin spotless nicely decorated. Reported Bath sink drained very slowly. Fridge not working ..very warm. Otherwise great time. Will return. Thanks.
Sep 26, 2020
Beautiful, quiet and everyone made us feel at home. Great service
Sep 26, 2020
Nice place to stay, will stay again.
Sep 26, 2020
Very nice campground. Enjoyed our stay. Too much train traffic tho. Employees need to travel slower on their gas powered carts.
Sep 26, 2020
I had a great stay at Uniontown KOA. The grounds and restrooms were well kept. There was no trash left in the fire ring (a pet peeve of mine). All the campers were courteous, no loud drunken behavior. I hope to be able to go there again.
Sep 25, 2020
The staff was very welcoming and very accommodating!
Sep 25, 2020
ok but, I didn't sign on for a political rally to many trump people and signs this should not be allowed no matter what party or person i can see all of this on tv and these people are rude
Oct 11, 2020
Great place had the best time
- Lori Mcfarland on Google
Oct 09, 2020
Just a wonderful place . On the river and on the GAP.
- Mark Baldauf on Google
Oct 04, 2020
Love this place, friendly staff, weekend activities. Spacious lots. Cable internet and full hook ups.
- Melissa White-Durbin on Google