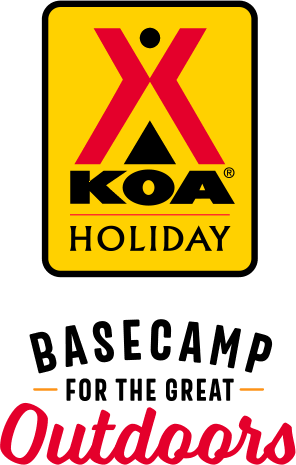 KOA Holiday Campgrounds
Whether you're exploring the local area or hanging out at the campground, KOA Holidays are an ideal place to relax and play. There's plenty to do, with amenities and services to make your stay memorable. Plus, you'll enjoy the outdoor experience with upgraded RV Sites with KOA Patio® and Deluxe Cabins with full baths for camping in comfort. Bring your family, bring your friends, or bring the whole group – there's plenty of ways to stay and explore.
KOA Holidays Feature:
RV Sites with a KOA Patio®
Deluxe Cabins with full baths
Premium Tent Sites
Group meeting facilities
Directions
GPS ADDRESS: PLEASE USE 100 Adelaide Road, -OR- 1101 RIVEREDGE RD, CONNELLSVILLE, PA 15425 (From Adelaide Rd, follow campground signs for 1.5 miles further to park entrance)
From New Stanton (PA Turnpike): Follow Rt 119 south to Connellsville. Take Rt 201 north 1.5 miles. Turn right onto Adelaide Rd and go 1.5 miles further, following the road as it goes left down the hill to Uniontown KOA at River's Edge.
Get Google Directions
Oct 13, 2020
Had a great time—we will be back!
Oct 13, 2020
Always great. Everyone is always so nice and helpful
Oct 13, 2020
I rented an rv to take my parents to my moms hometown. Staying at the Uniontown Koa was absolutely amazing. Everyone was very friendly, helpful and made the experience incredible. A very special thank you to Tom. He was wonderful to talk to,deal with and went out of his way to help us with an issue we had with the coach the morning of departure.
Oct 13, 2020
Always the best!
Oct 13, 2020
Clean, friendly, efficient. Halloween decorations and events scheduled. On a beautiful river with walking/ bike trails and canoeing and kayaking options.
Oct 12, 2020
This was our last visit for the year. The Halloween weekend was great. See you all next year!
Oct 12, 2020
Had a great stay and time there! Halloween weekends are a blast with the family!! Great campground, nice sites and friendly fun staff!
Oct 12, 2020
Fantastic campground! Lots of activities, friendly staff and great sites! We stay every October for the Halloween weekend. This year we convinced friends to come along. Both families already made reservations for next year!
Oct 12, 2020
As always it was a fantastic stay! The staff is the friendliest! We will be back
Oct 12, 2020
Very nice campground. River side sites were awesome! Great bike trail also! Love this campground!
Oct 12, 2020
It's like nascar there especially in the upper part in the T section and I was a little disappointed to not see the place decorated for Halloween like last year
Oct 12, 2020
Me and my family had an amazing time.
Oct 12, 2020
What started as a tent camping trip on a whim turned into an amazing family experience. The Halloween and trick or treating was the absolute best experience for both kids and parents. We will be back next year and hope to come every year.
Oct 11, 2020
Though short is was very peaceful and lovely. We're coming back.
Oct 11, 2020
Only stayed 2 notes. Campground clean, staff friendly and helpful. Would definitely stay again.
Oct 11, 2020
Beautiful location, nice level campsites, facilities very nice, clean. Staff very helpful and friendly
Oct 10, 2020
Camping on the river was amazing. The bike trail made walking so much fun. Everyone was so friendly. Your facility is top notch
Oct 10, 2020
The campsite was perfect and really clean. The showers are excellent - the best I've seen! They even helped us back our camper into our spot. When a camper moved out, the staff would come around and clean out the fire ring, usually within 20-30 minutes! And they collect garbage from each site twice daily. We couldn't have asked for more. Thank you!
Oct 09, 2020
Always a great stay. 3rd time there this season. Wonderful staff!!!
Oct 08, 2020
My husband & I were there for our 34th wedding anniversary. We were in site P-130. It was an absolutely beautiful site. The view was amazing. All the sites along the river have great views. Coming back next year & we can't wait!
Oct 08, 2020
We felt that the 2 nights that we stayed were most enjoyable and could not have been better.Just loved the cabin and view of the river and plan on doing a week next year in the fall as we did this year.We do a lot of walking and the trail that goes thru the campground worked out perfect for us.
Oct 08, 2020
Great employees, they helped us with everything we needed. Seasonal RVers were also wonderful; answered tons of questions we had.
Oct 07, 2020
Very disappointing to find out that you opened up reservations for October 2021 in July. We were never informed of that. Always in the past, we were able to reserve our sites for the following year before we left the campground. One person in our party was able to book a site while camping this past weekend but we were told that we had to call on Monday morning to reserve ours. Is that fair?
Oct 07, 2020
Love this campground. Waiting for seasonal spot to open.
Oct 07, 2020
Great stay, this is the nicest camp ground we have stayed at, very clean, employee are friends and you can tell they love their jobs.
Oct 07, 2020
Awesome campground and staff. We loved the beautiful surroundings, river and quiet setting. We are definitely coming back!!
Oct 07, 2020
Beautiful place. Didn't have very much interaction because of the whole COVID. Will definitely be back again.
Oct 06, 2020
Great find. So much to do, and great location on the river. We will be back next year!
Oct 06, 2020
Loved it! Will be back soon.
Oct 06, 2020
The only issue I had was our cabin had ants
Oct 06, 2020
We loved our cabin, very clean and new!!
Oct 06, 2020
One of the best campgrounds ever been to
Oct 06, 2020
Difficult to back a large trailer into the site because roads are very narrow. But Campground employee was extremely helpful and stayed with us until we were positioned correctly. Beautiful location right on the river and bike trail.
Oct 05, 2020
The campground overall is well kept. We did not use any of the facilities. The campground was extremely noisy on this visit due to the large increase in campers. The trains were out of control Saturday night (no one's fault) running at least 2 an hour all night long in addition to lots of dogs barking. I guess we camp for different reasons than other people. We enjoy the peace and quiet.
Oct 05, 2020
As always--amazing time with family and camp friends. This camp ground is so friendly and it is great that my kiddos are getting to grow up around such a wonderful group of seasonals and staff who make us feel welcome all the time.
Oct 05, 2020
Had a great stay, everyone was so friendly. Campground had plenty of activities for our son. Halloween was a great experience for both parents and adults.
Oct 05, 2020
This was our first time staying here, and I can see why it's so highly rated! All the staff was super friendly, and our cabin was exceptionally clean. We will definitely be back again!
Oct 05, 2020
Love that the GAP bike trail goes right through the campgrounds. Looking forward to returning and renting kayaks!
Oct 05, 2020
Great sites and atmosphere! Staff is always so friendly!
Oct 05, 2020
Everyone was very nice kept very clean. The people were very friendly. Would love to come again
Oct 05, 2020
It was a great weekend just wish the bathroom by the pool was cleaner..All in All great people an place We love it there
Oct 05, 2020
Staff was great and very helpful getting to the site and backed in. Camp ground was great. Kids and adults had a blast at the Halloween activities and haunted house. We will be back next summer!!
Oct 11, 2020
Great place had the best time
- Lori Mcfarland on Google
Oct 09, 2020
Just a wonderful place . On the river and on the GAP.
- Mark Baldauf on Google
Oct 04, 2020
Love this place, friendly staff, weekend activities. Spacious lots. Cable internet and full hook ups.
- Melissa White-Durbin on Google