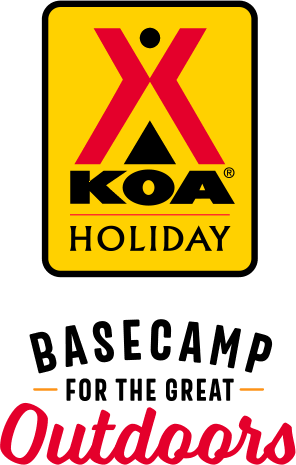 KOA Holiday Campgrounds
Whether you're exploring the local area or hanging out at the campground, KOA Holidays are an ideal place to relax and play. There's plenty to do, with amenities and services to make your stay memorable. Plus, you'll enjoy the outdoor experience with upgraded RV Sites with KOA Patio® and Deluxe Cabins with full baths for camping in comfort. Bring your family, bring your friends, or bring the whole group – there's plenty of ways to stay and explore.
KOA Holidays Feature:
RV Sites with a KOA Patio®
Deluxe Cabins with full baths
Premium Tent Sites
Group meeting facilities
Directions
GPS ADDRESS: PLEASE USE 100 Adelaide Road, -OR- 1101 RIVEREDGE RD, CONNELLSVILLE, PA 15425 (From Adelaide Rd, follow campground signs for 1.5 miles further to park entrance)
From New Stanton (PA Turnpike): Follow Rt 119 south to Connellsville. Take Rt 201 north 1.5 miles. Turn right onto Adelaide Rd and go 1.5 miles further, following the road as it goes left down the hill to Uniontown KOA at River's Edge.
Get Google Directions
Nov 12, 2020
Great as always!!
Nov 12, 2020
Great staff and very clean
Nov 09, 2020
Great place and fantastic staff!
Oct 28, 2020
2020 Campground of the Year!!
Oct 28, 2020
Great owners and staff!! Can't wait for 2021 season!! Campground gets better and better every year!!
Oct 23, 2020
As always, a wonderful weekend. Thank you for making this KOA campground one of our favorites! See you next season!!
Oct 22, 2020
Love being along youghiogheny river, little pricey, staff not as friendly as they use to be. Been going there for years for Halloween, koa didnt decorate like they have in the past when linda did it, she decorated throughout the whole campground and it looked great!!!! Like place better when it was riversedge!!!
Oct 22, 2020
Another .great year in a seasonal lot
Oct 21, 2020
We were seasonals this past year and the park is well kept and the staff is friendly. For what is offere I dont feel the overall value is there. The rate increase was shocking, so we left for a different campground at half the price with more amenities and perks. I feel that especially in this area there is so many campgrounds to choose from, the river is the only real advantage to this koa.
Oct 21, 2020
Linda and I have been a seasonal camper there for the last 13 years with in that time the campground has improved 100% we love the river we love the bike trail we love all the activities that the campground does for their seasonals and their regular campers I rate this place a number 10 we love it here
Oct 21, 2020
We have a seasonal site here. The staff are very friendly and helpful. The campground amenities are excellent and the park is very well maintained.
Oct 21, 2020
The owners of this place are absolutely horrible. They capitalized on the pandemic this year by raising our rates 12-20% depending on what kind of site you had. Our rates went up over 600 for the year. Plus they want u to pay for cable. When asked about it the owners were rude. In the time of a pandemic this is uncalled for.
Oct 21, 2020
Nice, clean park. Great, heated pool. Friendly staff.
Oct 21, 2020
We have been a seasonal member for 10 years. We loved this campground until the 2021 seasonal contracts came out and had a increase of over $600.00. In the time of a pandemic and so many people out of work and having a tough time paying their bills. There was no justification of the increase. I feel the owners took advantage of the pandemic because of so many people camping to have some normalcy.
Oct 21, 2020
Enjoyable, peaceful and no golf carts bothering the serenity. To close to the playground but hey they're kids and noise is to be expected. My site, my choice, my mistake. Will know better the next time. Just wish you were a little closer to home.
Oct 21, 2020
The staff was very friendly and helpful. They all made a great team.
Oct 20, 2020
Shower and toilets clean-Quite time observed- staff friendly and helpful.
Oct 20, 2020
Love this campground, right on the river, pretty close to home, family activities, clean campground
Oct 20, 2020
Jeramy was a big help
Oct 20, 2020
One of our favorite campgrounds to visit. Friendly staff and great activities!
Oct 20, 2020
Very nice clean place to camp! Only complaint is to many people joy riding around in golf carts. This campground is not that big where you need a golf cart. I witnessed a few children almost getting hit by them!
Oct 20, 2020
We stayed in cabin #7 for the Halloween event weekend. We had a great time trick or treating, playing bingo, camping out and decorating! We really liked the haunted house too! This has become a yearly event for us that we can't wait for!
Oct 20, 2020
great family fun place to stay. activities are alot of fun and entertaining. staff are helpful and friendly.
Oct 20, 2020
We love rivers edge koa. Always clean and well kept. Great people working there and great guests. Everyone is always nice.
Oct 20, 2020
We had an awesome time!! DJ Saturday night could have played more fun music to dance to but overall we had an absolute BLAST and can't wait to come back in the Spring!
Oct 19, 2020
Enjoyed the friendly staff and campers. Enjoyed our first experience at kayaking. Great campground!
Oct 19, 2020
Campground was great.excellent location with bike trail and river right there. Clean showers and nice little store.Our trailer was a rental unit and was terrible.A/c did not work. Screen door no latch and broken screen. Carpet wornout with wood showing.
Oct 19, 2020
Loved being by the river. So peaceful except for the train which just made me giggle...like in My Cousin Vinny. Nice bike trail too.
Oct 18, 2020
Luv it their but heard u r rates r going very high next year �� that would be the down fall of the campground we r booked for next year but on social security we may half to rethink great view
Oct 18, 2020
Perfect, very accommodating, helpful. I WILL stay again
Oct 18, 2020
Employees are super helpful and friendly and we hope to see you guys again next year
Oct 18, 2020
Very nice campground we stayed at one of the river front sites. It was nice level gravel. The only complaint would be the train that goes by several times a day but would stay there again
Oct 18, 2020
Outstanding Campground! The only problem, NO MASKS in the office or any of the workers!! Unsafe!!
Oct 18, 2020
All good. Though at the end of the season, everyone was very nice. Tx
Oct 18, 2020
Clean, well maintained campground with beautiful and spacious sites on the river.
Oct 18, 2020
We just purchased our RV and have only stayed in 3 places to date, but we were very impressed with our campsite with you and would not hesitate to come back. Thank you
Oct 17, 2020
All staff are great to help out in any problem and wife and i just love camping at this KOA.
Oct 15, 2020
Looking forward to coming back next year.
Oct 14, 2020
This was our 4th year staying here for trick or treating weekend! The adults love it as much as the kids. Love this campground!!! Wonderful people and great time.
Oct 14, 2020
So very accommodating!!! We had a trip planned, had to cancel the day we were leaving because of a corona scare. Well, Covid negative meant we were back to a trip, and we were able to secure new reservations, then we were able to extend our stay by being placed on watch list. The campground is extremely well maintained. Loved every minute at this beautiful place! Thanks for taking care of us!
Oct 13, 2020
Would like to suggest maybe ground lite's near the bathrooms by the pull through sites as it is very dark finding our way late at night. It was a terrific Halloween weekend. The decorations by some campers were awesome and the kids got a ton of candy. Love to see the joy
Mar 28, 2021
Awesome fun place to stay with great amenities!
- Meli D on Google
Feb 28, 2021
Love this place best campground in the area
- Becky Kessler on Google
Feb 24, 2021
We were there in September. It was great for kids. We are coming back 2 times this coming summer. Fun at the pavilion great pool and play ground. Arcade too.
- cheryl matulevic on Google