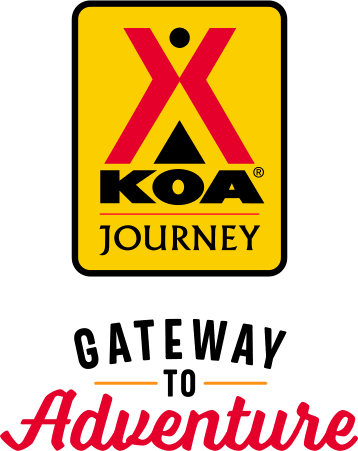 KOA Journey Campgrounds
KOA Journey campgrounds are the perfect oases after a day on the road. Whether it's along the way or a quick getaway, they've got you covered. Located near the highways and byways of North America with long Pull-thru RV Sites, they deliver convenience to the traveling camper. Pull in, ease back and take a load off.
KOA Journeys Feature:
Pull-through RV Sites with 50-amp service
Premium Tent Sites
Well lit after hours check-in service
Directions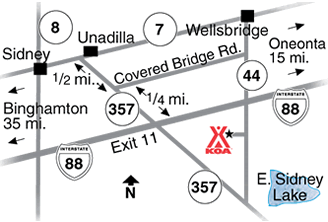 I-88 Exit 11: Don't use GPS after Exit 11, Head West on Route 357, Take the first Right onto Covered Bridge Rd, Follow to the End, Then Take a Right onto Route 44, Follow to Union Church Road, Take a Right, We are on the Left. We are 3.5 Miles off of Interstate 88. WE WAIT FOR EVERY RESERVATION. So if you will be Arriving after Hours Please Call.
Get Google Directions
Sep 13, 2020
Friendly owners, pretty area, and easy on and off when traveling through!!
Sep 13, 2020
All around amazing stay! Highly recommended!
Sep 10, 2020
Pleasant and loved it there, very clean hopefully getting a seasonal spot next year. My kids can't wait to go back. Very friendly staff, would recommend to everyone.
Sep 09, 2020
Only Reason I gave it but three is because they have no sewers available. Would rank it a 4 1/2 five if they did have. We love it and have already booked for four weeks out so looking forward to being there. Thank you.
Sep 09, 2020
everyone was very friendly and helping us to place our camper. Also we have the "Value Kard" Rewards Number 2H952H. Thank you
Sep 09, 2020
Very friendly and helpful owners. The country setting, away from all highway noises, makes this place very relaxing.
Sep 08, 2020
I love this camp ground. Everyone is so friendly. I will be back soon!
Sep 08, 2020
We had a great time . Staff and other guests were very nice and friendly making us feel right at home. Looking forward to getting a seasonal spot and enjoying next summer.
Sep 04, 2020
Would have loved to stayed longer. Beautiful Campground. Disappointed in WiiFi connection. We like to watch TV at night and do not have the streaming or Roku capabilities. Had DVD's to watch. Owners were very nice. Well kept campground.
Sep 04, 2020
My favorite campground, beautiful scenery and super clean
Aug 31, 2020
The owner is there and helps with anything you need the place is clean and well maintained we stayed by the river and the site was amazing and we will be staying with them again ty
Aug 29, 2020
It was very clean ! Had a very nice time. The gentleman in the office was very accommodating!
Aug 29, 2020
The owners were fantastic polite and professional, loved every minute their, the nice part is that is hidden from street, quiet at night time great place to relax and have fun will be back in the future
Aug 27, 2020
Very friendly, helpful and accommodating. Thanks for everything and we will see you next year!
Aug 27, 2020
We brought our 4 grandchildren to the Unadilla KOA for a special weekend and stayed in the RV. It was a hit! Lots of room, clean, and fun. They loved the pool, fishing, basketball, hiking along the stream, playing games in the field and hanging out at the playground. Special memories made!! Mike and Kathy were the perfect hosts! I totally recommend this KOA!!
Aug 26, 2020
Poor WiFi, too many long term stay types.
Aug 25, 2020
It was nice except for the loud parties and the camp sites being so close together. The owners are awesome hard working people!!!
Aug 25, 2020
The good. It's a beautiful location, check in was easy,price was good,and staff generally friendly. Now the bad. No social distancing AT ALL, sites are TINY, rules not enforced, bathrooms,pool,and kids swings are all dated and in need of repair. The map shows a nature trail but it's totally impassable. I'd go on but space doesn't allow. Wouldn't recommend and doesn't feel like other KO
Aug 24, 2020
The campground is in a nice location and the owners are fantastic.
Aug 24, 2020
small and very friendly
Aug 24, 2020
The grounds were beautiful. The layout is also very welcoming, when you first arrive you see the pool and lawn game area, the facilities were super clean and organized. The staff was super friendly and helpful, I will 100% come back to this site.
Aug 23, 2020
Excellent campground with very friendly people. We found the owners to be very helpful. The cabin was very clean and cozy. And the campground is full of activities.
Aug 22, 2020
Our stay was fine. Quiet site, nice neighbors... owners were great
Aug 20, 2020
Thanks very nice.
Aug 20, 2020
Awesome time clean and safe and enjoyable great place to stay grandkids loved pool and basketball court
Aug 18, 2020
My family enjoyed staying at this location. The staff and full timers were friendly. Our spot along the stream was excellent. We would definitely return to this location.
Aug 17, 2020
Mike and Kathy are wonderful. The grounds are well kept and very clean!!! See you in 361 days!!
Aug 16, 2020
I found this place out off the road about 3 miles by the riverside.Has a nice pool and the service was great getting you to your site and coverage of information about the camp ground.We have been to many of campgrounds and found this one relatively relaxing and pleasant.The only one thing that stood out was it was a slightly a little to crowded for my comfort zone..Maybe due to heated weather..
Aug 15, 2020
Simple pull through , just what we wanted,
Aug 12, 2020
Clean facility and very helpful owner. He answered all of of our questions and went out of his way to help us.
Aug 10, 2020
The campsite needs upgrades and repairs. Bathrooms are old and maintainace neededSinks clogged. Pool needs upgrade. Better stocked store.
Aug 10, 2020
It's a smaller campground. For adults looking for a quiet weekend, it's a good choice.
Aug 10, 2020
We stayed one night. The Travel Trailer we stayed in was very comfortable. Spotless. We will definitely stay here again for a longer stay! The local area is beautiful! Other campers were very friendly! Staff and Owners were very friendly! Camp store has everything you would need! We arrived later than expected so needed provisions, the camp store had everything we needed!
Aug 10, 2020
Problem with pedestal voltage that was immediately addressed by owner. Moved to new site. Otherwise a great stay. Owners friendly and conscientious.
Aug 09, 2020
Great time. Thanks
Aug 06, 2020
Our first-ever RV vacation. Owners very helpful, neighbors great. Quiet, but family-oriented. Never imagined RV travel was so noice. You take your vehicle, bathroom, kitchen, suitcase, DVD player, with you, and you don't have to re-pack every morning. DAK
Aug 06, 2020
Perfect hosts - very friendly campground. Was our first trip using an RV. Great. DAK
Aug 06, 2020
stayed for wedding that weekend. wasn't there much at site but seemed to be clean/nice and friendly people
Aug 06, 2020
Stayed one night on an route journey. Then stayed an extra night due to a severe storm elsewhere. Staff was pleasant and easy to deal with. Park has no sewer sites due to local laws but does have a dump station. Pretty far off Interstate on small farm roads. Nice and quiet that way. Appears to have numerous long-term guests.
Aug 05, 2020
Staff was nice Noticed that most of the campground were permanent sites. Not a lot of social distancing. Kids riding bike through our site while we were sitting out side. Ok for a quick overnight. No sewer hook ups.
Aug 04, 2020
As always we enjoyed our stay very much! Mike is always a pleasure to work with and put us up in a nice spot next to the creek. We will be back again!
Aug 04, 2020
We were situated right across from the bathrooms so all day people were walking past our spot even if we were having a meal. That was very unpleasant with the children running and biking right next to where we were sitting and eating. Not really sure what could be done about it