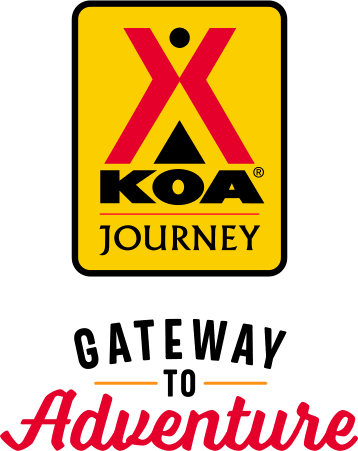 KOA Journey Campgrounds
KOA Journey campgrounds are the perfect oases after a day on the road. Whether it's along the way or a quick getaway, they've got you covered. Located near the highways and byways of North America with long Pull-thru RV Sites, they deliver convenience to the traveling camper. Pull in, ease back and take a load off.
KOA Journeys Feature:
Pull-through RV Sites with 50-amp service
Premium Tent Sites
Well lit after hours check-in service
Directions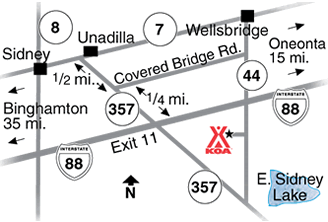 I-88 Exit 11: Don't use GPS after Exit 11, Head West on Route 357, Take the first Right onto Covered Bridge Rd, Follow to the End, Then Take a Right onto Route 44, Follow to Union Church Road, Take a Right, We are on the Left. We are 3.5 Miles off of Interstate 88. WE WAIT FOR EVERY RESERVATION. So if you will be Arriving after Hours Please Call.
Get Google Directions
Jul 06, 2021
the site wasn't big enough for pulling camper back out when it was time to leave. it took me 35 minutes to get my camper and truck off the hill. it was very muddy up there due to the rain. the mud was seeping up through my rug. I slipped in the mud and almost fell down the hill. the ladies rest room was very neat and clean, the office people were very nice. the pool was clean and very enjoyable
Jul 06, 2021
The owners are always putting our area of the campsite down. Telling our visitors that the corner area is loud and have complaints all the time. Then the owner had some family or friends staying near us and they called our area "the ghetto". Very disappointed that the owners are disrespecting the seasonal campers that have paid $1800 per year. We have brought in a couple seasonals and weekend.
Jul 05, 2021
My tent site was secluded, well maintained, neighbors friendly and quiet during the night. Toilet facilities, clean. No issues with scavenging night creatures.
Jul 04, 2021
The women in the office were all very welcoming and helpful.
Jul 03, 2021
Nice stop on our journey north. Just wish the roads coming north thru PA and heading further north to Albany were as good as the campground!
Jul 03, 2021
Always enjoy our stay in Unadilla, very friendly staff
Jul 03, 2021
Overnight stop
Jul 02, 2021
Another good overnight stay. Nice and quiet. Escaped the heat in the pool and comfortable game room. Will be back soon!
Jul 01, 2021
Great stay. Nice and helpful owners and staff. Very, very clean. Easy access and beautiful setting
Jun 30, 2021
We had site 11. We filled our tank before realizing the water was BROWN. No dump at site. Had to drain and dump at station in 100 degree heat. Repeat to get it all out. Staff laughed and asked if my husband had drank or smoked his lunch. Said water was clear. Then said you have to run it first. Other campers said it's known problem. Overflowing garbage at trash bin. We have video of water
Jun 29, 2021
I thoroughly enjoyed my stay. It was a quiet community with very friendly people. They even had a craft fair and a live band on Saturday. The camp store had a great selection. I had forgotten to bring my benedryl and the store had some. This seriously saved me when my allergies started acting up. My only complaint was that the showers were not working. However they had a great pool.
Jun 29, 2021
Pulled in just for the 1 night , as we were just passing through. We found the staff and the grounds very pleasing. Pool was nice & big. Would definitely stay there again on our travels.
Jun 28, 2021
Limited restroom facilities. Dirty Kamp Kabin. Attractive location.
Jun 28, 2021
Staff was nice and helpful. Our site was narrow and the pull throughs were designed so our doors were facing each other. No privacy at all and kids riding bikes through full speed. The biggest shock-no sewer hook ups. Everyone has to use the dump station or get pumped out. Definitely more of a family place with a lot going on.
Jun 25, 2021
although the campground was pretty it pretty much sucked, no men's showers, 1 women's shower, no way to dump tanks till you left, no interaction between guest and owners. Basically felt camping in someone's backyard with all the seasonal' s there. Most people friendly but still felt uncomfortable. I go to a lot of KOAs but this one should be ashamed to call itself a KOA.
Jun 24, 2021
Understand this is a KOA journey okay for a one night stay. They did have a nice pool. We stayed in one of their RV rental units. Honestly the place needs a little love. The was junk piled in the men's bathhouse and it had only one working toilet. The showers were pretty disgusting with an old tarp draped across the back wall. They offered us an upgrade to one of their newer units for $50.
Jun 23, 2021
Public bathroom needs some TLC Quiet family friendly place
Jun 20, 2021
Very clean and neat.
Jun 18, 2021
Is quite a ways off the interstate but nice place
Jun 18, 2021
Great place by the stream. Nice crisp sleeping nights. Hospitality was warm and welcoming. Thank you for making our stay wonderful. Tom & Gloria
Jun 15, 2021
An ok campground. Was only there one night didn't see much of the place.
Jun 15, 2021
It was perfect! The owners & workers were so friendly!
Jun 14, 2021
Fantastic place great people clean restrooms
Jun 14, 2021
Very very very nice people run this KOA. Would definitely stay here again.
Jun 14, 2021
If you have children, like to party, have a dog that barks constantly this is the place for you. If you want peace & quiet you will be disappointed. The place is beautiful. The owners are so friendly and nice that I feel bad complaining. But adults and children running around on golf carts all day and teenagers partying all night was too much.
Jun 13, 2021
Quaint campground with friendly personnel .
Jun 13, 2021
Great little campground, very friendly and helpful personnel. Grounds in great shape, spots along river are superb. Bathrooms need upgrade, but that is only critique.
Jun 12, 2021
The staff were very friendly and helpful. Very quiet campground. Only 3 stars because of all the full time trailer dwellers and the packed in like sardines sites. Men's showers need help. Good location if you are traveling through north or south. Rural area, campground is on a large stream. Plenty of shade. Pull thru sites are just long enough if pulling a trailer or car.
Jun 11, 2021
Problem with low voltage but seemed to be resolved after worked on by staff. Sites are on grass and dirt which was muddy on our stay. Sites were also too close together.
Jun 11, 2021
Nice staff had a great time.
Jun 11, 2021
Awesome people and beautiful camp grounds.
Jun 10, 2021
At the time of my stay the access to the site was not motorcycle friendly. The uphill loose gravel road turned into an uphill grassy field that was muddy in places. In my opinion this is unacceptable for a motorcycle pulling a small tent trailer. The restroom was a 10 minute walk back down the hill.
Jun 09, 2021
Campground crew were great. Have been here manty times before as it is a convenient stop on our way through. No full hook-up sites, but we can live with that.
Jun 08, 2021
reliable,convenient
Jun 04, 2021
Although our site was not ideal being a new site not designed for our camper, it was good. Camp is very clean. Bathrooms were being updated and not in great shape currently but I'm sure will be. Owner Mike was very helpful and the kindest guy. Went out of his way to ensure we were happy and taken care of. Otherwise beautiful campground with many opportunities to keep the little ones happy.
Jun 03, 2021
The hosts are wonderful and very helpful. The seasonal campers are very friendly. The owners are making great upgrades to the campground. It was clean and quiet and affordable for a.tent camper. I will always come back.
Jun 02, 2021
Outdated playground, poorly maintained sites
Jun 02, 2021
It was nice we were a little bit disappointed that we didn't get over by the water but in all it was OK I wish they had sewage would've been easier okey-dokey have a great day
Jun 02, 2021
First time ever at a KOA that we had to cancel return stay. Place is dirty and run down. Filling the pool with brown creek water. No toilet paper in bathroom. No one in office until 900. Geared to full time people not campers. Weeds over grown all over. Picnic table in horrible shape. Place is neglected.
Jun 02, 2021
The owners were very nice and accommodating. It was wooded and clean.. Unfortunately, the campsites were all very small ( ours was practically in the camp road, all stone, tiny swatch of grass) The playground was off to the side in a loop and much older equipment. No kids activities or pavilion for gathering. Just not what we were expecting after our other KOA experiences.
Jun 01, 2021
It rained pretty much the entire time but we still had a wonderful time.