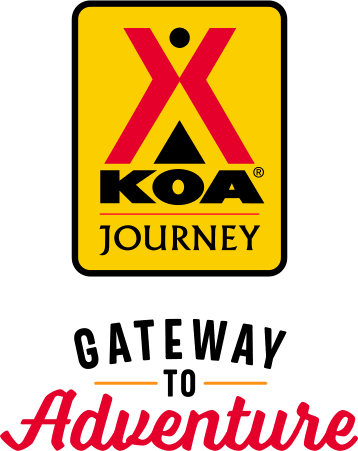 KOA Journey Campgrounds
KOA Journey campgrounds are the perfect oases after a day on the road. Whether it's along the way or a quick getaway, they've got you covered. Located near the highways and byways of North America with long Pull-thru RV Sites, they deliver convenience to the traveling camper. Pull in, ease back and take a load off.
KOA Journeys Feature:
Pull-through RV Sites with 50-amp service
Premium Tent Sites
Well lit after hours check-in service
Directions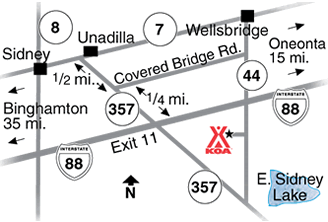 I-88 Exit 11: Don't use GPS after Exit 11, Head West on Route 357, Take the first Right onto Covered Bridge Rd, Follow to the End, Then Take a Right onto Route 44, Follow to Union Church Road, Take a Right, We are on the Left. We are 3.5 Miles off of Interstate 88. WE WAIT FOR EVERY RESERVATION. So if you will be Arriving after Hours Please Call.
Get Google Directions
Aug 01, 2021
Missed not having sewer hookups but otherwise park is very nice. Owners were very accommodating and pleasant. They moved us to a larger site to fit our big rig!
Aug 01, 2021
Campsite was muddy, wet and created a problem keeping camper clean inside.
Aug 01, 2021
A fantastic "Stay-cation" in a beautiful setting nestled between rolling farmlands. Close to Cooperstown and the town of museums. Great place to stay for the Derek Jeter induction. Generous hosts who are helpful all day long to make sure your stay is comfortable. One of the nostalgic KOA campgrounds that keeps getting better. The country roads and quiet camping experience brings me back.
Aug 01, 2021
Lovely creek, handy basketball court, friendly people.
Jul 31, 2021
Good campground, water pressure in showers could have been a little better, but it seems to be normal in this area.
Jul 30, 2021
GREAT KOA! GREAT SITE! GREAT STAFF ABND OWNERS! LOVED THE FIREFLIES!
Jul 30, 2021
The best campground I have ever stayed at! Beautiful property and amazing owners and staff. We will definitely be back!
Jul 29, 2021
It was a great stay we go every year my kids love it
Jul 29, 2021
Owners were very helpful when we had an electrical problem
Jul 28, 2021
Nice , only thing on site d12 the water faucet was to close to the water hose to fit properly. Had to turn it on first to get our connection hooked up . Can't get any TV connection because sitting in a valley with trees.
Jul 27, 2021
Not a Big Rig froendly campground set up, but loved this temote campground.
Jul 26, 2021
Signage to get to the park from the Highway was confusing. Staff (owners I think) seemed disorganized. We were put in an undeveloped area of the park, basically a hay field with water & electric. No driveway or developed campsites. This area of the park SHOULD NOT have been open to guests. We stay at KOA's frequently and this one was a disgrace to the brand.
Jul 26, 2021
KOA staff was very accommodating and helpful. Campground was clean and well maintained. Our best KOA experience yet!
Jul 25, 2021
Very peaceful and tranquil despite the amount of people that were there. The owners are very accommodating. Everyone there respects their fellow campers. Had a blast! Really enjoyed the local things to do like rustic Ridge winery And the baseball at Cooperstown and Oneonta
Jul 24, 2021
I was told i was getting full hook ups and there wasn't one single seer hookup on the entire place…. I am not super pissed but i was expecting to hook up my camper, if you dont offer sewer than dont advertise it please and thank you.
Jul 22, 2021
Stayed twice this summer while passing through NY. We were awoken on our second stay at 4:00am due to a large "campfire" being started at one of the cabins and much activity going on. Could not get back to bed. Will not visit again
Jul 19, 2021
Unidilla was a nice camp ground. Their washroom vacillties were clean. I had good hot water in the showers. The stream near my camper was pleasant when I would come out in the morning. All in all the campground was top rate.
Jul 19, 2021
There seemed to be a water issue. Water had a poop like odor and was cloudy...I wonder if water was pumped from nearby river..which resembled chocolate milk...also wondered if dump station was draining into same river. My particular site was cramped...my slide outs were roughly 3 feet away from my neighbors slideouts....and parking my truck seemed to cramp the other neighbor.
Jul 19, 2021
In the top three of the dozens of KOAs that we have visited. Terrific hosts that make everyone feel at home. Rustic location in the foothills of the Catskils. Close to multiple great attractions. Great family atmosphere. We'll be back.
Jul 19, 2021
I wouldn't stay there again. The site was up in a hay field and very uneven. The price was very high and had no sewers. I think it gave koa a pretty bad name.
Jul 17, 2021
Good sight. Really helpful owners, clean restrooms, showers, and pool!
Jul 17, 2021
Staff is excellent and the campground is clean. It's a small campground but nice.
Jul 16, 2021
Quiet-quiet-quiet!!! Wonderful pool!!!! Just what we needed after fleeing another KOA at Bar Harbor!!!!!!
Jul 13, 2021
Had a great time. No real complaints. The people there are very friendly. Love the pool. Very dog friendly.
Jul 13, 2021
We booked last minute so there was only 2 spots to choose from but we still managed to get a sweet little place to stay. It's a nice little park and we enjoyed ourselves. Sadly the neighboring occupants thought it fun to shoot off fireworks directly behind our camper just off park property but within 5 yards of us. Scared the life out of my pup and me too. Was kinda rude. Not KOAs fault thou
Jul 12, 2021
you have a very nice and clean campground. the only issue i had was that the seasonal camper across from me (i was in D11) had a light up american flag turned on ALL night. it actually bothered me enough that i didn't even have a campfire. it's not the flag that was the issue, it was the light. very inconsiderate given the fact that it doesn't affect HIS experience since it faces away fro
Jul 12, 2021
The campground was clean. The personnel was friendly, kind, and fun. It's a very nice campground and we will be back!
Jul 12, 2021
The owners and staff are very friendly, and they go all out for the customer, but there was no picnic table, the sites are far too close together and right on the road, and the bathroom plumbing is a shambles.
Jul 11, 2021
Sites are too crowded. Charge full hook price but have no full hookups. Poor customer service. Low spots need to be filled in with gravel to eliminate large water puddles.
Jul 09, 2021
Our stay was very nice. The rv was spacious for our family and very clean. The staff was very accommodating and friendly.
Jul 09, 2021
Very 1st KOA stay; they were 10+ re: attitude, accommodation, cleanliness, ease of the entire experience.
Jul 08, 2021
Very pleasant campground and great workers
Jul 08, 2021
Great site and directions to avoid bad roads.
Jul 06, 2021
We always have the best time at the unadilla KOA. Stayed in one of the cabins and they are perfect! Will be back. Very clean and a lot of activities for the holiday weekend
Jul 06, 2021
Well we were put up in the new site area. They were very accommodating with us as far as letting my pregnant daughter tent on our site. Overall considering the weather we had a nice stay
Jul 06, 2021
Sites are too close together, only 1 trash dumpster, and enforcement of quiet hours needs improvement. Positives: great campground for families, lots of activities over the July 4th weekend, men's restroom & showers clean. Several seasonal units on site. Remote location. The staff very friendly and helpful.
Jul 06, 2021
No bathroom up on the hill. Glass all over . Actual campground was very jam packed.