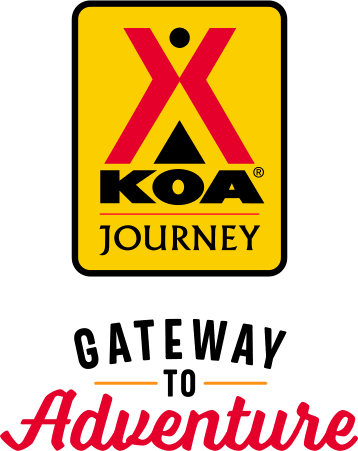 KOA Journey Campgrounds
KOA Journey campgrounds are the perfect oases after a day on the road. Whether it's along the way or a quick getaway, they've got you covered. Located near the highways and byways of North America with long Pull-thru RV Sites, they deliver convenience to the traveling camper. Pull in, ease back and take a load off.
KOA Journeys Feature:
Pull-through RV Sites with 50-amp service
Premium Tent Sites
Well lit after hours check-in service
Directions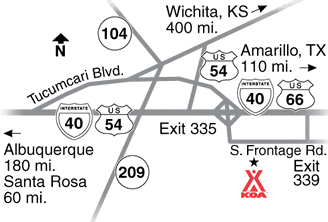 I-40 Eastbound: Exit 335, right at stop sign, left at next stop sign, 1/2 mile on right.
I-40 Westbound: Exit 335 keep left, left at stop sign, go under I-40, then left at next stop sign, 1/2 mile on right.
54 SW: Turn left at first stoplight Tucumcari Blvd (RT 66) , 2 miles go under I-40,  left at stop sign, 1/2 mile on right.
These driving directions are recommended.
If using GPS (Not recommended) the exact complete address is: 6299 Quay Road AL(most important part)
Get Google Directions
Mar 12, 2021
A great place to stay on Interstate 40.
Mar 12, 2021
It was an overnight stay where we have stopped three times before in 2020. We like the level sites, and the owners have put fresh gravel on the sites. The grounds are always clean and neat.
Mar 10, 2021
Quiet, easy to access, nice view. Clean facility. We stayed in early March 2021 for one night on our way to Park City Utah.
Mar 08, 2021
I love the contactless after hours check-in! The park was quiet and clean, with beautiful dark skies and desert views. My only complaint would be that the numbers on the spaces are a little difficult to see, especially in the dark. Others arriving at the same time had the same difficulty. It would be more convenient if the spots were more obviously numbered. Great park, highly recommend!
Mar 05, 2021
Nice stay the staff was was very nice and helpful
Mar 04, 2021
Great place. good size spaces. will stop agan.
Mar 04, 2021
Had a hard time finding it! Very dark in lot ! Would not think it's a Koa sign only one side working
Mar 01, 2021
Great place to stay people very helpful
Feb 27, 2021
Nice clean and up to date campground.
Feb 26, 2021
This campground was clean and well-maintained. It was obvious they were doing some maintenance preparing for the spring arrival of more guests. We would definitely use this campground in the future. The Burrells from Bogart Georgia ����������
Feb 23, 2021
I thought the host was very nice it was late and dark but they got me parked however I was just passing through wish you had a little discount for short term but would definitely recommend it
Feb 22, 2021
great service - thanks for filling my propane
Feb 15, 2021
Very cold. No water. That was ok as we lost water at our camp ground in KS for 7 days because of tbe cold. As always great people and good sites.
Feb 14, 2021
They were kind enough to earn us via email that the weather was not at all condusive to an enjoyable camping trip. But we are gluttons for punishment, decided to stay anyways and ended up leaving early to avoid a bad driving situation on our way home. The staff was very understanding and did not hassle us at all. The facilities were well maintained and the campground was well kept. Will be back!!!
Feb 13, 2021
It was short...just overnight. Public restrooms were clean and warm. None of the other amenities were available due to time of year! Couldn't go into the store.
Feb 10, 2021
The pads were all completed and set up nicely way in the back away from I-40 freeway traffic. The landscaping needs to be finished as there's a good collection of dirt at all these sites that easily turns to a muddy slur if moisture like rain or just water from the site rigs is introduced. Makes for a rather mucky experience. I would delay even advertising these sites until landscape is done.
Feb 06, 2021
nice place lots of room between rv's
Feb 04, 2021
Older camp ground but everything worked.
Feb 04, 2021
Very perinoid about Covid, absolutely nothing open, and you had to check in via phone when you get there. Office closed!!! Why charge 48 dollars when all you can do is park there, I can do that at a truck stop or a Walmart parking lot.
Feb 03, 2021
Very nice well kept up park .Very level spaces we didnt need any leveling. Large spaces with lots of trees . We will stay here again. The host were great and friendly.
Feb 02, 2021
Staff very helpful.
Jan 30, 2021
Very nice to have to places for showers. Able to easily social distance and were shown to out site. Clean showers.
Jan 30, 2021
When we arrived the office was closed. Had to call on a phone near the office. NOT good with Covid. We hooked up and the water began to leak at the hose bid. Then we were told that all water needed to be disconnected at 8:00 due to a hard freeze. Since it was already leaking and making a huge mess, we just disconnected it immediately. RIght next to Interstate, Traffic noise is abundant.
Jan 30, 2021
Great staff, large sites to accommodate our big rig (77'), and very quiet. We only stayed one night, but would definitely recommend.
Jan 18, 2021
Great stopover on our trip. Not busy and like the way we're shown to our campsite. We would definitely come here again.
Jan 16, 2021
Great sites.very quiet
Jan 15, 2021
Friendly staff, easy in/out, great place for a layover. Didn't get a chance to check out Tucumcari, but just the name makes me curious. Easy propane fill at a reasonable price.
Jan 15, 2021
It was a fun, adventure! I arrived after hours and they had a cool, walkie-talkie by the office to contact the management. A young man pulled-up in a golf cart and met me at the office to complete the check-in process. This was only my second time at a KOA campground, but it was far superior to my first. I had a warm shower and the facilities were clean and well-kept. Some road noise, not bad.
Jan 11, 2021
It was very nice and convenient! I recommend it!
Jan 10, 2021
Nice and open...
Jan 09, 2021
It was a quick stop over and was very convenient
Jan 09, 2021
Staff very outgoing and friendly.
Jan 09, 2021
I had indicated on the reservation note that we may be coming in later and needed our check in paperwork and campsite # left on the board, which did not happen. Arrived @ 6:30 PM, Office closed at 6 PM & no one inside. Called the number & a very courteous woman let us know someone would come to help. I wish I could say the same about the young man who showed up.
Jan 08, 2021
Great place to visit
Jan 05, 2021
Personal attention from the owner when we came in late, couldn't have been more gracious!
Jan 04, 2021
We love this KOA. This was our second time staying here. Quiet, clean and nice for walking our dogs. We will be back!
Jan 04, 2021
I stayed at 4 other KOAs this week and not one had a problem with my 15amp cord and set-up, but Tucumcari electric hookup kept breaking and we froze in 27 degrees. I even tried a 30 amp dog bone but could not get consistent power.
Jan 04, 2021
Stayed during Covid, so unable to use all the facilities. Some spots appeared in need of a little upgrading. People on phone very thoughtful, site host seemed polite. Convenient to freeway access.
Jan 04, 2021
Overall our one night stay was okay. Sight was paved and level. Didn't need to unhook. Bathrooms were clean, but no locks on outer doors. WiFi was provided but internet connection was slow at best. Cable was staticky and picture wasn't clear. Over the air TV had a better picture than cable. Park was clean. Overall stay was okay, but not as good as other KOAs we've stayed in.
May 07, 2021
We very much enjoyed our 1-night stay in this KOA. Very clean with level sites, a location that offers a view of distant buttes and a nice park-like setting with trees. Our 45-ft rig with tow vehicle) found it an easy place to get in and out of. We'll stay here again!
- Rhonda Mills on Google
May 04, 2021
Awesome place really spacious! Would stay again!
- Don Trenasty on Google
May 06, 2021
Good place to stop if you're traveling.
- Janie Macintosh on Google