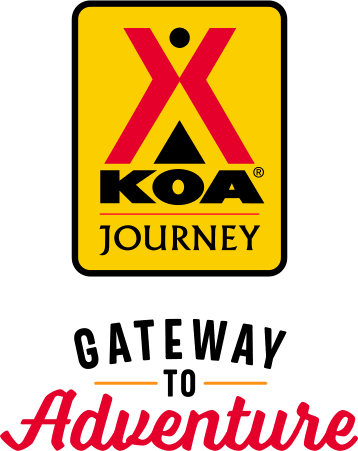 KOA Journey Campgrounds
KOA Journey campgrounds are the perfect oases after a day on the road. Whether it's along the way or a quick getaway, they've got you covered. Located near the highways and byways of North America with long Pull-thru RV Sites, they deliver convenience to the traveling camper. Pull in, ease back and take a load off.
KOA Journeys Feature:
Pull-through RV Sites with 50-amp service
Premium Tent Sites
Well lit after hours check-in service
Directions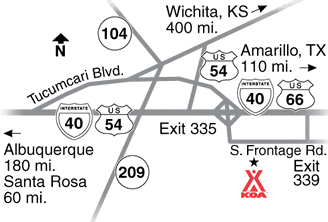 I-40 Eastbound: Exit 335, right at stop sign, left at next stop sign, 1/2 mile on right.
I-40 Westbound: Exit 335 keep left, left at stop sign, go under I-40, then left at next stop sign, 1/2 mile on right.
54 SW: Turn left at first stoplight Tucumcari Blvd (RT 66) , 2 miles go under I-40,  left at stop sign, 1/2 mile on right.
These driving directions are recommended.
If using GPS (Not recommended) the exact complete address is: 6299 Quay Road AL(most important part)
Get Google Directions
Apr 11, 2021
Great stay! Nice people. We even requested a specific spot and they were accommodating! Loved the food as well!
Apr 11, 2021
Everything was great. Nice helpful people.
Apr 11, 2021
They have made many improvements with more to go. Very friendly. Great place to stay. Delivered food was hot AND good.
Apr 10, 2021
It was a convenient and comfortable stop on a cross country journey. Lovely and peaceful, we enjoyed a restful night.
Apr 10, 2021
We had a great stay. I think it needs to be made more clear for other folks at campsites to use the hook ups with their site numbers on them. Possibly make the site numbers reflective when late arrivals can see them better when looking to keep from shining vehicle lights into other campers and or tents. We felt bad for having to point our lights into others rigs. Campground is great!
Apr 10, 2021
This park is bare bones. Check in involved contacting an employee who met us on his ATV and us follow him to our site. When I called to get the WiFi info, the gal who answered the phone told me to look it up on the form I was given at check in, which I would have done if there had been a check in. She argued with me when I told her I didn't get one, and then hung up on me.
Apr 10, 2021
Everything very efficiently handled. Very pleasant campground.
Apr 10, 2021
Extra long sites. Perfect if you don't want to disconnect
Apr 09, 2021
Easy on and easy off I40
Apr 09, 2021
This KOA is under new ownership and undergoing renovations.
Apr 09, 2021
Wonderful stay, nice, roomy sites, level. Great staff. Will stay longer next time.
Apr 09, 2021
Staff was helpful and professional.
Apr 08, 2021
far below the usual koa standards. Was this place overlooked during the quality control tours?
Apr 08, 2021
Facilities were very clean, parking was easy, showers very clean, hooks ups were easy. Only problem was the staff, unfriendly and would not give an inch. I needed propane bottles filled and called them at 6:33 PM, they told me they closed at 6:30 and he was going home. Not what I expected from a KOA Camp. Also no Good Sam or Military Discount, first place I stayed at that didn't offer one of them
Apr 07, 2021
Great for overnight! Clean & easy hookups
Apr 07, 2021
Very relaxing time
Apr 06, 2021
The site is very well maintained. The bathrooms and showers were good. The only reason for the 9 (vs a 10) is that this place is very remote.
Apr 06, 2021
Great place to stay. Nice and quiet. It was a great place to stay a night and get rest for the next day. Still had 500 miles to go.
Apr 06, 2021
Couldn't be better even without Wi-Fi.
Apr 05, 2021
It's tired, but clean. It definitely could use some updating, but is good for overnight stays. Sites have recently been kind of blacktopped (but rest of it is dirt/gravel).
Apr 05, 2021
We were there for one night on our way to the painted desert. Staff was very nice and the site was easy parking our 42' fifth wheel. Well kept campground. If ever back this way will stop again.
Apr 04, 2021
One night with late arrival, very convenient
Apr 03, 2021
Best stay of our first 3 leg journey.
Apr 03, 2021
Very friendly nice staff, clean.
Apr 03, 2021
Easy checkin, small, quiet, clean
Apr 02, 2021
overnight, 1 night only. would stay again.
Apr 02, 2021
The sites were not well kept! The only communication was a walkie talkie hanging on the office/store door. Which was never open.
Apr 02, 2021
Friendly staff , clean restrooms, beautiful facilities , very clean , convenient to i40.
Apr 02, 2021
Just a quick overnight. We didn't unhitch and we're off early the next am. Quiet and easy to get In and out.
Apr 01, 2021
Great place!
Apr 01, 2021
Only one night but very clean and pleasant helpful people
Apr 01, 2021
Had a very nice stay with you
Mar 31, 2021
The rv sites faced each other like in Mesa Verde KOA to save money most likely on utility fixtures. You share a center with picnic tables. Plus the staff wasn't around and you had to call them by radio when entering the property or requesting information while I. The park.
Mar 31, 2021
Was good, thanks
Mar 31, 2021
Typical desert campground, nice for overnight stay, good value, nice staff.
Mar 31, 2021
Place was perfect!
May 07, 2021
We very much enjoyed our 1-night stay in this KOA. Very clean with level sites, a location that offers a view of distant buttes and a nice park-like setting with trees. Our 45-ft rig with tow vehicle) found it an easy place to get in and out of. We'll stay here again!
- Rhonda Mills on Google
May 04, 2021
Awesome place really spacious! Would stay again!
- Don Trenasty on Google
May 06, 2021
Good place to stop if you're traveling.
- Janie Macintosh on Google