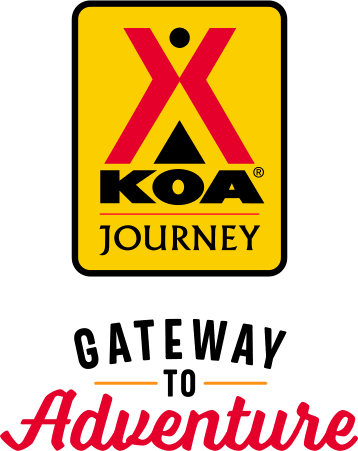 KOA Journey Campgrounds
KOA Journey campgrounds are the perfect oases after a day on the road. Whether it's along the way or a quick getaway, they've got you covered. Located near the highways and byways of North America with long Pull-thru RV Sites, they deliver convenience to the traveling camper. Pull in, ease back and take a load off.
KOA Journeys Feature:
Pull-through RV Sites with 50-amp service
Premium Tent Sites
Well lit after hours check-in service
Directions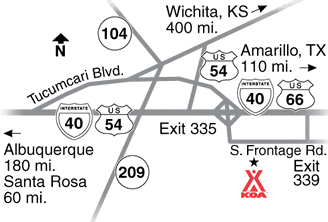 I-40 Eastbound: Exit 335, right at stop sign, left at next stop sign, 1/2 mile on right.
I-40 Westbound: Exit 335 keep left, left at stop sign, go under I-40, then left at next stop sign, 1/2 mile on right.
54 SW: Turn left at first stoplight Tucumcari Blvd (RT 66) , 2 miles go under I-40,  left at stop sign, 1/2 mile on right.
These driving directions are recommended.
If using GPS (Not recommended) the exact complete address is: 6299 Quay Road AL(most important part)
Get Google Directions
Apr 24, 2021
Close to freeway but not too noisy! Super nice people.. very personable! Highly recommend this place for a one nighter 9 hrs out of Phoenix on our way to OK City and beyond!
Apr 23, 2021
We enjoyed our weekend here very much. We got our chores done ,washing,cleaning, etc. and enjoyed the meal delivered to us. This was a very relaxing weekend for us. The staff and owner are exceptional Thank you all. Nebraskans
Apr 23, 2021
Great high desert campground for overnight stays. Nice employees....
Apr 23, 2021
Park needs a lot of work
Apr 22, 2021
Came in late, very nice and helpful
Apr 22, 2021
Nice level sites, escorted to site.
Apr 22, 2021
Quiet and a nice stay
Apr 22, 2021
Nice stay, just need to take care of the weeds. Maybe more mowing on the tall stuff.
Apr 22, 2021
The owners were very sweet and found us a spot even though they were having a bit of a sewer problem. The food from the cafe was delicious and was delivered hot and ready to eat
Apr 22, 2021
They aren't friendly and don't want to help. When I couldn't find the wifi password I called and asked. They did its in the brochure. I said I could find it and they wouldn't give it to me. Sadly I was tired and the printing on the brochure wasn't great, but I found it. Wifi was less than adequate anyway.
Apr 21, 2021
Had one of the new patio sites with a great view- Chicken fried steak dinner was excellent - would stay again just for the meal !!
Apr 20, 2021
Second time visiting this KOA. We love this place.
Apr 20, 2021
Came in late, pretty easy to find site. Very nice quiet park.
Apr 19, 2021
We needed an overnight on a road trip from zphoenix, AZ to Fort Worth, TX. Tucumcari KOA was just the ticket. The staff was friendly, helpful, and accommodating during COVID-19. Easy in, easy out. It's not out of the way. It's just off I-40 on Route 66. It's not the Hilton, but it is a nice KOA campground. We will use this location again.
Apr 19, 2021
Friendly helpful hosts!! Dinner was excellent, all fresh and homemade. Great for an overnight stop. Will stay here again !!!
Apr 19, 2021
Not a very pleasant campground - we stayed here a couple of years ago and not much has changed. Seems like they were doing a lot of work then & now but very little is different. This place needs a lot more TLC. While it is convenient to I40 I think we will find another campground next trip.
Apr 19, 2021
Exceptionally friendly family run KOA. Very clean. All sites had fresh gravel. The on site restaurant was closed for eating in due to COVID so they delivered food to the sites. The chocolate cake was delicious.
Apr 19, 2021
Nothing fancy but clean and staff is nice and helpful.
Apr 18, 2021
The rest rooms were very clean, we had good hot water and overall the campground was very clean. The hookups were easy and great. We reached late, so I could not meet the camp host but a big thanks to them for making our stay so comfortable.
Apr 18, 2021
Stopped for a one night rest hoping to get a good nights sleep and out early in the AM back on the trip. People were very friendly but campground was unkept, previous campers had not cleaned after their pets and had loud music playing most of the night. Had slept better at a site near the RR tracks in the past. The night long noise (music) drives our rating down 1 1/2 to 2 stars.
Apr 18, 2021
Friendly staff; clean restrooms; surprising quiet location; homemade breakfast burritos were a huge bonus!
Apr 17, 2021
Nice sites. Friendly people
Apr 16, 2021
Great place - would definitely stay again.
Apr 16, 2021
We stay here a couple of times a year and they have been making a lot of improvements. Will keep coming back! Honorable mention: We had a very nice young man check us in and he was very helpful.
Apr 16, 2021
Large spots . The food was delicious!
Apr 15, 2021
The staff were very friendly and was very helpful. We were so loving have breakfast made for us before we had to leave. They took care of our renewal of our KOA card. Thanks
Apr 14, 2021
Not like the pics online. Lots if dirt and ant hills. The guy at the front desk is really cranky. Would not stay there again, but if you just need an overnight works. Bathrooms were very clean, though they had signs not to use them if you had your own.
Apr 13, 2021
I dont think these little KOA get the credit they deserve. This KOA was clean, and most importantly quiet. They have an on site cafe with a great burger friendly staff. We enjoyed our stay.
Apr 13, 2021
We did not like the fact that two campers faced each other and had about 10' between the two camper entrance doors. Not everyone wants to be that close to people you do not know. We had a nice couple who shared the 10' but probably that is not always the case.We will not be staying at this campground again.The young man who showed us to our site was good but grounds were not typical of a $50
Apr 13, 2021
Same statement I make about nearly all KOAs, or just campgrounds in general. The WiFi is unusable. We travel from East to West and back a couple times a year and I would estimate that I have been able to watch a movie over campground WiFi no more than twice. Even when we are situated just feet from the office building. If you want to advertise WiFi as a feature, it needs to be a LOT better.
Apr 13, 2021
Gentleman met us in front of the office and led us to our sight, He handed us our paperwork and a that was our only interaction with staff. The grounds looked like they needed some TLC. Paint and repair of the office building looked neglected.
Apr 13, 2021
It needs to be cleaned up a bit. Trees need trimming. It needs a spruce up. WiFi not great. We just passing through, so was nice to stay there
Apr 12, 2021
Management was nice over the phone, but the lot attendant wasn't too friendly. Did not explain park features.
Apr 12, 2021
Easy off and on hwy. quiet . Staff was very helpful
Apr 12, 2021
Good for one nite during trip. Early in season so not much for nice scenery.
Apr 12, 2021
Neat, clean, great pull-thru.al Arrived too late to order supper but would definitely stay again
Apr 12, 2021
Nice, well planned campground. Early in the season (and Covid) so it was quiet. But it was a KOA, with all the amenities.
Apr 11, 2021
Nice level lot and easy access
Apr 11, 2021
Only good for one night stay in my opinion. I keep trying to think of something good but honestly we couldn't wait to get out of there.. dirty, dilapidated , place ." Dead trees, no grass, just weeds. Facilities are adequate but old. Dog park is smaller than my closet. Just keep driving to the next RV resort down the road if you are looking for hospitality and comfort.
May 07, 2021
We very much enjoyed our 1-night stay in this KOA. Very clean with level sites, a location that offers a view of distant buttes and a nice park-like setting with trees. Our 45-ft rig with tow vehicle) found it an easy place to get in and out of. We'll stay here again!
- Rhonda Mills on Google
May 04, 2021
Awesome place really spacious! Would stay again!
- Don Trenasty on Google
May 06, 2021
Good place to stop if you're traveling.
- Janie Macintosh on Google