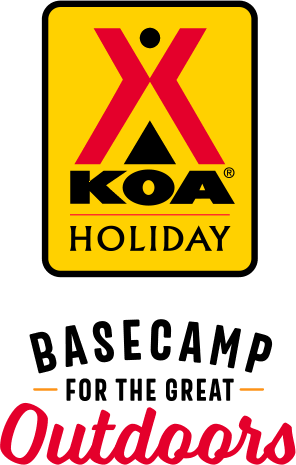 KOA Holiday Campgrounds
Whether you're exploring the local area or hanging out at the campground, KOA Holidays are an ideal place to relax and play. There's plenty to do, with amenities and services to make your stay memorable. Plus, you'll enjoy the outdoor experience with upgraded RV Sites with KOA Patio® and Deluxe Cabins with full baths for camping in comfort. Bring your family, bring your friends, or bring the whole group – there's plenty of ways to stay and explore.
KOA Holidays Feature:
RV Sites with a KOA Patio®
Deluxe Cabins with full baths
Premium Tent Sites
Group meeting facilities
Directions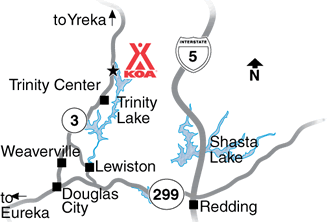 From I-5 South, (if in a car or under 25 ft.) take Hwy 3 Exit in Yreka and drive 70 miles south to Trinity Center. If over 25 ft, we recommend continuing south to Redding, turn west of 299 West, drive 40 miles west to Weaverville, then take Hwy 3 north 30 miles to Trinity Center.
From I-5 North, take Hwy 299 West Exit to Redding, turn west on 299 West, drive 40 miles west to Weaverville, then take Hwy 3 north 30 miles to Trinity Center.
This business operates under a special permit on land under the jurisdiction of the Forest Service.
Get Google Directions
Jun 17, 2020
toilet seats are way too small stalls too small and cant reach under to wipe. This is a huge drawback. Time to upgrade. Bring back square dances on sat. nites! And unlock the gate to the lake shore. Our garbage took 3 days to get picked up.
Jun 17, 2020
It was a nice stay service by employees was great. 3 out of five nights there had to contend with other campers that stayed there racing their motorcycles up and down the road next to our camp site, which was very loud and dangerous as my wife and I walked our dog down the same road nightly.
Jun 15, 2020
The KOA is very family friendly. The bathrooms were always clean and the store was well stocked. We had a great time and will be back!
Jun 15, 2020
Trinity Lake KOA is very large, the campsites are clean and tidy and spacious. The restrooms and showers are decent and clean which was nice especially with children. The staff was very helpful and accommodating. They were friendly even when we had to check out early due to thunderstorms. We were reimbursed right away for the nights we didnt stay. The lake is not so nice FYI
Jun 15, 2020
The campground was very clean and the staff we met were lovely!
Jun 12, 2020
Great shady site location, bathrooms nearby. Would recommend more bathroom maintenance on days when campgrounds have many visitors.
Jun 09, 2020
Very nice location, a bit of a walk to the lake. The only downside was the ATVs that would race around the lake and through the campgrounds at all hours.
Jun 09, 2020
Went to get away due to covid pandemic. The campground was perfect! Thank you so much!!
Jun 08, 2020
We were there with family and friends and everyone was able to do what they wanted. It was a great experience for all ages. Clean campsite and the showers are right there with the restrooms. Everything was so easy. Thank you KOA.
Jun 02, 2020
The bathroom had no hot water during our stay. The bathrooms weren't cleaned regularly. We had to walk all the way down to use the other bathroom. I notified the office of the hot water issue and I was told to let the water run for longer. It never got warm. We have stayed here multiple times and this was by far the worst stay.
Jun 02, 2020
Too much rain! Not KOAs fault! Just telling you LOL
May 31, 2020
Everybody was super accommodating and made sure we had an awesome time. Will definitely be going back.
May 30, 2020
Trinity Lake went beyond what my expectations were. Grounds are very well maintained the restrooms are immaculately clean. The lake is close.? The only complaint I would have is that I thought the pool was going to be open and it wasn't and I felt like I was overcharged for the coffee drink I ordered but overall I will definitely stay at a koa again hopefully numerous times including this one
May 27, 2020
Staff at the camp store were friendly and helpful, and there was an excellent selection of goods in the camp store. Campsites were spacious and secluded. Staff was attentive and drove around the campsites frequently. We definitely plan to visit again and would recommend this KOA to anyone!
May 26, 2020
The Staff—without a doubt, some of the most friendly, most helpful, most kind group of people I have ever encountered. Tent Sites are also ample, Well spaced, and open. I would highly recommend this KOA campground to anyone staying at Trinity Lake.
May 26, 2020
Great staff well maintained. Just lots of fun
May 26, 2020
Our stay was absolutely amazing. We didn't want to leave. Can't wait to be back under the stars at our favorite place.
May 26, 2020
It was a very nice stay. We like to tent camp and the sites were large and shaded. The down side was bathrooms were not kept stocked in tp and paper towels. I do not care that they were not spotless (hello we are camping). I think that the prices for snack bar was crazy! $4 for a soda that the ice was melted in 3 minutes tops. Also the lines were super long. We did not use any other features.
May 25, 2020
Great time, friendly staff, beautiful area, perfect for families. Only thing to improve is hot water needed for dish washing station and more bathroom cleaning shifts
Sep 12, 2019
End of season get away with adult children. Perfect time to visit Trinity Lake KOA! Weather perfect and crowds gone. So quiet.
Sep 03, 2019
We love Trinity Lake KOA. Staff is always friendly and polite, also very easy to work with and accommodating. The boat dock and slips are new and easy. So much for adults and kids to do with the pool, games, mini golf, corn hole and more. We are already planning our vacation there next year.
Aug 30, 2019
Great place. Clean and quiet. We were there at the right time. We will make an effort to go there again. Thank you to the staff.
Aug 21, 2019
accommodated our family reunion wonderfully
Aug 11, 2019
very nice as usual our 30th year
Aug 05, 2019
The only con we had about it were the bathrooms were not clean. The store was a bit pricey, however that is to be expected at a camp ground. Everything else was a pro. We have not stopped talking about how much fun we had and can not wait to return with friends and more family. We rented paddle boards and corcels with such ease. The manager was very friendly and helpful. Late check in was easy.
Jul 31, 2019
We enjoyed the campsite, the staff and the facilities. We unfortunately had something stolen from our campsite, so that was very disheartening and there were several large groups that did not respect the quiet hours. We usually love staying at KOA campsites.
Jul 30, 2019
Always have a great stay!
Jul 27, 2019
We've been coming to this beautiful campground for years because of the large shaded tent campsites and convenient boat slips. We enjoy the peaceful, friendly atmosphere and convenience of having a store, restaurant, games, and, last but not least, clean flushing toilets and showers!
Jul 21, 2019
Doing a lot of things better than the pre-KOA ownership. Maintaining clean bathrooms is not one however. Probably still a ring around a sink that was stopped up two weeks ago...trashcans crowned left for days...not hosed/mopped out daily as before...still quite positive on KOA and will be back next year. Marc Houle
Jul 19, 2019
This was my 26th year in a row staying at this location. Since KOA took the property over they have always allowed me to make a reservation in my specific camp site at check-out for the coming year. This year, with no notice at all, they rented my long standing site to others during my dates for next year. I have spent easily $1000 there every year. Wow. There is absolutely no reward for loyalty.
Jul 18, 2019
Great location, friendly staff.
Jul 15, 2019
A beautiful place that we have been going to for over 30 years. This year was a bit disappointing as the bathrooms were pretty disgusting and they no longer provide toilet seat covers. Also the picnic tables have been in horrible disrepair for several years. Regardless we always have fun because there is so much to do in the area.
Jul 12, 2019
This year the toilet seat covers were gone which was pretty annoying given the number of campers that use the restroom daily. Bathrooms were always a mess, trash cans over flowing every time of day and often times no toilet paper. Other than this i love trinity lake koa.. we spent two weeks and absolutely loved it.
Nov 10, 2020
It was a great vacation at the Trinity Lake KOA Holiday (7-10 September). There were almost no visitors at this time. We lived in two tents in Forest Loop 2 #158. Available for use (within walking distance (2 minutes)): - restroom, - shower - dishwashing station - laundry There was a drinking water tap next to our tent. At the entrance you can find many additional free entertainment for every taste (see attached photos). There was a small shop at the reception (you can buy firewood, fishing rods and other useful things for camping). Unfortunately at this time it was the end of the season and we were not able to rent kayaking. I recommend going to the lake, just put on high shoes and pants (a lot of dry and tall grass). I would like to mention that the staff have always been friendly and helpful. P.s. Pet friendly Thank you very much, we will come again soon!
- Ekaterina Terekhova on Google
Sep 11, 2020
Best place ever
- Alma R on Google
Sep 05, 2020
This is a great place to come with family. They have a lot to do and it is very clean. We were there for the Labor Day weekend. Unfortunately, when we showed up the smoke from all the fires all over California had shifted to Lake Trinity. My son has very bad allergies and was having trouble breathing so we had to cut our trip short. We went to the front desk to explain and they were so kind and helpful and even refunded the days we were not going to be there for. The staff here is more kind then any other place we have camped at. I would definitely recommend this place and we will be coming back for sure!
- Monika Sierra on Google