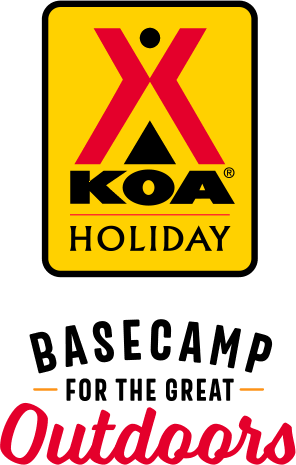 KOA Holiday Campgrounds
Whether you're exploring the local area or hanging out at the campground, KOA Holidays are an ideal place to relax and play. There's plenty to do, with amenities and services to make your stay memorable. Plus, you'll enjoy the outdoor experience with upgraded RV Sites with KOA Patio® and Deluxe Cabins with full baths for camping in comfort. Bring your family, bring your friends, or bring the whole group – there's plenty of ways to stay and explore.
KOA Holidays Feature:
RV Sites with a KOA Patio®
Deluxe Cabins with full baths
Premium Tent Sites
Group meeting facilities
Directions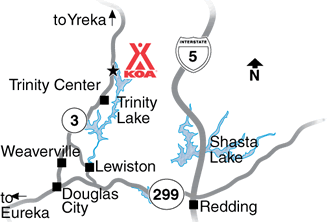 From I-5 South, (if in a car or under 25 ft.) take Hwy 3 Exit in Yreka and drive 70 miles south to Trinity Center. If over 25 ft, we recommend continuing south to Redding, turn west of 299 West, drive 40 miles west to Weaverville, then take Hwy 3 north 30 miles to Trinity Center.
From I-5 North, take Hwy 299 West Exit to Redding, turn west on 299 West, drive 40 miles west to Weaverville, then take Hwy 3 north 30 miles to Trinity Center.
This business operates under a special permit on land under the jurisdiction of the Forest Service.
Get Google Directions
Jul 25, 2020
We got to enjoy ourselves to the fullest and had a super great time enjoying the the California sun.
Jul 24, 2020
Very spacious camp sites & clean bathrooms. Firewood (burns too rapidly as well so bring your own) and ice is overpriced but I get it. It's unfortunate that the lake has depleted so much.
Jul 23, 2020
The camp site size is great. There were plenty of space. The first night the bathrooms were locked due to power outage. There was no communication or back up toilet. The second night, my daughter (8 yrs old) and I took a shower that lasted maybe 2 minutes because the water was not warming up. Hours later my husband took a shower only to find cold water. It was not worth $180 camping for 2 nights
Jul 22, 2020
So friendly , clean and fun for the whole family . The store was the cutest with everything that you could need . They had rentals for watercraft and a little hamburger/ snack shack !!!
Jul 21, 2020
Very relaxing environment with many activities.
Jul 21, 2020
We camp here every month. Beautiful scenery, clean facilities and friendly staff!
Jul 20, 2020
We had a wonderful camping experience at Trinity KOA. Thank you!
Jul 19, 2020
Wonderful stay. Really wish you would confine motorcycles to loop 4. Too noisy. Too reckless.
Jul 19, 2020
Great location! My family and I have camped here many times and once again didn't disappoint. Friendly staff and clean campgrounds. Bathrooms always stocked and usable. Look forward to 2021 trip which is already booked. Thx KOA Trinity crew
Jul 17, 2020
The campsite was very nice. Your website stated that the campsite we reserved had a sandy bottom area which it did NOT have. We would have brought softer padding if we had known. The bathrooms, under Covid,we would have expected to be rigorously cleaned every day. They were not. The staff knew almost nothing about regional hikes, and there was barely any info or maps available. Still we had fun.
Jul 17, 2020
Staff super friendly and helpful. Great facilities and activities. Beautiful setting.
Jul 16, 2020
We always have a great time at Trinity KOA but their bathrooms are not cleaned often enough. They are dirty, often run out of soap, paper towels and toilet paper. We were told that cuz of COVID they would be cleaned more often...no evidence of that!
Jul 15, 2020
Great time, my kiddos really enjoyed all the things. The only downside was that the bathroom #1 was not kept very well. Always out of soap, toilet paper and paper towels. Otherwise it was a great time and we can't wait to come back.
Jul 14, 2020
What a beautifully maintained campground!!! We were tent camping- the sites were very spacious and made it nice and serene. Our only complaint was that water access was pretty impossible without a boat or jet-ski. If you have either of those, the lake was stunning. Bring your side-by-side, too, because it seems there are quite a few trails.
Jul 14, 2020
We had a tent site. It was spacious and had good tree coverage. I liked that the tent sites were more spread out. The RV sites are very close together. Bathrooms and showers were clean and staid well stocked. The kids had fun on the bikes and at the snack shack. The lake is very close. We loved kayaking and paddleboarding. Great family destination even for a single mom with 4 kids!! Thanks!!
Jul 14, 2020
Loved everything about our stay except that the pool was closed. The kids would not swim in the lake so they were bummed. The bikes were our favorite part but it's a bit expensive for a family of 6. I would recommend a family discount for 4 kids or more. $50 for an hour of bike riding was expense 2 days in a row but we had a blast and built life long family memories. We will definitely retu
Jul 13, 2020
Bathrooms needed cleaning, not done in the early am. Staff was nice at the office.
Jul 12, 2020
I had a wonderful time. Playing on the lake and hope to see you next year
Jul 11, 2020
Loves the seclusion. Didnt like how the pools were closed. Its understandable for this time but the ping pong table and everything else was still open so I just wish the pool was open too. Not much of a swimming lake. Have to bring your water craft to fully enjoy the lake.
Jul 09, 2020
It was so comfortable stay there
Jul 08, 2020
Too crowded...road to marina is terrible and parking in dust...bathrooms not cleaned for 3 days.
Jul 07, 2020
The bathrooms were very poorly cleaned. Given the Covid-19 situation, I would have expected more than the past. What we got was much worse than the many times that we've stayed before. The men's bathroom soap dispenser didn't work for most of our stay, paper towels weren't refilled and the womens bathroom wasn't cleaned for a 36 hour period. Not Acceptable!!
Jul 06, 2020
Bathrooms were not kept clean, no paper towels, very dirty
Jul 06, 2020
Trinity Lake KOA is AMAZING. We will definitely be back. We booked a preferred plus campsite and were blown away. Not only was the site super spacious, but it came with 2 hammocks, camping chairs, a coffee kettle, charcoal grill and an extra side table. We also were walking distance to the lake with beautiful views. Staying within the shade of the Pines was peaceful and cool!
Jul 03, 2020
We had a wonderful stay, my daughter was bummed the pool was closed, which we know is out of your control. We were glad we were with a friend with a vehicle able to access a place to swim at the lake. My only other thought/suggestion would be giving ppl the option to make "add-ons" to their camp for additional costs. Instead of Preferred Plus or not, start at a base rate with optional upgrades.
Jul 01, 2020
This is usually our favorite summer camp spot & go weekly! This year, with COVID 19, we have only been up this one weekend & now will NOT be back this summer! Almost nobody wore face coverings in the bathrooms, and the bathrooms were filthy! Not cleaned hourly, but barely daily! Campsites were crowded with large groups of people partying to 2:00 AM & having the manager talk to them did nothing!
Jul 01, 2020
Exceeded all of our expectations! Friendly staff, clean sites and plenty of fun!! Thank you for a great vacation!
Jul 01, 2020
KOA was great but a little busy for COVID. Tent sites were very spacious
Jun 30, 2020
The place is great but very crowded. The only issue especially now is you need to do a better job of cleaning bathrooms and sanitizing the area in general. My daughter didn't even want to use one bathroom because it was so dirty and I agree because the men's was about the same. Also you say the tent spots are sand...really? NOT sand dirt! Maybe sand 25 years ago.
Jun 29, 2020
We visited the office/store to register, rent equipment and purchase snacks and drinks. Each of the staff members who helped us were extremely helpful and kind. We loved our stay so much that I've already booked another trip there.
Jun 27, 2020
Campgrounds were very maintained and staff was great. We enjoyed our trip and will definitely be back!
Jun 26, 2020
Was a wonderful stay!! Loved everything. The only thing we didn't like was the bathrooms hardly ever had toilet paper in the rolls. So when we were grabbing toilet paper we were touching the same roll a bunch of other people were touching as well. Which isn't very safe during the covid, but we made due.
Jun 22, 2020
We have been staying at the Trinity Lake Campground for over 30 years. Now that it is a KOA, we feel it is severely overpriced and the add on fees are ridiculous. We were shocked to have to pay $25.00 + tax extra to reserve a specific site. Part of our family stayed in tent sites which were over $50.00 each and I'm not sure there are sufficient bathroom facilities. So sad.
Jun 22, 2020
I have been coming here with my family for 37 years, since back when it was Wyntoon Resort. This is my favorite place on earth. This year, we decided to do a second summer trip here with my wife's family. That trip will now be annual. Everyone loved it. Thank you!
Jun 22, 2020
We had a blast! Only thing was that the bathroom by loop one wasn't very clean and in the womens the toilet paper wasnt stocked in the holder so everyone was dropping it on the ground and had to touch it . That's my only complaint. Otherwise everything was great! We will be back
Jun 22, 2020
We had a fantastic time. We will definitely camp there again!
Jun 22, 2020
There are way to many dirk bikes and quads riding around the sites and in the field near by at all times of day and night. The KOA dirt bikes get quite at 10 but not others. Pool was closed! It's also just WAY to far from the water. There is Zero access! People were nice enough and was nice to have the playground for my son but I don't think we will be going back.
Jun 21, 2020
Nice campground. Huge tent campsites. I appreciated the hammocks and camp chairs. Friendly check-in. So why would I not recommend it?? NO ONE, except for the KOA staff, was wearing a mask. I know that KOA can't patrol the behavior of its patrons, but if they can't then I'm not able to recommend . I felt that I was taking my life in my hands when I went into the bathroom. Hand sanitizer at least!!!
Jun 20, 2020
I was an off road rider and racer for over 30 years. To keep the camp site more pleasant I think it would be a good idea for the motorcycle riders to walk their bikes out to the street and starting them. You should put in your rules that motorcycles need to have US forest approved spark arresters, this is for your protection.
Nov 10, 2020
It was a great vacation at the Trinity Lake KOA Holiday (7-10 September). There were almost no visitors at this time. We lived in two tents in Forest Loop 2 #158. Available for use (within walking distance (2 minutes)): - restroom, - shower - dishwashing station - laundry There was a drinking water tap next to our tent. At the entrance you can find many additional free entertainment for every taste (see attached photos). There was a small shop at the reception (you can buy firewood, fishing rods and other useful things for camping). Unfortunately at this time it was the end of the season and we were not able to rent kayaking. I recommend going to the lake, just put on high shoes and pants (a lot of dry and tall grass). I would like to mention that the staff have always been friendly and helpful. P.s. Pet friendly Thank you very much, we will come again soon!
- Ekaterina Terekhova on Google
Sep 11, 2020
Best place ever
- Alma R on Google
Sep 05, 2020
This is a great place to come with family. They have a lot to do and it is very clean. We were there for the Labor Day weekend. Unfortunately, when we showed up the smoke from all the fires all over California had shifted to Lake Trinity. My son has very bad allergies and was having trouble breathing so we had to cut our trip short. We went to the front desk to explain and they were so kind and helpful and even refunded the days we were not going to be there for. The staff here is more kind then any other place we have camped at. I would definitely recommend this place and we will be coming back for sure!
- Monika Sierra on Google