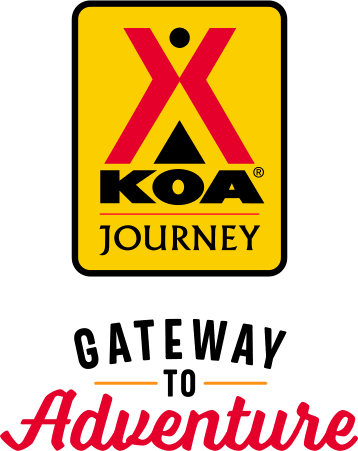 KOA Journey Campgrounds
KOA Journey campgrounds are the perfect oases after a day on the road. Whether it's along the way or a quick getaway, they've got you covered. Located near the highways and byways of North America with long Pull-thru RV Sites, they deliver convenience to the traveling camper. Pull in, ease back and take a load off.
KOA Journeys Feature:
Pull-through RV Sites with 50-amp service
Premium Tent Sites
Well lit after hours check-in service
Directions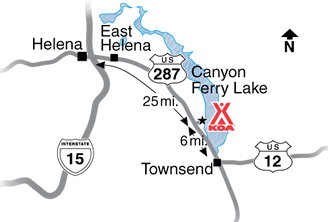 From I-90: Take Exit 274 for US 287, go north 38 miles. At mile marker 70, turn right.
From Helena: Go south on US 287. At mile marker 70, turn left.
GPS: N46.414460, W111.581689
Get Google Directions
Sep 19, 2018
very run down, lots of full time sites some that are very run down and junky, drive lanes full pot holes.
Sep 19, 2018
We camped here in route to Glacier National Park... just south of Helena, MT. Nice sites and extremely friendly staff. The morning coffee was an unexpected surprise.
Sep 17, 2018
Wonderful we loved the lake and beautiful mountains area. Very friendly staff.
Sep 17, 2018
Very friendly and helpful staff! Nice, clean spots!
Sep 15, 2018
Hopefully the disrepair of this KOA was due to the end of the camping season and they will refurbish over the winter. The well used cabin was needing the door fixed and the big bed needed repaired asit rolled me toward the middle. The bathroom that was open near the cabins needed remodeled as it was obviously dated and over used.
Sep 14, 2018
The woman at the check in was very dismissive. There was only a garbage bin in the front. Uninteresting
Sep 10, 2018
Very old and outdated KOA, bathrooms were marginal, sites were gravel, all about the fishing close by. I'm always surprised that KOA let's properties like this use the KOA name.
Sep 09, 2018
Great facility easy pull through your sites need better markers had to get out to see site number a little more greenery would be nice the price is fair
Sep 08, 2018
A lot of bugs. Maybe because it's near a lake A nice stayover
Sep 07, 2018
Great Campground. Would stay again when in the area.
Sep 06, 2018
very friendly staff
Sep 05, 2018
Sharon the manager was awesome to work with and was very accommodating!
Sep 05, 2018
We always have a great time at Canyon Ferry KOA and the staff is just wonderful.
Sep 04, 2018
Campsite #27 is best we've had so far! Thank you
Sep 04, 2018
The best part was the huge area for each RV. Most of the area are seasonal people, that make you feel uncomfortable. They are older and we had grand kids who loved to play and had been told to calm down and be quiet. There is not much to do they have a small store that is very over priced, the have a small playground. Compared to other KOAs this is over priced.
Sep 03, 2018
Only bad thing was that we where told that there was water at each tent site and there wasn't
Sep 03, 2018
This campground is a bit far from any of the cities around, so expect to drive 30-50 miles if you are camping to see the area. This is more of a destination if you want to fish/boat Canyon Ferry Lake. The sites are all gravel - our site was level. We did not use showers/restrooms. The office had all types of supplies.
Sep 03, 2018
We only stayed one night, but found the campground easy to access with friendly helpful staff. We look forward to visiting again. Thank you!
Sep 03, 2018
Great facility and the customer service was terrific
Sep 01, 2018
Nice big sites. Fantastic people.
Aug 31, 2018
Amazing and we will be back..Sharon the Camp host is beyond the most professional and top notch we have ever experienced..again will be back and have already told several others...beautiful and clean too...thanks so much..julie morey
Aug 31, 2018
Very friendly staff. Made you feel at home.
Aug 30, 2018
Friendly staff. They have everything you need to camp and fish on the lake.
Aug 30, 2018
We liked the grounds, the people, the bathroom AND the huckleberry milkshakes. We appreciated the staff figuring out how to let us use our reward $'s. It was great fun meeting people who were from our county in OH way out in MT
Aug 30, 2018
We had a great time staying in the bunkhouse. The staff were great, they even gave our grandkids free books!
Aug 25, 2018
Terrible Rud lady No swimming possibillity (the lake has blue algen always) thouhgt Its on the site!!!
Aug 24, 2018
Very friendly staff. Great amenities. Nice, quiet and clean. The little dog park was perfect. Good WiFi!
Aug 24, 2018
the camp has great extra wide sites for boat campers. But the lake lit sits on is not nice. dead fish lined the shore line...and it could have been a beautiful shoreline. will not be staying again.
Aug 22, 2018
I am not much of a camper and was so surprised by the accommodation that I would highly recommend this KOA!!!!!
Aug 20, 2018
Would have been nice if the owners/ managers hadn't messed up the reservations my family and I had. Smoking area in front of store was pretty gross. Shouldn't have to walk through a haze of smoke to get into the store and front desk.
Aug 20, 2018
Nice park.....
Aug 19, 2018
It was very dusty. The bathroom was very good.
Aug 18, 2018
They were funny and friendly
Aug 15, 2018
Great quiet easy access.
Aug 14, 2018
Great fish camp, not so good KOA. 50 amp service all taken up by permanent residents. 30 amp service weak in afternoons as A/Cs come on more often throughout park. Gravel roads dusty. Well stocked store, both for groceries and fishing requirements. Small laundry. Quite a book selection, not sure if for trade or sell, but lots of books.
Aug 14, 2018
Enjoyed the camp....staff were friendly and helpful...with the algae problem in the big Canyon Ferry reservoir, they should consider an outdoor pool to give guests a swimming option because right now the reservoir is not a great swimming experience.
Aug 13, 2018
Love staying there
Jul 05, 2021
Great place to be! The park is shaping up, the rates are reasonable, and the staff is super friendly! Awesome views too!
- CJ Moss on Google
Jun 29, 2021
Great quite place... Close enough to the water for some fishing as well. Bathrooms always are clean and they are very modern
- Diana Lay on Google
Jul 01, 2021
Nice camp ground and location to Ferry Canyon Lake. Dryers weren't working so don't plan on doing laundry right now. Otherwise spots are spacious enough for a boat. Also have a nice general store.
- Diana Hummel on Google