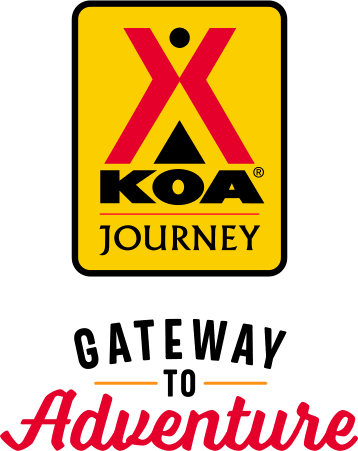 KOA Journey Campgrounds
KOA Journey campgrounds are the perfect oases after a day on the road. Whether it's along the way or a quick getaway, they've got you covered. Located near the highways and byways of North America with long Pull-thru RV Sites, they deliver convenience to the traveling camper. Pull in, ease back and take a load off.
KOA Journeys Feature:
Pull-through RV Sites with 50-amp service
Premium Tent Sites
Well lit after hours check-in service
Directions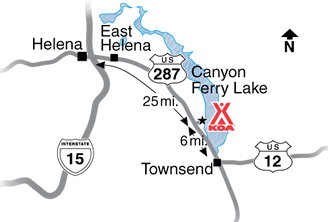 From I-90: Take Exit 274 for US 287, go north 38 miles. At mile marker 70, turn right.
From Helena: Go south on US 287. At mile marker 70, turn left.
GPS: N46.414460, W111.581689
Get Google Directions
Jul 30, 2019
Staff are very friendly. Cabin was clean, comfortable and in a beautiful location.
Jul 29, 2019
Friendly staff, mostly clean. Unfortunately, it's all tiny sharp rocks, no grass, almost no shade and there's these little pieces of colored glass everywhere. The weeds surrounding are terrible to walk the dog in.
Jul 28, 2019
Whitney was very attentive and friendly. We enjoyed the book store and campground. The bathrooms were clean. We look forward to staying again!
Jul 28, 2019
Awesome, clean bathrooms and showers. We were glad to see a playground. The tent sites were a little small and there are only four so it's not somewhere we could meet and camp with friends or family.
Jul 27, 2019
Quiet and clean,which are most important features. A bit on the rundown side with long term residents. Helpful staff.
Jul 26, 2019
Sharon and staff were so nice and very helpful. Really good people. The campsites and restrooms were kept very clean. I highly recommend The Silos KOA.
Jul 26, 2019
Great staff, clean restrooms, campsite was good.
Jul 25, 2019
Clean n quiet!
Jul 23, 2019
We had hoped the campground would be closer to the lake. The site we had was very close to the next site with little shielding in between. The service was great and they did recover well from a massive hailstorm a few days before.
Jul 23, 2019
Great staff. Very accommodating and willing to help out to make your stay with them the very best possible.
Jul 22, 2019
WiFi didn't work. Office forgot to tell us that there was a password for WiFi. There was white film on everything from the road base. We were in the back row of the park near the road with lots of dust. If we were not meeting family, we would never stay at this KOA!!!
Jul 22, 2019
We had the most amazing time! The bunk house was perfect and family gathering for a small reunion! Thank you for your great service.
Jul 21, 2019
an excellent park on the Canyon Ferry Lake. Great staff and fabulous bathrooms/showers. I enjoyed my stay.
Jul 20, 2019
It was a very clean and quiet campground, and the location was beautiful.
Jul 19, 2019
Stayed in a tent, sites are not well defined. Campground was clean, good store, and friendly staff. Lake is within walking distance for those without disabilities.
Jul 19, 2019
Good place. Gravel lots that are somewhat level. Friendly staff.
Jul 17, 2019
Very clean and friendly!! enjoyed our stay
Jul 17, 2019
Bad weather. Permanent residents.
Jul 16, 2019
Facilities are clean and well cared for. The location and sites are so so and a little tight. A Staff person was quick to offer help when we got stuck pulling out of the Entrance driveway instead of the Exit. Very kind and much appreciated.
Jul 16, 2019
We were able to relax and enjoy our family reunion knowing there was a comfortable clean cabin when we were ready for bed. Having access to the pavilion during the many storms was great too.
Jul 15, 2019
The people there were very friendly an always willing to help you if they could they had a smile on there face all the time i really enjoyed it there an the staff is the big reason my stay there was awesome i will defanately recomend that place to everyone they are awesome
Jul 14, 2019
The camp hosts were great. Thank you. We had a problem with the guys in the site next to us being noisy and inconsiderate late at night, and the staff fixed us up with a move right away. The only real issue was that the wifi was completely non-functional. Nowadays, this should not be an issue, but sadly, it commonly is.
Jul 13, 2019
Friendly staff, spacious suites, nice store.
Jul 13, 2019
We stayed in the 10 person cabin, it was great! Very cute and clean, lots of parking for our family. Staff at the KOA were friendly and helpful. Shower/bathrooms were neat and clean. We will be staying again!
Jul 11, 2019
Always very hospitable.
Jul 09, 2019
We had a family reunion there and the hosts and staff were very accommodating and happy to help! Cabins were clean - campground clean -and the store had everything we needed and more! Thanks for your hospitality!
Jul 09, 2019
Very poor to no Wi-Fi. All gravel roads and sites...dusty and dirty. Many "full timers" sites that also detract from the park. Staff was friendly. Did not use showers nor restrooms so can not comment. If you are hauling a boat for the state park, which is about one mile away, you may like this place.
Jul 08, 2019
Cabins were great! Staff was great!! Weather a bit uncooperative but all good
Jul 08, 2019
Very enjoyable.
Jul 08, 2019
Always very friendly and they maintain the camping area and restroom are always clean. Love the book exchange. I always save my book to drop off there when I am finished with them. If I was a coffee person the FREE coffee in the morning would be at the top of my list also.
Jul 08, 2019
The bathrooms and showers (free) were very nice, but the campsites were far too small! If we had a larger tent, we wouldn't have fit next to our neighbors.
Jul 06, 2019
Staff was very friendly. Excellent location for access to Canyon Ferry. Nice bathroom and showers.
Jul 06, 2019
Amazing staff, friendly and knew the area. Well maintained and clean. Very quiet esp for the 4th of July.
Jul 02, 2019
Everything was great regarding our stay except for Saturday night When the people staying next to us thought it was acceptable to be outside With a group of people way past 10:00 pm and be loud and kept us up Until I said something to them. Not sure why people are not considerate of others.
Jun 30, 2019
Very cute cabins. Water for shower was Luke warm. It was kind of cold out so a hot shower would have felt good. Very friendly people and we felt part of the little family there. Big hit that dozer Dave was there. Lol. See u next year.
Jun 29, 2019
Very friendly staff, clean well cared for park. Loved the library!
Jun 29, 2019
Great staff, friendly and helpful.
Jun 28, 2019
The washrooms were very clean. Wifi was great and the sites were large. We did not like the fact that the campground did not have access to the lake nearby. We also did not like the fact that there was not a requirement for pets to be on leashes at all times. The campground had a lack of trees which did not contribute to much privacy.
Jun 27, 2019
Ok for a one night stay. No pool, playground and the doggy park wasn't very nice. Seasonals take away from the park. Not maintained well.
Jun 25, 2019
I was very disappointed in not being able to get a full hook up when I made reservations two weeks in advance. Was placed in the middle row of the campground which only had water and electric though that row had a very nice restroom / shower house right in the middle that obviously had a sewer line running to it. Unbelievable !!!! I will not go back to Townsend Ferry Lake KOA.
Jun 22, 2019
Lovely people at front desk, nicely redone new bathrooms, flat drive in place to park theRV.
Jun 22, 2019
Level sites. Quiet. Office very helpful
Sep 10, 2021
Front desk/check in ladies were always a delight when coming in. The little store had a lot to offer, even a little library! The campground and bathrooms were always clean. KOA is pretty close to the lake - a quick 2 min drive. Everything about this campground was just perfect for a one last camping trip before the end of summer. 10 out of 10 would recommend to my family and friends.
- Duderchick on Google
Sep 07, 2021
Great customer service!
- Person Person on Google
Sep 05, 2021
nice people and beautiful sights to see
- Sally Brucks on Google