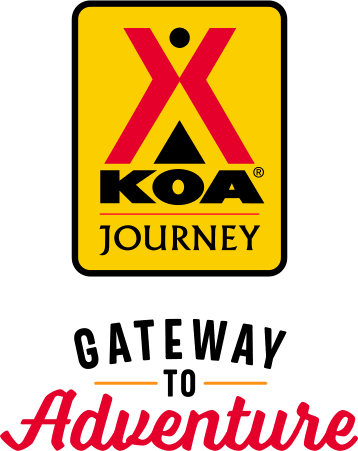 KOA Journey Campgrounds
KOA Journey campgrounds are the perfect oases after a day on the road. Whether it's along the way or a quick getaway, they've got you covered. Located near the highways and byways of North America with long Pull-thru RV Sites, they deliver convenience to the traveling camper. Pull in, ease back and take a load off.
KOA Journeys Feature:
Pull-through RV Sites with 50-amp service
Premium Tent Sites
Well lit after hours check-in service
Directions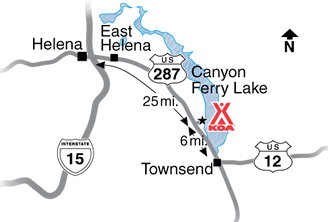 From I-90: Take Exit 274 for US 287, go north 38 miles. At mile marker 70, turn right.
From Helena: Go south on US 287. At mile marker 70, turn left.
GPS: N46.414460, W111.581689
Get Google Directions
Sep 16, 2019
Great spot to take your kids!
Sep 09, 2019
It was awesome, we stay there while we were having a house built, very clean and the staff were wonderful
Sep 07, 2019
1 night stay while traveling between destinations. I asked for a different spot than #4 and told no other sites were available. It turns out many other better sites were available as the evening progressed. Campers next door were on our boundary with large boat/pick up truck since their 5th wheel filled up their own space. Lied to by staff and inconsiderate neighbors, not well managed, all gravel
Sep 06, 2019
The sites were spacious and easy to get into. The staff was professional and helpful. Would stay there again.
Sep 03, 2019
We boat at Silos frequently but this was our first stay in the cabins. It was wonderful! The cabins are very clean, have electricity, a mini fridge, microwave, and air conditioning! The bathrooms and showers are very clean as well. The staff at the convenience store are the nicest and most accommodating people you could possibly meet. We will definitely be back.
Aug 31, 2019
First time there. Very friendly staff. Bathroom was very clean. Our site was smaller than some and parking our unit, pickup and boat was a little challenging. Would be nice if fish cleaning station had some type of cover as sun can be very hot. We will stay there again- hopefully with a bigger site.
Aug 31, 2019
Sites were unlevel. When you are staying at a KOA you expect to pull in and put down your jacks. Not have to get every block you have to put under your wheels.
Aug 30, 2019
Didn't seem like a Journey to me, lot of seasonal RV with boats, Great reading room with lots of books and dvds for the taking. Friendly and helpful staff.
Aug 27, 2019
Great people who are very hospitable and friendly!! The fishing sucked however we really enjoyed our stay and being able to have our boat docked was an added bonus.
Aug 27, 2019
Nice location, good campsites and wonderful bathrooms.
Aug 25, 2019
This campground is geared to fishermen and I wasn't there to fish.
Aug 24, 2019
It was a good site for what we needed, a 2 day layover on the way from Glacier to Yellowstone. A place to do some small repairs. Sites are all gravel, ours was about 4 inches out to one side. Dog area is on the far side of the office. Little no shade, but that did provide excellent satellite views, limited local channels. Staff was friendly at check in, roads are wide and easy to navigate.
Aug 24, 2019
Great staff Very clean facilities
Aug 23, 2019
Nice clean sites, really clean restrooms and friendly staff.
Aug 23, 2019
Everyone was so nice and friendly, not much around unless you have a boat but if you dont mind driving there are some good trails around.
Aug 20, 2019
very friendly
Aug 20, 2019
Nice tent spot! Facilities close by and kept clean. Quiet at night and best price!
Aug 19, 2019
Absolutely Fantastic convenient to Helena and other interesting towns great people fishing views If out that way again I Will definitely try to get a reservation
Aug 17, 2019
Comfortable cabin, showers were a little small.
Aug 13, 2019
Amenities were not up to par with other KOA campgrounds. The laundry was nice to have, the store had a good selection, but I would have liked more kids' activities. The park didn't entertain for long. A pool would have been nice. Next time I'd stay somewhere with more to do in the area.
Aug 13, 2019
Cabin was very comfortable. Grounds were well kept. Another bathroom would be appreciated - things got crowded on the weekend.
Aug 11, 2019
wonderful staff
Aug 10, 2019
Clean, quiet, has AC unit which felt great on a hot day, a microwave and mini fridge which were unexpected and appreciated
Aug 09, 2019
We loved this campground! One of our favorite KOAs so far! Staff is super friendly & helpful. Beautiful setting! Nice new bath/shower house. Nice laundry. Used the trailer storage area for a month - great! We will definitely be back!
Aug 09, 2019
The staff here are awesome. They are caring, helpful honest people. They went above and beyond when I lost an item at their campground. Not only did they take the time to look for it but the found it and promptly let me know then mailed it to me. Can't say thank you enough to them. Good people still exist. Thank you!
Aug 08, 2019
The people were nice, but the campground is all gravel and very dusty. Should keep the gravel watered down.
Aug 08, 2019
Friendly, helpful staff. Lots for kids to do.
Aug 06, 2019
quiet, clean and relaxing
Aug 05, 2019
Loved our campsite - very quiet
Aug 05, 2019
Staff were very helpful and accommodating. Kabin was clean and comfortable.
Aug 04, 2019
Enjoyed our stay even though it was short. Staff were helpful and friendly.
Aug 03, 2019
A loose dog eating trash out of our fire pit greeted us, then our slide hit the frost free faucet which controlled all the water around us (although I couldn't verify that at first because my neighbors faucet was broken). Won't be staying here again.
Aug 02, 2019
After a few reservation changes these guys are amazing and so accommodating. We love the location and facilities.
Jul 31, 2019
The people there were very kind made you feel like you belong there was very pleased with my stay
Jul 30, 2019
We had a wonderful time there
Jul 30, 2019
Provided the basics well: restrooms, showers, electrical, water, parking space. Most is gravel and was very dusty with the high winds we had. Our least expensive stay, but dump site costs another $5. Did not seem to have quiet time controls. Our neighbors were allowed to have lights on, drink & talk loud until 12:30am.
Sep 10, 2021
Front desk/check in ladies were always a delight when coming in. The little store had a lot to offer, even a little library! The campground and bathrooms were always clean. KOA is pretty close to the lake - a quick 2 min drive. Everything about this campground was just perfect for a one last camping trip before the end of summer. 10 out of 10 would recommend to my family and friends.
- Duderchick on Google
Sep 07, 2021
Great customer service!
- Person Person on Google
Sep 05, 2021
nice people and beautiful sights to see
- Sally Brucks on Google