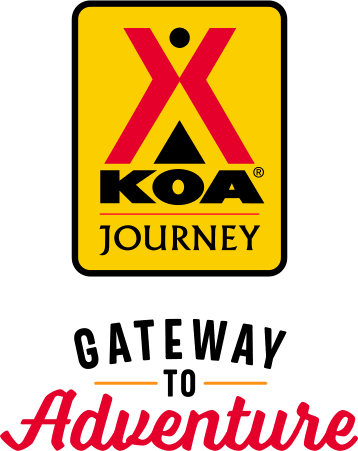 KOA Journey Campgrounds
KOA Journey campgrounds are the perfect oases after a day on the road. Whether it's along the way or a quick getaway, they've got you covered. Located near the highways and byways of North America with long Pull-thru RV Sites, they deliver convenience to the traveling camper. Pull in, ease back and take a load off.
KOA Journeys Feature:
Pull-through RV Sites with 50-amp service
Premium Tent Sites
Well lit after hours check-in service
Directions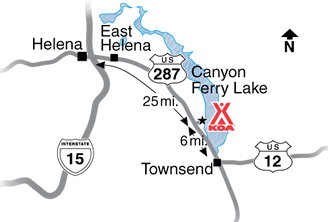 From I-90: Take Exit 274 for US 287, go north 38 miles. At mile marker 70, turn right.
From Helena: Go south on US 287. At mile marker 70, turn left.
GPS: N46.414460, W111.581689
Get Google Directions
Jun 29, 2020
We fished in the walleye tournament, so we didn't get to spend much time at the KOA. The time we were there was very nice. People are very friendly and helpful, and you had everything we needed. We will diffidently be staying at the KOA Again. Thank You for everything!! Darrin
Jun 26, 2020
Very nice staff.
Jun 26, 2020
Only one night, everything was fine
Jun 24, 2020
Good stay as always Friendly staff and very accommodating �
Jun 23, 2020
Very poor markings for locating camp site. Very crowded with cars parked in road blocking access.
Jun 14, 2020
We had a nice 2 day stay at this RV park. Staff friendly, check in smooth. Did not use bathrooms or laundry. Places to walk our 2 dogs. Site level, water pressure good. Beautiful views all around. Flamingo grill made fabulous sundaes! 20 miles from Helena with shopping and restaurants. We would stay here again
Jun 07, 2020
Top notch the people were the best highly recommend
Jun 04, 2020
Such a wonderful place! Ran across this campground on accident and now it will be my go to campground for canyon ferry lake. The staff and locals were so helpful and welcoming - I did not want to leave
May 30, 2020
Over priced, too much broken glass around.
May 27, 2020
Very much like.. ambiance is good. Clean with fresh coffee and friendly receptionist will recommend place.
May 26, 2020
Great price everything worked clean facility
May 26, 2020
It was just perfect for our stay at Canyon Ferry. Staff were extremely friendly and helpful.
May 26, 2020
We enjoyed staying at a cabin. With 2 young boys, it was nice to have a park. The staff was very friendly and facilities were very clean!!
May 23, 2020
Fun office staff. I love the private showers. Very busy place.
May 11, 2020
I have to say that the staff was fantastic, very friendly and helpful. The restrooms and facilities were very clean. The draw back to this campground is all the full time residents. There is trash stacked up around campers, tires piled up in front of campers and some of them are extremely run down. The full time residents played loud music and swore and cussed a lot. Not relaxing or enjoyable.
May 11, 2020
Very friendly staff. The camp bathrooms have been upgraded and are really nice. We'll be back.
May 09, 2020
Always pleasant staff!
May 09, 2020
Stayed 5days and everything & everyone was great! * tried fishing a couple times * beautiful area! Great amenities ***thank you����
Apr 28, 2020
It was great
Apr 27, 2020
Had a very nice stay. All facilities kept extremely clean.
Mar 31, 2020
Only one night; bathrooms very nice, clean, excellent showers. Space for my RV was super easy to access and a great size
Jan 29, 2020
Great place to stay. Very nice people and clean
Oct 06, 2019
The whole place was very nice and the price was supper. The last KOA in East Glacier was way over priced and not that great to look at, we didn't stay there but compared to Ferry Lake there is no comparison. Only there for a stopover but should go back for a stay.
Oct 03, 2019
Very enjoyable. Great facility. Wonderful people. RV repair services available. Mountains all around. 5 minutes from great fishing. 30 minutes to Helena for all services.
Sep 28, 2019
I stayed in a camping cabin for one night. Upon arrival, check-in was smooth and the staff member was very friendly and helpful. My cabin, however, was not clean and I had to sweep it out before I could unpack my gear. My nearest bathroom/shower was tiny and twice there was urine left in the toilet by a previous male visitor. I went to hang my towel on the hook provided and it fell off the wall
Sep 28, 2019
Nice people, stay was great. Well come back next year.
Sep 22, 2019
Very nice. Helpful and friendly staff.
Sep 22, 2019
When we arrived for our stay, I wasn't happy with the space we were assigned. Although the office had just closed the staff member reopened the office and reassigned us our space. Thank you very much for that.
Sep 20, 2019
Just passing through for one night. Nice location. Quiet. Lovely woman at the office in the morning. And she opens early too. Thanks for the great cup of coffee.
Sep 19, 2019
Very friendly staff
Sep 16, 2019
Staff nice. Nice neighbors. Too many Unleashed dogs running around. Lots of cigarette on porch drifting into bldg and stinky. But very nice lady, sharon
Sep 10, 2021
Front desk/check in ladies were always a delight when coming in. The little store had a lot to offer, even a little library! The campground and bathrooms were always clean. KOA is pretty close to the lake - a quick 2 min drive. Everything about this campground was just perfect for a one last camping trip before the end of summer. 10 out of 10 would recommend to my family and friends.
- Duderchick on Google
Sep 07, 2021
Great customer service!
- Person Person on Google
Sep 05, 2021
nice people and beautiful sights to see
- Sally Brucks on Google