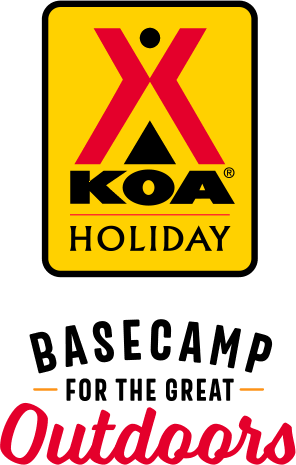 KOA Holiday Campgrounds
Whether you're exploring the local area or hanging out at the campground, KOA Holidays are an ideal place to relax and play. There's plenty to do, with amenities and services to make your stay memorable. Plus, you'll enjoy the outdoor experience with upgraded RV Sites with KOA Patio® and Deluxe Cabins with full baths for camping in comfort. Bring your family, bring your friends, or bring the whole group – there's plenty of ways to stay and explore.
KOA Holidays Feature:
RV Sites with a KOA Patio®
Deluxe Cabins with full baths
Premium Tent Sites
Group meeting facilities
Directions
On Hwy 401 west of Toronto Int'l Airport: Take Exit 312 (Guelph Line), go north to 10th Side Road, go west to Second Line, then south to end of road.
From Niagara Falls: Take Queen Elizabeth Way (QEW) to Exit 102 (Guelph Line). Go north 21 km (cross over Hwy 401) to 10th Side Road, go west to Second Line, then south to end of road.
GPS: Use 9301 Second Line (Nassagaweya), Campbellville, ON. L0P 1B0 N43.486416, W80.00665
Get Google Directions
Jul 20, 2020
Staff are friendly and working hard to maintain cleanliness of the site and bathroom. They adhere to very high standard, I'm impressed. Thank you! We had a wonderful time.
Jul 18, 2020
I absolutely LOVED this KOA! They were so accommodating during these difficult times, and my family and I had an amazing stay! 10 out of 10 will be back!!!!!
Jul 14, 2020
I am glad I went to Toronto West KOA campgrounds, my first time taking my family camping and with all the rain this past weekend, the staff was very helpful to make sure we had dry sleeping bags. The staff is very friendly and wonderful to speak to with an amazing sense of humour. Even though it rained, the staff had a water balloon fight in Hawaiian clothing ( so much fun) we are going again.
Jul 13, 2020
The washroom and the shower booth are super clean. The pool is well maintained. Me and my kids are really enjoyed the camp!
CAMPGROUND RESPONSE / COMMENTS:
Hi Leah, thank you for you review! We are happy to hear that you and your family enjoyed your stay. We look forward to seeing you again in the future!
Jul 06, 2020
The customer service is prefect. The washroom are super clean . But the camp is right beside the highway which won't let you sleep
CAMPGROUND RESPONSE / COMMENTS:
Hi Yamin, thank you for your review. The Toronto West KOA takes pride in the cleanliness of our facilities, even during these difficult times. While it is a convenience to be located close to a major highway, we understand that the flow of traffic can get noisy. We look forward to seeing you again in the future.
Oct 09, 2019
Very friendly staff and very welcoming. All instructions were clear and always willing to help. First time at KOA for an anniversary camping night. It was great. Thanks!
Sep 09, 2019
We absolutely loved our stay!!! The washrooms were so clean and smelt great. The sites were all clean and tidy. The staff was so friendly and always available and open to answering questions! They even delivered our firewood to our site!!! Cant wait to get back next summer!
Aug 01, 2019
My family and i was getting the bad memories to koa wast toronto and cwres this time. This koa was for the first time to me. And i'll never going to there.
Jul 20, 2019
We were in a tent site and it was typical (firepit, picnic table) nice privacy but a bit small. This KOA had 2 sets of bathrooms which were clean. If you think about it realistically, it's the dirty sloppy campers who make them gross & messy-not the owners. The staff were polite and were keeping up with the garbages and checking the pool water frequently. The wifi was pretty good too. I recommen
Jul 15, 2019
The only issue is that is to close to the highway, so you hear the cars 24h/day
Jul 07, 2019
Staff were nice, but unfortunately our stay was kind of uncomfortable since the bathroom and shower facilities were so dirty and filled with an incredible number of bugs (both dead and alive). The tent sites are also incredibly bug-ridden although I recognize a lot of that is out of KOA's control. Tent sites could be cleaned better between stays too with some trash still scattered around them.
Oct 09, 2018
Great place, great staff, nice campsites.
Sep 17, 2018
Tent site was small for six people but the shade was great for such a hot week.
Sep 17, 2018
Nice swimming pool. good washrooms and laundry facility, nice shade trees at almost every lot. Ocerall a nice campground.
Sep 15, 2018
It was my first time camping without my older cousins who are experts at camping (mostly back country) so I was a little nervous and wanted something close to home and where I felt safe. I took my children and we had a great time and felt very safe. We had so much fun and felt so comfortable, we plan on road tripping across Canada next summer, staying at various KOA campgrounds along the way.
Sep 12, 2018
The unfortunate thing is the highway sound at night time. it's really disruptive and doesn't quite give the camp-like quietness to people in the campsites/tent-sites. The cabins seemed comfy enough as our friends were there but I hope they can do something about the highway noise.
Sep 08, 2018
Very dirty washrooms and showers, the worst of all the KOAs we've gone too. Wifi was not accessible from the tenting sites and they charged for pancakes in the morning. Much different from our other KOA experiences.
Sep 05, 2018
It was a great time. Its a bit small the sites.
Sep 03, 2018
We had a great stay and plan to book next year
Aug 28, 2018
Said heated pool but it was so cold everyday even in the sun. There are activities for the kids on the weekends but the rec room was locked on other days. Is close to the highway so you always hear noise. Everything was pretty dated and all the toilets flooded from the ground the one morning. They got the septic guys in to drain. The staff was friendly and helpful.
Aug 28, 2018
Great site for privacy. Great pool and nice bathrooms.
Aug 27, 2018
My weekend there was mainly for my granddaughter. Unfortunately it rained (a lot) and we did not participate in any activities due to the weather (however this is not your fault). Had the weather been nice, I am sure we would have had a better time. I am used to Provincial parks and more privacy. If I was to camp again with my granddaughter I would come back.
Aug 27, 2018
It a dump no actives for kids the kids were bored They just had 2 playgrounds,one pool and bikes
Aug 23, 2018
Everyone I encountered at this property was amazing! They were helpful, kind and very understanding. I had to leave early due to being sick but they allowed me to leave my tent to be packed up after the massive storm that was happening. The washrooms were clean and much nicer than my campground expectations. They deliver wood right to your site when you purchase it. Overall I am one happy Kamper!
Aug 22, 2018
With in 10 min our neibours threatened our baby attacked my husband and the best this place could do was make us move sites. So we spent 2 hours going crazy. So not impressed
Aug 21, 2018
We stayed one night in a tent site. The site was really beautiful, but the bathrooms were kind of dirty and the road to the site isn't marked very well.
Sep 12, 2021
Always a great time at Toronto West KOA
- Katie MacLea on Google
Sep 12, 2021
We went to Toronto West KOA over the labour day long weekend and had an amazing time. From the moment we got to the site to the moment we left it was nothing but a wonderful experience. We were very fortunate to stay in one of their cabins, which was the perfect size for myself, my two year old, my very pregnant wife, and our Bernese Mountain dog. The cabins were super cozy and very clean, came equipped with a mini fridge and all the dishes one would need. The cabins were spaced far enough apart that we had plenty of our own space, but also close enough you could talk to your neighbour's. Although the camp site is very close to the highway, we never noticed any excessive noise. Because it was the labour day long weekend, they hosted events for the kids including a haunted trail. As a former halloween haunt employee, I can say the trail was very professionally done. The other guests were very nice and the community feel was excellent. The grounds are very well maintained. I always found a smiling face at the main office. The campsite is close enough to Milton/Guleph that going off-site is well worth a trip. There are many trails and conservation areas to explore, and two major cities to see. I would 100% recommend going to Toronto West KOA to anyone looking to park up or book a cabin.
- Chris Orr on Google
Sep 02, 2021
Small park with a good sized pool. Highway noise a distraction but a clean well maintained park for a stopover. Fairly easy access to the hwy401. Reasonable rates.
- Jeanette Arsenault on Google