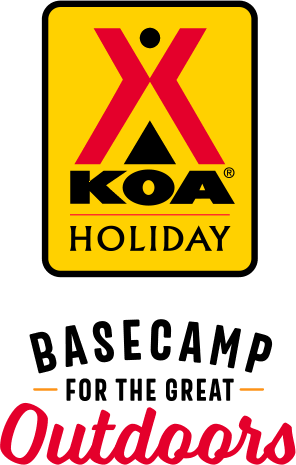 KOA Holiday Campgrounds
Whether you're exploring the local area or hanging out at the campground, KOA Holidays are an ideal place to relax and play. There's plenty to do, with amenities and services to make your stay memorable. Plus, you'll enjoy the outdoor experience with upgraded RV Sites with KOA Patio® and Deluxe Cabins with full baths for camping in comfort. Bring your family, bring your friends, or bring the whole group – there's plenty of ways to stay and explore.
KOA Holidays Feature:
RV Sites with a KOA Patio®
Deluxe Cabins with full baths
Premium Tent Sites
Group meeting facilities
Directions
On Hwy 401 west of Toronto Int'l Airport: Take Exit 312 (Guelph Line), go north to 10th Side Road, go west to Second Line, then south to end of road.
From Niagara Falls: Take Queen Elizabeth Way (QEW) to Exit 102 (Guelph Line). Go north 21 km (cross over Hwy 401) to 10th Side Road, go west to Second Line, then south to end of road.
GPS: Use 9301 Second Line (Nassagaweya), Campbellville, ON. L0P 1B0 N43.486416, W80.00665
Get Google Directions
Sep 25, 2021
Great stay! Look forward to coming back
Aug 19, 2021
Definitely a place to revisit! Something for the whole family!
Aug 13, 2021
Relaxing atmosphere and very convenient location. Close to all my necessary amenities!
Aug 05, 2021
This is my most favourite place in the whole wide world. The best people and the best scenery!
Jul 21, 2021
Amazing place! I just had to come back!
Oct 19, 2020
Fantastic place to stay the summer, close to everything you need. Can't wait to come back next summer!
Oct 15, 2020
Nice campsites friendly staff very clean bathrooms. definitely going again.
Oct 04, 2020
Hospitable staff and clean facilities. Great job!
Sep 27, 2020
The campgrounds were clean and well-serviced. Staff was excellent. But location next to the noisy 401 highway took away all that was good about this site.
Sep 27, 2020
What a beautiful time to be camping. Great location to explore lots of trails and lakes and with the leaves turning it is quite spectacular!
Sep 21, 2020
They stay was good, buying wood from the campgrounds was not so good wet wood/damp takes longer or a very long time to catch fire.
Sep 21, 2020
It was awesome! The kids had a great time, they really enjoyed your magician! Can't wait until next time!
Sep 20, 2020
Well maintained camp ground, the staff do a fantastic job!
Sep 15, 2020
Very relaxing and had a great time
Sep 14, 2020
Tent sites are small, very unlevel, and the highway noise from the 401 is absolutely unbelievable.
Sep 14, 2020
We had a great weekend at the KOA. Our tent site was the perfect location. Staff was Very friendly and helpful. The only problem was noise from traffic on the one side of our site. We will be back but hopefully we will have a quieter spot.
Sep 14, 2020
Great place to relax! Lots of friendly smiles!
Sep 07, 2020
Another fantastic time at the KOA!!!
Sep 06, 2020
Lots of fun family events on the weekend! Great place for all ages!
Aug 30, 2020
Lots of great hiking and swimming nearby. Great place to get away and take in nature
Aug 25, 2020
The place is clean and stuff are friendly. Will definitely recommend the place with friends.
Aug 25, 2020
It was our first time at the campsite Its litteraly off the 401 highway.we stayd at T1 there was just a fence between us and the highway. its insanely loud. there was nothing to do no woods or trails to walk on No water/lake even though it says they offer water sports. the camp store, had nothing, just old dusty we ordered wood to cook at 8am it never came calld they said it did waited till2pm to
Aug 24, 2020
Awesome Facilities are clean especially the wash rooms The staffs are nice and approachable
Aug 23, 2020
Clean and well kept facility! Friendly staff who make you feel welcome! Great place to unwind!
Aug 23, 2020
super easy check in and staff is so sweet and friendly! i've been to multiple kia's with my family and i love them! i'm already planning my next trip(:
Aug 18, 2020
Sites are very small too close to each other and is very noice. For 3 nights I couldn't sleep. I will not go back there.
Aug 17, 2020
Generally it was a great experience except for the noisy 401 at night.
Aug 17, 2020
The only major problem we had were the bathrooms being closed from 7-8. Maybe when doing this, other bathrooms should be open. When camping with little children, closing bathrooms and being left with no other options, not good. 7-8 not a good time for closure, this time is busy time for families. More grassy area for children to play, near camp site.
Aug 17, 2020
The staff are amazing and treat you like family always warm and welcoming everything is very clean and they always have great activities !!! Thank you for all your hard work!!!
Aug 16, 2020
Great location! Lots of trails, lakes to swim in, golf courses, swimming pool! Never bored here!
Aug 16, 2020
High say noise. The rear la ok
Aug 09, 2020
The highway noise was really really loud and our site was slated. Hard to talk over the noise and sleeping was very difficult.
Aug 09, 2020
The staff put on a wonderful barbecue for all the campers this weekend. Great family atmosphere!
Aug 08, 2020
It was very nice stay. Clean washroom. Very helpful staffs.
Aug 04, 2020
Place was great to bad we got rained out but stands was awesome not to far but get the same feel of being outdoors camping going back at end of month
Aug 04, 2020
It was my birthday and they provided my firewood to make me feel welcome. Love this place!
Aug 04, 2020
Nice people Amazing Washrooms and very clean Good for kids and families
Aug 03, 2020
It was great staying at your campground, I look forward to seeing you again.
Aug 01, 2020
Was amazingly well taken care of the one gentleman was very energetic and positive I wish I could remember his name but he made me believe he had the best job in the world
Jul 30, 2020
Nice people. Refreshing pool. Clean bathrooms. We knew the highway was going to be loud but otherwise Had a great stay!
Jul 28, 2020
The whole site was clean and well maintained, and our particular site was large, had lots of privacy. Staff in the office were wonderful. The washroom was also very clean.
Jul 27, 2020
everything is excellent, just need to come prepared for the white noise at night since the campground is right next to Busy HWY 401.
Jul 27, 2020
The staff is very friendly and accommodating. They helped me have a comfortable stay by providing the little things I forgot to bring
Jul 27, 2020
Great staff who accommodated me when I needed, even called to check up on me when they seen that I was not at my campsite for a few days.
Jul 22, 2020
The staff were very kind and helpful on my 2 night stay. They gave me the best camp site and the other guests were very nice people too. I recommend coming to visit this camping location with all its surrounding amenities. Thanks koa
Sep 12, 2021
Always a great time at Toronto West KOA
- Katie MacLea on Google
Sep 12, 2021
We went to Toronto West KOA over the labour day long weekend and had an amazing time. From the moment we got to the site to the moment we left it was nothing but a wonderful experience. We were very fortunate to stay in one of their cabins, which was the perfect size for myself, my two year old, my very pregnant wife, and our Bernese Mountain dog. The cabins were super cozy and very clean, came equipped with a mini fridge and all the dishes one would need. The cabins were spaced far enough apart that we had plenty of our own space, but also close enough you could talk to your neighbour's. Although the camp site is very close to the highway, we never noticed any excessive noise. Because it was the labour day long weekend, they hosted events for the kids including a haunted trail. As a former halloween haunt employee, I can say the trail was very professionally done. The other guests were very nice and the community feel was excellent. The grounds are very well maintained. I always found a smiling face at the main office. The campsite is close enough to Milton/Guleph that going off-site is well worth a trip. There are many trails and conservation areas to explore, and two major cities to see. I would 100% recommend going to Toronto West KOA to anyone looking to park up or book a cabin.
- Chris Orr on Google
Sep 02, 2021
Small park with a good sized pool. Highway noise a distraction but a clean well maintained park for a stopover. Fairly easy access to the hwy401. Reasonable rates.
- Jeanette Arsenault on Google