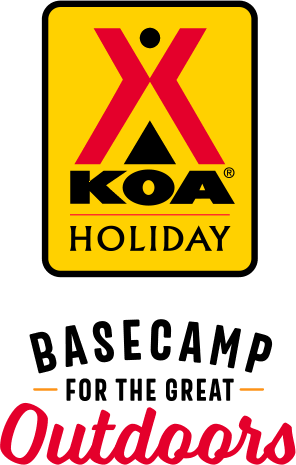 KOA Holiday Campgrounds
Whether you're exploring the local area or hanging out at the campground, KOA Holidays are an ideal place to relax and play. There's plenty to do, with amenities and services to make your stay memorable. Plus, you'll enjoy the outdoor experience with upgraded RV Sites with KOA Patio® and Deluxe Cabins with full baths for camping in comfort. Bring your family, bring your friends, or bring the whole group – there's plenty of ways to stay and explore.
KOA Holidays Feature:
RV Sites with a KOA Patio®
Deluxe Cabins with full baths
Premium Tent Sites
Group meeting facilities
Directions
On Hwy 401 west of Toronto Int'l Airport: Take Exit 312 (Guelph Line), go north to 10th Side Road, go west to Second Line, then south to end of road.
From Niagara Falls: Take Queen Elizabeth Way (QEW) to Exit 102 (Guelph Line). Go north 21 km (cross over Hwy 401) to 10th Side Road, go west to Second Line, then south to end of road.
GPS: Use 9301 Second Line (Nassagaweya), Campbellville, ON. L0P 1B0 N43.486416, W80.00665
Get Google Directions
Sep 29, 2020
My wife and I had a very positive experience. Right from the check-in, talking with the 2 very upbeat girls. The grounds are spotless along with the comfort stations. Would definitely recommend to anyone! Thank you
Sep 29, 2020
Crew was most helpful in cleaning up our site which was covered with cigarette ends and bottle tops from the previous campers. Washrooms and showers excellent.
Sep 29, 2020
Staff were very friendly and helpful.
Sep 28, 2020
Friendly despite covid times. Well organized for us as we had to arrive later
Sep 27, 2020
Clean close to actives large sites friendly staff
Sep 27, 2020
We had such amazing stay, we were there for a week totally, I had accidently booked a day earlier than intended and the staff were amazing an accomidated us the following night. Very Clean place and safe for kids. Not that is has anything to do with the place but just an FYI for anyone saying there, the internet was a little hard to use as we are online business owners but we worked around
Sep 26, 2020
Nice and relaxing week, very nice weather, awesome staff and managers. Thanks for providing such amazing services!! And congratulations on your much deserving rewards!
Sep 24, 2020
Enjoyable, owners were pleasant and helpful. We Will be back.
Sep 24, 2020
very will kept park everyone near our site was friendly maybe back next camping season
Sep 22, 2020
Our 1st time camping at this KOA & had a very enjoyable weekend. A very nice kept campground, quiet, & friendly staff. Would go again.
Sep 22, 2020
We always enjoy our stay with KOA. The staff is always a pleasure to deal with and with dealt with Joanne and Jamie. looking forward to our next stay.
Sep 22, 2020
Jamie is fantastic at doing everything
Sep 22, 2020
IT IS A GREAT PLACE TO STAY AND EASY TO GO PLACES THE STAFF ARE GREAT AND WILLING TO HELP ANY WAY THEY CAN THE THINGS THEY HAVE THERE FOR THE CHILDREN AND EVENTS THAT GO ON DURING NORMAL SEASON AND NOT DURING COVID 19
Sep 21, 2020
VKR weekend was nice and relaxing!! Cooler at night but the campfire kept us nice and warm, awesome job on the pancakes and crafts for the kiddies!!
Sep 21, 2020
Very friendly staff, went out of their way. Park can use some tlc, our umbrella in deluxe patio was broken, and one of the tiles in table as well. Otherwise a great park
Sep 21, 2020
Another great stay!! Great staff who always remember you and greet you when you arrive. We will be back!!
Sep 21, 2020
We were very impressed with this KOA and in particular the staff. Purchased Firewood was delivered right to our site. Even though we lost water pressure for a couple of hours the staff informed us via an Email about the situation.
Sep 21, 2020
Still some of the best customer service. Staff is truly incredible. Been there a few times this season and they remember you names and go out of their way to make you feel more then welcome there.
Sep 21, 2020
I did not like where sewer hook up was on the outer camp site. The site was not level. When get out off the trailer you have to walk up hill. I found the KOA was clean and staff was great to deal with.
Sep 20, 2020
Clean friendly place lots to do perfect for any family lots to do for the kids can't even hear the hwy will definitely be back soon
Sep 19, 2020
It was nice and relaxing for us, to bad, it was to short
Sep 18, 2020
Nice and clean place, Allison and Jamey was great. will come back for sure
Sep 18, 2020
We had a great stay at the Toronto West KOA, the park was well kept and the staff was friendly and helpful. Our site had great access to the wifi and was close to the park and pool. The 401 noise wasn't that bad and by the end of our stay we barely noticed it.
Sep 17, 2020
I had the best time! This is the best KOA ever! I am so excited that I will be there for Thanksgiving! I'm already hungry! Thank you to everyone who puts in the most effort to keep the KOA amazing!
Sep 15, 2020
Very nice and helpful staff.
Sep 15, 2020
We went to the KOA because out daughter was moving and it served as a home base for us for 3 days. The KOA sign that you see from the 401 highway could certainly use a new paint job because based on the sign we didn't know what to expect. Anyway, we were in site 4 which is a very long drive-thru site so it was very easy. As far as the park itself, it was very quiet. We would stay here again.
Sep 14, 2020
Friendly staff and super clean facilities, close to some great conservation areas. Good place to stop off the 401 and recharge on your travels. The traffic noise was not an issue, just like white noise. This was our first KOA and we'll consider them in our future travels.
Sep 09, 2020
Jamie and Joan were great to deal with. Stayed for 3 months. Will return in the future.
Sep 09, 2020
It was awesome
Sep 09, 2020
We realy liked our stay. The weather was not the greates but we will be back. Thank you
Sep 09, 2020
Fabulous hosts and good amenities. As everyone points out, the highway noise is a distraction but closeness to the highway could be a benefit to overnight transients.
Sep 09, 2020
Another wonderful eventful weekend. Always a blast and great events out on by the staff.
Sep 09, 2020
Very pleasant.Quiet and friendly.Close to home also.We will come back.
Sep 09, 2020
They have great team management and good service. I would go again next year.
Sep 08, 2020
The staff are Awsome we blew a fuse right when the store at the site was closing the gentlemen was all to willing to go hunting for a 30 amp fuse for us. There was also tones of scale distancing activities for the kids like crafts holloween themed weekend along with trick or treating an a movie night this is our favorite camp site we will be back thank you so much guys
Sep 08, 2020
every one was friendly and attentive to campers needs. They kept the camp really clean and they have COVID 19 protocols down very well.
Sep 08, 2020
Great campsite, the pull thru lots are nice and long -easy to access with a big rig.
Sep 08, 2020
What a spooktacular weekend!!! Hard work went into the haunted trail which was a huge success, and all those children dressed up going trick or treating, another amazing themed weekend put together by all the staff at the best campground, the Toronto west KOA!! Awesome job!!
Sep 08, 2020
Amazing Halloween weekend theme
Sep 08, 2020
Unbelievable customer service. The extra activities for the kids were great. Halloween was a great atmosphere. Well Done all
Sep 08, 2020
Very professional and clean but friendly establishment. Impressed especially during these trying times.
Sep 07, 2020
Awesome. I had an early.pool.slot on Sat and the pool.needed skimming, hence why 4 not 5 but other than that everything was perfect. We will be back!!!
Sep 07, 2020
No picnic table, no easy access to a water spout (2" above the ground) & luckily the neighbours were still up as they were using the outlet for our site. Bathroom was very clean though.
Sep 06, 2020
Ahhhhhh It is wonderful
Sep 05, 2020
Jamie and Joanne are great! Very helpful and accommodating. Already planning on being there for 2 months next year. Thank you for everything
Sep 05, 2020
It was our first night out with our new trailer and this KOA is close to home. We found that the 401 wasn't distracting but that there was no privacy on the sites. Good for a one, maybe two night stay; but probably not for much longer than that.
Sep 05, 2020
The only problem is the noise, but si near from the 401, it's inevitable. For a short stop on your way, that's OK.
Sep 03, 2020
I cannot thank your staff enough for the wonderful service at your campground. We encountered a little glitch with our RV and Chuck Simmnons was right there to offer a helping hand. Him and Donna are willing to help in any way they can which really is nice. I guarantee my husband and & will camp with you again and we will be telling all our friends about Toronto West KOA.
Sep 12, 2021
Always a great time at Toronto West KOA
- Katie MacLea on Google
Sep 12, 2021
We went to Toronto West KOA over the labour day long weekend and had an amazing time. From the moment we got to the site to the moment we left it was nothing but a wonderful experience. We were very fortunate to stay in one of their cabins, which was the perfect size for myself, my two year old, my very pregnant wife, and our Bernese Mountain dog. The cabins were super cozy and very clean, came equipped with a mini fridge and all the dishes one would need. The cabins were spaced far enough apart that we had plenty of our own space, but also close enough you could talk to your neighbour's. Although the camp site is very close to the highway, we never noticed any excessive noise. Because it was the labour day long weekend, they hosted events for the kids including a haunted trail. As a former halloween haunt employee, I can say the trail was very professionally done. The other guests were very nice and the community feel was excellent. The grounds are very well maintained. I always found a smiling face at the main office. The campsite is close enough to Milton/Guleph that going off-site is well worth a trip. There are many trails and conservation areas to explore, and two major cities to see. I would 100% recommend going to Toronto West KOA to anyone looking to park up or book a cabin.
- Chris Orr on Google
Sep 02, 2021
Small park with a good sized pool. Highway noise a distraction but a clean well maintained park for a stopover. Fairly easy access to the hwy401. Reasonable rates.
- Jeanette Arsenault on Google