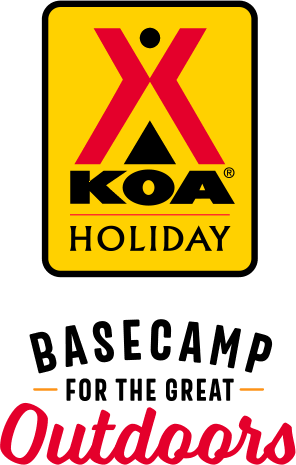 KOA Holiday Campgrounds
Whether you're exploring the local area or hanging out at the campground, KOA Holidays are an ideal place to relax and play. There's plenty to do, with amenities and services to make your stay memorable. Plus, you'll enjoy the outdoor experience with upgraded RV Sites with KOA Patio® and Deluxe Cabins with full baths for camping in comfort. Bring your family, bring your friends, or bring the whole group – there's plenty of ways to stay and explore.
KOA Holidays Feature:
RV Sites with a KOA Patio®
Deluxe Cabins with full baths
Premium Tent Sites
Group meeting facilities
Directions
On Hwy 401 west of Toronto Int'l Airport: Take Exit 312 (Guelph Line), go north to 10th Side Road, go west to Second Line, then south to end of road.
From Niagara Falls: Take Queen Elizabeth Way (QEW) to Exit 102 (Guelph Line). Go north 21 km (cross over Hwy 401) to 10th Side Road, go west to Second Line, then south to end of road.
GPS: Use 9301 Second Line (Nassagaweya), Campbellville, ON. L0P 1B0 N43.486416, W80.00665
Get Google Directions
Sep 02, 2021
So quiet So nice So family Perfect and cool
Sep 02, 2021
Amazing staff, amazing park, amazing everything! Keep up the great work Jamie, Joanne, Allison, Abby, Ryan and Samantha! Such a fantastic group always going above and beyond!
Sep 01, 2021
We used this as our "home base" for a lot of day trips. Park was quiet and clean. No complaints. My only suggestion would be the valve for the hose at the dumping station should be at grade so it can be reached to shut it off. I wanted to use my quick connect to rinse my tanks and I couldn't as the hose head wouldn't come off and the valve to turn the water off was 12 feet in the air.
Sep 01, 2021
This is our first year seasonal due to covid the staff are Awsome an go out of thire way to help make your experance better. The kids love the themed weekends and going to the pool. The bathrooms are so nice an clean no creppy crawls... If you have a problem after hours the owner or family member is always at hand. This is our fav camp site
Sep 01, 2021
Always a great time at the Toronto West Koa! The Weather has been amazing and like always the staff are always going above and beyond to ensure a fun filled time. Keep up the awesome job
Aug 31, 2021
Wonderful. Staff is great. Facilities very well kept. Weekend activities great for kids.
Aug 31, 2021
Staff were not very friendly. Septic tank disposal did not have an air vent so the sewage backed up when dumping. Pool needs an update. Convenience store severely lacking in grocery items and necessities.
Aug 31, 2021
Nice clean park
Aug 30, 2021
Our site was good. Would have preferred with a sewer site but we made out ok. Just found that the electricity didn't seem strong enough as we had to switch our fridge to propane to keep things cold. When we got home fridge is working fine on the electricity. So for a 30amp service I think there's something wrong. Will have to call them to let them know. Will definitely go back again!
Aug 30, 2021
The team members of the campground were very friendly and helpful. I wish the peddle karts were able to rent as there was not much for kids to do. Jim the maintenance man was extremely helpful with a few hiccups I had with my new trailer and was very knowledgeable very glad we were able to get his assistance.
Aug 30, 2021
We had a great weekend, see you next weekend.
Aug 30, 2021
Very nice! Staff was super nice too!
Aug 27, 2021
A very friendly Park, its clean, will be back again.
Aug 27, 2021
We had a wonderful time, no doubt we'll be back again.
Aug 27, 2021
The dump station was gross and out of order. We were not told ? we asked at the front office and were told it was out of order and we would have to dump at a sewer site. While we were dumping an employee asked us why we dumping at this site we told her that the office told us to do so. That was O K but no communication with staff. Mite stay again.
Aug 27, 2021
We love our hosts
Aug 27, 2021
The reception people are friendly they go above and beyond
Aug 23, 2021
Sites are not level, hard to sit around a fire as a family. 401 noise is awful, even AC units can't block the noise. An adult in our group took a nasty fall due to a hidden hole covered by long grass outside office. Twisted ankle and cut his other knee up good on the gravel he hit, staff came out and didn't even ask if he was OK Pulled a sign out under him that he was using to lean on.
Aug 23, 2021
We had a Deluxe RV site Love the idea of the patio and barbecue that comes with the site But I hate the feeling of being packed in the sites are too close absolutely absolutely no privacy And the noise from the traffic on the 401 is way too much to handle Should have known better when the camp store offers free earplugs
Aug 23, 2021
Loud music played until early hours of morning. Vicious dogs not under control. No staff supervision to prevent this. More of a stop over if traveling a long way. Not a relaxing weekend away kind of stay. Would not go back.
Aug 21, 2021
Great time! Theme was wonderful and enjoyed by all in our group!!!
Aug 21, 2021
Had a great stay. Folks were very! helpful when we had a slide-out failure. Thanks to the team at Toronto West.
Aug 19, 2021
The worst KOA we ever stayed at..
Aug 16, 2021
The pirate day themed and movie night was amazing!
Aug 16, 2021
very klean and freindly
Aug 15, 2021
Like the owners, extremely accommodating with what they have, would love to give 5 stars but be aware, wifi may as well be non-existent. Campers are so close together you literally share the same piece of grass, walking past your neighbour while they're eating, etc. Fight's on for picnic tables but owner settled in my favour thank you. :) Hwy 401 IS loud but didn't keep me awake.
Aug 14, 2021
The grounds are quite nice. There is lots of noise from the 401 but it is a white noise.
Aug 10, 2021
Always enjoy my stay at this KOA. Everything is well organized for safety and enjoyment.
Aug 08, 2021
Very clean , staff very helpful little small sites , but it's okay everything is good except that noise from the highway. It's our first time using KOA , I recommend this one
Aug 08, 2021
Amazing staff. So helpful. Campground is very clean and well maintained. Thank you to Joanne for helping with our reservation !
Aug 07, 2021
The staff are very helpful and friendly. We enjoyed the pool. We were only there one night, but will go back and like to explore the surrounding area and nearby Kelso park
Aug 06, 2021
Tight sight but quite nice . Nice gravel pad , soft grass. Clean bathrooms. Park is small but nice. Location is okay , it is surrounded by the highway so VERY loud. Overall, we really enjoyed ourselves and would definitely visit again !!
Aug 04, 2021
good place to go, just have a little activity you can do there inside the park
Aug 03, 2021
Stayed 10 days. The staff are very friendly and go above and beyond to make you feel at home. We have already booked several other weekends.
Aug 03, 2021
Due to unforeseen circumstances we missed our first nights reservation and didn't arrive till almost midnight on second night. Staff were very accommodating ensuring we had no issues with late check in. Kudos as well for spotless washrooms
Aug 03, 2021
The staff at this campground are so friendly and always go the extra mile to make the camping experience enjoyable. This is why we keep coming back!
Aug 03, 2021
Definitely need more privacy also bigger sites
Aug 02, 2021
Awesome time again! Staff and managers yet again do an amazing job, fast friendly customer service which is top notch. Thanks for all you do and can't wait for some more fun at the Toronto west Koa
Aug 02, 2021
It would have been so much better if there had been access to Wifi
Aug 02, 2021
Simply the best hosts in town
Jul 31, 2021
The staff is very friendly and always ready to help. The showers and bathrooms were very clean. You can see that the staff prides itself with keeping the campground clean and safe for campers. The only downside is the noise from the highway. Otherwise a good stay for our family.
Jul 30, 2021
The site setups were very confusing. It was unclear what grass area belonged to which site. There weren't many attractions at the campground, the store was poorly stocked and closed too early. The one positive is that the bathrooms were nice and clean.
Jul 29, 2021
Plutôt bien situé par rapport à la ville de Toronto. Peu de sites 3 services. À améliorer. Très fragile table à pique-nique sur le site.
Jul 29, 2021
Polite staff, great little camp store and they don't gauge prices! Clean pool, beautiful grounds, lovely clean bathrooms
Sep 12, 2021
Always a great time at Toronto West KOA
- Katie MacLea on Google
Sep 12, 2021
We went to Toronto West KOA over the labour day long weekend and had an amazing time. From the moment we got to the site to the moment we left it was nothing but a wonderful experience. We were very fortunate to stay in one of their cabins, which was the perfect size for myself, my two year old, my very pregnant wife, and our Bernese Mountain dog. The cabins were super cozy and very clean, came equipped with a mini fridge and all the dishes one would need. The cabins were spaced far enough apart that we had plenty of our own space, but also close enough you could talk to your neighbour's. Although the camp site is very close to the highway, we never noticed any excessive noise. Because it was the labour day long weekend, they hosted events for the kids including a haunted trail. As a former halloween haunt employee, I can say the trail was very professionally done. The other guests were very nice and the community feel was excellent. The grounds are very well maintained. I always found a smiling face at the main office. The campsite is close enough to Milton/Guleph that going off-site is well worth a trip. There are many trails and conservation areas to explore, and two major cities to see. I would 100% recommend going to Toronto West KOA to anyone looking to park up or book a cabin.
- Chris Orr on Google
Sep 02, 2021
Small park with a good sized pool. Highway noise a distraction but a clean well maintained park for a stopover. Fairly easy access to the hwy401. Reasonable rates.
- Jeanette Arsenault on Google