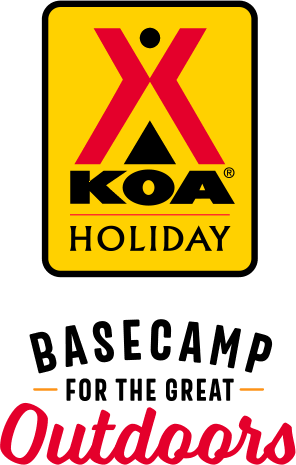 KOA Holiday Campgrounds
Whether you're exploring the local area or hanging out at the campground, KOA Holidays are an ideal place to relax and play. There's plenty to do, with amenities and services to make your stay memorable. Plus, you'll enjoy the outdoor experience with upgraded RV Sites with KOA Patio® and Deluxe Cabins with full baths for camping in comfort. Bring your family, bring your friends, or bring the whole group – there's plenty of ways to stay and explore.
KOA Holidays Feature:
RV Sites with a KOA Patio®
Deluxe Cabins with full baths
Premium Tent Sites
Group meeting facilities
Directions
On Hwy 401 west of Toronto Int'l Airport: Take Exit 312 (Guelph Line), go north to 10th Side Road, go west to Second Line, then south to end of road.
From Niagara Falls: Take Queen Elizabeth Way (QEW) to Exit 102 (Guelph Line). Go north 21 km (cross over Hwy 401) to 10th Side Road, go west to Second Line, then south to end of road.
GPS: Use 9301 Second Line (Nassagaweya), Campbellville, ON. L0P 1B0 N43.486416, W80.00665
Get Google Directions
Sep 21, 2020
Great campground, extremely clean, friendly staff. This was our first visit, very impressed. We'll be back next summer to explore the area.
Sep 21, 2020
Great stay! Even though it was during COVID times, I consider protocols were taken into consideration. The store was very neat, clean and it had the essentials for campers. The campings themselves were very nice and comfortable; Very likely to come back! fire pit was very nice, the wood was delivered to our cabin and they sell fire starters which actually help a lot!! Great stay!
Sep 21, 2020
This has become our second home this summer! Great staff who are always so friendly, welcoming and ready to help! Very clean washrooms, swimming pool and sites. Very family oriented and always lots to do and explore. We highly recommend Toronto West KOA!
Sep 17, 2020
Second stay this year. Handy from St. Catharines. One hour down the road. Enjoy the scenery and the pool. Very friendly staff. Planning more visits next year.
Sep 14, 2020
It was great. Was our first time with my family and friends. BUt there was a concerns. The concerns was it's hard to get this location and there was no enough sign from the highway. I'm not sure if you guys have heard this before. But the sign was only here closer to the place otherwise from the highway alone not enough. Maybe you guys can make it bigger specially driving during night time.Merci:)
Sep 14, 2020
It would be nice if the Cabins were on the opposite side to reduce the noise pollution of 401 Otherwise it is an awesome Camp
Sep 12, 2020
This is the most dedicated camping park that I have ever visited! It was well maintained and the Halloween weekend was fill with amazing activities for all ages! Staff always go above and beyond to make everyone's experience the best it can be! Thank you Toronto West KOA!!
Sep 09, 2020
We love this KOA. It is rustic and charming. We come every year as the customer service is above and beyond. The grounds and rest areas are kept very clean. Garbage is always picked up and tidy. Pool is well maintained and clean. The best part of this campground is the activities for the kids. The Halloween haunt walk, the parade and the trick or treating was amazing. We will see you next year!
Sep 09, 2020
Great place will definitely be going back great staff great services clean just one thing not working well is there wifi but not enough to loose a star.
Sep 08, 2020
I have been to a few KOA's and I have to say Toronto West KOA is by far the best one I have been to.The staff were amazing very friendly and helpful in everything needed to enjoy my stay.You Rock Toronto West!!!I will definitively return again as well as recommend this location to others.Thanks for the wonderful start!
Sep 08, 2020
supe nice and friendly staff, super clean restrooms, great expereince... can i give them 10 stars?
Sep 06, 2020
Staff was friendly but there was no FREE Wifi. We incurred extra data charges because NO WIFI. I booked a few day working getaway for the kids but there was nothing for them to do. Store closes at 5pm. Their pictures on the internet show gas bbq on site. We got there to find no gas bbq. Just charcoal. The American KOA camps are so much better. Don't waste your money here. Or your time
CAMPGROUND RESPONSE / COMMENTS:
Hi Nancy, as stated on our website our free wifi is a hotspot located at the top end of our park. Due to guests leaving the gas BBQs on, we updated our deluxe cabins to coal for safety and is stated so in your reservation email. As an effect from the pandemic, our store does close early like others.
Sep 05, 2020
Great staff friendly people accommodations were reflective of rate purchase only misgiving is location directly situated on 401 highway, noise was unexpected and not in tune with our regular expectations of a perfect camping experience
Sep 04, 2020
I stayed 5 days it was wonder full .The owners were wonderful. The Cabin was clean & Tidy I loved it. My only suggestion would be in the Disability Cabin a longer held hand shower hose would be very help full for Us disabled people .I have a huge stomach hernia so its hard to rinse that area in the shower!
Sep 02, 2020
Cabin was great! Seemed clean and friendly staff. Only issue is highway nearby but you tune out the noise after a while. When Covid vaccine is available and pool all activities are wide open, it will be tons of fun. Still was fun with social distancing measures and masks in place!
Sep 02, 2020
Amazing deluxe cabin & campground! Clean, relaxing, & comfortable. The Jurassic Park themed weekend was amazing! So fun for kids, & all ages! The staff are incredible; friendly & go above & beyond! The pool is great! The store offers snacks & other camping necessities. Conveniently located near the highway, and many conservation areas nearby. A great place to unplug and enjoy the great outdoors!
Aug 31, 2020
The staff were SUPER friendly and went above and beyond to make sure we had everything we needed. Special thanks to Joanne and Jamie - those two rock!
Aug 30, 2020
The staff are all SO very pleasant. The cabin we stayed in was clean, cool & comfortable. One little downfall was the tiny little fridge, and froze-over freezer... but we are not complaining.. as we brought out own mini fridge. 9/10 stay!
Aug 27, 2020
The staff were great so helpful and pleasant willing to go the extra mile for you The cabins had nails poking through the roof so the child on the top bunk had to be careful there is only one plug outlet in the cabin that is useable The pool was filthy dirty and the liner is so bad that your tripping over it on the bottom the highway noise is terrible all day and night you hear trucks no sleep
Aug 25, 2020
We had such a great time this weekend! We were there for the Pirates and Mermaid Weekend! They had an amazing water fight with the staff driving around spraying anyone that wanted to participate! It was so much fun !! Th staff were so friendly and helpful. We ran out of firewood and we were able to stop one of the staff and get to deliver to us some and we were able to pay in the morning
Aug 24, 2020
My boyfriend and I stayed in the romance cabin and we had an amazing time! Friendly staff, clean and cozy. Can't wait to come back and stay here again!!
Aug 24, 2020
The ac in the cabin I was in didn't seem to work well but they were clean , as well as the bathroom. I found the place to be a little crowded(camping spot to close to close together) & not awhole lot to do for the kids as the playground was busy and we only could swing for a limited time.
Aug 23, 2020
The staff as always were friendly and helpful. I always love coming to this KOA because we are always well taken care of.
Aug 22, 2020
Covid caused a drastic change in our annual summer vacation plans, so we decided to stay closer to home. We had stayed at a KOA in QC and NS and you did not disappoint. There were restrictions but workable. We would have loved more time in the pool however, and the Children's playground was limited in terms of activities, perhaps in the future add more structures for children, Overall good
Aug 22, 2020
Had a cabin. Clean. Staff were helpful. Facilities were clean. Other than the proximity to the 401 everything was great.
Aug 17, 2020
Beautiful, cute and cozy cabin. Loved our overnight and will come back for sure. Thank you. Great staff. Great for mini social distancing.
Aug 17, 2020
The deluxe cabin was perfect! There was enough space for 6 people and a great area outside to hangout with lots of space for activities.
Aug 16, 2020
Clean, comfortable, very hospitable staff, very nice families too. Perfect for our needs. Thank you!
Aug 16, 2020
From beginning to end, our stay at KOA was wonderful. We stayed in a deluxe cabin with our two young children and they absolutely loved it. The staff is friendly and helpful. The facilities are clean and Connie was so friendly and helpful. We have already designated KOA as our annual family camping site. Thank you for a lovely experience.
Aug 14, 2020
Our stay at Toronto West KOA was amazing. Cabin we rented was clean and pretty big. Staff was super helpful and very friendly. Only down side was the the mattresses on the bunk beds were super hard. We had loads of fun and made great memories.
Aug 12, 2020
They need to get a new grounds and pool supervisor. He was very rude to my children and myself. We actually had to leave a night early. Staff at office were very accommodating and apologetics. Got a refund immediately.
Aug 11, 2020
The staff were very nice and very helpful. The cabin was very clean and the site was very basic. Wide out and not a lot of privacy
Aug 11, 2020
Reg is the best!
Aug 11, 2020
We stayed in cabin C7 for 3 nights. Everything was great! Wonderfully surprised that there was A/C
Aug 11, 2020
The Toronto West KOA was the best KOA I have ever stayed at. Well some may say the 401 is too noisy, I found it to not be a bother whatsoever. Don't know why it's such a big deal. The staff are so welcoming and even had an appreciation BBQ And pancake breakfast, which was run very well despite COVID-19. I will definitely be back to this KOA. Also that one girl Abby was so nice and helpful.
Aug 10, 2020
This is one of the best camping place we been to in this many years. super kids friendly.. safe for kids , Clean during Covid time. Cabins are very comfortable with AC and Fridge. Washroom and very clean and never lineups. Kudus to Staff super friendly and very helpful. we will return to this camping for sure.
Aug 10, 2020
We had such a great time! All the staff were super nice and welcoming. Bathrooms & showers were spotless and cabin was well kept and clean upon arrival.
Aug 09, 2020
Terrific stay from arrival to departure. Kudos to the lovely ladies working the camp store on August 7th/8th. They were so friendly and welcoming and should be commended for their excellent customer service skills. We will be back for sure!
Aug 06, 2020
Everything was okay after a leak was dealt with. It was inconvenient as we had unloaded everything. I probably won't return.
Aug 05, 2020
We love coming to this KOA The staff and management treat you like family. The pool was great for an afternoon swim and with Covid 19 they have all the proper procedures in place. Our cabin was clean and had everything we required for our stay. I would recommend this KOA 100% Can't wait till September to go back. See you soon:)
Aug 01, 2020
We stayed in the deluxe cabin. It was very clean and had all the essentials needed for our stay. I would definitely stay there again. The kids loved it.
Jul 31, 2020
Our visit was amazing, everyone was so helpful. My sister who I went with is legally blind and she had an fantastic time and did not feel out of place. Will be going again hopefully in August
Jul 30, 2020
This was our first time at KOA and definitely we'll be coming back again. The personal greeting from the employees adds a great hospitality feel.
Jul 27, 2020
We arrived 1-1/2 hours before check in and were allowed to enter early. Once inside we looked around the cabin and noticed how clean the place was. We had to wipe up some water from the floor and noticed again how clean the floor was. All the staff were great people and easy to get along with. Pool are was sanitized after the change up of swimmers. We are already planning our next trip there.GREAT
Jul 27, 2020
Cleanest bathrooms we have ever used! Very impressed! You can't control this much but hearing the highway wasn't pleasant. Thanks for a great weekend
Sep 12, 2021
Always a great time at Toronto West KOA
- Katie MacLea on Google
Sep 12, 2021
We went to Toronto West KOA over the labour day long weekend and had an amazing time. From the moment we got to the site to the moment we left it was nothing but a wonderful experience. We were very fortunate to stay in one of their cabins, which was the perfect size for myself, my two year old, my very pregnant wife, and our Bernese Mountain dog. The cabins were super cozy and very clean, came equipped with a mini fridge and all the dishes one would need. The cabins were spaced far enough apart that we had plenty of our own space, but also close enough you could talk to your neighbour's. Although the camp site is very close to the highway, we never noticed any excessive noise. Because it was the labour day long weekend, they hosted events for the kids including a haunted trail. As a former halloween haunt employee, I can say the trail was very professionally done. The other guests were very nice and the community feel was excellent. The grounds are very well maintained. I always found a smiling face at the main office. The campsite is close enough to Milton/Guleph that going off-site is well worth a trip. There are many trails and conservation areas to explore, and two major cities to see. I would 100% recommend going to Toronto West KOA to anyone looking to park up or book a cabin.
- Chris Orr on Google
Sep 02, 2021
Small park with a good sized pool. Highway noise a distraction but a clean well maintained park for a stopover. Fairly easy access to the hwy401. Reasonable rates.
- Jeanette Arsenault on Google