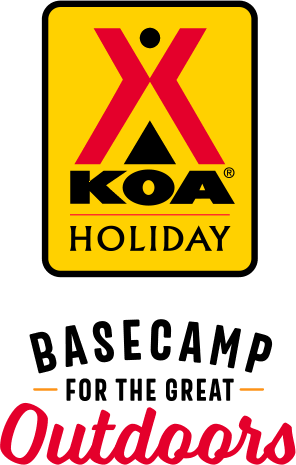 KOA Holiday Campgrounds
Whether you're exploring the local area or hanging out at the campground, KOA Holidays are an ideal place to relax and play. There's plenty to do, with amenities and services to make your stay memorable. Plus, you'll enjoy the outdoor experience with upgraded RV Sites with KOA Patio® and Deluxe Cabins with full baths for camping in comfort. Bring your family, bring your friends, or bring the whole group – there's plenty of ways to stay and explore.
KOA Holidays Feature:
RV Sites with a KOA Patio®
Deluxe Cabins with full baths
Premium Tent Sites
Group meeting facilities
Directions
On Hwy 401 west of Toronto Int'l Airport: Take Exit 312 (Guelph Line), go north to 10th Side Road, go west to Second Line, then south to end of road.
From Niagara Falls: Take Queen Elizabeth Way (QEW) to Exit 102 (Guelph Line). Go north 21 km (cross over Hwy 401) to 10th Side Road, go west to Second Line, then south to end of road.
GPS: Use 9301 Second Line (Nassagaweya), Campbellville, ON. L0P 1B0 N43.486416, W80.00665
Get Google Directions
Aug 07, 2021
Conveniently located to visit my daughter in GTA, clean updated deluxe cabins, appreciated weekday booking discount, staff friendly and attentive. Sofa in cabin must be replaced to reflect overall pleasing esthetic, due to our haste to exit the cabin staff members insisted to enter to remove bed covers-we felt uncomfortable during this interaction due to COVID. overall experience very positive!
Aug 06, 2021
We would have given 4-5 stars but unfortunately the bathrooms near our accommodations were closed as well as the camping kitchen. It was difficult with 2 young children to walk (or sometimes drive) all the way up to the washrooms.
Aug 06, 2021
Our family of 5 had a great time here this year. The pool is amazing and the cabin was very clean and comfortable. We stayed in cabin 88, which is far from the wifi hotspot but we were fine with that. Our only negative comments would be that the couch needs upgraded and the cabin smelled of smoke when we got there. All in all we recommend this KOA.
Aug 03, 2021
Friendly staff, keep kids entertained, clean washrooms are nice to see and have.
Aug 03, 2021
Some Concerns I have: 1 had a bad sleep cause of the highway (so annoying) 2 the cleaning the bathroom between 7 am and 8 am is a bad idea cause people usually need to go to the bathroom as soon as they wake up. 3 having a way to lock the cabin door from the inside so our autistic son doesn't wander out during the night. 4 I wish this location had more things for kids to do.
Aug 02, 2021
Our stay was amazing! We had such a great time. Hopefully we can come back again this year. If you're looking for a nice quiet relaxing place to take your kids I highly recommend. The themed weekends were phenomenal. The staff is great very friendly and welcoming
Aug 01, 2021
Would have been nice to have more activities for the family, such as a basketball court and volleyball court.
Jul 30, 2021
It was great! The beds are a rough sleep for tall adults, but the AC was awesome. Not having access to the camp kitchen was kinda hard for Cooking being In a cabin... The pool was great for a nice dip!. All and all we had a great time! Definitely would come back again! Hopefully things can get back to normal with access to the parts that make it more enjoyable.
Jul 30, 2021
Nice and quite. Slightly dissappointed that the cabin was not fully as described and pictured.
Jul 29, 2021
Everything was good except the loud traffic from the 401. Should build a retainer wall to block the noise and the this would be much higher stars!
Jul 26, 2021
Cabins extremely close to each other. I shared my campsite I paid 900$ for with a family of almost 15. If we each stood on our porch with our arms out it's very shy of 6 feet. Probably one of the worst experiences my family has had yet. I woke up face to face with a neighbour from my bedroom window hammering in a badminton net. Zero privacy, zero sense of safety.
Jul 26, 2021
Staff were amazing. We had issues with our Tent trailer. They went out of their way to book us a cabin so we could continue our camping experience.
Jul 25, 2021
Three of us stayed in the Deluxe Cabin (Cabana). The cabin was spacious, kitchen is fully stocked with dishes, cutlery, microwave and small appliances. My son enjoyed the fact that he got his own separate space in the bunk bed cubby. We enjoyed our stay, and we will for sure be going back. Would definitely recommend!
Jul 21, 2021
First time staying at KOA. Loved our 6 person cabin (no bathroom). Did not like the noise from the 401. Camp is too close to highway which is such a shame. Loved the service. Due to COVID19 closest washroom and shared kitchen closed so that was a drag. Close to conservation parks which we visited. I will not stay at this location again due to noise. Hopefully a sound barrier wall will be built.
Jul 21, 2021
Stay was good. The cabin was nice except for the couch cushions being torn and weren't able to sit on without the material sticking to our clothes. The office did however give us a blanket to put on top to help.
Jul 21, 2021
Kids had a great time
Jul 19, 2021
I love camping here. It's the only place I will camp. Staff are excellent and it's nice to go somewhere where the staff know you and welcome you every time we come to stay!!!!
Jul 17, 2021
Excellent stay, nice clean cabin, A/C great, and friendly staff. I do not mind the noise from the highway on one side but might not recommend to others because of it.
Jul 16, 2021
The cabins are way to close to each others…..no privacy at all. The sofa in cabin 88 is disgusting. The place looks abandoned… Tks.
Jul 14, 2021
Cabins were great. You need to keep your firewood in a dry area. We tried to start a fire and it was nothing but smoke and the sound of water sizzling in the logs.
Jul 13, 2021
We had a great time. We will definitely stay here again.
Jul 12, 2021
It's very nice and clean place !
Jul 09, 2021
We had such a great time. Cabin was so comfortable and roomy! We will be back again.
Jul 07, 2021
Me and my sister and my kids come twice a summer for the last 6 years. We look forward to it every year. Amazing staff and always a fun relaxing stay while making new memories. Can't wait to come back at the end of next month for our end of summer weekend getaway.
Jul 07, 2021
It was great. The noise from the highway was a bummer but the cabins were clean. There was no adequate hot water in the shower and that needs to be checked.
Jul 05, 2021
The overall stay was very nice and washrooms/cabins were super clean. The pool booking system was easy. Lots of games to rent and activities for kids. Unfortunately I was misinformed (twice) by camp staff that I could not use a tent on my parents trailer site and was forced to rent a cabin. Other groups were allowed use of a tent and when I asked camp staff they didn't offer any assistance.
Jul 05, 2021
Amazing we all had so much fun and our kids was so happy because the park was very close to our cabin..the washroom wash very clean keep it up the good work...The only thing lots of mosquitos and other insects even inside the cabin�and the noise of the vehicles(highway401)very understanding bec. thats the only cabin available.Overall is very accommodating to us and safe.Thank you to all the sta
Jul 05, 2021
everything was great! only thing i would complain about is receiving very wet fire wood!
Jun 28, 2021
We stayed in the Deluxe cabin and everything is really good. Staffs are friendly. The rooms are clean and in good condition. If you want to have bbq, it's better to bring your own grill. Will come back again!
Jun 28, 2021
our camping cabin had its problems .. we were moved to another the next day .wanted a bigger cabin told all full .. not true . bathrooms amazing .. park down the hill .. unsafe .. young employees always friendly and amazing .. koa all my life and only ever had 1 issue before .. in 40 years .will we return .. probably not ..boys still had fun and thanks .park itself was clean and safe .. thanks C4
Jun 22, 2021
It was out first time staying here and we will stay again! It's close to home which was a huge bonus. Facilities and our cabin were very clean and well taken care of. Staff were amazing, very friendly and helpful. Highway noise didn't bother us or our 2 young children what so ever.
Jun 22, 2021
Quick service, washrooms always clean, hot showers. Great place to stay!!
Jun 21, 2021
We had a great stay but a few minor items need to be done on the site, cutting grass & weeds under the picnic table...will help with the mosquitos & the picnic tables need to have all of the old paint scraped off, chipping off into everything.
Oct 13, 2020
I was pleasantly surprised at how clean the cabins were.
Oct 11, 2020
Great place! Everything clean and sanitized!
Oct 05, 2020
I have stayed at this Koa many times and the staff are always wonderful. The staff are friendly, accommodating and knowledgeable.
Oct 05, 2020
I met a few of my friends at KOA and we planned a golf day and dinner. Cottage was very clean staff happy and helpful. Great time
Oct 04, 2020
The cabin was great ... liked that the kitchen was so well equipped. Downside was lack of internet. We didn't realize that we would basically be off line for 4 days. Never happened at a KOA before.Beautiful location with all the trees.
Oct 02, 2020
Had an excellent time! The cabins were so clean and cozy. Service was wonderful.
Oct 01, 2020
The people were nice and the lodge we stayed in was clean.
Sep 29, 2020
thanks for key in night box didnt think we would be soo late
Sep 23, 2020
Always a great stay at the Toronto West KOA! Fantastic staff; always there to greet, answer any questions, and attend to any issues that may arise. Great fun and activities for all!
Sep 21, 2020
Great cabin. It was a cold weekend but the campfire kept us warm. Everything was clean especially during COVID-19
Sep 12, 2021
Always a great time at Toronto West KOA
- Katie MacLea on Google
Sep 12, 2021
We went to Toronto West KOA over the labour day long weekend and had an amazing time. From the moment we got to the site to the moment we left it was nothing but a wonderful experience. We were very fortunate to stay in one of their cabins, which was the perfect size for myself, my two year old, my very pregnant wife, and our Bernese Mountain dog. The cabins were super cozy and very clean, came equipped with a mini fridge and all the dishes one would need. The cabins were spaced far enough apart that we had plenty of our own space, but also close enough you could talk to your neighbour's. Although the camp site is very close to the highway, we never noticed any excessive noise. Because it was the labour day long weekend, they hosted events for the kids including a haunted trail. As a former halloween haunt employee, I can say the trail was very professionally done. The other guests were very nice and the community feel was excellent. The grounds are very well maintained. I always found a smiling face at the main office. The campsite is close enough to Milton/Guleph that going off-site is well worth a trip. There are many trails and conservation areas to explore, and two major cities to see. I would 100% recommend going to Toronto West KOA to anyone looking to park up or book a cabin.
- Chris Orr on Google
Sep 02, 2021
Small park with a good sized pool. Highway noise a distraction but a clean well maintained park for a stopover. Fairly easy access to the hwy401. Reasonable rates.
- Jeanette Arsenault on Google