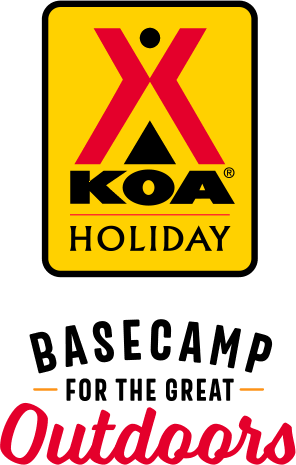 KOA Holiday Campgrounds
Whether you're exploring the local area or hanging out at the campground, KOA Holidays are an ideal place to relax and play. There's plenty to do, with amenities and services to make your stay memorable. Plus, you'll enjoy the outdoor experience with upgraded RV Sites with KOA Patio® and Deluxe Cabins with full baths for camping in comfort. Bring your family, bring your friends, or bring the whole group – there's plenty of ways to stay and explore.
KOA Holidays Feature:
RV Sites with a KOA Patio®
Deluxe Cabins with full baths
Premium Tent Sites
Group meeting facilities
Directions
On Hwy 401 west of Toronto Int'l Airport: Take Exit 312 (Guelph Line), go north to 10th Side Road, go west to Second Line, then south to end of road.
From Niagara Falls: Take Queen Elizabeth Way (QEW) to Exit 102 (Guelph Line). Go north 21 km (cross over Hwy 401) to 10th Side Road, go west to Second Line, then south to end of road.
GPS: Use 9301 Second Line (Nassagaweya), Campbellville, ON. L0P 1B0 N43.486416, W80.00665
Get Google Directions
Oct 15, 2021
Fantastic as always!! I am beyond grateful to have spent so many years at this KOA! It will always be family. Here's to more memories!
Oct 13, 2021
The cabin was clean and ready to use when I got there, the camp ground was neat and tidy and there was no excessive noise. We had a great weekend. Thanks so much.
Oct 13, 2021
Cabin was very clean..comfortable beds
Oct 12, 2021
We had a great weekend! It's our second year coming for Thanksgiving weekend and it has not disappointed.
Oct 12, 2021
Staff are amazing everytime we stay!
Oct 12, 2021
We are so excited to see toronto koa this thanksgiving weekend as we arrived my kids are so happy to see our cabin. This pkace is so clean and we will surely come back akways for our weekend holiday with pur friends and family. Thank you for being accomodating always.
Oct 04, 2021
Great spot to stay tent, cabin, or RV.
Sep 28, 2021
Had such a lovely time. Great people. Great property. Felt taken care of and well serviced by the team. Returned home, feeling like a million bucks. Thanks a lot!
Sep 27, 2021
Great weekend as usual. We did have some issues with the electricity tripping the breaker any time we plugged in a couple of items. Someone may want to look at this for next season.
Sep 27, 2021
The place is quiet ( except for the sound of the 401 traffic) and clean. The staff is very friendly! Even the campers are so nice and friendly.
Sep 24, 2021
We just wanted to get away in nature for a few days and Toronto KOA kinda fit the bill....we rented a cabin because we knew it would be raining most of the time and we didn't want to deal with wet tents. The wee fridge inside the basic cabin was very much appreciated, as were the earplugs at the office because that KOA is near the highway, but the earplugs worked wonders!
Sep 23, 2021
First time at this campground, awsome place,very clean ,well maintained, staff were very friendly and helpful, would definitely come back
Sep 21, 2021
Pleasant despite the absence of linens, towels and other items.
Sep 20, 2021
Inspite of the pandemic and the rules of the campground we have to adhere, we felt very safe and enjoyed our stay. The staff are friendly & accommodating and made sure of what we request on the reservations were granted. All the guest of the clean 6 cabins reserved have expressed happiness and satisfaction. Our group, KofC, are looking forward to our next years family camping program.
Sep 20, 2021
we had a great time..cabin was spotless and registration staff was very courteous
Sep 17, 2021
The staff were great. Friendly. Washrooms for campers were spotless. We stayed in a cabin. Beatuiful! Very clean.yes the highway was next to the cabins But when windows closed you barely heard the traffic. And honestly while outdoors it really was just "white noise" after the first hour or so. Would highly recommend and hoping to go again next year
Sep 13, 2021
Every year we stay in the rustic cabins we 3 other couples to end the summer off And celebrate our friendship Hoping to book the larger cabins for next year
Sep 13, 2021
The park staff was awesome and the park was very clean, but being so close to the highway it was a bit hectic sounding. I appreciate that you give lots of notice about it! We came to visit friends, so we could see past it :)
Sep 08, 2021
Always an amazing stay. Staff are super and treat you like family. Love coming back year after year!
Sep 08, 2021
The stay was good but we did notice that the bathroom including the toilet could have been cleaned much better. We had to do the extra cleaning.
Sep 08, 2021
I have always been treated like family at the Toronto West KOA. It is such an great get away from the real world. The staff go above and beyond to make each and every guest smile and the lengths they go for customer enjoyment is unmeasurable. I will be forever grateful for the experiences that I have shared here. And for those who complain about the highway - shut yo mouth #ilovethesuper6
Sep 08, 2021
My cabin ( C9 ) roof is leaking, check out customer service bad
Sep 07, 2021
People were nice and friendly and I liked that the play area but we got bitten by bed bugs. 4 of our members got bitten at Deluxe cabin. it was really hassle to clean all the stuff to avoid any potential to bring them home. I saw some reviews complaining about bedbugs at this KOA just now. This is not acceptable.
Sep 07, 2021
Not much to do compared to other KOAs, a lot was still closed "due to covid" including one of the bathrooms, staff was not overly friendly like at most KOAs, cabin didn't have a lot of power to it. And the wifi hotspot was not good
Aug 31, 2021
Best staff of any Koa and we have been going every year for 30 years to KOAs across Ontario, Massachusetts and Southeast Texas. This one is now our number one! I plan to look into a seasonal pass to park our pop up there....hopefully that is an option. If not still our number one fave! Best staff.....that makes all the difference...amenities were great too but gotta have the friendly connection!
Aug 30, 2021
Because there was no tenting this summer we booked a combination of camping cabins and Deluxe cabins for our group. Everything was very clean and pleasant.
Aug 30, 2021
Great weekend stay and close enough to the city to have family visit for the evening and return home if needed.
Aug 28, 2021
the noise of the 401 highway
Aug 28, 2021
This was our 5th annual stay and it was great. One staff member went above and beyond to make my son smile. It was a great stay and we will back next year.
Aug 27, 2021
Very accomadating for my overnight stay!
Aug 24, 2021
It was clean and the staff friendly. Bed was comfy And the traffic became white noise so it really wasn't an issue.
Aug 23, 2021
Not clean in the cabin, no staff around, nothing in store, gate left open all night.
Aug 23, 2021
it took three visits from park employees on a day with a humidex around 38 degees for them to say the air conditioning was not working two hours later it was fixed but the first visit should have been enough to know there was a problem after that it was a nice stay the cabin itself is very nice but the couch is very overly worn and really should be replaced
Aug 20, 2021
We stayed during the week with my kids and had a great time. Next time we'll defiantly come on a weekend so there are more kids activities! I didn't notice the highway noise really at all, but we are from the city so we are used to traffic sounds. The bathrooms were super clean as well!
Aug 19, 2021
Great place. Well maintain campground. Love the houses and fireplaces. It is too close to high way and we had heaches, as well the tower of 5G is just 150 m away and if we are outside we gave our heads spinning. We enjoy the amenities but the tower shouldn't t be so close to place for rest. Thanks for the great acomodation. We will go to same chain KOA but different location.
Aug 19, 2021
We did have a good time there but there is nothing much for kids.. even the swimming pool not save for kids .. there should be a rope that can indicate kids dont go beyond the line. Maybe put a small splashpad for little kids. Very impressed with the washrooms! Very clean. Highway noise dint bother us at all.
Aug 17, 2021
I had the best 2 days camping trip! Everyone who works at this location was amazing and accommodating this being my first camping trip. Thank you also for keeping an eye on me cause I was a solo camper with many questions. My favorite part was learning how to make a fire and Saturday movie night while roasting s'mores!
Aug 16, 2021
We had a great time here like we always do.We really like the different themed weekends they have.The pirates and mermaid water fight was the best!
Aug 13, 2021
It was our first time at a KOA camp and glad we chose this location. We had an amazing time! The staff at the store were friendly and helpful. The cabin was clean and well equipped. The only con would be that , we were not informed there were no pillows. When mentioned to the store attendant, she said there was an email sent out but I've re-read all my emails from KOA and there seems to be no me
Aug 12, 2021
We had a great time! Exceptionally clean around the campsite, in the cabin and at the playground and pool area. Will definitely be going back!
Aug 09, 2021
It was a very good time. On the Saturday there was activities for the kids and then a movie in the evening. Clean cabin, clean site. Mostly quiet (except the 401 right behind the cabin) all in all good times. Might be better to get better wifi, but that's more of a luxury I guess. Everyone was very friendly.
Sep 12, 2021
Always a great time at Toronto West KOA
- Katie MacLea on Google
Sep 12, 2021
We went to Toronto West KOA over the labour day long weekend and had an amazing time. From the moment we got to the site to the moment we left it was nothing but a wonderful experience. We were very fortunate to stay in one of their cabins, which was the perfect size for myself, my two year old, my very pregnant wife, and our Bernese Mountain dog. The cabins were super cozy and very clean, came equipped with a mini fridge and all the dishes one would need. The cabins were spaced far enough apart that we had plenty of our own space, but also close enough you could talk to your neighbour's. Although the camp site is very close to the highway, we never noticed any excessive noise. Because it was the labour day long weekend, they hosted events for the kids including a haunted trail. As a former halloween haunt employee, I can say the trail was very professionally done. The other guests were very nice and the community feel was excellent. The grounds are very well maintained. I always found a smiling face at the main office. The campsite is close enough to Milton/Guleph that going off-site is well worth a trip. There are many trails and conservation areas to explore, and two major cities to see. I would 100% recommend going to Toronto West KOA to anyone looking to park up or book a cabin.
- Chris Orr on Google
Sep 02, 2021
Small park with a good sized pool. Highway noise a distraction but a clean well maintained park for a stopover. Fairly easy access to the hwy401. Reasonable rates.
- Jeanette Arsenault on Google