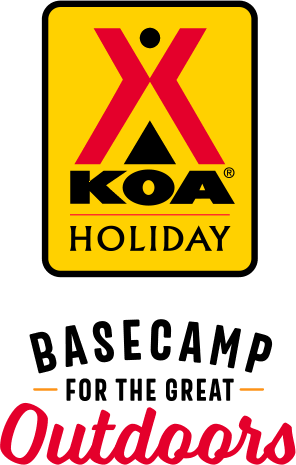 KOA Holiday Campgrounds
Whether you're exploring the local area or hanging out at the campground, KOA Holidays are an ideal place to relax and play. There's plenty to do, with amenities and services to make your stay memorable. Plus, you'll enjoy the outdoor experience with upgraded RV Sites with KOA Patio® and Deluxe Cabins with full baths for camping in comfort. Bring your family, bring your friends, or bring the whole group – there's plenty of ways to stay and explore.
KOA Holidays Feature:
RV Sites with a KOA Patio®
Deluxe Cabins with full baths
Premium Tent Sites
Group meeting facilities
Directions
On Hwy 401 west of Toronto Int'l Airport: Take Exit 312 (Guelph Line), go north to 10th Side Road, go west to Second Line, then south to end of road.
From Niagara Falls: Take Queen Elizabeth Way (QEW) to Exit 102 (Guelph Line). Go north 21 km (cross over Hwy 401) to 10th Side Road, go west to Second Line, then south to end of road.
GPS: Use 9301 Second Line (Nassagaweya), Campbellville, ON. L0P 1B0 N43.486416, W80.00665
Get Google Directions
Aug 02, 2021
Our stay was amazing! We had such a great time. Hopefully we can come back again this year. If you're looking for a nice quiet relaxing place to take your kids I highly recommend. The themed weekends were phenomenal. The staff is great very friendly and welcoming
Aug 02, 2021
Awesome time again! Staff and managers yet again do an amazing job, fast friendly customer service which is top notch. Thanks for all you do and can't wait for some more fun at the Toronto west Koa
Aug 02, 2021
It would have been so much better if there had been access to Wifi
Aug 02, 2021
Simply the best hosts in town
Aug 01, 2021
Would have been nice to have more activities for the family, such as a basketball court and volleyball court.
Jul 31, 2021
The staff is very friendly and always ready to help. The showers and bathrooms were very clean. You can see that the staff prides itself with keeping the campground clean and safe for campers. The only downside is the noise from the highway. Otherwise a good stay for our family.
Jul 30, 2021
It was great! The beds are a rough sleep for tall adults, but the AC was awesome. Not having access to the camp kitchen was kinda hard for Cooking being In a cabin... The pool was great for a nice dip!. All and all we had a great time! Definitely would come back again! Hopefully things can get back to normal with access to the parts that make it more enjoyable.
Jul 30, 2021
Nice and quite. Slightly dissappointed that the cabin was not fully as described and pictured.
Jul 30, 2021
The site setups were very confusing. It was unclear what grass area belonged to which site. There weren't many attractions at the campground, the store was poorly stocked and closed too early. The one positive is that the bathrooms were nice and clean.
Jul 29, 2021
Plutôt bien situé par rapport à la ville de Toronto. Peu de sites 3 services. À améliorer. Très fragile table à pique-nique sur le site.
Jul 29, 2021
Polite staff, great little camp store and they don't gauge prices! Clean pool, beautiful grounds, lovely clean bathrooms
Jul 29, 2021
Everything was good except the loud traffic from the 401. Should build a retainer wall to block the noise and the this would be much higher stars!
Jul 27, 2021
Clean sites. No clear sign ounce off 401. Sign across Petro Canada not very visible. Very good reception Thank you
Jul 26, 2021
Cabins extremely close to each other. I shared my campsite I paid 900$ for with a family of almost 15. If we each stood on our porch with our arms out it's very shy of 6 feet. Probably one of the worst experiences my family has had yet. I woke up face to face with a neighbour from my bedroom window hammering in a badminton net. Zero privacy, zero sense of safety.
Jul 26, 2021
Friendly staff, very clean washrooms!
Jul 26, 2021
This is the best KOA
Jul 26, 2021
Staff were amazing. We had issues with our Tent trailer. They went out of their way to book us a cabin so we could continue our camping experience.
Jul 25, 2021
This KOA has the friendliest and most helpful staff of any campground we have been to. We arrived with two giant fifth wheels and they did everything they could to help us park and get settled including moving posts and getting us extension cords. I walked to the store to order firewood and it was delivered before I returned to our site. This campground is kept spotless(pool, playground) etc. A ++
Jul 25, 2021
Three of us stayed in the Deluxe Cabin (Cabana). The cabin was spacious, kitchen is fully stocked with dishes, cutlery, microwave and small appliances. My son enjoyed the fact that he got his own separate space in the bunk bed cubby. We enjoyed our stay, and we will for sure be going back. Would definitely recommend!
Jul 24, 2021
Très de base. Panneau électrique ouvert et non sécuritaire.Cabane centrale électrique débarré et accessible à tous �� entrée électrique et eau drôlement placé… et foyer beaucoup trop près des installation de VR. Très bien pour un relais d'une nuit ou deux, sans plus.
Jul 21, 2021
First time staying at KOA. Loved our 6 person cabin (no bathroom). Did not like the noise from the 401. Camp is too close to highway which is such a shame. Loved the service. Due to COVID19 closest washroom and shared kitchen closed so that was a drag. Close to conservation parks which we visited. I will not stay at this location again due to noise. Hopefully a sound barrier wall will be built.
Jul 21, 2021
Stay was good. The cabin was nice except for the couch cushions being torn and weren't able to sit on without the material sticking to our clothes. The office did however give us a blanket to put on top to help.
Jul 21, 2021
Kids had a great time
Jul 21, 2021
Amazing place! I just had to come back!
Jul 20, 2021
Great stay great staff
Jul 20, 2021
Nice and quiet. Clean restrooms. Reasonable prices
Jul 20, 2021
Easy to get to off the 401. Easy to book a reservation and check in was great. I new the highway was close but it is noticeable when trying to sleep. Overall happy with our stay and short notice looking for a site.
Jul 19, 2021
I love camping here. It's the only place I will camp. Staff are excellent and it's nice to go somewhere where the staff know you and welcome you every time we come to stay!!!!
Jul 17, 2021
Excellent stay, nice clean cabin, A/C great, and friendly staff. I do not mind the noise from the highway on one side but might not recommend to others because of it.
Jul 17, 2021
The staff are the best always helpfull
Jul 16, 2021
Excellent campground! Very professional and courteous staff! We are definitely going back-but tough to get a spot since it is so popular. Thanks for helping us have a great time!
Jul 16, 2021
The cabins are way to close to each others…..no privacy at all. The sofa in cabin 88 is disgusting. The place looks abandoned… Tks.
Jul 15, 2021
Main house needs a renovation, bathrooms are clean but old too. Friendly
Jul 14, 2021
Cabins were great. You need to keep your firewood in a dry area. We tried to start a fire and it was nothing but smoke and the sound of water sizzling in the logs.
Jul 13, 2021
We had a great time. We will definitely stay here again.
Jul 12, 2021
It's very nice and clean place !
Jul 11, 2021
Very nice campground with large easy access sites. The property is well maintained and managed and I would stay there again.
Jul 10, 2021
Clean restrooms and showers. Could have more full services sites for rvs. Noisy because of the highway close by. Good stay overall.
Jul 10, 2021
Perfect stay
Jul 10, 2021
Had a very good stay, I found the electrical 30 amp plugin to be a long stretch for my cord on lot 13. Not my business, but to me the lot 13 and the one behind it should be flipped so the cords will be on the correct side, to reach the service. Also found it a tight turn with our unit to get to the dump site without going out of the park to turn.around. Staff were very polite and helpful.
Jul 09, 2021
Our stay was great! This was our first time at your park, we enjoyed your facility very much and will be returning in August. Our site was excellent and we have requested the same site for August. We enjoyed the pool and the Covid-19 time structure was fair and worked very well in our opinion. We are looking forward to our stay in August.
Jul 09, 2021
Laundry wasn't open to "transient" campers even though we were there for 6 days. Garbage only emptied from large bins beside our site 3 times in 6 days (even though we were told it was to be done daily) Noone told us of the wood roaches so when we saw them we thought they were German cockroaches so we early because they were all in my brand new trailer/truck & belongings Not a great time
Jul 09, 2021
We had such a great time. Cabin was so comfortable and roomy! We will be back again.
Jul 07, 2021
Me and my sister and my kids come twice a summer for the last 6 years. We look forward to it every year. Amazing staff and always a fun relaxing stay while making new memories. Can't wait to come back at the end of next month for our end of summer weekend getaway.
Jul 07, 2021
the stay was good, clean wash rooms. A1.. would love to come back may be if we got a quieter spot, too close to highway was not good especially at night, too much traffic even at 2 o clock at night..
Sep 12, 2021
Always a great time at Toronto West KOA
- Katie MacLea on Google
Sep 12, 2021
We went to Toronto West KOA over the labour day long weekend and had an amazing time. From the moment we got to the site to the moment we left it was nothing but a wonderful experience. We were very fortunate to stay in one of their cabins, which was the perfect size for myself, my two year old, my very pregnant wife, and our Bernese Mountain dog. The cabins were super cozy and very clean, came equipped with a mini fridge and all the dishes one would need. The cabins were spaced far enough apart that we had plenty of our own space, but also close enough you could talk to your neighbour's. Although the camp site is very close to the highway, we never noticed any excessive noise. Because it was the labour day long weekend, they hosted events for the kids including a haunted trail. As a former halloween haunt employee, I can say the trail was very professionally done. The other guests were very nice and the community feel was excellent. The grounds are very well maintained. I always found a smiling face at the main office. The campsite is close enough to Milton/Guleph that going off-site is well worth a trip. There are many trails and conservation areas to explore, and two major cities to see. I would 100% recommend going to Toronto West KOA to anyone looking to park up or book a cabin.
- Chris Orr on Google
Sep 02, 2021
Small park with a good sized pool. Highway noise a distraction but a clean well maintained park for a stopover. Fairly easy access to the hwy401. Reasonable rates.
- Jeanette Arsenault on Google