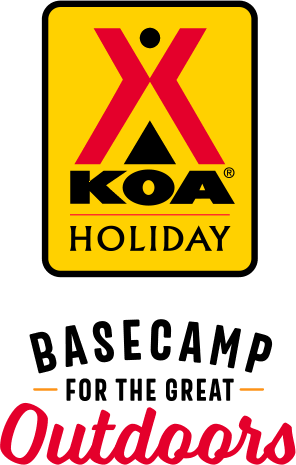 KOA Holiday Campgrounds
Whether you're exploring the local area or hanging out at the campground, KOA Holidays are an ideal place to relax and play. There's plenty to do, with amenities and services to make your stay memorable. Plus, you'll enjoy the outdoor experience with upgraded RV Sites with KOA Patio® and Deluxe Cabins with full baths for camping in comfort. Bring your family, bring your friends, or bring the whole group – there's plenty of ways to stay and explore.
KOA Holidays Feature:
RV Sites with a KOA Patio®
Deluxe Cabins with full baths
Premium Tent Sites
Group meeting facilities
Directions
On Hwy 401 west of Toronto Int'l Airport: Take Exit 312 (Guelph Line), go north to 10th Side Road, go west to Second Line, then south to end of road.
From Niagara Falls: Take Queen Elizabeth Way (QEW) to Exit 102 (Guelph Line). Go north 21 km (cross over Hwy 401) to 10th Side Road, go west to Second Line, then south to end of road.
GPS: Use 9301 Second Line (Nassagaweya), Campbellville, ON. L0P 1B0 N43.486416, W80.00665
Get Google Directions
Aug 04, 2019
Le fait de modifier les installations afin d'avoir un peu plus de privé entre les sites impliquent que les services sont du mauvais coté, ceci implique des désagréments. A rectifier.
Aug 04, 2019
Great stay again!! We enjoyed it so much we have booked again for next weekend.
Aug 03, 2019
Very nice, friendly folks and clean surroundings. There's a little highway noise, but not exceptionally intrusive. Would stay again.
Aug 01, 2019
My family and i was getting the bad memories to koa wast toronto and cwres this time. This koa was for the first time to me. And i'll never going to there.
Jul 31, 2019
Activities for the super hero weekend were great!! Kids really enjoyed the variety. Well planned. Bravo!!
Jul 30, 2019
The service was absolutely perfect. Everyone was friendly. The restroom was very clean. The sound of 401! What sounds, is like the sounds of nature. I like the camping.
Jul 30, 2019
The staff was great and very pleasant and helpful.
Jul 30, 2019
we have a good stay @ KOA, the cabin is nice and clean and they have everything we need. I highly recommend this place.
Jul 30, 2019
Dirty Dirty Dirty the sites weren't cleaned from previous occupant it was dirty
Jul 29, 2019
We enjoyed stayed in the deluxe cabin. With my grown daughters, the bunkbed mattresses were not good for their backs. Also, with all the amenities in the deluxe cabins, would expect propane BBQs instead of charcoal. Other than that, stay was very enjoyable
Jul 28, 2019
Staff is nice. Restrooms and showers are mostly clean. Noisy because of the highway 401: It's ok in a cabin but not in a tent. Pool not so clean.
Jul 28, 2019
Very friendly and helpful
Jul 28, 2019
Bathroom was closed for an extra day. Site was smaller than small our view was the 401 and only a swimming pool ..ok for adults but kids have not much to do ...the park is very clean and once we were able to get into the front washrooms they were clean
Jul 27, 2019
We stay there to visit family in the area. Park is clean and well kept. Price is reasonable and staff are helpful. Park is old design, so bring extra water hose and electrical cord . Some spots are a bit of a reach.
Jul 24, 2019
Management was very friendly and helpful. They made us feel right at home and very comfortable. We felt it was safe to leave our trailer and tour the city. No problem. I would highly recommend the Toronto West KOA.
Jul 24, 2019
The pool needs to be updated, it really was not inviting at all... the liner is all folded and really dirty around the edge, some of the plastic that covers the liner around the edge is cracked, all the concrete is cracked, dirty or slanted. The bikes you can rent are really run down, missing parts, tires need air... The showers are nice, but need some attention. Overall, was not happy.
Jul 23, 2019
Thank you so much for everything! Great staff and very friendly
Jul 23, 2019
Love coming here, although the coach beside us was facing us and we ended up tripping over each other while staying, they utilized our site with their picnic table, we did have to put our table under awning with little room as they were away most of day, and didn't want to touch or move their persona stuff
Jul 23, 2019
We had a great stay, very clean and inviting.
Jul 23, 2019
We had a short 2 night stay at Toronto West KOA to visit with family in the area. The campground was clean and comfortable. The sites are narrow (typical of most KOAs) but have all the amenities. We booked late so we're unable to secure a site with sewers so we had to use the dump site which isn't conveniently located. Other than that the campground is nice and the staff are friendly and helpful.
Jul 22, 2019
Great place, well maintained, helpful staff.
Jul 21, 2019
Shower was to small, Dark and then black shower curtains? So small I couldn't was my legs. No room to move and shower head did rotate that way OH and they were loose in every shower the shower heads. Camp closes up tight at 8pm asked camp ground host for firewood he had a pile of wood collected from the grounds but no help from him. Trash cans are not marked, worst KOA we have visited
Jul 20, 2019
We were in a tent site and it was typical (firepit, picnic table) nice privacy but a bit small. This KOA had 2 sets of bathrooms which were clean. If you think about it realistically, it's the dirty sloppy campers who make them gross & messy-not the owners. The staff were polite and were keeping up with the garbages and checking the pool water frequently. The wifi was pretty good too. I recommen
Jul 19, 2019
Great place for a long stay, we are staying a month. Very nice park, well kept, very nice people! Noise that is talked about on their web page i there but you soon don't even hear it! We stayed in a 45 ft Class A motorhome.
Jul 19, 2019
Personne ne parle français , les douches n'avaient pas d'eau chaude et pour le prix, on s'attendait à mieux. Déçu des KOA de l'Ontario.
Jul 19, 2019
When upon checking in I was told that there was a $30..00 a night charge for my dog . When taking a shower , the hot water lasted long enough to wash our hair . The website advertised wifi. It didn't work in the cabins , only at the main office . We took the grandkids swimming and there was a dead mouse into the pool and the pool was very dirty . Could have payed the same for a nice hote
Jul 19, 2019
Nice spot I appreciate that they forewarned about the traffic noise
Jul 18, 2019
My daughter and I had a great stay. Great cabin and great staff!
Jul 18, 2019
Everything was wonerful. Family shpwere are great but they can always use more.
Jul 16, 2019
Easy to get to. Primarily used location as a jump off place for our travels. Had all the amenities we required. Priced right. Thank you Rob & Sherry
Jul 16, 2019
People there were so friendly and very helpful such grrreat service
Jul 15, 2019
We booked this weekend based on the Harry Potter theme advertised. There was no Harry Potter theme to be seen anywhere. We were given a site on the end of the row with constant traffic on 3 sides of our site. The tree was infested with caterpillars and would drop on our heads, laps, and table. We had a bright street lamp shining on our site and in our tent trailer all evening. Very Disappointed!
Jul 15, 2019
It was great but I we weren't impressed with being approached by a the group that was staying there asking if we'd leave so they could have the pool to themselves very rude! The hair in the pool was also very annoying but the staff was amazing!!
Jul 15, 2019
We had to move to several cabins due to issues. The first cabin had ripped curtains halfway sewn together with metal wire, along with footprints on the white front door as if it had been previously kicked in. No parking space for this cabin; we had to parallel park directly in front of the cabin. 2nd cabin had a broken window that was about to fall off. 3rd cabin had dirty cloth mattress covers.
Jul 15, 2019
The only issue is that is to close to the highway, so you hear the cars 24h/day
Jul 12, 2019
Horrible. Ne mérite pas le branding KOA -chalet de luxe, avec vieux BBQ à charbon sans charbon fourni ni allumeur et ni huile -pas d'eau chaude dans le chalet « de luxe »pas pratique pour les enfants -impossible de fermer le bouchon du bain -toile au fond de la piscine avec des vallons, très dangereux -admission qui ferme à 18h un dimanche soir Vraiment insatisfait. Vivement KOA Ma
Jul 11, 2019
Very friendly and helpful staff, we have no complaints what so ever about this KOA.
Jul 10, 2019
Very friendly and helpful staff...love the large pull thru sites
Jul 09, 2019
Staff was great. WIFI was down the entire week.
Jul 08, 2019
Staff is awesome we had a great week and look forward to coming bck next year
Jul 08, 2019
Thanks to Jamie and Joanne, this was our very first trip in our travel trailer. They were extremely helpful and all Campground staff are very friendly. The Campground is very clean, and well maintained, with activities and themed weekends to enjoy. We will definitely be back.
Dec 15, 2020
Very well maintained, super helpful staff, KOA.
- Rob on Google
Oct 31, 2020
It's good
- Mike on Google
May 21, 2018
Amazing people, pull through site was excellent, main comfort station & laundry was beautiful, lots of hot water, large handicap showers. Very clean & tidy park. Issues......fixed shower head in handicap washroom, need hose and wand, no seat in handicap dressing area, constant noise from HWY 401.
- Joe Whitall on Google