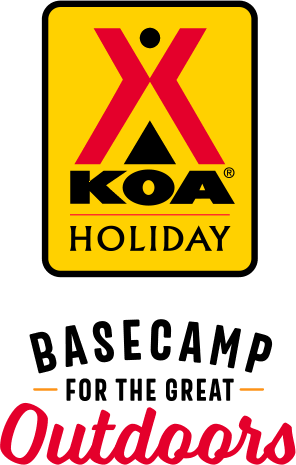 KOA Holiday Campgrounds
Whether you're exploring the local area or hanging out at the campground, KOA Holidays are an ideal place to relax and play. There's plenty to do, with amenities and services to make your stay memorable. Plus, you'll enjoy the outdoor experience with upgraded RV Sites with KOA Patio® and Deluxe Cabins with full baths for camping in comfort. Bring your family, bring your friends, or bring the whole group – there's plenty of ways to stay and explore.
KOA Holidays Feature:
RV Sites with a KOA Patio®
Deluxe Cabins with full baths
Premium Tent Sites
Group meeting facilities
Directions
On Hwy 401 west of Toronto Int'l Airport: Take Exit 312 (Guelph Line), go north to 10th Side Road, go west to Second Line, then south to end of road.
From Niagara Falls: Take Queen Elizabeth Way (QEW) to Exit 102 (Guelph Line). Go north 21 km (cross over Hwy 401) to 10th Side Road, go west to Second Line, then south to end of road.
GPS: Use 9301 Second Line (Nassagaweya), Campbellville, ON. L0P 1B0 N43.486416, W80.00665
Get Google Directions
Oct 09, 2019
Nice helpfull people. Good wifi
Oct 07, 2019
It was perfect. We had a girls night to get away and it was a good time. The deluxe cabin was perfect for us and with the kitchen items supplied was so much easier. Thank you
Oct 07, 2019
I had a great time there. Staff is extremely helpful and friendly. The park is small, but layed out good. I had no trouble navigating around with my RV and trailer.
Oct 07, 2019
The staff were friendly and very helpful when it came to finding our way or trying to start a fire. The cabins were clean and ready for our weekend get away. The kitchen supplies were plentiful and the patio furniture was perfect; which decreased the load we needed to pack. We had a great time and do plan on coming back!
Oct 07, 2019
The staff at check in were lovely. The cabin clean and snug, everything comfortable and in order. The heater was SUPER loud, and that was a problem. Nobody slept well.
Oct 07, 2019
The staff at the Toronto West KOA were fantastic! They were helpful, polite and friendly. We had a great fall stay in one of the camping cabins and will definitely be back again!
Oct 07, 2019
We had a wonderful weekend at the Toronto West KOA. Staff are friendly and helpful; we will be back for sure.
Oct 07, 2019
Fall is a great time for camping but I always enjoy the stay.
Oct 05, 2019
We began a home renovation in early June and needed a place to stay until the end of September. Even though a lot of the long weekends were booked on sites we preferred, rather than leave, Jamie and Joanne worked with us to enable us to stay at the campground. The campground was always maintained at the highest standard and the events weekends were lots of fun for all.
Oct 03, 2019
Improvements to campsites were great... new gravel and more level than in the past. Manager was friendly.
Oct 01, 2019
Friendly staff, have stayed before and its good to see they are making gradual improvements to the campground. Only complaint, the WIFI service is very poor, this needs to improve to catch up to other campgrounds.
Oct 01, 2019
Our kids enjoy every time we come!! Was very quiet, even with the 401 and white noise it produces. We are looking forward to our last trip of season here on thanksgiving weekend. Jamie and Joanne are awesome, especially with our kids, keep up the awesome job!!
Oct 01, 2019
very friendly staff.
Sep 30, 2019
The campgrounds was very clean and quiet and the staff are amazing. Very friendly and professional to my entire family. We will definitely be back and will recommend this location to friends and family.
Sep 30, 2019
Très bon site, Le personnel était très serviable.
Sep 27, 2019
Road noise very bad. Laundry good, showers good, sites large, great staff. Very far away from any sites to visit which were all closer to Hamilton and beyond to St Catharines
Sep 27, 2019
We only stayed 1 of our 6 reserved days. It's ok for a travel stop. Seems clean and staff seem friendly. We were going to put two of our group in a cabin but for same price we put them in a hotel and moved to a park slightly farther from the highway.
Sep 26, 2019
Great sites, lots of room. However is a very noisy park, just off the 401.
Sep 26, 2019
Great value. Easy to find everything. Not too big. Sites were small. We have an active dog and couldn't bring him bc site was too close to our neighbors.
Sep 25, 2019
Despite arriving late in the evening, we were accommodated with a great site.
Sep 23, 2019
The cabin we stayed at this time was not as nice as previous. The curtains were ripped, the bed was filthy and there were dead bugs all over it.
Sep 22, 2019
Very friendly people. Unfortunately next to the highway, so it is very noisy there all the time.
Sep 19, 2019
Nice little park, but hard to find and incredibly noisy from highway traffic 24/7
Sep 18, 2019
This is not the first time we've stayed at this KOA. The experience was great, staff friendly and helpful. It was nice that the sites are now mostly pull-thru. One comment would be that the extra sewers be eliminated and the grassy spaces be evened out. Thanks for a great 4 day stay!
Sep 18, 2019
Had an excellent time as we always do. All staff very helpful. Usually camp there twice a year and will be back next season.
Sep 17, 2019
Awesome activities for the kids. Great staff and the hosts Jamie and Joanne are amazing and care a lot about the children, the trailer ride around the park was nice and kids loved it! Keep up the great work here, we have 2 more trips booked here this year and can't wait to finish off the season at Toronto West KOA
Sep 17, 2019
Friendly and helpful staff. The pool wasn't overly clean, but there were a few activities for the kids. Would have been nice to have a tree / site.
Sep 16, 2019
The staff was great ! Very helpful with directions to go train and a few other places .
Sep 16, 2019
We had another great stay at the Toronto West KOA...the staff were as friendly and helpful as always...lots of activities to keep the kids busy...we will definitely be back!
Sep 16, 2019
Payed for Friday got Saturday free vip member was great as always KOA is is a good place to stop . Little bit of highway noise
Sep 16, 2019
The staff were great and likely the most friendly we have experienced. This is big as we have found similar friendliness at others KOA's. this was that much better
Sep 16, 2019
Everything was great except the location. I found 401 traffic very annoying.
Sep 16, 2019
It's always great The staff was very helpful checking in through our stay. They make us feel part of the family
Sep 16, 2019
Very nice stay.
Sep 16, 2019
Great staff lots for the kids big ones too!! Very clean washrooms! Campground was well maintained. Definitely be back!
Sep 16, 2019
Excellent campground just off the 401. We had the best pancakes �� Sunday morning before we left. Staff are very friendly.
Sep 14, 2019
Staff were very accommodating and friendly. Our premium site was great. Only reason for the low recommendation is the constant noise from the highway 401.
Sep 13, 2019
Sort of out of the way. Really need to be committed to staying there to make the effort to find it.
Sep 11, 2019
Excellent staff. Nice clean campground, only issue is the highway noise which we were pre warned.
Sep 09, 2019
Good time only negative was the hot water could have been a bit hotter...
Sep 09, 2019
We absolutely loved our stay!!! The washrooms were so clean and smelt great. The sites were all clean and tidy. The staff was so friendly and always available and open to answering questions! They even delivered our firewood to our site!!! Cant wait to get back next summer!
Dec 15, 2020
Very well maintained, super helpful staff, KOA.
- Rob on Google
Oct 31, 2020
It's good
- Mike on Google
May 21, 2018
Amazing people, pull through site was excellent, main comfort station & laundry was beautiful, lots of hot water, large handicap showers. Very clean & tidy park. Issues......fixed shower head in handicap washroom, need hose and wand, no seat in handicap dressing area, constant noise from HWY 401.
- Joe Whitall on Google