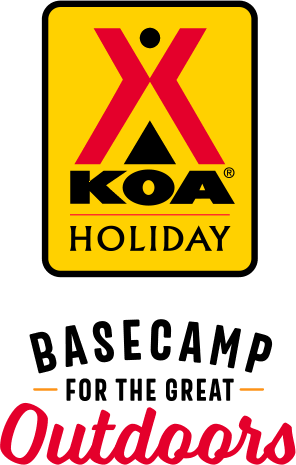 KOA Holiday Campgrounds
Whether you're exploring the local area or hanging out at the campground, KOA Holidays are an ideal place to relax and play. There's plenty to do, with amenities and services to make your stay memorable. Plus, you'll enjoy the outdoor experience with upgraded RV Sites with KOA Patio® and Deluxe Cabins with full baths for camping in comfort. Bring your family, bring your friends, or bring the whole group – there's plenty of ways to stay and explore.
KOA Holidays Feature:
RV Sites with a KOA Patio®
Deluxe Cabins with full baths
Premium Tent Sites
Group meeting facilities
Directions
On Hwy 401 west of Toronto Int'l Airport: Take Exit 312 (Guelph Line), go north to 10th Side Road, go west to Second Line, then south to end of road.
From Niagara Falls: Take Queen Elizabeth Way (QEW) to Exit 102 (Guelph Line). Go north 21 km (cross over Hwy 401) to 10th Side Road, go west to Second Line, then south to end of road.
GPS: Use 9301 Second Line (Nassagaweya), Campbellville, ON. L0P 1B0 N43.486416, W80.00665
Get Google Directions
Nov 09, 2020
Very friendly staff, always accommodating,willing to lend a hand or help with any problems or issues with my trailer. Friendly atmosphere, always felt welcome
Nov 05, 2020
Jamie and Joanne are so helpful as a new camper they assured me and made my stay wonderful. I highly recommend Toronto West KOA
Nov 03, 2020
You are the best in the east
Oct 22, 2020
Great place for some R & R. Met some old friends and made some new ones.
Oct 19, 2020
Fantastic place to stay the summer, close to everything you need. Can't wait to come back next summer!
Oct 15, 2020
We had a wonderful summer at KOA Milton. The staff were so friendly. Any request was dealt with in an instant. They worked hard to do fun events for the children and families even with the covid restrictions. They monitored the pool closely to keep people safe but still being able to swim. I can't say enough about this place. The management team Joanne and Jamie are exceptional. Loved it
Oct 15, 2020
Nice campsites friendly staff very clean bathrooms. definitely going again.
Oct 14, 2020
What a fantastic weekend to end our camping season! Shout out to Jamie and Joanne and all the amazing staff for providing us with an excellent meal catered in for thanksgiving. Wicked cornhole tournament, did I forget to mention that Abby and I ARE THE CHAMPIONS!!! Can't wait till next season thanks to everyone at Toronto west KOA!!
Oct 14, 2020
While this campground could use some updates, I must say that the staff are so good that you'll never notice. The manager (owner?) is fantastic as is his staff.
Oct 14, 2020
I'm very impressed with the attitude and friendly service of the owners and staff. They went out of their way, to accommodate us, even cutting brunches from two trees, fo me to open my trailer's two awnings. That was something I value very much!!!
Oct 13, 2020
We had a wonderful stay despite COVID. Staff were extremely helpful and we enjoyed our Thanksgiving meal. The craft time with our grandsons was very special as well. We felt very safe while at the campsite. The only downside is the noise from the 401 but that is unavoidable unless there are some barriers installed that may help reduce the noise. that may be expensive. We hope to come back
Oct 13, 2020
I was pleasantly surprised at how clean the cabins were.
Oct 13, 2020
Nice place smaller than other KOA we stayed at but the staff were very friendly and always ready to help, we will be back next year
Oct 13, 2020
The campground was fine as it suited our requirements. It was well maintained and the Thanksgiving dinner on the Saturday was awesome. The only issue was the proximity to the 401 and its noise. I'm sure this is a common complaint and I believe a corporation as big ad KOA would be better served investing in and assisting its franchisees with the purchase and construction of a sound barrier.
Oct 13, 2020
The staff was very kind & helpful & the facilities were very clean. The campsite was expensive for such a small and exposed area; no privacy. The proximity to the highway was noisy and our neighbor spent the weekend doing renovations to their camper with loud power tools.
Oct 13, 2020
We had an awesome Thanksgiving weekend are the Toronto West KOA. The Staff were amazing and catered a beautiful turkey dinner. A special thanks to Joanne, Jamie, Allison and Abby for making our stay so memorable. Hoping to see you guys again next summer!!
Oct 13, 2020
We were lucky to get a spot for Thanksgiving Weekend! Would have preferred a pull-through site but beggars can't be choosers. Our dog, Angus, loved the dog park. Thanks for considering our furry friends. Great location - we took a hike at a nearby conservation area and drove to Milton to pick up supplies. Your employees are wonderful. We tuned out the 401 in no time.
Oct 13, 2020
Booked the very last minute for the night. Campground packed but we were offered the last spot. They had a turkey dinner happening that evening but we were not offered to participate. Maybe you had to pre-pay and book. Not really sure. Bathrooms we're immaculately clean. Very impressed especially in this time
Oct 11, 2020
The spot was fairly level, though we did have to put levelers to make it workable. The campsite was clean and well organized and the office staff were great. We had to drive into Mississauga each day to visit, but the location was close to Milton for good shopping. Would stay there again. It was close to the Highway, but we found the noise level acceptable.
Oct 11, 2020
Great place! Everything clean and sanitized!
Oct 08, 2020
Excellent place. Though we stayed one night � but we enjoyed every moment. Camp is very well maintained, staff is very friendly and professional. Washrooms �� were excellent � and in full compliance to COVID-19 requirements. Fall colors has added beauty to the location.
Oct 07, 2020
The internet could use a boost you expect o use it maybe installing a booster would help there was not many people around
Oct 05, 2020
Sites are too way narrow for units with slide-outs on both sides. They put us old folks in between two families that knew each other...kids were running around our trailer all the time. Their "no cannabis" rule is out-dated and ridiculous. They think the being next to the 401 is funny...it didn't bother me, but my husband didn't get much sleep.
Oct 05, 2020
I have stayed at this Koa many times and the staff are always wonderful. The staff are friendly, accommodating and knowledgeable.
Oct 05, 2020
The campsite was very clean and the staff were polite and smiled!
Oct 05, 2020
Quick weekend getaway nice campground . Very friendly staff
Oct 05, 2020
I met a few of my friends at KOA and we planned a golf day and dinner. Cottage was very clean staff happy and helpful. Great time
Oct 04, 2020
Right beside 401, so very noisy. No signage directing you to the campground. Electrical pedestal is designed to serve 4 campsites, with single 50A, single 30A, & 2x15A plugins. Once you find your way to the campground, it's not too bad.
Oct 04, 2020
The cabin was great ... liked that the kitchen was so well equipped. Downside was lack of internet. We didn't realize that we would basically be off line for 4 days. Never happened at a KOA before.Beautiful location with all the trees.
Oct 04, 2020
Very convenient campground for a one night stay on our way own (near highway). very big pull-through site. One of most friendly staff I have seen in a campground. A bit of noise coming from the highway though the only downside.
Oct 04, 2020
Hospitable staff and clean facilities. Great job!
Oct 02, 2020
Had an excellent time! The cabins were so clean and cozy. Service was wonderful.
Oct 01, 2020
The people were nice and the lodge we stayed in was clean.
Oct 01, 2020
WE came to relax and that we did. Thanks to the staff at the KOA we were able to get a few items we needed (and some we didn't) at the camp store. We will retrurn.
Sep 30, 2020
The WIFI was much better this time compared to last month
Sep 29, 2020
Awesome birthday weekend!! Weather was gorgeous and staff always provides such a great service, can't wait for next weekend to sit back and relax! Awesome job Toronto west KOA!
Sep 29, 2020
My wife and I had a very positive experience. Right from the check-in, talking with the 2 very upbeat girls. The grounds are spotless along with the comfort stations. Would definitely recommend to anyone! Thank you
Sep 29, 2020
thanks for key in night box didnt think we would be soo late
Sep 29, 2020
Crew was most helpful in cleaning up our site which was covered with cigarette ends and bottle tops from the previous campers. Washrooms and showers excellent.
Sep 29, 2020
Staff were very friendly and helpful.
Sep 28, 2020
Friendly despite covid times. Well organized for us as we had to arrive later
Sep 27, 2020
Clean close to actives large sites friendly staff
Sep 27, 2020
We had such amazing stay, we were there for a week totally, I had accidently booked a day earlier than intended and the staff were amazing an accomidated us the following night. Very Clean place and safe for kids. Not that is has anything to do with the place but just an FYI for anyone saying there, the internet was a little hard to use as we are online business owners but we worked around
Sep 27, 2020
The campgrounds were clean and well-serviced. Staff was excellent. But location next to the noisy 401 highway took away all that was good about this site.
Dec 15, 2020
Very well maintained, super helpful staff, KOA.
- Rob on Google
Oct 31, 2020
It's good
- Mike on Google
Sep 23, 2020
I definitely loved this place! Their cabins are amazing and super comfy! Make sure to bring warm blankets as it can get cold at night but that is the beauty of it... calm nights, you can enjoy the warmth of the firepit (they have the store where you can buy the wood) and its delivered to your cabin.. picnic table is the perfect size! Free pancakes on Sundays for breakfast which I think its amazing! Just a place to spend away from the city!
- tatiana velasquez on Google