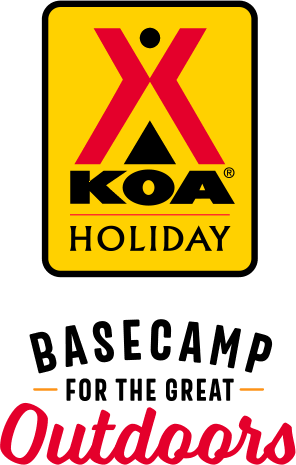 KOA Holiday Campgrounds
Whether you're exploring the local area or hanging out at the campground, KOA Holidays are an ideal place to relax and play. There's plenty to do, with amenities and services to make your stay memorable. Plus, you'll enjoy the outdoor experience with upgraded RV Sites with KOA Patio® and Deluxe Cabins with full baths for camping in comfort. Bring your family, bring your friends, or bring the whole group – there's plenty of ways to stay and explore.
KOA Holidays Feature:
RV Sites with a KOA Patio®
Deluxe Cabins with full baths
Premium Tent Sites
Group meeting facilities
Directions
North of Toronto on Hwy 400 at Hwy 89 (Exit 75). NE corner of intersection on Reive Blvd. **Please note: Direct access to Reive Blvd from the 400N off-ramp is not currently available due to construction on the Hwy 89 overpass. (As of Spring 2020). For GPS enter Innisfil as the city.
Get Google Directions
Oct 19, 2020
7 guys made their home here for 4 days and 3 nights. The lodges were clean but a little smaller than we had anticipated but we managed. We were told prior to arrival that the 6man lodge came equipped with fridge, stove and tv. There was no stove. The electrical was a bit of an issue with circuit #40 constantly tripping but again we managed by running extension cords to isolated receptacles.
Oct 19, 2020
Great people
Oct 12, 2020
Shout out to Justin who helped us build our fire! He is very professional and incredibly helpful.
Oct 11, 2020
Very clean and spacious. Only issue would be water pressure - we definitely will come back!
Oct 03, 2020
Clean and cozy cabin. Wonderful proprietor Matt.
Sep 22, 2020
Had a fantastic time even stayed one day longer just because it was so relaxing.
Sep 22, 2020
we had a wonderful time here and already looking forward to coming back in 2021. thank you
Sep 16, 2020
Had a great time. Place was clean and very cozy. Would do it again
Sep 08, 2020
Cabin is way too small for a deluxe cabin.no sink in the kitchen doesnt make sense or the waffle grill instead of a stove top is rediculous.
Sep 03, 2020
The stay was good. Staff was very friendly. The overall area was small. Not much to explore or walk around. The size of the bunk bed room was very claustrophobic. We have seen much bigger better organized KOA cabins. Overall very clean and well maintained except the couch which had lot of pet hair.
Aug 31, 2020
We had a lovely stay! Staff was awesome and quick to address our needs. Will definitely come again.
Aug 30, 2020
Best time I had for my family camping with 4 grandkids. Thank you for very kindly help and good price, nice clean more... Hope to see you again!
Aug 29, 2020
The staff are amazing and very accommodating. We were there for 3 days and even with restrictions in place, the neighborly feel and fresh air was just perfect. Ty KOA staff.
Aug 24, 2020
We had a great time on our stay. My only complaint would be the beds are very uncomfortable and the time slots for the pool. It was a great time for our family though.
Aug 19, 2020
Was heaven on earth had a fire great friends joined us as they camped next to us ,better the Christmas just to be camping ���� �ϋ���
Aug 17, 2020
Absolutely fantastic weekend at KOA. Love our weekends @ Cookstown KOA
Aug 13, 2020
We had a great time here. The staff was super friendly and helpful. We really enjoyed the swimming pool. It was so great that we could bring our dogs with us so that we were able to go on a vacation. Thank you very much!
Aug 10, 2020
You guys had 1 staff that was not friendly at all.. the pool was poorly run .I booked a time and swan for my 25 min..ask to book again and she just said no ..there was only 5 in the pool..we stay every year and you usually have the best staff..
Aug 01, 2020
Beautiful well kept KOA. Strong adherence to Public Health preventive measures for COVID-19.
Jul 31, 2020
The campgrounds were immaculate and the measures taken for Covid were reassuring. The staff did a great job to offer activities, while practising safe distancing. My only negative response would be the lack of privacy between campsites as well as the lack of shade (extremely hot weekend, and little to no shade on our site).
Jul 22, 2020
We had been going going to KOA Cookstowm over the past seven years or so, and we always had such wonderful times..But the last time we rented Studio 1 as Studio 3 & 4 were already booked. However, the bed legs were already broken, and it was very difficult for 2 seniors to sleep on it, and I kept falling off on one side of the bed and lost sleep for 2 nights.So I was very tired driving home.
Jul 15, 2020
Everything was great. The staff were always ready to help, and made our experience pleasant.
Jul 14, 2020
Took my two girls and stayed a couple nights in one of the studios. The girls loved it, they opened up their pool so we got to go swimming a few times. I can't say enough about how incredible and accommodating the staff are. Looking forward to our next visit.
Jul 06, 2020
We are happy for the beautiful weekend we spent as a family, we promise to return soon.
Jul 05, 2020
The cabin was exceptionally clean! I just wish a few more activities could be open for the kids but I understand that that is not really in anyone's control at this time.
Oct 19, 2019
My family and I had a wonderful time in this camp; the cabin is in the middle of nature during the fall season. It was a terrific experience.
Oct 16, 2019
We came with our 3 dogs for a long weekend of disc and we were completely impressed - we'll definitely return!
Oct 16, 2019
3rd time staying there. Will return again! Love the cabins.
Oct 16, 2019
As usual another amazing stay, third visit there this year and my kids had an amazing time. Always something going on for the kids to do. I never have to worry about their safety, facilities always clean, staff beyond friendly and kind. Cabins spotless and roomy, couldn't say enough about Cookstown KOA. Looking froward to next year already! Rob Rowse
Oct 16, 2019
My kids and I stay at this KOA every thanksgiving weekend. We always love the cabins, clean facilities, and friendly staff. Our holiday tradition :)
Oct 16, 2019
Fabulous staff, very accommodating! Would have given 5*, but the heater in my cabin did not generate enough heat one of the nights, so we froze. Seemed to work fine the other 2 nights!
Oct 15, 2019
Thanksgiving at the Cookstown KOA is always the greatest its like being home with family
Oct 10, 2019
The first night our cabin lost power with our toddler in the bath, in pitch darkness...she was terrified. My husband tried all the breakers; nothing worked. No emergency number online. After 90 minutes of no light and no heat, my husband randomly found a man able to help. The next day was around 8 degrees and our heater blew cold air, plus the power went out again. It was a pretty miserable stay.
Oct 10, 2019
Great time! Friendly staff! We will be back again!! :)
Oct 10, 2019
We had a great time .Thank you for making it possible we will return again �������
Oct 03, 2019
I needed the rest and we will be back again thank you
Oct 01, 2019
Halloween weekend is the absolute best time! The walk thru the forest is awesome!! Keep up the great work Matt & team!!
Oct 01, 2019
Staff were fantastic and very friendly.
Jun 20, 2021
This is my home away from home. Fantastic staff, been camping there for 11 years. Very clean and well maintained.
- Douglas Anglin on Google
Sep 22, 2020
Great staff and well kept park a favorite for many. Can't go wrong here!
- Wayne Bell on Google
Sep 20, 2020
Hospitality second to none. Awesome weekend at KOA yet again. Always such a relaxing weekend with amazing service. Thank you Matt & team!! See you next year!
- Michelle Price on Google