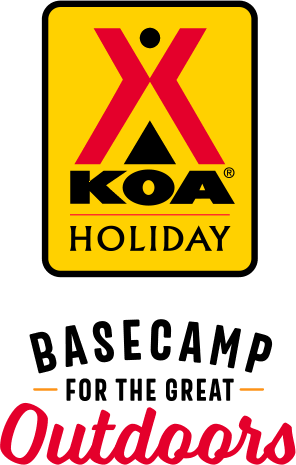 KOA Holiday Campgrounds
Whether you're exploring the local area or hanging out at the campground, KOA Holidays are an ideal place to relax and play. There's plenty to do, with amenities and services to make your stay memorable. Plus, you'll enjoy the outdoor experience with upgraded RV Sites with KOA Patio® and Deluxe Cabins with full baths for camping in comfort. Bring your family, bring your friends, or bring the whole group – there's plenty of ways to stay and explore.
KOA Holidays Feature:
RV Sites with a KOA Patio®
Deluxe Cabins with full baths
Premium Tent Sites
Group meeting facilities
Directions
North of Toronto on Hwy 400 at Hwy 89 (Exit 75). NE corner of intersection on Reive Blvd. **Please note: Direct access to Reive Blvd from the 400N off-ramp is not currently available due to construction on the Hwy 89 overpass. (As of Spring 2020). For GPS enter Innisfil as the city.
Get Google Directions
Oct 03, 2019
I needed the rest and we will be back again thank you
Oct 02, 2019
Friendly staff
Oct 01, 2019
We book Toronto North KOA many times throughout the year. This September they were booked solid but we had a reservation. When we arrived we found that they had reserved a site that was too small. We were 50 feet long. But they were very very accommodating and switched our site on the spot. We always get that special kind of service at Toronto North.
Oct 01, 2019
It was Halloween weekend and this was a 5th year in the row and as always they never let us down the staff is amazing.
Oct 01, 2019
Halloween weekend is the absolute best time! The walk thru the forest is awesome!! Keep up the great work Matt & team!!
Oct 01, 2019
Staff were fantastic and very friendly.
Oct 01, 2019
Very clean park, Staff and people staying were all very nice, got to meet the owner and he was very nice. 100% would go back to this location
Oct 01, 2019
Cookstown KOA is amazing. My husband and I love the people that work there. Cleanest place we have been to and always something going on. My husband and I r in our late 40s and go on our own most times. We have been going here for many years and have been about 6 times so far this season. Matt, Lindsay, Bones, Kaiden r the absolute best staff. Great Job Cookstown
Oct 01, 2019
We had a great weekend at the KOA! It is always clean and the staff is very friendly! The Halloween weekend was awesome! We had so much fun!
Oct 01, 2019
The staff went over and above for this past weekend. Great activities, friendly staff. We'll be back
Oct 01, 2019
It was fine but the tent sites were smaller than expected. Nice to have the grill over the fire pit.
Sep 30, 2019
I stayed there for work last week and I booked Sunday until Saturday morning. Turns out I didn't need the Saturday because overtime was cancelled so I called and tried to cancel Saturday and they refused to refund my money. They said they cannot refund once I've checked in. They can do it at Barrie koa as long as you give them 2 days notice. But at Toronto north they won't do it. Lost my business.
Sep 28, 2019
Absolutely amazing facility, staff and campers. Will definitely tell friends this is the place to stay.
Sep 28, 2019
koa is the warmth in the midst of a chilled world.
Sep 28, 2019
Just stayed the night before i go thru toronto......i always stop here....when i head back home from up north
Sep 27, 2019
We have been part of the Gad-a-bouts camping group for the last 10 years and have been attending most outings for August and September at KOA Cookstown. Always a pleasure going there, they have had some activities that take place out in the front field which we enjoy ie. car shows or dog racing. We had a very successful 50th anniversary party just this past weekend Sept. 20-22nd so pleasant.
Sep 26, 2019
good week-end all around.
Sep 25, 2019
We had a family reunion in the back cabins this past weekend. Everyone had an absolute blast, we have already booked for next year. The cabins in the wooded area are perfect for a private family gathering, couldn't recommend them enough! The Car show was a lot of fun, along with the planned activities for the little ones in our group.. kept us very busy!
Sep 24, 2019
We had a family reunion and rented the 6 cabins, plus two others. It was very private, close to everything. We all loved it and will be back. Thanks so much, especially to Caiden.
Sep 24, 2019
Excellent weekend and the KOA breakfast was great
Sep 24, 2019
We had a great weekend!! The staff was probably the friendliest we've come across in all our camping trips. The park itself was very well kept, and the patio on the site was a very nice one. The car show was super fun, which made up for the fact that the pool was closed. Only criticism I would give is that the store closes very early. went to buy wood and ice after dinner and the store was closed
Sep 24, 2019
we planned our stay around the car show on Saturday. we attended with a 1969 fire rescue truck that we converted into a motor home. our youngest daughter and twin sons joined us and we all thoroughly enjoyed the entire weekend. even found friends staying with the camping group there for the weekend. will definitely return.
Sep 24, 2019
We stayed in the tent. Trailer next to us they were loud and nosey til 2am. Quiet time is 11 pm. Need to enforce this rule. Otherwise we enjoyed our stay.
Sep 24, 2019
Great Campground with a lot of activity for kids,close to Outlet Mall and friendly staff
Sep 24, 2019
We had an amazing time like always,except for the campers across the street from us party till 5:30 AM, our friends and ourselves never got any sleep did not care that it was a family campground, I mention it to them, and they told me they paid their fee like everyone else, I told them it is a family campground and they said well then the family'should be parked in a different area
Sep 23, 2019
We stayed for 2 nights. Your staff were very welcoming and very helpful. The property was clean and well kept. All we had to do was plug in and relax! We plan to more RVing and we will be staying at KOA again!
Sep 23, 2019
Very nice KOA. The sites are unfortunately to close together.
Sep 21, 2019
Staff is very friendly & the campground is always clean
Sep 21, 2019
nice clean campground.
Sep 21, 2019
Had a nice but brief time. You need to have a dish tray or something to out washed dishes on. I need up using a dry bath mat. Too pricey. We stayed a year ago in the fall when cabins where half price
Sep 21, 2019
friendly... helpful staff ,
Sep 20, 2019
Nice clean place to stay and lots for the kids todo
Sep 19, 2019
Friendly staff. Matt was awesome
Sep 19, 2019
As always well kept and lots of activities for the kids. Staff courteous and efficient at the registration desk.
Sep 18, 2019
The cable TV did not work on the site we were put on. They knew it did not work because the people beside us were camping the week before and said the cable was not working then. We paid the same price to camp as every one else did but they had cable TV.
Sep 17, 2019
Good stay but had bad weather, we would come again, no problem, staff very friendly, I like that, makes you feel important, cheers Glenn
Sep 17, 2019
Friendly staff, kabin was comfortable with the basic "extras" (coffee maker, mini fridge, tv) but tv didnt work & office was closed when we thought of asking for help /equipment to play dvds (after 9). Main washrooms kept clean & supplied. In general, a beautiful spot to stay, lots of things to do for kids. We were disappointed the pool was closed, though, because website said open til Sept. 15.
Sep 17, 2019
KOA Cookstown is the closest campground to us and is still the one we travel to the most. The staff, the kids activities and the general "feel" of the campground make it our favorite. Cheers Dan & Trina
Sep 16, 2019
Always enjoyable at Toronto North/Cookstown KOA. Staff very friendly and the campground always kept clean.
Sep 16, 2019
Only reason I come back to this KOA is for the particular cabins that are away from the rest of the camp ground. This campground has far less to offer then tge others I go to, and the washrooms are rarely clean. They seem to clean only once a day, which is not enough for high volumes of people. At least put large garbage cans in the washrooms so they are not always full.
Sep 16, 2019
Dirty bathrooms Not a great layout of campground Very little improvements each year
Sep 16, 2019
It was great! We hosted our family reunion, this is our second year and have rebooked for next year! The kids all enjoy the activities, the hall is great in case of rain and good for the older family members who can't get around as easily any more! The cabin I booked was perfect for me! I can't wait until next year! Thank you!
Sep 16, 2019
Lots of activities for young ones, very clean, very friendly people, already booked for next year. The kids had a blast,
Jun 20, 2021
This is my home away from home. Fantastic staff, been camping there for 11 years. Very clean and well maintained.
- Douglas Anglin on Google
Sep 22, 2020
Great staff and well kept park a favorite for many. Can't go wrong here!
- Wayne Bell on Google
Sep 20, 2020
Hospitality second to none. Awesome weekend at KOA yet again. Always such a relaxing weekend with amazing service. Thank you Matt & team!! See you next year!
- Michelle Price on Google