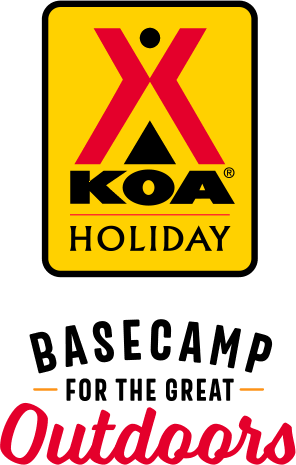 KOA Holiday Campgrounds
Whether you're exploring the local area or hanging out at the campground, KOA Holidays are an ideal place to relax and play. There's plenty to do, with amenities and services to make your stay memorable. Plus, you'll enjoy the outdoor experience with upgraded RV Sites with KOA Patio® and Deluxe Cabins with full baths for camping in comfort. Bring your family, bring your friends, or bring the whole group – there's plenty of ways to stay and explore.
KOA Holidays Feature:
RV Sites with a KOA Patio®
Deluxe Cabins with full baths
Premium Tent Sites
Group meeting facilities
Directions
North of Toronto on Hwy 400 at Hwy 89 (Exit 75). NE corner of intersection on Reive Blvd. **Please note: Direct access to Reive Blvd from the 400N off-ramp is not currently available due to construction on the Hwy 89 overpass. (As of Spring 2020). For GPS enter Innisfil as the city.
Get Google Directions
Jul 05, 2020
The cabin was exceptionally clean! I just wish a few more activities could be open for the kids but I understand that that is not really in anyone's control at this time.
Jul 04, 2020
Excellent site
Jul 04, 2020
Very accommodating
Jul 03, 2020
Great customer service We received a complimentary upgrade to a cabin. Also were allowed a late checkout. Nice place to spend with family or friends. Close to shopping outlet. Short drive to Innisfil beach. Clean, quiet and good amenities .
Jul 02, 2020
I have been part of the Toronto North KOA family . for the past 6 years and enjoy every time we stay. The campground is well kept and the staff are friendly and courteous.
Jun 30, 2020
Very good and safe place.
Jun 30, 2020
We always have a good time at your well maintained campground. The staff are very friendly and we enjoy coming back any time we can.
Jun 30, 2020
I love the staff! They gave us a FREE upgrade, it was greatly appreciated as we would never be able to afford it otherwise. I would like it if they could increase the Wi-Fi/internet! the far back corner just does not get the signal. I know I should be enjoying the experience of camping, however, I do need to check in with work not able to do so. Mike Bones is AWESOME!
Jun 29, 2020
Staff very friendly and helpful!
Jun 27, 2020
Very clean. Close to Tanger Outlets.
Jun 26, 2020
We had a great time in spite of everything being closed due to Covid 19
Jun 26, 2020
Park appears clean. Nothing open due to covid so rates should be considerably less as you're not receiving the amenities that you should get. Park is way too noisy as its too close to the highway 400. Very little privacy. Not a very good experience. Ok for a quick stay enroute to somewhere else but not extended stay.
Jun 26, 2020
Personnels serviables. Sites bruyants dû à la proximité de l'autoroute.
Jun 25, 2020
Difficult to get full real experience with amenities all closed due to Covid. Place looked great, well manicured and taken care of. The highway noise was quite loud however which was a downfall for me.
Jun 25, 2020
Because there are no amenities, just a parking site, the prices should reflect what Is being offered.
Jun 24, 2020
It was awesome.
Jun 24, 2020
We always enjoy our stay in KOA, my only comment is the charges per night should also be modified to less or lower price since there's no facilities are available due to COVID restrictions.
Jun 23, 2020
We really love this KOA and all the employees they go above and beyond...
Jun 23, 2020
Nice location and easy access/short drive to beaches, and shopping well as car racing once it's running again.
Jun 23, 2020
I love this campground, the owners & staff are so friendly and helpful, the only thing I would have to say, is unfortuently, they cannot open the pool because of this stupid covid -19, the only thing I didn't like was they are charging the same price. and no use of the pool, it was a very vary hot weekend, they did there best with giving free ice. I still give this campground a thumbs up 10/10.
Jun 23, 2020
During Covid I was happy to camp but sad the pool wasn't open.
Jun 23, 2020
Disappointed that we paid full pop with no amenities available
Jun 23, 2020
We really enjoyed our stay despite the amenities being closed due to COVID. Thank you for the hospitality! We are looking forward to returning in the near future.
Jun 23, 2020
Was great to finally be outside again. Staff made the stay enjoyable and safe. Thanks
Jun 23, 2020
Hi Guys Love staying there - great friendly campground.
Jun 22, 2020
Always a great place to stay. Even with Covid19 restrictions....the service is still the best of any campground we have stayed.
Jun 21, 2020
We had a very peaceful, friendly stay at our local KOA. The grounds were very well maintained and the reduced staff were very friendly and helpful. We are returning for another week early in July. Can't wait. Larry and Theresa
Jun 20, 2020
Very clean and well kept park. Very impressive! Would definitely stay here again.
Jun 19, 2020
Although amenities were closed due to the provincial regulations, it was still an enjoyable stay! Clean. Quiet. Friendly!
Jun 18, 2020
Nice campground. Friendly staff. Wonderful owners. Wish the dog run was mowed lower for easier dog clean up.
Jun 16, 2020
Very clean and a nice campground!
Jun 16, 2020
Beautifully well equipped campground. Excellent, friendly personnel. Will be back in July. Thank you so much.
Jun 16, 2020
The staff was very friendly. The campground was clean and well groomed.
Jun 16, 2020
We have camped at the Cookstown KOA many times over the years - they have done a wonderful job with the campground and the Stovold family are wonderful hosts. Matt is always very helpful. We look forward to our next trip.
Jun 16, 2020
Great place Very friendly management Super clean and organized
Jun 15, 2020
Your Campground is AMAZING!!! It's so well laid out and you are all above and beyond fantastic. The epitome of fabulous customer service! Thank you for being so amazing at what you do! See you again really soon.
Nov 29, 2019
clean, quiet, fun, nice people running it! what more can you want!
Oct 31, 2019
It is our travel stop every year. Matt always treats us well
Oct 26, 2019
Thanksgiving potluck was fantastic. We used to camp at 6 mile lake every Thanksgiving but now that's all changed. Cant wait to see you guys next season.
Jun 20, 2021
This is my home away from home. Fantastic staff, been camping there for 11 years. Very clean and well maintained.
- Douglas Anglin on Google
Sep 22, 2020
Great staff and well kept park a favorite for many. Can't go wrong here!
- Wayne Bell on Google
Sep 20, 2020
Hospitality second to none. Awesome weekend at KOA yet again. Always such a relaxing weekend with amazing service. Thank you Matt & team!! See you next year!
- Michelle Price on Google