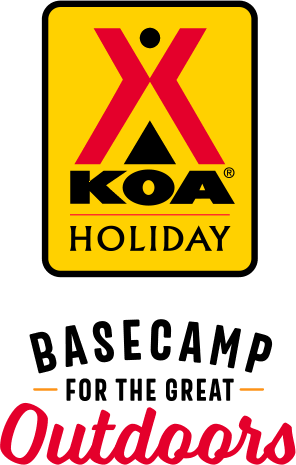 KOA Holiday Campgrounds
Whether you're exploring the local area or hanging out at the campground, KOA Holidays are an ideal place to relax and play. There's plenty to do, with amenities and services to make your stay memorable. Plus, you'll enjoy the outdoor experience with upgraded RV Sites with KOA Patio® and Deluxe Cabins with full baths for camping in comfort. Bring your family, bring your friends, or bring the whole group – there's plenty of ways to stay and explore.
KOA Holidays Feature:
RV Sites with a KOA Patio®
Deluxe Cabins with full baths
Premium Tent Sites
Group meeting facilities
Directions
North of Toronto on Hwy 400 at Hwy 89 (Exit 75). NE corner of intersection on Reive Blvd. **Please note: Direct access to Reive Blvd from the 400N off-ramp is not currently available due to construction on the Hwy 89 overpass. (As of Spring 2020). For GPS enter Innisfil as the city.
Get Google Directions
Jul 28, 2020
Great experience. Easy check-in, good covid procedures, low noise, very clean, and we were very happy there for a weekend
Jul 28, 2020
Nice park. People in the sight behind us made it difficult to sleep. Loud sex partys and moaning all night. I think they snorted viagria. Who has sex for 6 hours strait. Other than that it was good.
Jul 26, 2020
Only spent the night there arrived around 7pm left by 10:30am was right off the Hwy so was great
Jul 24, 2020
We have been going 6 years to Cookstown always enjoyed our stays. Staff friendly and accommodating, extremely clean and well kept. Sites immaculate.
Jul 22, 2020
We had been going going to KOA Cookstowm over the past seven years or so, and we always had such wonderful times..But the last time we rented Studio 1 as Studio 3 & 4 were already booked. However, the bed legs were already broken, and it was very difficult for 2 seniors to sleep on it, and I kept falling off on one side of the bed and lost sleep for 2 nights.So I was very tired driving home.
Jul 22, 2020
Clean campground and great staff. We found the sites to be on the small side but at least level. Very little shade. We found this KOA more expensive than others in the area
Jul 21, 2020
Very well operated and very friendly staff. Kinda disappointed on lack of supplies from the store.
Jul 21, 2020
Short but sweet! We really like the full service site. It spoils a person! :) Beautifully maintained campsite. Keep up the great work!
Jul 21, 2020
Was upset that we paid full price for our lot but did not get to use any of the facilities. Only 25 minutes in the pool. We left one day early because of this
Jul 20, 2020
Very helpful with booking multiple sites at one time
Jul 20, 2020
Extremely uneventful. We came in after hours on Friday, Left early Saturday and returned late on Saturday, We left by 10 Sunday and had no intereaction with any staff members. I understand about Covid-19 procudures but except for the phone calls my wife made on Friday prior to our arriving we had no contact.
Jul 20, 2020
We were very happy all the employees are very nice traying to make everyone happy loveit only the park need more trees to get more shades but is was very beautiful our stay
Jul 20, 2020
Given the current Covid world we live in I was very happy with my stay. Good precautions were in place. The kids enjoyed the mining experience and the Zoo Tek. It was nice to be able to book 25 minutes in the pool. My only complaint would be that the garbage dumpste were way to close to my site. They were full and we could smell the garbage from our site and could not fully enjoy our campfi
Jul 19, 2020
The staff couldn't have been nicer. Couldn't have been nicer. Thank you so much for our first, fifth wheel experience. The gentlemen who helped us set up our trailer went above and beyond the call of duty and saved us from setting up the trailer and putting the slide out directly into the power/water supply pole... We could have made a huge mistake if it wasn't for him. Thanks again!
Jul 18, 2020
We had a great time in spite of COVID 19 restrictions. Staff were great
Jul 16, 2020
Great campground, great staff.
Jul 15, 2020
Staff were great Not a lot to do but with covid restrictions nothing that could be changed
Jul 15, 2020
Everything was great. The staff were always ready to help, and made our experience pleasant.
Jul 15, 2020
A bit expensive when all services are closed otherwise great.
Jul 14, 2020
Took my two girls and stayed a couple nights in one of the studios. The girls loved it, they opened up their pool so we got to go swimming a few times. I can't say enough about how incredible and accommodating the staff are. Looking forward to our next visit.
Jul 12, 2020
The only reason there was a 3 star is that the camp was virtually shut down. The pool and entertainment building was closed because of Covid. The week was over 30°!. They tried to keep the kids entertained which was nice and we got 6 days for the price of 7, but we still paid full price, it would have been nice to get a better deal next time. Most sites have no shade, bring a shelter. I would
Jul 12, 2020
It was very quiet and a convenient place to stay.
Jul 11, 2020
Excellent friendly staff. It was great to have this campground open during the pandemic. It is in a great location with lots to do during normal times.
Jul 11, 2020
Power worked great. Cable TV is a nice feature.
Jul 11, 2020
We had a wonderful time while we were there. The staff were very helpful and made sure they meant our needs. We would recommend this KOA
Jul 10, 2020
Great clean and tidy campground and very friendly hosts - will be back later this year
Jul 10, 2020
Staff is very helpful, working hard to keep things sanitized and ready for news guests. Beautiful park, very well kept.
Jul 09, 2020
The sites are extremely narrow, with little or no privacy. The staff were very friendly. There was a lot of after midnight party noise.
Jul 08, 2020
Very disappointed with spot 55. It was too small & an odd shape making it impossible for full hook-up during stay. Because of shape of spot & giant green hydro box cutting space in half we had little room to set up a dining tent and could not park vehicle on spot. The spot is also located between 2 noisy roads. This spot is significantly overpriced and should be offered at a reduced rate.
Jul 07, 2020
We had a very relaxing time in spite of Covid restrictions. Staff were great running some of the kids program. We appreciate everyone's efforts. Thanks very much.
Jul 07, 2020
Great covid19 handling and enjoyed the fireworks
Jul 07, 2020
Friendly people and a beautiful camp site. Thank you for a wonderful five days.
Jul 06, 2020
The Cookstown KOA has become one of my families favorite local campgrounds. We try and go several times a summer. Our 3 year old daughter just loves it. This time her highlight of her trip was enjoying the Canada Day Fireworks!!! The Chapman Family will be going back to the camp soon. We wouldn't want to stay anywhere else!!!!!
Jul 06, 2020
We are happy for the beautiful weekend we spent as a family, we promise to return soon.
Jul 06, 2020
as always. Great facility,great staff, clean and well maintained.
Jul 05, 2020
Nice clean park Just stayed overnight while travelling, campsite had an electrical issue that was dealt with swiftly
Jul 05, 2020
Fantastic Stay. Staff made sure everyone was safe and social distancing while at the same time encouraging campers to have a great time. Can't wait to go back to this location. Toronto North KOA is my favourite
Jun 20, 2021
This is my home away from home. Fantastic staff, been camping there for 11 years. Very clean and well maintained.
- Douglas Anglin on Google
Sep 22, 2020
Great staff and well kept park a favorite for many. Can't go wrong here!
- Wayne Bell on Google
Sep 20, 2020
Hospitality second to none. Awesome weekend at KOA yet again. Always such a relaxing weekend with amazing service. Thank you Matt & team!! See you next year!
- Michelle Price on Google