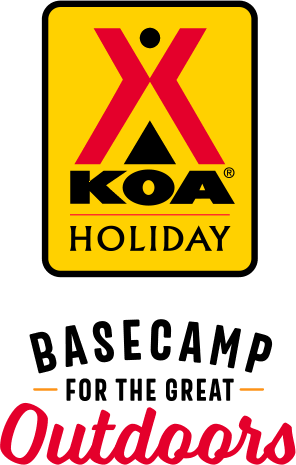 KOA Holiday Campgrounds
Whether you're exploring the local area or hanging out at the campground, KOA Holidays are an ideal place to relax and play. There's plenty to do, with amenities and services to make your stay memorable. Plus, you'll enjoy the outdoor experience with upgraded RV Sites with KOA Patio® and Deluxe Cabins with full baths for camping in comfort. Bring your family, bring your friends, or bring the whole group – there's plenty of ways to stay and explore.
KOA Holidays Feature:
RV Sites with a KOA Patio®
Deluxe Cabins with full baths
Premium Tent Sites
Group meeting facilities
Directions
North of Toronto on Hwy 400 at Hwy 89 (Exit 75). NE corner of intersection on Reive Blvd. **Please note: Direct access to Reive Blvd from the 400N off-ramp is not currently available due to construction on the Hwy 89 overpass. (As of Spring 2020). For GPS enter Innisfil as the city.
Get Google Directions
Aug 16, 2020
The park was well kept and clean . Staff were friendly and helpful.
Aug 15, 2020
Clean, well kept campground with friendly staff that preformed excellent customer service. I'll be back
Aug 13, 2020
We had a great time here. The staff was super friendly and helpful. We really enjoyed the swimming pool. It was so great that we could bring our dogs with us so that we were able to go on a vacation. Thank you very much!
Aug 13, 2020
Very clean. We enjoyed our stay.
Aug 13, 2020
Very satisfied, staff were friendly and very helpful.
Aug 13, 2020
We felt cramped into a site when there were several nice shaded areas near the back or middle that were vacant . Patio sites were never offered as an option and there were also vacancies as well.
Aug 11, 2020
Very good. staff where great. Park very clean
Aug 11, 2020
Charges to my credit card for things we did not purchase or use.
Aug 11, 2020
Can't wait to come back. Our new "go to" family camping destination.
Aug 10, 2020
The KOA staff were fantastic ! Anything needed was addressed promptly and the booked times for the pool worked out perfect ! However our lot was a mess....it was not graded properly and with the heavy rains it flooded, all our belongings under/around the trailer were underwater. We were there for a month and would have been nice to be placed on a better lot and close to other long term stays.
Aug 10, 2020
We found the RV sites too close together.
Aug 10, 2020
Loved the Site, Friendly staff. We only stayed the weekend, but had a wonderful time at this KOA.
Aug 10, 2020
Love this Koa....
Aug 10, 2020
Great service, very friendly, accommodating when we wanted to move sites for more room , very helpful.
Aug 10, 2020
You guys had 1 staff that was not friendly at all.. the pool was poorly run .I booked a time and swan for my 25 min..ask to book again and she just said no ..there was only 5 in the pool..we stay every year and you usually have the best staff..
Aug 09, 2020
Sites were well laid out and maintained. Pool was nice. Store was closed and some of the additional facilities were not available due to COVID precautions.
Aug 09, 2020
This park is beautiful, well kept and staff is great! We have been there twice and have plans to make it a yearly visit or two!
Aug 08, 2020
The park is extremely well kept and easy to manouver. We would definitely recommend staying here as long as the traffic of the 400 doesn't bother you. Staff were friendly and helpful in recommending a take out restaurant (Bernie's has great pizza!!).
Aug 07, 2020
We had a great time as always. Staff are awesome and the campground is beautifully maintained.
Aug 06, 2020
Staff were excellent
Aug 05, 2020
Always have an amazing time. Matt the owner always does his rounds to make sure his guests are being looked after, will even take time to stop by to say hi. We would recommend this KOA, we have been to a few, but this one is our favourite. Uly / Susan
Aug 05, 2020
We had a great time! Yvette is lovely and makes a great addition to the team! We will be back!
Aug 05, 2020
We loved the site
Aug 04, 2020
During Covid19 so many activities closed. Policies made us feel safe and we were able to enjoy the pool and playgrounds. The park was clean and the staff were very friendly and accommodating. We had a good time.
Aug 04, 2020
jUST A "ONE NIGHTER" , BUT WE ENJOYED OUR SHORT STAY . THANK YOU
Aug 02, 2020
Excellent staff and management. Very caring. Park is well kept. Would definitely go back!
Aug 02, 2020
Good stay for 9 days, was very happy with the pool, even with the restrictions due to Covid! We travelled a little in the area and up to Barrie. We were on our way to Northern Ontario, staying at Sault Ste Marie, and Thunder Bay KOA 's. Always enjoy the stays!
Aug 01, 2020
The Hydro tripped out and no one is on site to fix. No after hours number to call. People on campsite said it happened every night.
Aug 01, 2020
Beautiful clean park and everyone was so friendly.
Aug 01, 2020
Beautiful well kept KOA. Strong adherence to Public Health preventive measures for COVID-19.
Aug 01, 2020
The KOA facilities were fine but too close to the 400
Jul 31, 2020
The campgrounds were immaculate and the measures taken for Covid were reassuring. The staff did a great job to offer activities, while practising safe distancing. My only negative response would be the lack of privacy between campsites as well as the lack of shade (extremely hot weekend, and little to no shade on our site).
Jul 29, 2020
More trees required throughout the campsites ! But otherwise awesome !
Jul 29, 2020
Everything was great...they were so accomadating to us...very friendly people...will be back for sure!! Thanks so much...
Jul 28, 2020
Our stay was Very Enjoyable Very Clean park with Very Friendly Staff!!!
Jul 28, 2020
We had a very small campsite, and our firepit was right beside our neighbour's sewer. Our cable was also very snowy. Looks like it would be a great place for kids, as long as you don't mind the small sites and the parking lot atmosphere. However, the delivery of firewood and ice was good, and the people in the office were very nice.
Jul 28, 2020
We enjoyed our site which had a large tree for shade. We booked a swim time at The pool but other families were added to our time slot;we were not informed of this change ahead. We would have appreciated a text or call as most of our group were not keen to share. Please consider having the staff call those booked ahead.
Jul 28, 2020
The power kept going off line, everyone around the park was constantly resetting the breakers, there was no one around after 6, one lady called 12 times because she just checked in and couldn't get any power at all. I had everything in my trailer turned off to have AC, if I turned anything else on the breaker would trip, one lady said you can't run two things at once here of your breaker will
Jul 28, 2020
The grounds were nice. I'm sure outside of covid it would be a nice place to go. Hard to enjoy with all the amenities closed and surrounding areas being for "locals only". We would stay here again after Covid-19 restrictions lift.
Jun 20, 2021
This is my home away from home. Fantastic staff, been camping there for 11 years. Very clean and well maintained.
- Douglas Anglin on Google
Sep 22, 2020
Great staff and well kept park a favorite for many. Can't go wrong here!
- Wayne Bell on Google
Sep 20, 2020
Hospitality second to none. Awesome weekend at KOA yet again. Always such a relaxing weekend with amazing service. Thank you Matt & team!! See you next year!
- Michelle Price on Google