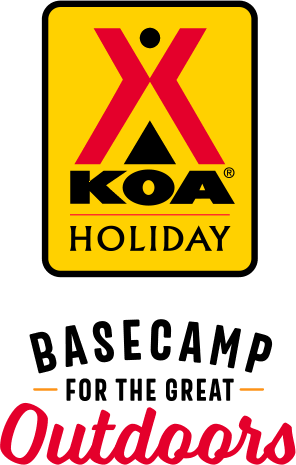 KOA Holiday Campgrounds
Whether you're exploring the local area or hanging out at the campground, KOA Holidays are an ideal place to relax and play. There's plenty to do, with amenities and services to make your stay memorable. Plus, you'll enjoy the outdoor experience with upgraded RV Sites with KOA Patio® and Deluxe Cabins with full baths for camping in comfort. Bring your family, bring your friends, or bring the whole group – there's plenty of ways to stay and explore.
KOA Holidays Feature:
RV Sites with a KOA Patio®
Deluxe Cabins with full baths
Premium Tent Sites
Group meeting facilities
Directions
North of Toronto on Hwy 400 at Hwy 89 (Exit 75). NE corner of intersection on Reive Blvd. **Please note: Direct access to Reive Blvd from the 400N off-ramp is not currently available due to construction on the Hwy 89 overpass. (As of Spring 2020). For GPS enter Innisfil as the city.
Get Google Directions
Sep 08, 2020
Stayed there 4 days, Spacious back in site. Only thing was traffic noise from 400 highway
Sep 08, 2020
We had a great time largely because of the friendly staff.
Sep 08, 2020
Very clean, great service.
Sep 06, 2020
Site was good however cable was very fuzzy on our site. Maintenance hooked us up to the adjacent site cable. Basically pirated our neighbour's cable. Good thing they were on satellite.
Sep 05, 2020
Had a very enjoyable stay at your campground, found it Very Peaceful and relaxing. Want to tell you that you have a VERY GREAT Employee, the older fellow who did the roads last week, always cheery and always a hello from him. You are very fortunate to have him. Having said that all your employees we had contact with were EXCELLENT!!
Sep 03, 2020
The stay was good. Staff was very friendly. The overall area was small. Not much to explore or walk around. The size of the bunk bed room was very claustrophobic. We have seen much bigger better organized KOA cabins. Overall very clean and well maintained except the couch which had lot of pet hair.
Sep 01, 2020
very small site, no trees and too close to other motorhomes. no privacy.
Sep 01, 2020
We stayed 1 week, our overall impression was very good. We loved the proximity to shopping and activities. The staff was very, very helping and offering of information. We will be back!
Aug 31, 2020
The owner and staff are fantastic! Campground is well maintained, and clean. We found them very accommodating!
Aug 31, 2020
We had a lovely stay! Staff was awesome and quick to address our needs. Will definitely come again.
Aug 31, 2020
Our first rv camping experience - all the staff was amazing. We will definitely be regulars.
Aug 30, 2020
Best time I had for my family camping with 4 grandkids. Thank you for very kindly help and good price, nice clean more... Hope to see you again!
Aug 30, 2020
Love this campground, Handy for us to visit family in the area
Aug 29, 2020
Our time was great. Matt and his team are the best. Always friendly and very helpful.
Aug 29, 2020
The staff are amazing and very accommodating. We were there for 3 days and even with restrictions in place, the neighborly feel and fresh air was just perfect. Ty KOA staff.
Aug 29, 2020
We had a great time that we could visit our family from Berry
Aug 27, 2020
Très bien malgré la Pandémie. Pourriez-vous ajoutez mes points pour mon séjour de 4 jours du 22-26 août 2020 SVP.
Aug 27, 2020
It was good. Office stayed open till we arrived. She was very helpful and happy she called ahead
Aug 26, 2020
Not happy with the way we were treated - criticized for having original sticker on credit card, told that we could setup on water covered site when the one next was empty and higher - had no water. There was only one other site used in the whole row! Very poor wi-fi connection - especially where we were put even though the campground was only1/3 full. Pool area could only be used for 20 minutes.
Aug 26, 2020
Excellent staff All did a great job accommodating us during Covid -19 restrictions. See you next year
Aug 26, 2020
Staff is very polite, the owner worked along with staff just as if he was an employee. Did a great job considering what's going on with covid
Aug 26, 2020
Cute, quiet, clean… and staff were extremely friendly
Aug 26, 2020
After a mistake I made to reserve a spot at the wrong KOA, the staff here made it work. Made it right helped me out like no other !! THIS IS WHY I AM A KOA MEMBER!!!!!
Aug 25, 2020
Clean campground with nice amenities. In our area though sites were quite close together. You can actually sit a your picnic table and watch your neighbour empty his holding tanks.
Aug 24, 2020
We had a great time, the campground was clean and staff super friendly.
Aug 24, 2020
Myself, my husband and our two boys enjoyed our first KOA stay this weekend. The activities for the children along with the parks and pool were a huge success. Staff were friendly and helpful. We would definitely stay here or at other KOA lamp grounds again.
Aug 24, 2020
Friendly welcoming staff and a well maintained park. Thank you.
Aug 24, 2020
We had a great time on our stay. My only complaint would be the beds are very uncomfortable and the time slots for the pool. It was a great time for our family though.
Aug 24, 2020
Nice spot, great facilities
Aug 23, 2020
Only there overnight but we enjoyed our time at the park. Check in was safe, quick and efficient. Sites were a little close but again we were just in overnight. Appreciated we were allowed to book for just the one night on a weekend. Some parks have a 2 night minimum on weekends. We will return. Thanks.
Aug 23, 2020
Clean park and site 101 is a great lot. You can hear the drone of 400 close by but get use to it. Nice pool and owner is great. Would go back again.
Aug 22, 2020
Stayed one night , great campground for big rigs , 400 a little noisy but otherwise a nice campground
Aug 22, 2020
We had an awesome time. Matt and all of his staff are amazing. Even in these uncertain times with the COVID pandemic we personally felt perfectly safe and welcome. Our sincerest thanks to Matt and his staff at this KOA!
Aug 21, 2020
Was great, despite Covid limitations, great fun Pool super warm. Very quiet park at night, despite proximity to hiway.
Aug 20, 2020
We had a wonderful time and enjoyed all of the amenities. I would like to recognize one staff who contributed to our great time. He goes by the name of "Bones" and is a maintenance worker at the campground. He went above and beyond to interact with us and our children, who absolutely loved seeing him every day. He is an excellent employee who deserves to be recognized! We will be back!
Aug 20, 2020
The campground staff was super friendly. The park is well kept and has a pool, bikes, basketball court, volleyball court and a small mini putt putt. The kids had a blast.
Aug 19, 2020
Was heaven on earth had a fire great friends joined us as they camped next to us ,better the Christmas just to be camping ���� �ϋ���
Aug 19, 2020
They did their best trying to follow covid guidelines. The kids still had fun.
Aug 18, 2020
Great place to stay for a night or for a month - always welcoming!!
Aug 17, 2020
Absolutely fantastic weekend at KOA. Love our weekends @ Cookstown KOA
Aug 17, 2020
Our site was very small truck had to be parked u see awning, park host is very friendly. Mini golf needs some TLC, park was very quiet and not full at all guessing due to covid.
Aug 17, 2020
When we called for help in getting around the construction no one answered the phone. The water smelled so bad we had to buy water to drink. The cost per night is far too high. We stayed at the KOA in Owen Sound which is a beautiful campground for $63.00 a night.
Jun 20, 2021
This is my home away from home. Fantastic staff, been camping there for 11 years. Very clean and well maintained.
- Douglas Anglin on Google
Sep 22, 2020
Great staff and well kept park a favorite for many. Can't go wrong here!
- Wayne Bell on Google
Sep 20, 2020
Hospitality second to none. Awesome weekend at KOA yet again. Always such a relaxing weekend with amazing service. Thank you Matt & team!! See you next year!
- Michelle Price on Google