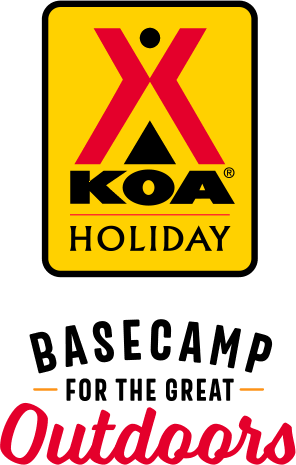 KOA Holiday Campgrounds
Whether you're exploring the local area or hanging out at the campground, KOA Holidays are an ideal place to relax and play. There's plenty to do, with amenities and services to make your stay memorable. Plus, you'll enjoy the outdoor experience with upgraded RV Sites with KOA Patio® and Deluxe Cabins with full baths for camping in comfort. Bring your family, bring your friends, or bring the whole group – there's plenty of ways to stay and explore.
KOA Holidays Feature:
RV Sites with a KOA Patio®
Deluxe Cabins with full baths
Premium Tent Sites
Group meeting facilities
Directions
North of Toronto on Hwy 400 at Hwy 89 (Exit 75). NE corner of intersection on Reive Blvd. **Please note: Direct access to Reive Blvd from the 400N off-ramp is not currently available due to construction on the Hwy 89 overpass. (As of Spring 2020). For GPS enter Innisfil as the city.
Get Google Directions
Sep 22, 2020
Awesome stay. We like it that you feel comfortable and the staff do not bother you. They treat you like a camper not a criminal like one other koa we have been at in Ontario.
Sep 22, 2020
Friendly staff. Very small sites!
Sep 22, 2020
The staff are friendly and always helpful!
Sep 22, 2020
we had a wonderful time here and already looking forward to coming back in 2021. thank you
Sep 21, 2020
It was just overnight but the field was nice - I walked around it. It is close to Toronto which was good for us. We would stay there again.
Sep 20, 2020
Because of COVID most of the park was closed but staff was friendly and the park was clean.
Sep 19, 2020
Sites are poorly levelled, inches of water under/around trailers if it rained. Neighbours left early, not wanting to have their brand new fifth wheel sitting in water along with their lawn chairs, the owners "fix" was to bring wooden pallets to put under the trailer. Wi-Fi is horrible, why bother? We were there for 2 months and had to move for weekenders? Owner doesn't return phone calls. Sa
Sep 19, 2020
The sites -nice size. Our neighbors were great. Very little water pressure to have shower, wash dishes etc. A trickle ?our neighbor stayed a month and made a comment on it as well to us not to expect much. Conflict sign on the office door as to closing hours. One sign said 6 PM other showed 5 Stayed at at least 10 different KOA's. Not the happiest of campers with this park.
Sep 19, 2020
Great amenities. Helpful staff. Very pleasant stay
Sep 19, 2020
Great location. Currently a little tricky to get into due to interchange construction (Sept 2020). Nice and quiet, yet close to the highway. Large flat sites. Very well kept. Stayed for 5 nights, then decided to stay another 4, they were very accommodating. Perk that it's located next to the Tanger outlet mall (Tim Hortons). Would stay here again.
Sep 18, 2020
park was clean.I think it was very expensive and we will not stay there again
Sep 17, 2020
An overnight stop, arrived after the office closed. Everything was in order, found our site easily. Surprisingly quiet for being adjacent to Hwy 400.
Sep 16, 2020
Had a great time. Place was clean and very cozy. Would do it again
Sep 15, 2020
Wonderful quiet location with fantastic staff.
Sep 15, 2020
Showers would have been nice. Nice weekend. Staff were great. Difficult access to store.
Sep 15, 2020
Very enjoyable. Staff were friendly . Very nice of them to call to see if we would need wood on our late arrival. Site was clean. Could have been a tad larger but then again we have a very large unit. Will stay there again.
Sep 15, 2020
The site service for ice and wood is extremely fast and the staff working around the site are courteous and very helpful. The camp sites are clean and very well kept. It was comforting to see the staff sanitizing each site as people left the park. Management is always concerned about any problem and act quickly to remedy any situation that may arise. We are very impressed and will be back again!
Sep 14, 2020
Stayed at KOA Cookstown for almost28 or 29 days had a blast!
Sep 14, 2020
SITE WAS NICE. UNDER THE PRSENT CONDITIONS, BATHROOM AND SHOWERS WERE CLOSED. ALSO THE STORE. HOPEFULLY WE HAVE BETTER LUCK NEXT TRIP. I WOULD RECOMMEND YOUR KOA TO OUR FRIENDS> THANK YOU BE SAFE JOHN B STABLES
Sep 14, 2020
The stay was not fun. The campground is very nice, but the seasonal campers are extremely loud, all evening until 1am. No one isn't eh office to call. Made for a very unwelcoming experience.
Sep 14, 2020
Always one of our fav places to go.
Sep 14, 2020
There for a two night stay. The staff were extremely friendly and accommodating. Ideal for what we needed.
Sep 13, 2020
Large clean sites. Staff very friendly. Location very close to great shopping.
Sep 13, 2020
A great place to stay - well maintained grounds and staff that look after your every need. Thank you Matt and Alison and a special thanks to Katlin for allowing us to stay without multiple site moves. Cheers Anne and Todd
Sep 11, 2020
Great for seniors. Maybe the time of year, but we felt out of place with two young kids. Silent all day, which is great for some, but we felt as though we couldn't have any fun. Everyone was lights out by 8-9pm. Afraid to turn music on quietly even during the daytime. Premium site has your neighbors very close and their sewer right next to your bbq/patio.Stinky dumpsters next to kids play area
Sep 10, 2020
This was our third stay at Toronto North / KOA so far this year. Our stay is always enjoyable . We are staying there two more times this season before we close our trailer for the winter.
Sep 09, 2020
Would have preferred a more private site and I know you can't control this but our neighbour last two nights was a pot head. Not something we enjoyed as it invaded our space. They had no regard or respect for our area.
Sep 09, 2020
The first site we were assigned had a hydro issue at the post. We move to another site which was inconvenient as we had already full setup. The hydro was fine at the second site. Many advertised facilities were unavailable like jumping area, mini golf was open but in horrible condition. I feel the price was not worth it given it was just a site. Service was excellent.
Sep 09, 2020
The park is very clean and well kept. The staff was very friendly and helpful. I will definitely return
Sep 08, 2020
Nice campsite, the owners are busy caring for the place. Some campers do not observe quiet times though.
Sep 08, 2020
Cabin is way too small for a deluxe cabin.no sink in the kitchen doesnt make sense or the waffle grill instead of a stove top is rediculous.
Sep 08, 2020
We needed a few things and prompt delivery to our site was appreciated !! Friendly staff
Sep 08, 2020
Prices for the sites should be more well explained and easier to determine in advance. The park is more money than other parks, but it is beautiful and there are many activities. The price should be explained/forecast more clearly. We really liked the campground!
Sep 08, 2020
Thank you we had a wonderful stay and many thanks for helping choose a site for our daughter who has a disability to be comfortable in.
Sep 08, 2020
We absolutely loved our stay! We ended a week vacation here 2 weeks ago than decided to leave the trailer there and returned for the long weekend. The staff is incredibly friendly and the park itself is clean, well maintained, COVID precautions in place are great. We keep returning time and time again worth the long drive!
Sep 08, 2020
Evette is amazing!!!! We were a late chk in and she called to make sure that we had everything we needed super well kept sites very friendly place the only negative maybe the road noise
Jun 20, 2021
This is my home away from home. Fantastic staff, been camping there for 11 years. Very clean and well maintained.
- Douglas Anglin on Google
Sep 22, 2020
Great staff and well kept park a favorite for many. Can't go wrong here!
- Wayne Bell on Google
Sep 20, 2020
Hospitality second to none. Awesome weekend at KOA yet again. Always such a relaxing weekend with amazing service. Thank you Matt & team!! See you next year!
- Michelle Price on Google