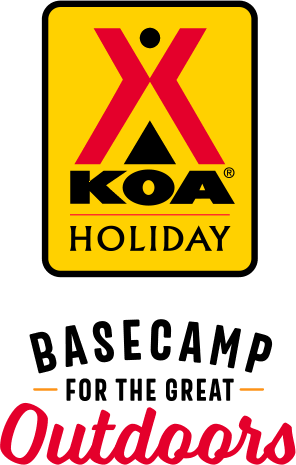 KOA Holiday Campgrounds
Whether you're exploring the local area or hanging out at the campground, KOA Holidays are an ideal place to relax and play. There's plenty to do, with amenities and services to make your stay memorable. Plus, you'll enjoy the outdoor experience with upgraded RV Sites with KOA Patio® and Deluxe Cabins with full baths for camping in comfort. Bring your family, bring your friends, or bring the whole group – there's plenty of ways to stay and explore.
KOA Holidays Feature:
RV Sites with a KOA Patio®
Deluxe Cabins with full baths
Premium Tent Sites
Group meeting facilities
Directions
North of Toronto on Hwy 400 at Hwy 89 (Exit 75). NE corner of intersection on Reive Blvd. Next to the RV Warehouse. For GPS enter Innisfil as the city.
Get Google Directions
Aug 07, 2019
Not much shade. Our site had a dog hair with fleas. Other than that, our kids loved it and had a great time.
Aug 07, 2019
Road noise Initiate recycling would be good
Aug 06, 2019
Always a pleasure staying here Staff are so friendly, facilities well maintained, events/activity schedules are so fun (for adults too) For a short stay, or a long stay, this is a must visit! Thanks all for a great time.
Aug 06, 2019
Had a great time - staff friendly and helpful and camp ground clean and tidy - family policy much appreciated
Aug 06, 2019
Very nice campground, kept clean. Lots of activities going on for kids & adults! Absolutely loved how friendly the staff was. Dog run could be bigger but served its purpose!
Aug 06, 2019
Had issues with hot water that was dealt witb; however, it did impact my stay between no hot water one day and repairs taking place the next day. No compensation for this. Staff, as always, friendly and efficient. Facilities are always very clean.
Aug 06, 2019
As Always a great week in Crookston KOA. Staff were excellent either in the office or onsite. power overload was dealt with immediately. Cable and Wi fi was working fine. Overall a very enjoyable time. Thanks and Regards.
Aug 06, 2019
Quiet and clean. Would definitely come back.
Aug 06, 2019
Convenient location for attractions.
Aug 06, 2019
it was a great location and the sites were a good size.
Aug 06, 2019
Really nice ....great for families..... we will be back
Aug 06, 2019
I really like the campground and the staff are very friendly. It's a great place for kids. However this year we were disappointed as we were put on campsite 29 which is no where near the washrooms. We tent camped and I thought we should have been placed closer to the Rec building as we had in previous years. It made it difficult with young kids.
Aug 06, 2019
Le camping est extraordinaire et les employés ultra sympathiques! Les terrains sont propres et il y a beaucoup d'activités à faire.les petits comme les grands ne ce sont pas ennuyés!
Aug 06, 2019
I had booked at another non KOA for the weekend but was able to get into this one due to a cancellation and I was so happy. I love the KOAs but this one the most. The staff is amazing and always makes our stay so enjoyable. I have a 5 and 10 year old and they were entertained all weekend long with no electronics something that doesn't happen often. Always pleased with how clean the whole place i
Aug 06, 2019
Absolutely perfect
Aug 06, 2019
Beautiful campsite for an amazing price. Great pool and lots of things to keep the kids busy. Close to Vaughan and Barrie so it's a great location. Will definitely be back!
Aug 06, 2019
Our stay was just one night but from the very first hello we felt welcome and at ease. Everything was great!! Will definitely be back when we are passing thru again.
Aug 04, 2019
Beautiful site/furniture! Had a great time as always & would definitely come back! The staff were very friendly & helpful & campground was very clean & quiet! Thank you for making our stay very enjoyable! �ϋ�
Aug 03, 2019
I have taken a cabin for two years now and have booked for 2020 - so that must say it all. I appreciate the fact that when I walk into it first time - it is immaculate -and I try to leave it that way - it's comfortable, cosy and has all I need. The park itself is great - clean and again has everything anyone should need. Love all the greenery and trees around it. Thank you.
Aug 03, 2019
Was great over all even tho our fridge crapped out in the cabin. Staff were quickly to resolve the issue. Very friendly campground. Will be back.
Aug 03, 2019
We had a wonderful time ....campsite we had was roomy....but....we constantly smelled the garbage through out the day ....I believe it should be moved .... Then staff were amazing ....would come again but not in that sure if the garbage container is there
Aug 03, 2019
We loved it and we will be back next year!!
Aug 03, 2019
Good. Friendly Staff.
Aug 02, 2019
Everything was wonderful. We enjoyed our stay and my grandchildren had a fabulous time with all the activities organized for them. My only issue was when trying to cook a large breakfast for 16 we kept blowing the breaker. We were in the delux cabin. My brother was in the other cabin and was doing the same just trying to make toast. Maybe an upgrade to a 50 amp for those cabins. Thank you for
Aug 01, 2019
Fantastic grounds Fantastic staff Lots of activities for kids Clean washrooms
Aug 01, 2019
Fun relaxing and hot but all the water activities were awesome
Aug 01, 2019
Just after 10:00am on Sunday I went over to the recreation hall to use the washroom before hooking up to leave but had to go to the office area because they were cleaning it. I think it would be better to clean it after check out & before check in. You should include CTV2 Barrie on cable. You could get better lighting at the keypad after dark. Otherwise, we enjoyed our weekend with you.
Aug 01, 2019
It is really a beautiful place and well set up, the only problem is that probably someone stayed on our site who's pet had fleas. We ended up with small very itchy bites all around our ankles that's how we know they were fleas. This is rare for us. A lot of our family stayed as well and did not have the same problem but were not over at our site lucky them. Spray next time request for sure.
Aug 01, 2019
Terrain super propre et beaucoup de belle activité pour la famille.
Aug 01, 2019
This was our first time at a KOA and we will definitely be back. Everyone was friendly and helpful and the amenities were perfect for our children, ages 9 and 11. The Kabin we stayed at was clean, roomy and best of all, air conditioned. We have already recommended KOA Cookstown to multiple friends!
Aug 01, 2019
It was a very nice park lots to do everyone was very nice
Aug 01, 2019
WE LOVE CAMPING THERE, THE STFF IS AWESOME, THE GROUNDS ARE CLEAN AND WE HATE WHEN WE HAVE TO LEAVE.
Aug 01, 2019
Très propre bon service la seule chose terrain deluxe trop près des égouts du voisin
Aug 01, 2019
we had great weather and a great site. the staff are very accommodating. No issue at all. Good time.
Jul 31, 2019
Once again a great time at Cookstown the grand daughters have fun while there. GREAT job by an excellent staff.
Jul 31, 2019
excellent park very nice staff and very helpful
Sep 22, 2020
Great staff and well kept park a favorite for many. Can't go wrong here!
- Wayne Bell on Google
Sep 20, 2020
Hospitality second to none. Awesome weekend at KOA yet again. Always such a relaxing weekend with amazing service. Thank you Matt & team!! See you next year!
- Michelle Price on Google
Sep 20, 2020
Site 101 was the best site
- Brad Hutchison on Google