We're Sorry!
Internet reservations are currently not available for this KOA: Toronto North / Cookstown KOA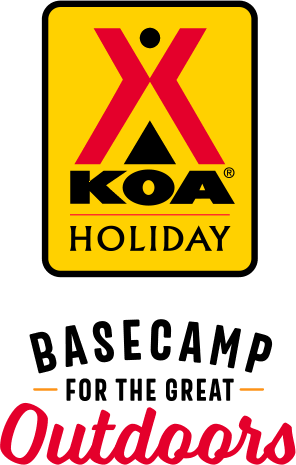 KOA Holiday Campgrounds
Whether you're exploring the local area or hanging out at the campground, KOA Holidays are an ideal place to relax and play. There's plenty to do, with amenities and services to make your stay memorable. Plus, you'll enjoy the outdoor experience with upgraded RV Sites with KOA Patio® and Deluxe Cabins with full baths for camping in comfort. Bring your family, bring your friends, or bring the whole group – there's plenty of ways to stay and explore.
KOA Holidays Feature:
RV Sites with a KOA Patio®
Deluxe Cabins with full baths
Premium Tent Sites
Group meeting facilities
Directions
North of Toronto on Hwy 400 at Hwy 89 (Exit 75). NE corner of intersection on Reive Blvd. Next to the RV Warehouse. For GPS enter Innisfil as the city.
Get Google Directions
Aug 15, 2019
Cabin was great, few minor repairs needed but overall it was great. They kids were kept busy with all the activities that were held, and available. The staff were always welcoming and helpful. Can't wait to return!
Aug 14, 2019
We stayed 7 nights and this KOA is the best one we've been to! We cannot wait to go back next year!
Aug 14, 2019
We had a very nice two nights. There's plenty to do for kids as well as very comfortable for adults. Our cabin was a little musty smelling. Not sure if there's anything that can be done about that���‍��� Thank you for a wonderful stay!!
Aug 14, 2019
Facilities are very clean & lots for the kids to do! Our only complaint is with the firewood, which does not burn very well.
Aug 14, 2019
I enjoyed the campground. We were there for a hockey tourney so really only there at night. But the staff was very friendly and were great with any questions we had. The pool was beautiful. The showers were great, clean and lots of pressure. My only negative would be the noise from traffic from the 400 - and I know there's nothing you can do about that. Would stay there again though
Aug 14, 2019
Pool could have been a little cleaner but the volume of people was the cause. Always love camping there
Aug 14, 2019
Very friendly, helpful staff. Great activities for the kids.
Aug 14, 2019
We were the only trailer on a empty row of camp sites, I think there were about 10 sites. Than a trailer was put right beside us, the next day, and another trailer was put right beside the one beside us, we were there for 4 nights. There were lots of empty camp sites on the row. When we left the row was still empty, we know the sites are small. Why were we jammed in together?
Aug 14, 2019
just a weekend away to rest and return to this vary nice campground
Aug 14, 2019
We liked the idea of bringing our own bowls and spoons to get ice cream at a discounted price. The kids liked the mini putt, the jump pad, the splash pad and the pool.
Aug 14, 2019
Everyone was super nice and friendly! Everything was delivered right to our site which was very nice. No complaints :)
Aug 13, 2019
Traffic noise is very bothersome for tent sites. If you can move the tent site to the inner area of the campground, it will be nice. Already advised your onsite team, place locking instructions on washroom/shower doors, multiple types causing confusion.
Aug 13, 2019
We had a relaxing time at this campground. Lindsay, the front desk manager assisted us with hooking up our cable on the TV. The staff was friendly and the grounds were well kept. There was of activities for the children and dogs!
Aug 13, 2019
Excellent service! Fun for kids and parents to engage together! Clean and friendly kind individuals everywhere! We will be returning yearly!!! Perfect place to stay to explore other areas and great shopping close by!!!
Aug 13, 2019
This review has been removed by KOA due to profanity.
Aug 13, 2019
The location, cabin and cabin area were very very good. I really appreciated being over away from the rest of the camp. Great spot for a bunch of friends. We are actually considering getting a group together to rent all 6 cabins one week. My only dislike about my stay was the shower facilities. Very small and not much room to move let alone properly dry off. Despite the shower, we will be b
Aug 13, 2019
Very friendly staffs. Good restrooms. Every thing was allright
Aug 13, 2019
Camping très propre et familial! Personnel sympathique,généreux et aidant! On reviens l'an prochain ces certain!
Aug 13, 2019
good easy check in, friendly staff and clean facilities. Keep up the good work.
Aug 13, 2019
Très beau site de camping, très propre et près de magasin Outlet et a 20 min de Canada's Wonderland.
Aug 13, 2019
Très dispendieux. Je ne comprend pas pourquoi une famille n'inclus pas 4 personnes au moins au lieux de 2. Vraiment frustrant de payer du surplus pour mes deux filles quand on paye déjà chère pour le terrain. Aussi le bois pour le feu de camp était vraiment HORRIBLE. Trop vert et tout trempe. Très dispendieux aussi et ne BRÛLAIT PAS!!
Aug 13, 2019
The facilities on site far exceeded our expectations based on what the website said. There are some new features this year and they make it very fun for children of all ages. The weekly events are varying and exciting and get the whole campground involved in the fun. We will be back (several more times this year alone!!)
Aug 13, 2019
Always a good time here. Clean park! Friendly staff. Will see y'all soon! ��
Aug 13, 2019
Bathrooms were very distant from tenting sites, tenting sites were so close together I did not know which one was mine, no privacy. On a positive note, staff were kind and KOA was conveniently located.
Aug 13, 2019
We will be back.
Aug 11, 2019
Sites were a little smaller than I initially anticipated, and alot of campers close together. Close proximity to many amenities made it nice.
Aug 09, 2019
Super camping ! Super propre et tranquille !!
Aug 09, 2019
We enjoyed the Glamping tent . This was a different way to experience camping . We were a little disappointed with the firewood provided as it was still wet inside and was difficult to keep a fire going . To us that is a big part of our outdoor experience .
Aug 08, 2019
Very clean and secure. Close to the highway so no off-roading required. Friendly staff.
Aug 08, 2019
It was very nice and I will stay again thank you
Aug 07, 2019
Going for years. Excellent staff. Back again next year
Aug 07, 2019
This KOA camp s awesome the staff is helpful polite and patient they go out of their way to satisfy the campers Thank you very much we'll be back
Aug 07, 2019
We had numerous power blackouts during or stay. It was very frustrating and annoying. We feel that we should have a free night offered to us
Aug 07, 2019
Great time. Staff were great.
Aug 07, 2019
This KOA is very clean and close to amenities. We stayed in a cabin which was clean. Staff are friendly. I would definitely recommend this KOA. Keep up the good work.
Sep 22, 2020
Great staff and well kept park a favorite for many. Can't go wrong here!
- Wayne Bell on Google
Sep 20, 2020
Hospitality second to none. Awesome weekend at KOA yet again. Always such a relaxing weekend with amazing service. Thank you Matt & team!! See you next year!
- Michelle Price on Google
Sep 20, 2020
Site 101 was the best site
- Brad Hutchison on Google