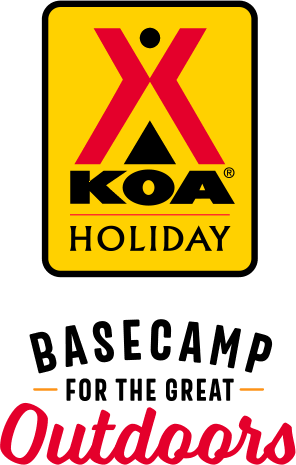 KOA Holiday Campgrounds
Whether you're exploring the local area or hanging out at the campground, KOA Holidays are an ideal place to relax and play. There's plenty to do, with amenities and services to make your stay memorable. Plus, you'll enjoy the outdoor experience with upgraded RV Sites with KOA Patio® and Deluxe Cabins with full baths for camping in comfort. Bring your family, bring your friends, or bring the whole group – there's plenty of ways to stay and explore.
KOA Holidays Feature:
RV Sites with a KOA Patio®
Deluxe Cabins with full baths
Premium Tent Sites
Group meeting facilities
Directions
North of Toronto on Hwy 400 at Hwy 89 (Exit 75). NE corner of intersection on Reive Blvd. **Please note: Direct access to Reive Blvd from the 400N off-ramp is not currently available due to construction on the Hwy 89 overpass. (As of Spring 2020). For GPS enter Innisfil as the city.
Get Google Directions
Sep 16, 2019
It was a great stay we had a great reunion and we will be back next year!
Sep 16, 2019
We campsite dear to us and the owners are amazing people.
Sep 16, 2019
Awesome stay definitely up their game from last time stay couple years ago. Lots for kids to do and fun activities for the kids. Love the deluxe sites will be back again ... would have like the pool to have stayed open till appreciation weekend was over at least but other then that great stay
Sep 16, 2019
We stay with you once a year on our way home from northern Ontario. Usually we're very satisfied but this year there was a group of women close to us who were noisy and had a radio blaring so it was not a pleasant stay.
Sep 16, 2019
This KOA we really did not enjoy our stay. The washrooms were dirty along with the showers. So gross that we avoiding using. Men's hand dryer did not work. Staff were friendly, but it was inexcusable to see the place in a mess compared against other KOA's.
Sep 16, 2019
Loved all the activities available for kids. Deluxe cottage was cozy and clean.
Sep 16, 2019
A wonderful stay as always!
Sep 16, 2019
Great for young family! This was our first KOA experience. Easy check in, clean grounds. Kids loved the playgrounds and jump pad. Only downfall was hwy noise and I am guessing there is an indoor shooting range nearby? Regardless, we would return
Sep 16, 2019
Great weekend, lots of activities for the children. Very rainy so our site was flooded which was challenging but we'd definitely come again, thank you
Sep 16, 2019
We love Cookstown KOA! Very friendly staff. Lots of activities planned for children. Our Grandson loves the new Gaga Ball pit, great addition to the park. Quiet park to relax! See you next year!
Sep 16, 2019
I really enjoyed this campground. Very clean. The personal we're warm and friendly. Sorry we hadn't stayed here before as we travel by frequently. Thankyou for a restful night.
Sep 16, 2019
I have stayed here before and had a great experience. This stay I requested that my son be able to pitch a small tent on our site. I was told this was against the rules so he did not. Later we noticed that there were several campsites (including the centre rows) that had larger units than ours as well as tents. I am disappointed that the rules seem not to be consistently applied.
Sep 14, 2019
Great amenities and very clean washrooms and showers
Sep 13, 2019
Not good. Staff was unprofessional and unfriendly
Sep 13, 2019
We love north town KOA very clean staff is awesome we will certainly go there again and again
Sep 11, 2019
always great and very accommodating
Sep 10, 2019
We were a group with 10 or 11 cottages & the campground was short staffed so we didn't get to participate in the activities because nobody could work them...specifically karaoke & things for the kids. We booked last year for this year so it's disappointing! My cottage had no propane & I was told by staff "it's raining" so just swap with someone else as 3 of them we're leaving to go h
Sep 10, 2019
Great accommodations. Facilities were very well maintained. Only complaint if that the office forgot to deliver fire wood. Overall we really enjoyed our stay and will be back.
Sep 10, 2019
After speaking with staff about a concern we had with our recent stay we were provided with great customer service and a prompt resolution to the problem. We appreciate the attention to customer concerns and will be back for another stay in the future!
Sep 10, 2019
It was fantastic from start to finish. The staff were awesome.
Sep 10, 2019
Good as always-but returned to site to find cigarette burn in a new lawn chair? Odd?
Sep 10, 2019
Perfect camping area, quiet for being close to the highway Family friendly Only complaint was our wood was wet and moody, seems to be common at KOA kampgrounds ...
Sep 08, 2019
WIFI needs to be better!
Sep 07, 2019
Our stay was great,the staff was so friendly and accommodating.The park is clean and very safe for the children to run and play freely,lots for them to do.The park so close to shopping and and local points of interest as well.We would highly recommend this park.Thank you to all the staff for making our stay enjoyable and comfortable.�
Sep 06, 2019
Great pancakes!
Sep 06, 2019
I reserved two camp sites and two cabins. We all enjoyed our stay if I have any issue was because it rained the Sunday night so when we were hooking up trailer Monday morning we were in about 2 inches of water. Not pleasant
Sep 06, 2019
Everything was perfect, as always.
Sep 05, 2019
Awesome site and staff were great
Sep 05, 2019
If the light at the gate keypad worked it would be very helpful at night when it's too dark to see the numbers. Our neighbors #31 were very noisy up to 11 pm with their music right next to our trailer. Fortunately they left the next day.
Sep 04, 2019
Our stay in the cabins was wonderful. The added jump pad was a major hit for kids. They've been on it the whole weekend.
Sep 04, 2019
Our stay was great as usual . We consider Toronto North to be home base for us. We camp here numerous times during the season. The owners and staff are always friendly.
Sep 04, 2019
Love the place. Next time have better weather Lol we have stayed many times every time has been great.
Sep 04, 2019
It was excellent and would strongly recommend Cookstown KOA.
Sep 04, 2019
Very clean..fiendly staff
Jun 20, 2021
This is my home away from home. Fantastic staff, been camping there for 11 years. Very clean and well maintained.
- Douglas Anglin on Google
Sep 22, 2020
Great staff and well kept park a favorite for many. Can't go wrong here!
- Wayne Bell on Google
Sep 20, 2020
Hospitality second to none. Awesome weekend at KOA yet again. Always such a relaxing weekend with amazing service. Thank you Matt & team!! See you next year!
- Michelle Price on Google