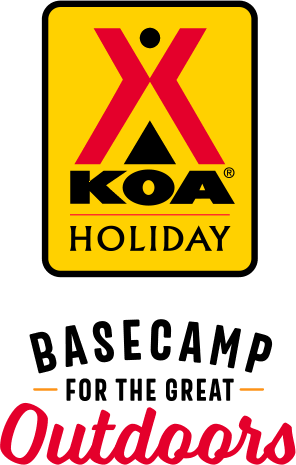 KOA Holiday Campgrounds
Whether you're exploring the local area or hanging out at the campground, KOA Holidays are an ideal place to relax and play. There's plenty to do, with amenities and services to make your stay memorable. Plus, you'll enjoy the outdoor experience with upgraded RV Sites with KOA Patio® and Deluxe Cabins with full baths for camping in comfort. Bring your family, bring your friends, or bring the whole group – there's plenty of ways to stay and explore.
KOA Holidays Feature:
RV Sites with a KOA Patio®
Deluxe Cabins with full baths
Premium Tent Sites
Group meeting facilities
Directions
North of Toronto on Hwy 400 at Hwy 89 (Exit 75). NE corner of intersection on Reive Blvd. **Please note: Direct access to Reive Blvd from the 400N off-ramp is not currently available due to construction on the Hwy 89 overpass. (As of Spring 2020). For GPS enter Innisfil as the city.
Get Google Directions
Nov 12, 2020
This was our first time and we were there with 3 other trailers and we found the time together was enjoyable. We found the campground very clean and quiet. We will return. Thanks very much.
Oct 28, 2020
I wouldn't use the Koa again it looks like a field with a bunch of trailers. There is no privacy at all.
Oct 25, 2020
We had a nice quiet time. Would be nice when Covid is over as there are more services that we couldn't use. They were very good at following safety prodacal.
Oct 24, 2020
We stayed during pandemic restrictions so there were no washrooms or indoor amenities available. The staff were courteous and helpful and the site was good. We would not hesitate to stay again.
Oct 22, 2020
I did like that the guy across from us dog wasn't tied up unless he was going for a walk he came after my dog at night time because of this we couldn't sit out at our fire but other than this it was ok noise level did get loud on Saturday night wish there was someone at night check in
Oct 21, 2020
Awesome staff, clean campground we will definitely be back
Oct 20, 2020
Very nice campground but unfortunately some people there do not keep their dogs on leash. The people across the road had a golden retriever and did not keep tied up. Came across the road and our dog I leash went crazy. Also the same dog went to another campsite who's dog does not like other dog. Still did not tie up.
Oct 20, 2020
Thank you for ensuring covid guidelines are followed
Oct 20, 2020
The staff were very freindly, helpful and supportive. The grounds are well kept.
Oct 20, 2020
Very friendly and clean Great location to outlet mall. Will be back in 2021
Oct 20, 2020
Very friendly staff and a very clean park. Can't wait till next year
Oct 20, 2020
All services were excellent
Oct 20, 2020
It was as wonderful as we expected. Always clean and the staff are always helpful and funny;)
Oct 19, 2020
7 guys made their home here for 4 days and 3 nights. The lodges were clean but a little smaller than we had anticipated but we managed. We were told prior to arrival that the 6man lodge came equipped with fridge, stove and tv. There was no stove. The electrical was a bit of an issue with circuit #40 constantly tripping but again we managed by running extension cords to isolated receptacles.
Oct 19, 2020
Great people
Oct 15, 2020
We love the park and the people that runs it
Oct 14, 2020
Very helpful and friendly staff - always a pleasure to come here
Oct 13, 2020
We have camped there every Thanksgiving for the past 5 years. Love it!
Oct 13, 2020
We always have a wonderful time here. The staff are wonderful and the sites are always well maintained and clean.
Oct 13, 2020
Nice clean camp ground, it was end of season so we didn't have an opportunity to use many amenities. Loved the dog park.
Oct 13, 2020
We really enjoy staying at this KOA - so close to home. Staff are excellent
Oct 13, 2020
Always a good time, staff is very accommodating and friendly. It's very clean. I just wished they still had activities for children but I understand we are living in COVID times..
Oct 13, 2020
AMAZING!!!!!!!!
Oct 12, 2020
Sites very clean and near to the outlet
Oct 12, 2020
Shout out to Justin who helped us build our fire! He is very professional and incredibly helpful.
Oct 11, 2020
Friendly staff, nice place to stay when visiting our daughter in Barrie. Very clean .campground.
Oct 11, 2020
Staff are amazing, we will be back
Oct 11, 2020
It was a very nice stay unfortunately your pool was closed for a perfect weekend. We would have visited the mall but Covid-19 prevented that as it looked crowded.
Oct 11, 2020
Very clean and spacious. Only issue would be water pressure - we definitely will come back!
Oct 09, 2020
Stayed 4 nights with Airstream group. Weather was not very nice but the campsites are great for socializing even at Social Distancingrequirements Good clean grassed sites
Oct 09, 2020
/The campground is very clean and we enjoyed our stay there. Love the patio idea it makes long term RV'ing a step up we didn't stay in one. The staff was very careful upon arrival and handed us our literature outside. The location was great an hour to downtown enjoyed that as well. .
Oct 09, 2020
Clean friendly staff we come here often it's one of the nicer ones
Oct 08, 2020
Well run and very clean
Oct 08, 2020
This was our first stay. It's a lovely KOA in a country-like setting. While handy to the highway, there's not too much noise from traffic. The sites are spacious and well maintained, as our the grounds. Due to COVID, we didn't use campground facilities, but I'm sure they'd be immaculate.
Oct 08, 2020
Loved it! Great staff! We will be back!
Oct 08, 2020
Very nice park, well kept!! Staff are pleasant and helpful! Campers are all very friendly.
Oct 08, 2020
Friendly staff, good facilities considering it was "COVID days". Roadways could be a bit better. Rainy weather and many puddles. All things considered very good park.
Oct 08, 2020
The weather didn't co-operate but the park was very nice!
Oct 08, 2020
Beautiful clean park. Nice grassy sites. Friendly staff.
Oct 07, 2020
Super clean and truly an enjoyable place. Can't wait for our next visit.
Jun 20, 2021
This is my home away from home. Fantastic staff, been camping there for 11 years. Very clean and well maintained.
- Douglas Anglin on Google
Sep 22, 2020
Great staff and well kept park a favorite for many. Can't go wrong here!
- Wayne Bell on Google
Sep 20, 2020
Hospitality second to none. Awesome weekend at KOA yet again. Always such a relaxing weekend with amazing service. Thank you Matt & team!! See you next year!
- Michelle Price on Google