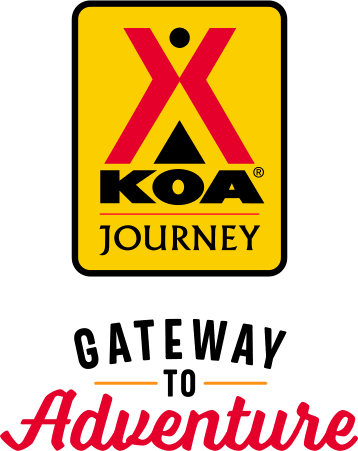 KOA Journey Campgrounds
KOA Journey campgrounds are the perfect oases after a day on the road. Whether it's along the way or a quick getaway, they've got you covered. Located near the highways and byways of North America with long Pull-thru RV Sites, they deliver convenience to the traveling camper. Pull in, ease back and take a load off.
KOA Journeys Feature:
Pull-through RV Sites with 50-amp service
Premium Tent Sites
Well lit after hours check-in service
Directions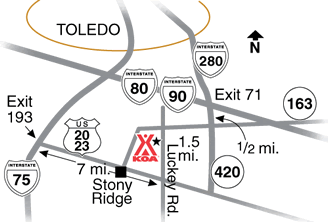 From I-80/90 Exit 71: Go 1/2 mile south on SR 420 then 1 1/2 miles west (right) on SR 163, Genoa Rd, turn south (left) on Luckey Rd.
From I-75 Exit 193: Go 7 miles east on US 20/23, 1/2 mile north (left) on Luckey Rd. No backtracking to I-75 North.  
GPS: N41.51126, W83.49345
Get Google Directions
Aug 17, 2021
Much improved over last time we were there. Still needs work. Pool was closed, very tight sight,0 only had 30amp electric. People seem to be working to improve facilities
Aug 17, 2021
It's a lovely campground with a lot of trees and plenty of space for our RV and between sites. I have two complaints, however. The pool was drained and not in use. Also, the flush hose at the dump station was full of holes. It sprayed a huge shower and wasted a lot of water. It was hard to tell if the water actually made it into our tank to perform the flush.
Aug 17, 2021
Sites are uneven, with hookups at inconvenient distances.
Aug 17, 2021
great sites and the staff was very supportive!
Aug 17, 2021
As a facility manager at my day job , I see things that I would improve on. Men's bathroom door opener broken. Shower heads need updated. Some grounds maintenance issues need addressed to improve curb appeal .
Aug 17, 2021
������ � ��� � ������ ������ ������� ������� ����� ���ω�� ���� ��� ����� ��
Aug 17, 2021
Sorry to see the place so rundown.
Aug 16, 2021
Not quite sure how this is a KOA. Searched out multiple KOA campgrounds for our vacation and the Toledo East was part of the trip. Glad we only stayed two nights. Small playground for kids. Mini golf course was dilapidated. The pool was closed as well in the middle of summer. We booked in advance and was never notified they shut the pool down for repairs after we booked. Very disappointed.
Aug 16, 2021
Cabin smelled bad; not fresh and cleaned like other koas I've stayed at. Screen on window unattached letting the mosquitoes in. Woman at out-not very friendly.
Aug 16, 2021
pool was under construction we drove 7 hours to get to this loaction that had a pool when we asked for a manager to call us about a discount no manager did. 1st walked in to check in there here 3 couples in line & the lady behind the desk playing with a cat. The cat was priotiy VS the cusomters. Very disappointing in a KOA
Aug 14, 2021
Non stop smoking by staff, and stupid blue lights on all hours. Then the noise from this same site Spoke to staff, they didn't care. Won't be back.
Aug 13, 2021
We loved our shady lot. We're disappointed the 5 hole mini golf area, playground area & lack of a working pool no. I believe when I made the reservation last year, the pool was being worked on at that time. When travelling with 7, 12, 12, & 14 year old a pool is an important commodity to have. The kids did enjoy playing the giant jenga game. My rating is low due to disappointing amenities.
Aug 13, 2021
wonderful to work with-we had a breakdown and had to move our nights-kudos to them!
Aug 12, 2021
The campground staff were incredibly friendly and helpful. Made sure our kids had activities to do. The pool was not open and some of the other activity areas could use some updates or maintenance, but we still had a nice stay. The camp store was well stocked with necessities.
Aug 12, 2021
The first line of pull thru sites do not have sewer access, this is a problem since the dump station is on the end of one of the paths that doesn't leave a lot of room for other campers to pass you while you are using the station. The store no longer has coffee service. Pool was not filled, dog park was not gated.
Aug 11, 2021
We have mixed feeling about this place. First, the staff were very nice and the bathrooms were nice and clean. It looks like the campground was in the middle of a renovation and something went wrong. The pool was empty and closed and the mini-golf was torn up yet still open. The landscaping was overgrown and weedy with hordes of mosquitos. We feel like it wasn't as advertised.
Aug 10, 2021
Good fairly quite stay. The bathroom door was broken and not enough hot water. All in all good stay
Aug 10, 2021
Pool is empty and broken down. Dog run is a wire fenced in nothing. Laundry room floor was dirty with hair and lint. Water smelled like sulfur in the washer. Play are for kids was rundown. Mini golf was old and unkept. Gold panning area was broken and parts just laying around. The worst KOA we have ever visited. Such a disappointment.
Aug 10, 2021
It wa nice and quiet. Other than a lot of travelers going in and going out. It is a smaller koa, lots of trees and a dog park. Pool wasn't working.
Aug 10, 2021
Very friendly and helpful staff. Wonderful clean cabin. Nice sites and grounds.
Aug 10, 2021
We ;liked the level sites with plenty of spacing between, Shady areas at most sites. The bathroom/showers were very clean. The employees are helpful and make you feel very welcome.
Aug 09, 2021
No pool that is why we picked this place. Mini golf is damaged and too dangerous in spots to play on. Shuffleboard and horse shoe area in wooded area branches low. Someone sat at the front door of store smoking as you entered. Seasonal person s sewer pipe leaked it was duct taped on? Just disappointed.
Aug 09, 2021
We stay there a lot. Always clean and tidy. This time our site lost water pressure twice. Had enough to fill our tank and used our pump so no problem. Mosquitoes were really bad. Got a can of fog and it was fine to sit outside. Pool was closed. All things that can happen anywhere. We will be back in September.
Aug 07, 2021
worst koa or any campground i've ever stayed at. It definitely needs work. Don't camp here.
Aug 07, 2021
Nice campground, level spacious sites. Pool was out but the campground had a blow up water slide for the kids to play on instead. Friendly staff.
Aug 07, 2021
Staff failed to tell us the pool was shut down ahead of time, cabin was dirty (cobwebs, dirt and grass on top of beds, bread crust left under one bed) missing curtains in one window, also one curtain didn't cover entire back cabin window. Bathrooms women's had one handicap stall that was closed "for employee use only" other showers had clear dirty curtains, and large gaps between walls and
Aug 07, 2021
Nice stay I enjoyed it very much!
Aug 07, 2021
Very friendly employee checked us in, great pull thru site. Easy access to major highways.
Aug 06, 2021
Very quiet. Staff very friendly and accommodating
Aug 05, 2021
We reserved a site at this KOA as an "overnight break" from driving - we took a trip from Illinois to New York/Pennsylvania. We just needed a quiet place to rest and relax for the night before getting up and driving some more out and back. The Stoney Ridge KOA met our needs - quiet little campground with friendly customer service reps at the check in.
Aug 05, 2021
Disappointed that brochure said cable tv available, but there was no hook up at my site. I called the office to inquire but my voicemail message wasn't returned. Also, the way I was told to exit the park by the staff was undoable. I had to find an alternate way.
Aug 05, 2021
Have stayed there twice this year and enjoyed both times.
Aug 04, 2021
It was a peaceful stay with friendly staff. Our site was shady and level. The pool being out of service was a disappointment but otherwise we enjoyed it.
Sep 22, 2021
We stopped for one night. No complaints. Water & electric site. Typical KOA Journey. The campground is a short way from major highways, and far enough away to be quiet.
- Ed Brandenburg on Google
Sep 11, 2021
Great overnight stop. Needs signage at each end of road.
- W Whalen on Google
Sep 03, 2021
I'm staying for labor day weekend and got in late thurs night and it was easy late check in. The owners parents where very sweet and stopped to talk with me. I would recommend staying here.
- Chucky Summers on Google