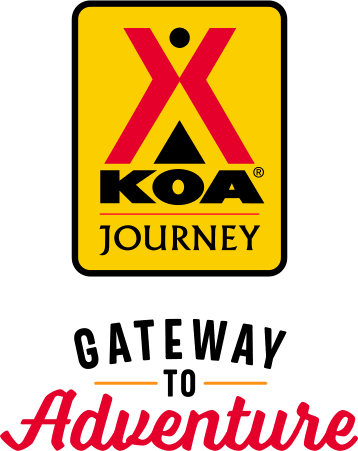 KOA Journey Campgrounds
KOA Journey campgrounds are the perfect oases after a day on the road. Whether it's along the way or a quick getaway, they've got you covered. Located near the highways and byways of North America with long Pull-thru RV Sites, they deliver convenience to the traveling camper. Pull in, ease back and take a load off.
KOA Journeys Feature:
Pull-through RV Sites with 50-amp service
Premium Tent Sites
Well lit after hours check-in service
Directions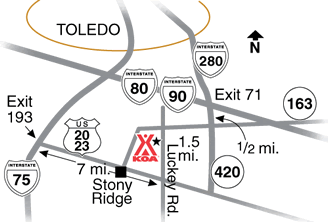 From I-80/90 Exit 71: Go 1/2 mile south on SR 420 then 1 1/2 miles west (right) on SR 163, Genoa Rd, turn south (left) on Luckey Rd.
From I-75 Exit 193: Go 7 miles east on US 20/23, 1/2 mile north (left) on Luckey Rd. No backtracking to I-75 North.  
GPS: N41.51126, W83.49345
Get Google Directions
Aug 31, 2021
Disappointed that pool was not open. Was one of the reasons we booked and stopped early for the day.
Aug 30, 2021
Pool was down, mini golf was a joke, this place is so run down I will never stay again.
Aug 29, 2021
Good large sites, clean areas, well maintained.We will definitely return.
Aug 29, 2021
The staff is very friendly and helpful. We had an issue with our camper and had to cancel the second night of our trip. After a very stressful day of trying to fix the problem, we were surprised to receive a refund for the second night. Thank you!
Aug 29, 2021
Nice and clean staff was friendly. Stayed in tow trailer
Aug 29, 2021
We were heading west and this was a one nighter. Nice shade trees, terrific staff, great stay.
Aug 29, 2021
The pool was closed even though it was supposed to be open until Sep 1. We went there especially for the pool. The kids were disappointed.
Aug 28, 2021
Arrived after some flooding. First spot they had for me still had standing water. She changed our spot once I let her know. Decent WIFI for our purposes without additional charges. Wide level spaces with good length and convenient access to hotel services. Good location to access Toledo and Rutherford B. Hayes Presidential Library and Museum in Fremont which was the purpose for our visit.
Aug 28, 2021
Stayed at this campground as we were visiting family and this campground was close to family. Needs a lot of TLC. The mini golf needs work boards were loose on the miniature golf course. Cabin #3 we stayed at the poles need to be fixed. This is a safety issue someone could get hurt if the poles fall down. See pictures. There is no handicap bathroom or shower. The toilets did not flush all the time
Aug 28, 2021
Very nice, clean..great staff!
Aug 28, 2021
We stopped in TOLEDO to visit with on our way west. This was perfect campground for a one night stop. We would stay there again
Aug 28, 2021
Staff was nice. But sites were tight, big gravel, narrow and not well defined. A little TLC at this campground would go a long way.
Aug 28, 2021
Beautiful site, shady with lots of trees in the campground We have stayed here several times and it is very pleasant.
Aug 27, 2021
smaller than some, but nice.
Aug 27, 2021
The staff was WONDERFUL. The pull through lots are a bit small, but for an over night stay, they were fine. We drove through the park and there are very nice, larger, wooded sites. Bathrooms were clean. The only problem we experienced is that the water hose at the dump station was cracked so the water sprayed out all over. We couldn't flush our tank or rinse our hose. That will no doubt be fixed
Aug 27, 2021
Very nice park
Aug 27, 2021
Big rig friendly, friendly staff, clean facility, right off the highway and near large gas stations.
Aug 26, 2021
We like to stay here going to/from our Michigan hometown; generally in Spring and Fall. Quick and easy in/out of our pull-thru site. As we only stay for one nite, I haven't needed the dump, bath or laundry facilities. Would use Dump, but find its location to be awkward to access. Recollection is that dump is actually on the wrong side of RV, as you leave campground. Otherwise, very nice stopover.
Aug 26, 2021
It's a nice park but our site became a swamp when it rained. We literally had to step out into an inch or two of water, so it was overpriced considering that and the pool was closed. Giant pain for taking a dog out and breaking camp. It looks kind of junky in front but it's clean, shady and quiet. Online said 1 site left but there were lots of empty sites. Not cool.
Aug 25, 2021
wifi was good, spots were very tight and just barely fit my motorhome, staff was friendly. I would stay here again overnight when passing through
Aug 25, 2021
Campground is small and older, but fine for an overnight with no kids.
Aug 24, 2021
Very nice small, quiet campground. Very disappointing the pool was not open.
Aug 24, 2021
We enjoyed our brief stay.
Aug 24, 2021
The restrooms were not big enough for the amount of campers that was staying there this weekend that did not have sewer hookup. We showered after midnight when we got back from the tractor pulls and everything was dirty.
Aug 23, 2021
Campsites jammed too close together and campground looked pretty beat up
Aug 23, 2021
It was very relaxing, 6 miles from my relatives home. Wished the pool was open so that my teens could have had something to do. There was something to do for younger children but nothing for teens. You might want to look into providing some sort of entertainment for teens when they are visiting. (ie video game room, movie room, arcade game room) I was there for 6 nights.
Aug 23, 2021
The sites are much too small and the next camper sewage disposal was right by the picnic table on our site. Fire pits are almost under the unit on each site and as a result smoke was thick and choking! Each camp site was practically on top of the next one!!!we will never return!!
Aug 22, 2021
Maintenance seemed a little less this time. Broken door on the men's room etc. Very disappointed that the pool was closed with temps in the high 80's. Mosquitoes were bad. We have stayed here several times before and were a little disappointed with this trip. Staff was very nice!
Aug 22, 2021
Stayed at Stony Ridge KOA last year so decided to stop here again on our way to New York Good stopping point. Washrooms and showers were clean. Disappointed that the pool was closed, but that was not the fault of the campground.
Aug 22, 2021
Simple, no frills campground with large lots. Pool was closed. Small dog park but grateful for that.
Aug 22, 2021
We were there for 1 night. The staff were friendly and helpful.
Aug 22, 2021
My wife and I enjoyed this RV Park immensely - Very clean, quiet, and country feel - staff was friendly and helpful
Aug 21, 2021
The campground was a 'no frills' but that is expected in a journey. It filled all of our needs for the overnight stop.
Aug 21, 2021
We were only stopping over for the night, but this campground was perfect for us. Clean, great location with beautiful trees, very easy in and out. We were totally pleased.
Aug 20, 2021
This could be a cute campground. We were not impressed. The office reeks of the sulfur water. The pool was closed and had dirty scum water in it. The playground was a sand-mud pit. The putt putt golf was trashed. The accessible shower on the women's side was closed. The door to the men's side was not functioning. Standing water everywhere. MOSQUITOS!!!!!! We will be choosing elsewhere next time
Aug 20, 2021
Sites were unlevel, office staff not very friendly, very small park, I don't believe the online photos tell the real truth about the property.
Aug 20, 2021
Everyone was very accommodating. Because of weather we asked if they had anything available for another night. We stayed another night and everything was great.
Aug 19, 2021
Pool closed (empty) and in general not up to the standards of other KOA's we have stayed at.
Aug 19, 2021
Nice quiet campground. Convenient location with very nice staff. Nice services like trash pick-up at site. Older facility which could use some investment in gravel and leveling.
Aug 19, 2021
Just passing thru so fine for us. Our second time here. A little more regular maintenance and they might be able to attract more people.
Aug 18, 2021
Pool not open and didnt look like it had been used for a long time, yet its advertised as an amenity. General apperance of park needs attention. No interaction with staff other thsn at checkin.
Aug 18, 2021
Need somrthing for adult,redo the mini golf area.
Aug 18, 2021
Rain had fallen just before my arrival. Most sites did not have enough aggregate rocks or grass so the sites were very muddy. Mud and camping are not fun!
Sep 22, 2021
We stopped for one night. No complaints. Water & electric site. Typical KOA Journey. The campground is a short way from major highways, and far enough away to be quiet.
- Ed Brandenburg on Google
Sep 11, 2021
Great overnight stop. Needs signage at each end of road.
- W Whalen on Google
Sep 03, 2021
I'm staying for labor day weekend and got in late thurs night and it was easy late check in. The owners parents where very sweet and stopped to talk with me. I would recommend staying here.
- Chucky Summers on Google