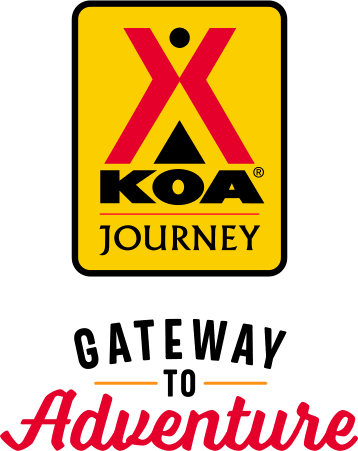 KOA Journey Campgrounds
KOA Journey campgrounds are the perfect oases after a day on the road. Whether it's along the way or a quick getaway, they've got you covered. Located near the highways and byways of North America with long Pull-thru RV Sites, they deliver convenience to the traveling camper. Pull in, ease back and take a load off.
KOA Journeys Feature:
Pull-through RV Sites with 50-amp service
Premium Tent Sites
Well lit after hours check-in service
Directions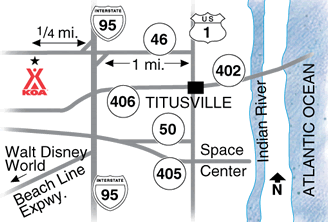 Take I-95 to Exit 223 (SR 46) west 1/4 mile (1 1/4 miles west of US 1).
GPS: N28.665884, W80.875371
Get Google Directions
Jul 20, 2021
Not a bad kamp just a little freaky at night
Jul 19, 2021
The most welcoming and friendly staff ever. Perfectly located in the middle of Disney and Cocoa beach.
Jul 19, 2021
I paid for electric power but it was constantly going off. I called the office 4 times during open hours but no answer. The WiFi was useless and constantly disconnecting. Frankly it was the pits. My travel trailer electrical wire ing was damaged and I need to have a professional fix the problem. The previous people left rags and cans and maintenance should have cleaned the site before we arrived.
Jul 18, 2021
Only stayed for a couple nights but facility is well taken care of and staff was superb.
Jul 18, 2021
A lot of mature trees to keep you cooler.
Jul 17, 2021
Grounds and internal roads are in bad shape. Pavilion is literally falling down yellow tape is placed to keep out people. Bathrooms were filthy and old.
Jul 17, 2021
Friendly staff, great pool, convenient location
Jul 16, 2021
Nice quiet site, very friendly staff, close to town but not too close. Excellent site.
Jul 14, 2021
The staff was friendly. Everything on our site worked, the pad was mostly level side to side. The facility is somewhat run down. The pavilion is not usable, foundation issue. The pool was clean. There is a large area of the park that appears to be long term renters. This is the only place we have ever stayed where we felt it necessary to keep everything locked. Our perception, no actual issues.
Jul 14, 2021
The staff is friendly. The area is run down. Roads are in bad shape. Limited amenities.
Jul 13, 2021
Looks like most people live there (not campers). Sites and trailers look cluttered and dirty. Sites do not have 30 amp available.
Jul 13, 2021
Price and location worked well for us. I know it's no one fault, but the highway noise is awful.
Jul 12, 2021
Very helpful and friendly staff. Campsites are very close to one another but throughly enjoyed ourselves.
Jul 12, 2021
Not as nice as other KOAs we've been to. Run down a bit.
Jul 11, 2021
The sites were nice with a lot of room but the grass was not cut & I stayed 7 days. The access roads were to narrow & a lot of broken cement on the roads. The wi-fi was not good. They probably need to install more boosters around the park. Dogs were allowed to use the bathroom anywhere around the park. The people were helpful & very nice but they need to enforce the rules better.
Jul 11, 2021
Even though the sites are kind of close together they were really nice with full pad for parking and patio which we loved. The only thing we didn't like, and the first time we encountered this was that there was a decent portion of the park for full time residents.
Jul 10, 2021
Nice campground, Michelle in front office was very nice, this was a test camping for a new RV, and all the services were fine. Even topped off the propane at a reasonable price.
Jul 09, 2021
It was awesome.
Jul 08, 2021
The park is nice with lots of trees. We were greeted and led to our parking spot. The laundry was clean and the bathrooms/showers were adequate. Nice stay.
Jul 07, 2021
Everyone was very helpful and courteous in the registration/office/store. Campground was well laid out, well maintained and clean. Pool was an added bonus.
Jul 07, 2021
Campground nice This was a shakedown stay for trailer And us
Jul 07, 2021
Just an overnight stay but our site was very nice and easy to access with our big rig. The call to make sure we were still coming when we were running late was also very nice.
Jul 06, 2021
The staff was wonderful (Michele and TARA I think were their names) the place is filthy. My site was full of dog poop and asked 4 times to have it cleaned up,to no avail. It stunk like sewer throughout. Your staff would ride by 8-10 per day and never even attempt to clean it up.
Jul 03, 2021
In all fairness, we only spent two nights here but the site was nice (although under water after a heavy rain) and the people were friendly and helpful.
Jul 01, 2021
Staff was polite.
Jul 01, 2021
Our arrangement made online went smoothly as did our check-in. It was the same woman I spoke with both times. She was cordial, thorough with info and professional. Campsite was level and quiet. Nice stay.
Jun 28, 2021
This KOA was very clean, had one issue with some loud neighbors but was not a constant issue. We don't use the bathhouse but the laundry was very nice and close by everything.
Jun 27, 2021
The staff were friendly and helpful. Loved the concert RV pads. Peaceful and quiet. All hook ups worked perfectly. It was a convenient ride to and from the Space Center. Easy in and easy out and closed to I-95. A Love's Truck Stop opening soon across the road. The roads were a little to narrow for the big rigs; small potholes. For an older park they do a good job of keeping it well maintained.
Jun 26, 2021
Staff was nice. Nothing good about this KOA.
Jun 25, 2021
Relaxing, quiet, clean, enjoyable
Jun 25, 2021
Needs updated. Store shelves low to empty. Clean bathrooms.
Jun 24, 2021
Very shady spot which was helpful considering the temps and humidity. Staff was very friendly and extremely helpful. We could not get the cable to work and a guy came right away and helped us with that and showed us how to get it to work. The bathrooms were very clean and very convenient to our site.
Jun 23, 2021
Beautiful trees Clean bathrooms Nice pool Close to things to do Only one negative: store needs to have more common needs in stock Otherwise, all was great!
Jun 23, 2021
I have stayed at this location several times and each time the staff was very helpful, friendly and professional! Would recommend this location to anyone!!
Jun 22, 2021
Staff was great. Pad was large and level. Roads are narrow, and in pretty bad shape, which made the ride to the site pretty hairy in our 40 foot do.
Jun 22, 2021
Workers friendly, check in was nice and easy. But the campground seemed a bit trashy. Looked like a bunch of campers have been there for years-folks living there for a long time. We can't recommend this place to anyone, it was also located in a trashy area of town and a bit further from the Kennedy Space center, Starbucks and Walmart than we care to be.
Jun 22, 2021
Love this KOA Park, Close to Space Center and Beaches. Also if you just want to stay and enjoy the tranquility of the Park.
Jun 21, 2021
Very nice place
Jun 20, 2021
Nice campground, friendly staff. Would stay again!
Jun 20, 2021
We had a great time. Our kids are older but your playground was one of the best. We would definitely recommend to people with young kids.
Jun 19, 2021
Staff was very nice. Although we were gone most days visiting the area, we enjoyed our time there and will return the next time we want to go to the Space Center.
Jul 20, 2021
Our sight had litter. Dog park was not good. Restrooms were clean and staff were friendly.
- Carol Steigerwalt on Google
Jul 19, 2021
This is a good KOA. I was a bit worried about some of the reviews, but the actual campsite that I stayed was nice (back-in deluxe if I'm not mistaken), leveled, paved. Charcoal BBQ grill was good and clean. I do believe that this campground needs some improvements, but overall, it is quite nice. Service at the reception was good too. Wifi was not working properly for me.
- Cszepak on Trip Advisor