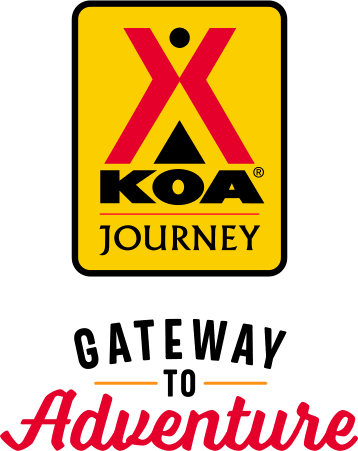 KOA Journey Campgrounds
KOA Journey campgrounds are the perfect oases after a day on the road. Whether it's along the way or a quick getaway, they've got you covered. Located near the highways and byways of North America with long Pull-thru RV Sites, they deliver convenience to the traveling camper. Pull in, ease back and take a load off.
KOA Journeys Feature:
Pull-through RV Sites with 50-amp service
Premium Tent Sites
Well lit after hours check-in service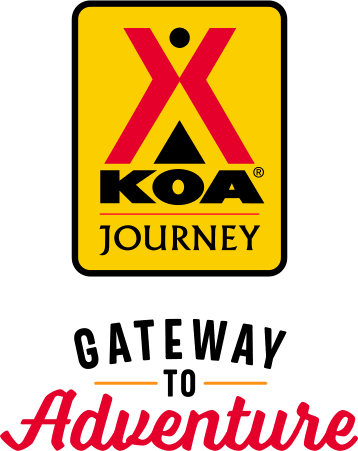 KOA Journey Campgrounds
KOA Journey campgrounds are the perfect oases after a day on the road. Whether it's along the way or a quick getaway, they've got you covered. Located near the highways and byways of North America with long Pull-thru RV Sites, they deliver convenience to the traveling camper. Pull in, ease back and take a load off.
KOA Journeys Feature:
Pull-through RV Sites with 50-amp service
Premium Tent Sites
Well lit after hours check-in service
Directions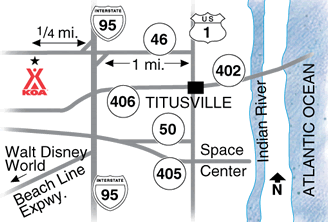 Take I-95 to Exit 223 (SR 46) west 1/4 mile (1 1/4 miles west of US 1).
GPS: N28.665884, W80.875371
Get Google Directions
Jul 02, 2020
Great campground, lived up to our expectations of a KOA. The staff was VERY pleasant and a staff member even escorted us to our site and helped us position for the utilities. You are close to other campers, but the sites are well landscaped with nice plantings & very well maintained . Close to 95 but not so close you can hear the highway. Can not speak about the bathrooms, we didn't use them.
Jun 30, 2020
Okay place for a short stay, campsites for RV are paved and hookups at just the right place. However, sites are too close to each other, more like a parking lot. A place to go for an overnight, not a destination camping.
Jun 29, 2020
Everything worked and was smooth. During COVID-19 was surprised to find the people working in the office not wearing ppe. The grounds and facilities were well kept. The permanent residents on the grounds seem a bit shady, one van/tent/portable awning resident left his radio outside with music playing all night every night and others had aggressive dogs. It was a learning experience.
Jun 29, 2020
The staff are very friendly and friendly, when we had a question they were always willing to help. We've been to another KOA and were very disappointed hence we were a little concerned about this location BUT our concerns were dismissed upon arrival and seeing the staff here. I've never been escorted to our site. Thanks for making our visit exceptional.
Jun 29, 2020
We went to Dixie Crossroads to eat Rock Shrimp. When we stay at a campground in our Motor Home we always ask the other campers where are they from? Usually they tell us which state or City they call Home! At this KOA just about everyone said they are not traveling they live at the KOA permanently. I never knew that KOA's were for permanent residents & None of them knew about Dixie crossroads!
Jun 28, 2020
This is the worst KOA I've stayed at. Way too many permanent residents with run down and unkept rvs and land around them. Dogs from those spots off leash. I didn't use bath house but checked it out and could use Some updating. Friendly staff. My space was nice and shaded, very close to neighbors.
Jun 27, 2020
The staff was very nice at check in. But the appearance is not very good. Alot of old broken down campers everywhere. Definitely not what we think KOA campgrounds are supposed be. It looked like it was really nice at some point in its time.
Jun 25, 2020
Excellent help in getting us set up at our camp site . Very accomidating.
Jun 23, 2020
Very pleasant front desk check-in and enjoyed our stay. I had most of the reviews of this KOA and have to say, this one rated lower than any other we have stayed at. I do not understand that lower rating of some of the reviews as our time spent at the KOA Titusville was just wonderful and we will return for sure.
Jun 22, 2020
Muy tranquilo y el personal muy serviciales y amables.
Jun 22, 2020
There were around 30 sites that felt like a koa but they were surrounded by ratty long term sites.
Jun 20, 2020
We had a concrete pad site, pull thru for 2 days to prepare camper for trip from Florida to Montana. Staff very friendly, clean spacious Sites
Jun 17, 2020
Due to family emergency we came into town. Stayed on site 25. It worked out great for us. Didn't get to use facilities at the campground because of the nature of our visit . But we appreciated the site. Nice clean level site. Thank you
Jun 16, 2020
Very tight roads. Very tight spaces. Tremendous tree work needs to be done. Overall disappointed for a KOA experience.
Jun 16, 2020
Friendly professional Staff.
Jun 16, 2020
Van parking was nice. Very quiet and neighbors were neighborly. Pool was clean and refreshing. Laundry room was clean and organized. Bathroom by the pool and shower/bathrooms could use a good cleaning. I think the rubber mats hold in the smells from the water underneath. Staff was super friendly. I'll be back My suggestions: ice machine, soda machine, atm
Jun 15, 2020
The Office staff was very kind and friendly. The sights are a bit closer then we like. Our neighbors were very quiet and friendly. The bathrooms were clean and there were plenty of shower stalls. The location is very easy to get to the Beach, Kennedy Space Center and other activities. We traveled with 8 and 10 year old boys. The boys liked the pool but the play ground was small for them.
Jun 15, 2020
We had a deluxe patio site, which is the only kind I would have at this KOA. The staff is very nice and helpful, but the permanent residents who have these broken down vans and 30 year old trailers really puts a damper on the experience. One of the residents told us that the "permanent section" is full so they spill over to the regular campground, ugh. But it was still ok overall
Jun 15, 2020
very nice facility
Jun 14, 2020
There were a lot of odd people there. Almost like a trashy trailer Park. I didn't let my kids go very far without me.
Jun 13, 2020
Dilapidated! Don't know how this place is a KOA. Stored RV's look like junk. No maintenance was seen the 8 days we were there. Most staff are NOT recognizable as KOA workers. Killed mosquitos, etc. in the non airconditioned laundry facility. So many ants at our paved site we now have them in our MH. The owner needs to invest some $$ back into the campground!
Jun 12, 2020
Great staff. Always pleasant and helpful.
Jun 09, 2020
The staff was absolutely terrific and did a great job. The gentleman who took me to my site did a great job helping me parking and and getting me in the exact right spot. Bathrooms were super clean and maintained. Pool looked great but we didn't get to use it this time. Playground had great equipment. Place has a different vibe as there are a lot of permanent campers it appears.
Jun 09, 2020
Lo pase muy bien.El trato por el personal fue magnifico desde el primer dia.
Jun 08, 2020
Staff was very friendly. Our site was on concrete nice but very tight. The east side of the campground looks like LA. run down trash in the yards broken down cars. This is not one I would recommend. Great staff!! Clean pool. Clean bathrooms and laundry. Just a sketchy looking park on the other side. They either need to fence that area or clean it up. I wouldn't let my wife walk the dog alone.
Jun 08, 2020
Office staff were great, could not have been more accommodating, friendly and helpful. The 3 rating is because there are a lot of junky trailers and RVs in the park giving a less-than-resort feel and because there's not much to do. Nothing in the game room. But nice playground and pool seemed well taken care of.
Jun 07, 2020
Since everything was great, I only have 1 piece of criticism, and it's minor. I camped in the "island" which is close to the main road. so, if you have a hard time falling asleep with road-noise, and you're in a tent, you might want to either wear earplugs or listen to white noise on Youtube. That's it! Nice, friendly, helpful staff.The park feels safe, clean and peopl we respectful of each other.
Jun 02, 2020
too many old run down campers sitting on sites. maybe should consider putting traveling campers together away from the permanent residents. Office personnel were very nice, park was clean.
Jun 02, 2020
Reserved at the last minute. The staff was great and the site was clean. I was lead to our site in a fast professional manner. I will be back again!
Jun 01, 2020
Ants everywhere. We seemed to be across from permanent residents who were using box trailers, old vans, etc. to live in. Paper towel dispensers in bathhouse didn't work. Facilities are very dated. Pool was nice.
Jun 01, 2020
We were here for the Space launch The campsite we had was very nice, flat, roomie and had a beautiful old growth huge oak tree at the back of the site. But, the view you get approaching the KOA from I-95, makes you pause, old broken down cars, trucks and travel trailers. On closer inspection the entire east area of the KOA is full of old not well maintained trailers and 5th wheels.
Jun 01, 2020
We were parked next to a long term camper who brought everything they owned in cluding three dogs that were caged in a trailer. The dogs were not cared for and barked a lot. I talked to the attendent and she said that we must be in space rc1. she said that it has been a continuing problem and that she could hear the dogs during the day and night from her home. Nothing was done.
Jun 01, 2020
Dirty filthy place. They parked us next to a camper that didn't have a door on it. Could not sit outside our camper because it stunk so bad. They allow smoking and drinking in the pool area. Have never been to a campground this bad! Roads were horrible. Should not be in the campground business.
May 31, 2020
The place is a trailer park of trash sprinkled with a few nice people and their campers. The place almost scared me it was so trashy. Should not be a KOA as it gives them a bad name. I may reconsider before going to another KOA. The long term residents have trashed the place and turned it into a ghetto. Absolutely will not return or recommend.
May 30, 2020
The campground was too crowded, campsites too close together. A camper across the street from me was watching TV so loud I could here it in my camper. That finally stopped at 3 AM
May 29, 2020
Great staff. Campground isn't fancy but it works.
May 29, 2020
The weather was bad. Staff was very helpful
May 29, 2020
Nice KOA and good staff.
May 29, 2020
Changed sites 4 times before given one where we had all water, sewer & electric either on site or in working order. Campground needs allot of work! Definitely not the KOA we are used to. Communication between office staff & guys who show you to your site seriously lacking/ unprofessional. Shouldn't be arguing about where guests go in front of guest their talking about. Terrible!!! Dogs in cabin
Jun 29, 2020
I'm not KOA fan, but this campground really surprised me. Very nice and friendly staff, the paved sites are very nice and clean. It's close to highway but we didn't hear any traffic. Small but nice heated pool, playground for kids. The bath house could be updated but was fairly clean. Grill on site, no fire pit for paved sites which i didn't like. Overall nice campground for night or two.
- Kasia on Google
Jun 08, 2020
Great place to stay if you want to go to Dixie Crossroad Restaurant or to drive the Merritt Island Black Point Wildlife Drive. We saw alligators. Wild hogs. And lots of different birds. A couple of cars in front of us saw a bob cat.
- Glenda Luke on Google
May 31, 2020
This KOA is always clean, the rooms are nice & the staff is great! We've stayed here a few times & each time gets better! Can't wait to go back!
- Nicole Lowe on Google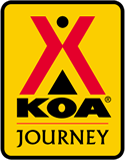 Titusville / Kennedy Space Center KOA
Open All Year
4513 West Main Street
Mims, FL 32754
Titusville / Kennedy Space Center KOA
Get Google Directions